Lumia Icon Denim update scheduled for early 2015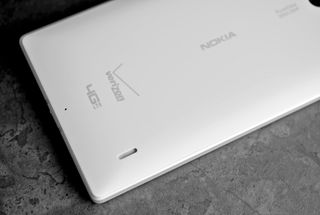 Verizon has today announced the Windows Phone 8.1 and Lumia Denim update for the Lumia 928 and Lumia 822, but what about the Lumia Icon? Well, it's not included today, but thanks to a tweet from Microsoft's Joe Belfiore, there is at least light at the end of the tunnel. But that tunnel runs into 2015.
So there we have it. It's a good news day for Verizon Lumia owners in general, even if some will have to carry on waiting a little longer.
Update: Microsoft now confirms that the Lumia Icon will go straight to Lumia Denim in this update, which also includes Cyan
Source: @JoeBelfiore
Richard Devine is an Editor at Windows Central. A former Project Manager and long-term tech addict, he joined Mobile Nations in 2011 and has been found on Android Central and iMore as well as Windows Central. Currently you'll find him covering all manner of PC hardware and gaming, and you can follow him on Twitter and Instagram.
Not bad us Icon users will take it

Am I dreaming or something? I just see Verizon Anaounce an update for windows phone mmust be too much drinking water

Not one, but two updates at the same time.

It is a dream and I'm still dreaming for the day of arrival

The day before releasing it they will move it back to testing status.

By "early 2015" they probably mean May. So guess we're stuck on Lumia Black for some time..

Q1, so March at the latest.

@Trill Gates lol I thought that exact same thing word for word as I read the article

Am hoping end of January latest?

Now worth the wait as it will be Denim

So much for me sayin, ain't gonna happen... Well, for now, it's still valid.

Verizon is still slower than hell. I'm guessing May as well.

I love how they don't give out a definitive date and just slap the word early 2015, for all I know early 2015 could mean March.... I'm sorry for all of the Icon owners out there.

Because it's Verizon's call, not theirs.

I know it's Verizon and not Microsoft but even Joe doesn't have a clue when it'll come out that's what makes it funny. I'm willing to bet that they're not coming out with Denim until Q2, after all they skipped Cyan. Call me crazy but perhaps they'll also skip Denim and just go straight to the Windows 10 update in Fall 2015 (or summer 2015 who knows). But like I said it's just a crazy thought.

Not as crazy as V for skipping Cyan haha ;)

It seems quite obvious that it is MS who are putting pressure on Verizon to get their shit together.

It was reported earlier that Cyan / WP 8.1 didn't pass Verizon quality control. MS has been working with them on that. For fucks sake bring back landscape mode to this app! Typing is shitty in portrait.

No shit, right. I been bitching about landscape support too.

Yeah, and IOS8 did. Bullshit! That's just their excuse for not giving a fuck.

Yeah, Most likely that Verizon's crappy 1.5 star apps didn't work on Cyan....

To little, too late...Now Happy ATT Lumia 830 users

Well, that's the only language they understand.

Me too (830 on AT&T after 12+ years w/ Verizon)
No regrets at all. Best of all, my bill is about $20 less.

+929
They must take care of their look, and left behind one of the most powerful WP out there don't get you a good image

Eh, I'm sure Joe knows, but contractually can't be more specific. With the 928/822 updates rolling, its probably safe to say the update is "good" on the network and we'll probably see it sooner rather than later.

I'm with you on this. Everyone naturally assumes the worst. LOL.

Love that verizon is making progress, waiting for it to roll out to my 928 later today, but am curious if you have heard anything realted the htc 8x, girlfriend is running it and gotta convince her to keep in wp with contract ending soon. . .

As her to use developer preview till she gets officially

Brian, no info for you yet but considering I've been running Dev Preview for months with no real issues I'm not sure why it wrought be rolling out sooner rather than later. I'm hoping its HTC busy adding Bluetooth 4.0 support... :)

June 30th...early 2015. :D

They who wait for something good never wait too long!

Well, winning the lottery would be good. But I've been waiting ages and ages!

At least we have a time frame..

We've had timeframes in the past, which have come and gone with no updates. I'll believe it when I actually see the update downloading onto my phone. Although the fact that they actually released it for the 822 and 928 does give me hope.

And this is why I didn't choose verizon as my carrier. They gate WP.

So they skipped the Cyan update??

Did it mention Cyan in the article or post?

It will be both; cyan and denim. But, I won't believe it until my Icon says Denim on it. Nonetheless, this is good news.

There have been a number of instances of updates mistakenly saying Cyan or Denim while still running Black.

Oh. My. God.
News I never thought I would see. But this doesn't change my mind about Verizon hating us and microsoft

Better late than never.... Strange how Icon has been treated. Great phone.

It might as while be never, I will have moved on from my Icon by then!

What if early 2015 literally means two weeks from now? (Jan 2) Will you have moved on by then?

822 not 922 in the article..

Heh. Just noticed that. That's Joe Belfiore's tweet. Go tell him :P I'll correct it though. Because he's probably busy.

Suck suck suck!!! Im sorry I have to be positive. Thanks Verizon :)

Oh boy. I guess my Mom will get the latest and greatest before me on her 822

Don't hate. She deserves it. Motherhood is legit.

I will believe it when I see it.

Are you kidding me? What's the point of buying a flagship phone if I get the update last?

They are taking extra care with our update.

They are working on permanently cramming in the most junkware and removing helpful features.
Source: I've been a Verizon customer for 11 years.

Been a VZ customer for 18yrs. But the good thing about WP is that we uninstall anything. I do like the VZ customer app. Makes paying bills and monitoring data simple.

Exactly! This is WHY I have a WP: I can uninstall that junk. You can't do that on Android unless you essentially root and void the phone's warranty.

That's why I said they are working on making things permanent. Probably with some leaning on MS behind the scenes. Like a bad mafia movie. Uggh damn you and your coverage Verizon, and my grandfathered plan!

VZW has ruined this, they are making it so we can't delete anything.

Rumors do say the hold up is a bug with Verizon's crapware, most likely the Nav app that no one uses.

The bug: customers can still uninstall it. I'm kind of cynical and paranoid, aren't I?

They can't actually cram anything except the logo at phone boot up.

Icon update is best update

You want them to beta-test on your expensive phone first before rolling it out to the cheaper ones?

Right my wife the 928, sister in law 822, get it before me and they don't even care about the new features these powerful phone will have

I assure you that most 928 users would have bought the Icon had it been available then, but our contracts were up earlier and we adopted WP8 earlier. We care about WP just as much as everybody else, and we all want everybody to have the updates.

when windows 10 released, at the same time the Denim update for icon #lol

Win 10 will probably be released before denim. Here's hoping Ms has control over that... Not vzw

That's great, really... but what about my 810?

Finally! But...Where's the update for HTC 8x? Man Verizon sucks so bad. After 10 years with them, I'm dumping them next week because of their poor WP support. Among other things...supercookies, etc.

I wouldn't hold your breathe, the Denim firmware update is for Nokia/Microsoft Mobile phones ONLY as it is a firmware update and not an OS update.

8X users are still waiting on a fix for the last firmware update that ruined the WiFi. Oh an 8.1 would be nice too. :|

Must have been some issues getting the updates working on the Icon, for whatever reason. My guess is that the Icon was prematurely retired because of these issues with Cyan, and the 928/822 updates were probably being held back because they wanted to release for all three at once initially. It's just a guess though, I have no real insight into this matter.

Will this update if running DP?

As long as they don't pull the update again, I'll be satisfied

The order of devices is interesting (and a bit frustrating). One would think that if this is a question of multiple devices queued up to go through Verizon's device testing teams that they would slot the Icon in front of at least the 822. No offense to current 822 owners - it was my handset before the Icon.

They probably doing it as it had more sales

Least someone said something. I was feeling a you're of way for a moment there.

My dad and brother in law will finally get Denim. Good for them.

They skipped Cyan. Smart move!! Go Verizon!!

Don't you have to have Cyan in order to get Denim?

It will most likely be packaged into a single cumulative update, so your not losing anything.

I think I'll go back to work now.

Why couldn't they just say this from the start. Now that the update is Denim not Cyan I'll forgive the delay but I'm still pissed about the lack of communication.

Yep, came to the comment section to say this. Communication with your customers is key, and I know this coming from a company that provides managed services. People get pissed off if they are kept in the dark. Sometimes companies become too afraid to communicate with their customers because they want to manage expectations, but the worst way to manage expectations is to let your customers' imaginations run wild with no information.

But remember, early 2015 is before 6/30/15

I think Q1 2015 is more accurate.

don't believe Verizon... glad I'm not with them lol

This sucks, the phone that benefits from the update doesn't get until later....smh

Maybe "early 2015" will actually be in January...just maybe!

Don't hold your breath. Early 2015 will be the end of March. And then it won't come. It will get delayed and put back into development because some Verizon bullshit app doesn't work flawlessly. This is why I've decided to ditch my WP even in light of this glimmering news.

At least the Icon users will get their update in 2015. What if they didn't even announce Denim I bet all the Lumia icon users would leave Verizon

Sucks that 928 and 822 already got the update and Icon didn't, but I'll take early 2015 over never.

Y'all should be grateful instead of complaining like little kids. Wait a little more, patiently.

That's not news, "early 2015" means sometime in 2015. Remember, when Cyan was announced, the Icon was one of a handful of devices that were specifically named and it never got it and it never will. There's a physical problem with the device that we'll probably never know about as the promotion of the Icon and 930 stopped abruptly even though they were the most high end devices they've ever made. I hate to be a downer, but I just don't see it happening for quite some time.

Since the icon will get Denim and as stated in the article it will get Cyan too just at same as the denim update. Thus meaning it will be one massive update when it hits Icon users.

The heading of this article is misleading as country variants have nothing to do with this.

country variant to the Icon?

Icon users, please go let MS know how you feel: http://blogs.windows.com/bloggingwindows/2014/12/19/verizon-announces-windows-phone-8-1-upgrades-for-lumia-822-and-lumia-928/#comment-14821

MSFT has no control over what Verizon says what happens on its phones. If you want to vent, talk to the carrier. :)

Not entirely accurate. If the first update is skipped by a carrier they are bypassed in the release of a second update. It has been this way since Windows Phone 7. That is why I stated a long time ago that Verizon customers would get the update when a second one was released. So basicaly yes, Verizon STILL has done absolutely nothing for Windows Phone users. Now, the Icon Denim update not being ready is ENTIRELY Microsoft's fault. So in short, they both deserve to be abandond just as they have done to Icon buyers.

Tell that to Apple. The major hold up witht he iPhone coming to Verizon was that Verizon wanted to reserve the right to pull the same crap with the iPhone that it pulls with Windows Phone and Android. Microsoft needs to fix the Verizon problem. You can't tellme that there is absolutely nothing Microsoft can do to fix the horrendous user experience we have on our WP due to Verizon. And, if that is the case, why did Microsoft announce that flagship devices (named specifically) would get the update first? http://www.windowscentral.com/comment/1502776#comment-1502776

Early 2015? So basically some time between Jan 1st and may.

Not at all interstd in these updates till wp10.

Just off ur preview for developer n voila u got denim....

I wonder if pfd will get denim coz its same firmware we already have or just have to off the pfd which hppns now

Denim is seperate. You don't beed to remove DP to get Denim.

We have the o/s updates only, the video about how to update Denim only mentions the o/s version number a) to simplify things for none techies b)not everyone is on the pfd.

If u off the pfd lumia cyan,changes to denim try that...its nt a bug :)

Maybe we will be surprised and get it the first week of January.

AT&T has a good track record with Windows phone. The reson this is hitting some Verizon phones first is because Verizon completely skipped the Cyan update. According to Microsoft's carrier agreement, if a carrier skips one update and a second update is released the carrier will be bypassed and the update pushed through. Verizon did not beat AT&T to the punch, they sat and continue to sit on their thumbs giving absolutely no support to Windows Phone. Your update will come and be well supported.

Source? Can this agreement be viewed online? I've had no luck searching for it.

Holy smokes, its about freaking time!! Better late than never.

Just checked not available for my 928 :-(

Check again this evening.

Wow, I been coming down on Verizon lack of support for WP updates. I'm really surprized. Wow, this is finally really good news

Verizon is STILL not supporting Windows Phone, they were bypassed by Microsoft per their agreement. Verizon has done nothing.

Early 2015 could mean July...

+822 Wow maybe Verizon has at least partially removed its head from its anus.

Nope, head and hands still fully inserted.

Well, this is all very welcomed news...though that my Icon has to wait until 2015 is odd, unless they're working on how to get glance on it.

Rest assured, the only thing Verizon is working on is not Windows Phone.

I remember 5 months ago being told Cyan was going to be released on the Icon soon, the reason I purchased it. What makes me want to believe that Denim is "just around the corner." Flagship, my arse! The MS page still says the 928 & 822 firmware to be Black. I have yet to see a post from anyone successfully intstalling the update.

Just to clarify: when the statement is "early/mid/late" this normally refers to a quarter of the specific year . So early is first quarter (January, February, March). Delays are of course delays.

Ooh. This'll be good news for my Granddad.

Sad thing is, my 822 died last month and I bought an Icon. Blast!

doesnt the people that r running DR ,already have the denim update?

No, Denim is a firmware update that enables hardware capabilities. 8.1 is a software update that Preview for Developers do have. The software however, is limited by the lack of firmware.

Perfect. They have spoken!

I hate typing in portrait here and on fb messenger app, wtffff

Too little,​ too late. When I have the opportunity to switch I will. Verizon's neglect of customers is awful.

You and me both. Along with a flood of Icon owners.

Wonder if Samsung Canada will deliver their update before then. Guess I backed 2 loser smartphones

it will probably be a similar time frame for the 1520 then, I guess.

Huh, so the conjecture Verizon was apparently going to skip Cyan and go straight to Denim turned out to be accurate. Not bad, internet, not bad.

To be fair, you could have found conjecture supporting every possible alternative, and one of them would had to have been right.

They had no choice. If a carrier skips one update, the next update is pushed. Verizon never lifted a finger for any of us.

Looks like Ed Bott put the pressure on big red... Thanks Ed!!!

What are they saying concerning at&t?

So the announcement is that its coming but we have to wait for an indefinite amount of time still? And we're supposed to be happy about this ...?

Not indefinite, "early 2015". Maybe you meant unspecified.
I'm happy to know that it is coming and a timeframe for it.

Me too, and is not on Verizon, moved it few weeks ago to Straight Talk and received the update too.

Verizon has, and always will be, about quality. Whenever something is held back, it's because something isn't setting right with how it runs on its network. VZW is always about "The Network"; it always has been, and it always will. I can't say what or why VZW held back so long, but if an update will adversely affect its customers, it pushes back. This isn't new: Android users experience MAJOR fragmentation on its network for the exact same reason. CDMA-based radios were known to not work very well on 8.1, and Wi-Fi would cut out quite often on my Icon, along with touch screen freezes. Though the timeframe has been dragged on for quite some time, eventually VZW updates its phones. If that's a problem, other carriers give them quicker. This is why I stick with VZW: Quality. :)

That's horse-pucky. They have released plenty of phones with shoddy radios, shoddy firmwares, etc. It's money. Costs money to test, and they get money the more crapware they can load. WP has no market share, so testing is a low priority. WP allows the user to uninstall anything easily, so I would guess they get lower rates on those. Verizon has, and always will be, about giant buckets of money in the boardroom.

The reality is... Will Denim enable a non-beta version of Instagram? No. Will it enable official apps for your bank, Dropcam, Sonos, or any of the others WP doesn't have? No. Will it fix the weird juggling of Facebook beta / Non-beta apps? No. Will it make the OneNote experience as good as it is on iOS? No. I love Windows Phone so much, but to no fault of our own, we seem to be getting left in the dust more and more often.

Downloading the update on my old 928 now (currently using Icon).

I'd feel better if it was Verizon making the statement and not MS. We've already been given a couple vague timeframes which were missed... I don't see any reason to think this will be different and so I'm not holding my breath. On a side note. I'd like to shake the hands of the parents who name their child Dick Devine.

I'm from México and i Just order an unlocked lumia 822 and i was sad reading how verizon didn't update their wp, this great news... But from what a have read this isn't the first time verizon skips a whole update to push it with another update isn't?

Lumia 928 is no icon, icon is 929 so this update is not for the ICON ?

What! Beat att to the punch this time?

No, were bypassed by Microsoft this time. Only one update can be skipped, the second one pushes. Verizon sat on their thumbs.

My friend got the DENIM UPDATE last night! He has a Lumia ICON and is on VERIZON! Here is a screen shot from his phone (I couldn't believe it either!): http://1drv.ms/1Joz7wn So why did he get it early?

Maybe he has the extra + info bug, hard to tell without the firmware number.

I'm pretty sure it's the extra + info bug. It also happened to me last night. If we are going by extra + info I've had Lumia Denim for months... doesn't make it true unfortunately.

I didn't see anything about a bug. Here is his Firmware: OS 8.10.14203.306 Firmware 1028.3566.1417.0047

It's an error. My Icon says Denim too. None of the features are there though.

Bummer. Oh well, at least the actual update isn't too far from now.

I got the Denim update on my Lumia Icon even if is not on verizon, moved few weeks ago to straigh talk

Bs. What about Windows phone 10?? Will we have any hope of getting that on icon?

Its to late, I'm going to Att

Will I need to use the recovery tool to install this if im on DP? Or will it override and install automatically?

I'll believe it when I see it.

I'm on DP. Do I just uncheck the DP in the app or is there something else I must do?
Nokia 822

I'd like to believe this, I really would, but I just don't. Verizon has lagged behind almost every other carrier on the planet at this point, and I don't see them changing now. My Icon starts with a capital I, not a lower case i, therefore Verizon does not care