MagicStick puts an Intel Cherry Trail processor with 8GB of RAM and 64GB of storage running Windows 10 in your pocket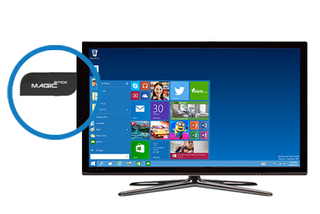 Update: The campaign is in its final hours, and a few new stretch goals have been added. The company is now offering a few new color options, along with a small battery pack to keep it powered to travel for an instant boot, USB3.1 Charger, Short HDMI extender cable as well as a LAN adapter. If you want to back the project, or find out some additional details, hit the link below.
Original: MagicStick is a Windows 10 PC stick that is currently on Indiegogo as a crowdfunding campaign. The campaign has well surpassed its goal, and likely for good reason. So, what is the MagicStick you ask? Well, it's a full Windows 10 machine, on a portable HDMI drive. It runs on Intel's Cherry Trail Z8700 processor with 16 Core GPU, and the comes equipped with 8GB of RAM and 64GB of on-board storage. The stick comes pre-loaded with both Windows 10 Home Edition and Android Lollipop.
As far as ports, the MagicStick has one USB 3.1, two USB 3.0, one USB Type-C, as well as a microSD card slot. To take control, you can use an app on your smartphone, or connect a wireless keyboard and mouse if you wish. You'll be able to play cutting edge HEVC (h265) video and a host of regular codecs including h264 smoothly in hardware as well as stream video from the likes of Netflix, Amazon Video and Hulu using their regular windows apps or browser of your choice. While smartphones are becoming more powerful, and Windows 10 Mobile with Continuum will let you take your smartphone content to the big screen, sometimes you just want a full Windows 10 machine in your pocket.
Pricing for the MagicStick starts at $99 for the lower spec One (2GB Ram and 32GB storage) and moves up to $249 for the fully loaded Wave (8gb ram 64GB storage and fastest processor). In between is the One+ for $167. All units can dual boot into Windows 10 or Android but you'll need factor in a Windows 10 Home license when the trail runs out. License can be bought for a low as $30 on eBay.
Jared started off writing about mobile phones back when BlackBerry ruled the market, and Windows Mobile was kinda cool. Now, with a family, mortgage and other responsibilities he has no choice but to look for the best deals, and he's here to share them with you.
What a technology, blows my mind!

This is epic. If this is how tech is going I can't wait for mobile phones to catch up as, frankly, this outdoes continuum from a phone. Wow. That surface phone had better be special.

Storage wise and GPU maybe but otherwise it's really not that different... =\

x86, plug into any HDMI without a display dock. It's pretty different to continuum.

@Poirots Progeny. I can see why an x86 / x64 phone is really compelling. Just not entirely sure on use case other than being docked. That Intel soc will need to go toe to toe with Qualcomm and be the victor if they are to succeed in that arena. Pity AMD is in dire straights right now, it sure would have been nice to see a three horse race. As after all competition fuels innovation.

It's a different beast entirely. And the cpu, gpu and ram, and indeed storage, are the most important things. And then all the interface options.

Cherry trail processor! Are they Efficient?

energy-wise, totally efficient (SDP is only 2w), frequency-wise, not so much, having only 6 IPC (whereas a Skylake Core i3/5/7 will have 32), not meant to gaming or any other heavy-load activities, so it's pretty good. It's like a Bay Trail, only with better energy-efficiency and support to 8gb of RAM, so yeah, it's really good. Now talking about the possibilities of these CPUs coming to tablets, if they manage to keep the gadgets low-budget, it maybe somewhat better (cost benefit) than a high-end tablet/2-in-1 like the expensive Surfaces for working purposes (unless you need AutoCAD, 3D modeling and programming software).

Need a comparison chart for magic, Lenovo, and Intel sticks.

Is it powered solely by HDMI? Or do you need to plug it into a power source, or USB socket to get power?

It isn't clear, but as it is cited on the IndieGoGo campaingn, it is powered through an "power cable". I guess it should be something like a cellphone charger, with something beetween 0.5 and 1amps at 5V, so roughtly a total power consumption of 2,5~5W, which is a little lower than the lowest power needed to keep an windows tablet without charging it (~7,5W). Without a screen, i guess those 2,5~5w should be enough

I agree it's not clear, in the comments on their site it's asked... apparently depending on the types of USB socket available on your TV they're expecting to be able to power it via those USBs via a cable but if that's not enough (depending on port) then there's a USB 'charger' now supplied as part of the stretch goals. I know my TV can supply at least an amp per port as they fast charge a phone and do a decent job charging a tablet pretty quick. I've had a little Dlink switch behind the tv powered by a double headed USB lead at one point as well. If the TV is new enough to have USB 3 ports then they'll go up to 900mA so they'll probably be fine too.

Take my money, all 50 Cent!

Exactly. Thought of the song immediately!!! Cool tech too.

chery trail and 8 gb ram? its like core i3 with 64 gb ram

Not exactly, I have a Intel Core i7 Broadwell laptop with 8GB of RAM and while Cherry Trail is capable of using large RAM it has slow performance compared with an Intel Core CPU. Cherry Trail should get you about 9000 score on Octane and an Intel Core i7 should get you between 27000 and 31000 (depending if its Broadwell or Skylake) So you get the idea. But I agree with other people in this thread that this should be a great purchase, since you're basically giving yourself a 5 year 8 year old high performance laptop on your TV

Well said. It's crazy how far tech has gone!

True true Edit: I just noticed the dates on the comments lol...

Isn't there an Intel stick for about $150 or lower? I guess this may be more powerful...

Quantum access. It runs activated version of Windows 10 unlike this one

Yeah, there are a few different options available at that price point, but they are all using two-year old Bay Trail processors, limited to 2 GB RAM, and 32 GB of storage, no USB 3, slow WiFi… Just barely enough power for basic tasks.

I wonder if it can be reimaged to enterprise.

Maybe they're using a custom, bespoke condensed version of w10 - if Enterprise could be loaded onto this...wow. Effectively walking round with a great specced surface 3 in the pocket lol

Not nearly powerful enough to view windowscentral.com without significant lag.

Are you using one right now?

Specs don't lie, simple as that

Haha Posted via the Windows Central App for Android

WindowsCentral was the main reason I installed an ad-blocker. I'd be happy to support these guys but the ads were intrusive, spammy/low-quality, and the site is just flooded with them - even my gaming PC slows to a crawl when I have 20-30 WindowsCentral tabs open (along with everything else running). With an ad-blocker I can have as many tabs open at once and it doesn't crap out.

Well, if 0.99$ hurts you a lot, then ad blocker is your way to go. As if only Windows Central is the only app that has ads. Unless, you bought all your apps to remove the ads. In that case, you have $ to spend for Windows Central to remove ads.

I'm talking about the website, not the app (I even mentioned having 20-30 tabs open). I already bought & own the app, and use it on my phone. I don't use the app on Windows as the UI really sucks (horrible wall of tiled articles, idiotic horizontal scrolling etc). It's shame the website is heading the same way wioth the awful 2 column 'featured' items. There is no way to remove ads on the website, without an ad-blocker.

Yep the windows central website sucks big time.. I've never had my
PC/firefox freeze until visiting win central.

I use my phone just to avoid the horrible desktop experience, but then they don't even make sure that their links will work in their official third party app. It's just odd how unfinished and poorly implemented things are.

That's funny right there...

Does it include Magic Jack?

I already have a magicstick in my pocket...

Magic twig Posted via the Windows Central App for Android

Damn, now that's some great enginering right there

I just wished Xbox One Controller could work on Android Lollipop and I'd purchase this stick just for the Android games ecosystem which is larger than Windows 10. Where I live I can't really get Android Game controllers like Nvidia Shield or others, I'm stuck with Xbox One hardware for now. And no, CherryTrail is not for PC WIndows 10 games, sorry about that Windows Central gamer fans so I think this having Android is not a bad choice at all.

It's almost as if they consider Android at the level of Windows 10 for PC!

HTPC ? Add a few USB 3.0 Drives for media storage and Windows Media Center...

Or just some kind of network so you can reach media server in basement.

To get its power on par with normal cpu's

It's the GPU that have 16 cores, not the CPU. Don't get confused here. GPU cores are WAY beyond (in quantity) CPU cores, and each company (AMD, nVidia, intel) have a different way on "counting" them. If you look to a high-end nVidia graphic card, it will have like 2048 cores, whereas the newest i7-6920HQ has 24 (of course the nvidia graphics card will be way beyond the i7 in power, but not by 86 times), and high-end AMD APU (A10-7850K) will have "only" 8 gpu cores. So 16 gpu cores on a intel is pretty good, for a low-consumption hardware that's not game-driven. it's nothing outside the box, really. You just have to get used to the difference between CPU and GPu cores

Only problem is it looks ludicrous sticking out the side of the TV.

A lot of TVs have hidden HDMI ports. This is just a graphic to show basically how it works

Yes you're right. I would hate to embarrass my TV like that. Forcing it to use such a ludicrous device. What would it's friends think?

A lot of TV have HDMI port at it's back. And if you happen to have ones that put HDMI on it's side, there are always HDMI cable to hid the stick somewhere on it's back. It's like when people connect their PS or XBox through HDMI.

Use a vari-angle L shaped hdmi adapter? Then you can have it flush to the wall and there you have a Smart TV for peanuts :P.

Because they hit their stretch goal you get a free 2 inch flexible HDMI extension cable which should make it easy to position...

Just picked one up I've been looking for a pc stick solution for a while this is definitely one i can get behind

These things usually come with a 2inch hdmi extender cable so they hang down or slide flat... otherwise a lot of tvs would need be another 4 inches away from the wall...

Not really, get a L shaped hdmi adapter.

ok, that is cool but, this is cooler... https://www.indiegogo.com/projects/ember-temperature-adjustable-mug#/

How big is this stick with all these USB ports?

Funny when people think its a scam...

It really seems like a scam in some respects. Very suspicious of the fact that I couldn't find any specifics on the GPU beyond the number of cores. If they were so proud of that stat, why not talk about the gpu more?

I see... Btw thanks man. They got me this time lol.

Cherry Trail has the Intel Gen 8 in it same as the Broadwell chipsets: Benchmarks are here: http://www.notebookcheck.net/Intel-HD-Graphics-Cherry-Trail-Benchmarks.140902.0.html Bit more info on Cherry Trail via Intels Ark: http://ark.intel.com/products/85475/Intel-Atom-x7-Z8700-Processor-2M-Cache-up-to-2_40-GHz And PCWorld: http://www.pcworld.com/article/2904552/seven-things-to-know-about-intels-cherry-trail-atom-chips.html I have the Z8300 variant running W10 inside a Media Player NUC like thing by Tronsmart and it does great job playing everything...

Is the same CPU on the Surface 3 launched in Q2 2015 In case you didn't know this GPU supports H.265 video encoding, that is 4K video. This GPU is in terms of speed, about 2x the performance of the Atom BayTrail CPU, so you can only play mobile games, forget even about playing Leage of Legends, DOTA or other strategy games at decent framerates on this. This is not for PC gaming, enough said.

Right not proper PC gaming... probably casual gaming like every other android stick out there. CPU isn't powerful but the GPU is slightly above average with, importantly, silicon for media playing (in particular 265) in hardware which is the stick's raison d'etre in my view... I'd spring just to have less few cables and tiny thing behind the projector that will stream 265 movies/tv from my nas silently. If the kids want to play low end games so be it... but there's better devices to do that with... edit Ok so I tried Minecraft on the 8300 based Tronsmart and it ran just fine with the shader mod and optifine (for those interested) my kids will be happy b/c the console MC is poor compared to the desktop version. It's not Battlefield though...

While it may not be for PC gaming, XBox streaming to the Windows 10 XBox app running on a stick PC on a bedroom TV is very much a possibility. But then for $250, it's probably not worth it, imho... $100-$150? Now we're talking.

Probably will replace my intel NUC with this when It comes around to replace it. For those of you comparing this with Continuum... you are very wrong. Continuum is aimed squarely at the average user, business users, and eventually emerging countries. This device is targetted more at advanced users that know what a HTPC is.

I can't get behind crowd funded devices. Posted via the Windows Central App for Android

This is going to be my Christmas present, the technology inside this small stick is impressive, it has similar specs than flagship smartphone performance (CherryTrail has similar performance than Snapdragon 810) Now the only issue having Android is that you would need a gaming controller to be able to play games on this thing, since Android is not mouse/keyboard friendly.

You could just play Windows games and never bother with the spyware known as android... ​Plus, Xbox One controllers are on sale at the Microsoft Store, and those are fully supported by Windows 10 as well :P

From what I gathered you have to ask for dual booting, W10 is the default OS .

Brilliant. Might buy this and stick it into my TV and turn it into a fully-fledged PC! :-)

Isn't generation 2 of the Intel ComputeStick supposed to come out soon?

Awsome was just about to build a desktop for about 350 quid to just browse on but gonna wait for this now Posted via the Windows Central App for Android

I cant get over how perfect this would have been when used with Windows Media Center.

Wish they could figure out how to put that much ram in a Surface 3.

How can this device be good when it will benefit Android also?

The tech press should stop promoting crowd funding, especially if it has ties to IGG. Instead they should put an effort on reporting about the high frequency of scams. Everyone here thinking about funding this campaign, first do some research about unrealized Indiegogo projects. You will find plenty.

@mertzi That's quite right, There's definitely a risk reward metric in there. In general I'd reality check a project (how likely is it to happen regardless of who is doing it).. and then look into the team behind the project.. there's some common sense involved in decided a project's chances of success and the level of funding they're asking for. Some of that common sense comes from understanding the space and some comes from researching. In this instance there's a few factors in it's favor.... The bits/components are all already shipping so it doesn't rely on some essential r&d to be done by it or a 3rd party There are versions already out, if not their own then others, and for their own there are working prototypes or rev boards that are under going tweaking and can be seen working. Lastly it's not ground breaking, it's incremental... they're taking a reference/existing design, coupling it with larger memory pieces and incremental design improvements. Enough that the product is fairly unique in the space especially where ram is concerned. Anyway that's my 2 cents worth that helped me justify springing for one... that I and really want something that beats my rubbish TV UI, older WD TV that doesn't play 265, has a familiar interface and frankly will play most media I throw at it in hardware and anything else in software and maybe even serve transcoded media to tablets (via Intel's excellent QSV and supporting media management software) around the place... all for about 8-14W...

I am interested in these new "stick" PC's. It wouldn't become a permanent solution for me, but it would hold me over until my MacBook pro kicks the bucket, which could be soon. Then I can buy a new laptop or desktop.

I'll wait for it to hit amazon. Brilliant device though will buy one!

Arrrgghh. Why does EVERY bit of good news on here turn into a spec fest?? It used to be cars that made up for 'Inadequacies'.... For a layman, who this device is probably aimed at, it's a long way from what people are used to. How many average joes are interested in CPU scores? If it works, and it's relatively quick, that's what they want....

Expensive,i prefer the raspberry Pi 2, more options with the software you can run and it's an open system

Why inde android? Just increasing dev cost and final price... will pass..

Taking a closer look at the IndieGoGo page, a lot of red flags in there (Starting from the fact that is in IGG in the first place). Lots of poor english and flatout bad spelling and grammar all over the place (blue-ray? really? If they don't even know how Blu-Ray is spelled, can they really build a computer, let alone one that fits in a stick?)

When the "Trial" runs out, not Trail.

MAGICK STICK beware buyers this item was supposed to come in December. as you all know — it didn't now they say its march i can tell you from my own experience that they don't give your money back if you decide to not wait for this (till who knows when) they promised to give it back, but they don't ! they say they wait for someone to return from his trip.. well.. well.. now after a week they don't reply to e—mails at all. this is my own experience, and i can prove it with the e-mails i got from them . i will post this everywhere i can , so others can save their money

Less than awesome but if you follow the news you'd see that intel announced a bug in the cherry trail processors. It took Intel a few weeks to fix then retool the dies and then finally start production of the xx50 variants. That blew December out the water. Everyone including the team at indiegogo got caught with this. They received the first batch of the new 8300 at the end of January (they posted some pics of the blister pack).Then of course it's Chinese new Year which lasted on/off up to two weeks so most factories won't resume production until last week of feb. So March does seem reasonable as a ship date. All I'm saying is that I dont think it's a sham, it's just been caught up in a lot of external factors. Slipping 3 months on a new piece of h/w with some unique features doesnt seem like a lot to me. ~steph

MAGICK STICK beware buyers this item was supposed to come in December. as you all know - it didn't now they say its march i can tell you from my own experience that they don't give your money back if you decide to not wait for this (till who knows when) they promised to give it back , but they don't ! they say they wait for someone to return from his trip.. well.. well.. now after a week they don't reply to e-mails at all. this is my own experience, and i can prove it with the e-mails i got from them . i will post this everywhere i can , so others can save their money
Windows Central Newsletter
Get the best of Windows Central in in your inbox, every day!
Thank you for signing up to Windows Central. You will receive a verification email shortly.
There was a problem. Please refresh the page and try again.