Mango concepts that didn't make it to demo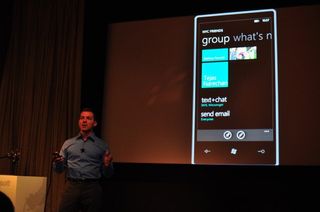 If you happened to miss the Mango (7.5) VIP event last week (opens in new tab) (shame on you), a number of requested features were shown off in the presentation. Not all 500, which were promised by Steve Ballmer (opens in new tab), but some 50-odd (give or take a few). While the ones shown were enough to maintain the hype and excitement for Mango, which is expected to produce a more complete OS, we have just found out that the Japanese Microsoft site had posted some screen captures on their homepage of features that were absent from the VIP event.
We have a few that LiveSide managed to pick up and take a look at, skip on past the break to check them out and remember to click the images on the right for a larger view.
Swipe to scroll horizontally
| | |
| --- | --- |
| Linked Group Event SchedulingOn the right-hand side you can see a linked contact group, but did you notice the "schedule an event" at underneath the email option? This wasn't shown at the preview event. | |
| Threaded EmailWe have witnessed the addition of threaded email in Mango via demos and we're aware of the "..." that indicates a conversation. In the image to the right you can see that a "+" symbol was used. The change to dot-dot-dot is welcomed and is more fluent with the OS. | |
| Conversation SwitchingTo the right you'll see the switching menu (when in conversations) to determine where you're message will be sent to. As you can see, you can select landline numbers, but this has since been removed. Not sure why, especially for those who can text landline numbers (UK for example). | |
| Conversation Switching IconThe fully integrated IM/SMS conversation feature is up next featuring the "switch" icon to the left of the input-box. As seen in demos this icon is located on the task bar. | |
| Pinned TilesLastly we have a few pinned tiles that are out of the ordinary. Notice the linked SmartDJ playlist at the top and the location tile (with distance calculation) above the emails? | |
While the OS demoed at the VIP event, along with previous events and in videos around the web aren't by any means final, it's rather interesting to see if features have been introduced then withdrawn between presentations or potential candidates hidden for the 500 feature count. Since there are many features that haven't been demoed as-of-yet (over 400 of them), ones like the pinned tile example above would make sense to be included in the update.
What do you think of the screen captures above, and would you prefer the above over what's been demoed?
Source Microsoft (opens in new tab), via: LiveSide (opens in new tab)
Windows Central Newsletter
Get the best of Windows Central in in your inbox, every day!
Rich Edmonds was formerly a Senior Editor of PC hardware at Windows Central, covering everything related to PC components and NAS. He's been involved in technology for more than a decade and knows a thing or two about the magic inside a PC chassis. You can follow him on Twitter at @RichEdmonds.
Why can't they just release a list of the supposed 500 new features? Even if it's a quick and dirty one.. I'd hate to find out theres a feature there that would make my life a bit easier and I've missed it for months..

Because this is a basic law of marketing - they need to keep the continuous buzz and excitement until the product release! (and not to give their competitors too much too early)

Do we know for sure that these are the features that were removed? It might have been a newer build or a build from a parallel branch - there might be things that will be included in Mango, but weren't ready for last week's preview in US.

You are probably right. For instance, the feature to text landline numbers hasn't been removed, at least not in the emulator. See these two images I took when I figured that out: http://imageshack.us/photo/my-images/233/textnumbers1.png/ and http://imageshack.us/photo/my-images/97/textnumbers2.png/

I would imagine they have several builds internally. Controlled marketing 101... stave off the competition and control the market interest. Release new insights after key product launches (ie iOS 5, Ice Cream Sammich.) Give people something to talk about... much like what we are seeing here. There were also many features that were mentioned @ TechEd 2011 by Joe B. that didn't make the list shown by Andy Lees including IM, SharePoint Integration, New LiveTile capabilities... there's a lot more to come.

One thing I really hope makes it is the ability to have 3rd party apps use the led flash as a flashlight. Something small, but its something I'd like to have all the same. Also a quicker way to get to the main music screen from anywhere, maybe by clicking or sliding down the music drop-down controls?

input this URL:( http://www.chic-goods.com/ )you can find many cheap and high stuff(jor dan shoes)(NBA NFL NHL MLB jersey)( lv handbag)(cha nel wallet)(D&G sunglasses)(ed har dy jacket)===== http://www.chic-goods.com/ =====WE ACCEPT PAY PAL PAYMENTYOU MUST NOT MISS IT!!!===== http://www.chic-goods.com/ ========== http://www.chic-goods.com/ =====
Windows Central Newsletter
Thank you for signing up to Windows Central. You will receive a verification email shortly.
There was a problem. Please refresh the page and try again.