Ballmer states Mango will contain 500 new features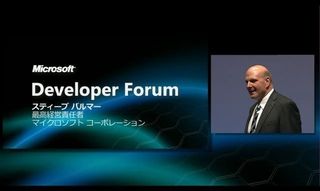 Heading up a presentation in Japan at Microsoft Developer Forum 2011, Steve Ballmer was covering numerous topics including the acquisition of Skype (opens in new tab). While discussing this year's Mango update, he set the feature count at 500. We were able to have a good insight as to what a good number of those features will be with MIX (opens in new tab), but it's exciting to know that there are a plethora of promised additions to the platform that still need to be covered.
At the VIP Mango event (opens in new tab) tomorrow, it will be a busy day for the OS with Steve talking about OEMs and carriers as well as further detail surrounding 7.5. Microsoft is also looking to release their Mango developer tools some time soon. You can check out the entire Developer Forum session here, move the video slider to 29 minutes in and you'll witness WP7 goodness.
Via: Nanapho. Thanks tezawaly for the heads up!
Rich Edmonds is Senior Editor of PC hardware at Windows Central, covering everything related to PC components and NAS. He's been involved in technology for more than a decade and knows a thing or two about the magic inside a PC chassis. You can follow him over on Twitter at @RichEdmonds.
Wow 500 seems steep. Sheesh, is there 500 feature in the phone currently?

I'm sure they are also counting the little things u can't see like security updates, bug fixes, performance improvements, API's and ect

I don't think bug fixes count as "features."

They also will announce that Mango will be available in July! :)

Ummm...don't you think it's an equally big deal that they are rumored to be showing up to 10 new WP7 devices tomorrow? How could you leave that part out of a story like this one?? I'm certainly looking forward to OS updates, but more hardware with an already great OS (getting better quickly) would be wonderful.

10 new devices?! I've been holding out on replacing my ailing LG Panther with a Quantum (I really don't want one though) so I really hope they show off a device with a keyboard.

Like this one?HTC Primehttp://www.wp7.nl/wp-content/uploads/2011/05/htc-prime.jpg

From engadget.■ Linked Inbox■ New Lock Screen■ Group Messages■ Integration of Windows Live Messenger and Facebook Chat■ Response to WiFi networks in stealth mode■ Lync■ Tiled Email Folders■ Smart Dj■Sound off the shutter sound■ Outlook Conversation View – Emails combined together in threads■ Lync Messaging Client – Enterprise messaging client - VIDEO■ Twitter - Tweets integration into people hub■ Office 365 integration – Office 365 features built-in■ Bing Vision – Scan QR, Microsoft Tags, books, CDs and DVDs■ Bing Audio – Similar to Shazam, will identify songs■ Windows Live Messenger integration – Integrated into the people hub and messaging hub■ Facebook Chat integration – Integrated into the people hub and messaging hub■ AOL Messenger integration – Integrated into the people hub and messaging hub■ Contacts grouping – Create groups of contacts to send messages to■ Xbox LIVE sync function – Sync function to likely sync settings/games across devices■ Now playing artist information on lock screen – album art on the lock screen■ Visual Voicemail support - Visual voicemail using same method as iOS/Android■ Network awareness NCSI support – improvements for switching between networks/optimization■ Internet Explorer 9 mobile – HTML5 support and hardware acceleration - VIDEO■ Multitasking support – switch quickly between apps■ Fast application resume – quickly resume recently used apps■ Podcast support – download podcasts via the Marketplace■ Turn-by-turn navigation in Bing Maps - voice guided directions and turn-by-turn■ SMS dictation – Microsoft tellme dictates messages■ East Asian Language keyboard support – additional language support■ Handwriting and dictionary support – support for writing Chinese characters■ Pin Outlook Folders – Pin folders as favorites inside Outlook■ SkyDrive integration – Access SkyDrive documents from Office Hub■ Kinect support for games - interact with Kinect and Xbox games from Windows Phone■ Outlook email server search – search Exchange servers from Outlook client■ Complex (alpha-numeric) password support – strong number and character password support■ Information Rights Management – support for protecting e-mails and Office documents■ Ringtone support – third party ringtone support■ App list – automatically detect list, implemented jump list and search for apps■ Marketplace search improvements – apps, podcasts, music separated for easy search■ App install improvements – progress bar install UI■ Search extras – User search actions can be connected to third-party apps■ Motion Sensor – apps to use new gyroscope hardware■ Background audio – apps can run audio in the background■ File download service – third-party apps can download files from the web■ Alarms – alarm notifications for third-party apps■ Pin app features – Users can pin live tiles of deep app features in third-party apps■ Zune Smart DJ mix – allows users to discover new music and save/create playlists■ Camera sound toggle – users can now disable the camera shutter sound.■ Update Live Tile system■ Support for Qualcomm MSM7X30 and MSM8X55 SoCs■ Added 16 Languages■ Increased country support for app submission and download■ Performance increases■ Battery life enhancements■ Support for access to hidden corporate Wi-Fi networks■ Unified inbox. You will now have multiple accounts in just one Hub■ Games Hub gets a facelift, including 'sync' option (potentially for online-game play)■ Native Checkins are coming e.g. Facebook Places■ Post-NoDo 16 Bit Issue On HTC Devices Will Be Fixed With Mango.■ Microsoft On Copy & Paste, Including Changes Coming With Mango. ■ Apps Search Button on Start Menu . ■ Improved Bluetooth support coming to Windows Phone 7.5 too

As long as we have custom ringtones!!! :)

That is definitely something I am looking for. These default ringtons....suck, to say the least.

I wonder how they are going to implement this update...I don't see why they had to do one huge update instead of just gradually implementing these features

Amen! Hopefully it'll work out for the best. :|

All I really want is... -True USB device support (with out Zune installed to carry files PC to PC) -Outlook sync (for people who use non-exchange features of outlook or Pop3 email) -Wi-Fi tethering (a MUST)-a Remote desktop app (RDC for us Wintel Admins- A MUST)-file access with out having to unlock a phone(part of USB device and to copy, music, documents, etc to phone and use on phone and a file explorer on the phone)and of course better battery life and more app support.

- What you mean without Zune installed- maybe- I doubt it, but hopefully- Nope- Nope
Windows Central Newsletter
Thank you for signing up to Windows Central. You will receive a verification email shortly.
There was a problem. Please refresh the page and try again.