Microsoft buys Skype for $7 billion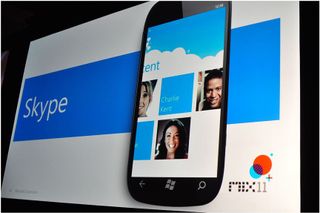 According to the Wall Street Journal, Microsoft could announce as early as tomorrow a deal to buy Skype for a near record $7 billion dollars. The deal would be the largest acquisitions by Redmond in their 36 year history.
Rumors had been circling for a few days now that Microsoft and Skype would announce either some partnership or deal, but a full on acquisition was seen as less likely:
So nothing definitive yet, but even the move by Microsoft is sure gutsy and would certainly give them a solid brand name to stand behind.
Of course, what we're really interested is what this means for Windows Phone 7. Although we know Skype support is coming this fall, there's little doubt that Microsoft would not seize this opportunity to deeply integrate Skype into the OS at very low level, potentially giving VOIP and social networking a huge kick in the leg. The big issue would of course be carrier resistance, but that's another battle. All we know is this is very good news for our mobile OS, if this deal happens.
Stay tuned as the story develops.
Update: According to All Things D's Kara Swisher, it's a done deal and will be announced tomorrow morning. Reportedly the press-release comes at 5am PDT/8am EST.
Update 2: GigaOM is reporting that Microsoft paid $8.5 billion in cash for the company: $7b for the company, $1.5b in debt.
Update 3: Microsoft has issued a press release (opens in new tab) stating that they have entered into a definitive agreement under which Microsoft will acquire Skype for $8.5 billion in cash from the investor group led by Silver Lake. Skype will become a new business division of Microsoft with Skype CEO Tony Bats assuming the role of president of the Microsoft Skype Division. Skype will support Microsoft devices such as the Xbox consoles, Kinect and Windows Phones. The purchase agreement has been approved by both Microsoft's and Skype's Boards of Directors. Follow the break to read the full presser from Microsoft.
Source: WSJ
REDMOND, Wash., and LUXEMBOURG – May 10, 2011 – Microsoft Corp. (Nasdaq: "MSFT") and Skype Global S.à r.l today announced that they have entered into a definitive agreement under which Microsoft will acquire Skype, the leading Internet communications company, for $8.5 billion in cash from the investor group led by Silver Lake. The agreement has been approved by the boards of directors of both Microsoft and Skype.
The acquisition will increase the accessibility of real-time video and voice communications, bringing benefits to both consumers and enterprise users and generating significant new business and revenue opportunities. The combination will extend Skype's world-class brand and the reach of its networked platform, while enhancing Microsoft's existing portfolio of real-time communications products and services.
With 170 million connected users and over 207 billion minutes of voice and video conversations in 2010, Skype has been a pioneer in creating rich, meaningful connections among friends, families and business colleagues globally. Microsoft has a long-standing focus and investment in real-time communications across its various platforms, including Lync (which saw 30 percent revenue growth in Q3), Outlook, Messenger, Hotmail and Xbox LIVE.
Skype will support Microsoft devices like Xbox and Kinect, Windows Phone and a wide array of Windows devices, and Microsoft will connect Skype users with Lync, Outlook, Xbox Live and other communities. Microsoft will continue to invest in and support Skype clients on non-Microsoft platforms.
"Skype is a phenomenal service that is loved by millions of people around the world," said Microsoft CEO Steve Ballmer. "Together we will create the future of real-time communications so people can easily stay connected to family, friends, clients and colleagues anywhere in the world."
Skype will become a new business division within Microsoft, and Skype CEO Tony Bates will assume the title of president of the Microsoft Skype Division, reporting directly to Ballmer.
"Microsoft and Skype share the vision of bringing software innovation and products to our customers," said Tony Bates. "Together, we will be able to accelerate Skype's plans to extend our global community and introduce new ways for everyone to communicate and collaborate," Bates said.
"Tony Bates has a great track record as a leader and will strengthen the Microsoft management team. I'm looking forward to Skype's talented global workforce bringing its insights, ideas and experience to Microsoft," Ballmer said.
Speaking on behalf of the investor group that sold Skype to Microsoft, Egon Durban, managing director of Silver Lake, said: "We are thrilled with Skype's transformation during the period of our ownership and grateful for the extraordinary commitment of its management team and employees. We are excited about Skype's long-term future with Microsoft, as it is poised to become one of the world's most dynamic and comprehensive communications platforms."
Founded in 2003, Skype was acquired by eBay in September 2005, and then acquired by an investment group led by Silver Lake in November 2009. Skype has made impressive progress over the past 18 months under Silver Lake's leadership, increasing monthly calling minutes by 150 percent, developing new revenue streams and strategic partnerships, acquiring the intellectual property powering its peer-to-peer network, and recruiting an outstanding senior management team.
Other members of the selling investor group led by Silver Lake include eBay International AG, CPP Investment Board, Joltid Limited in partnership with Europlay Capital Advisors; and Andreessen Horowitz.
The acquisition is subject to regulatory approvals and other customary closing conditions. The parties hope to obtain all required regulatory clearances during the course of this calendar year.
About Skype
Skype is communications software whose purpose is to break down barriers to communication. With an Internet-connected device, families, friends and colleagues can get together for free with messaging, voice and video. At low cost, they can also call landlines or mobiles virtually anywhere in the world. Skype has recently introduced group video, allowing groups of more than two people to do things together whenever they're apart.
Founded in 2003 and based in Luxembourg. Skype can be downloaded onto computers, mobile phones and other connected devices for free.
About Microsoft
Founded in 1975, Microsoft (Nasdaq "MSFT") is the worldwide leader in software, services and solutions that help people and businesses realize their full potential.
Forward-Looking Statements
Statements in this release that are "forward-looking statements" are based on current expectations and assumptions that are subject to risks and uncertainties. Actual results could differ materially because of factors such as:
• Execution and competitive risks in transitioning to cloud-based computing;
• Challenges to Microsoft's business model;
• Intense competition in all of Microsoft's markets;
• Microsoft's continued ability to protect its intellectual property rights;
• Claims that Microsoft has infringed the intellectual property rights of others;
• The possibility of unauthorized disclosure of significant portions of Microsoft's source code;
• Actual or perceived security vulnerabilities in Microsoft products that could reduce revenue or lead to liability;
• Improper disclosure of personal data could result in liability and harm to Microsoft's reputation;
• Outages and disruptions of services provided to customers directly or through third parties if Microsoft fails to maintain an adequate operations infrastructure;
• Government litigation and regulation affecting how Microsoft designs and markets its products;
• Microsoft's ability to attract and retain talented employees;
• Delays in product development and related product release schedules;
• Significant business investments that may not gain customer acceptance and produce offsetting increases in revenue;
• Unfavorable changes in general economic conditions, disruption of our partner networks or sales channels, or the availability of credit that affect demand for Microsoft's products and services or the value of our investment portfolio;
• Adverse results in legal disputes;
• Unanticipated tax liabilities;
• Quality or supply problems in Microsoft's consumer hardware or other vertically integrated hardware and software products;
• Impairment of goodwill or amortizable intangible assets causing a charge to earnings;
• Exposure to increased economic and regulatory uncertainties from operating a global business;
• Geopolitical conditions, natural disaster, cyberattack or other catastrophic events disrupting Microsoft's business; and
• Acquisitions and joint ventures that adversely affect the business.
Windows Central Newsletter
Get the best of Windows Central in in your inbox, every day!
Daniel Rubino is the Editor-in-chief of Windows Central, head reviewer, podcast co-host, and analyst. He has been covering Microsoft since 2007 when this site was called WMExperts (and later Windows Phone Central). His interests include Windows, laptops, next-gen computing, and for some reason, watches. Before all this tech stuff, he worked on a Ph.D. in linguistics, watched people sleep (for medical purposes!), and ran the projectors at movie theaters because it was fun.
wow, that would be huge for MS. Its a huge brand name recognized and used the world over. The integration into Windows & Windows phone would be huge.

Indeed, I think Microsoft would benefit most out of acquiring Skype, compared to Google and Facebook.

Actually, Facebook could have made something cool by integrating it into the site, allowing people to "voice chat" with each other directly in the browser (through a plugin perhaps). That would actually have been a really nice feature, but I guess Skype integration in Windows Phone won't hurt me either, since I'm using it :-P

I am glad MS got them instead of Facebook or Google as I really dislike both companies. This is a huge win and it came totally out of left field. I still don't really know what to think of it.

Wow! Now that the Anti Trust case is set to expire, Microsoft is pulling out the big guns! If true, the implications could be landscape shifting. Combined with the global reach of Nokia, Microsoft would gain HUGE leverage against the carriers. Amazing.

You know ... your pie-in-the-sky crazy talk is actually a pretty potent bit of speculative analysis. I didn't think of it that way, but we know that Google at one time was wanting to challenge the current phone systems we have in place. What if MS has similar long term goals. A Skype acquisition would be a potent first step ...

Well not like the Carriers have been all that friendly with Microsoft. Like reps who will almost punch you if you ask for a WP7 device. Maybe this is the leverage they need to get AT&T to approve the mango update in less than 60 days.

Hopefully Skype would become exclusive to Microsoft products and would be integrated into Windows Phone OS.

Overpriced. What exactly is MS gaining for $7 billion that they could not do with Messenger and Lync? The name, the technology? Not seeing anything in Skype that is worth this much. Putting that money into WP7 would make much more sense.

@theefman 63 million customers to target your phones and desktop OS after?

Owning Skype isnt by itself going to entice anyone to buy a Windows pc or Windows phone, certainly not in the numbers that would justify an $8 billion acquisition.

I would much prefer it if no one bought Skype. Their services should continue to be equally integrated into all mobile devices and desktops. Hopefully MS doesn't play stingy with Skype like Google is doing with Youtube (denying Microsoft API access, for those who haven't heard). But that's just how business works. A company decides to put itself on the auction block and suddenly everyone starts bidding. Apparently Google and Apple threw their hat into the ring but it looks like Microsoft is gonna walk away with the crown. It's funny, read some of the tech sites and blog comments and it seems like everyone out there hates Microsoft, however it looks like the corporate world loves MS. Just look at their track record in the past couple months - Nokia deal, Bing integrated into BlackBerry, and now possibly Skype. There must be some smooth talkers at the House of M.

@Figure 8 Dash, looking at how MS markets Bing on competitive devices (iPad, BB, Android), I would think MS is leaning towards gearing their services for everyone. Have they ever made any service "exclusive" to their brand? I don't recall any, though perhaps I'm overlooking something.

I can't think of too many though Zune for Mac is still pretty much nonexistent.

I think that's due mostly to lack of demand.

woah...7 bil is a lot when MS already has Live and Lync. Guess its all part for a bigger strategy with Bing at the core and Skype integrated deeply into it. WP7 and BB now onboard as well with bing it would be a huge selling point.So MS 2: Google 0 this year with Nokia and Skype

Well... Acquiring Skype means a lot to Microsoft.So, Lync (Microsoft at Work) gets better with Skype technologies.Windows Live Messenger (Microsoft at Home) gets better with Skype Technologies.Microsoft expands the connected world to living rooms with XBOX360 + Kinect and Skype.Windows Phone becomes a hot stuff for those heavy users of Skype, which is a huge database.Since 4G network is a all-IP based boardband solution, Skype is hot with carriers... I heard there's already some carriers negotiating with Skype to use its technologies. That makes Microsoft (with Skype) some kind of super carrier or at least provides the company advantages. And it also means money.Did I mention that if Skype is added to Microsoft Services, Microsoft (is able to) create a service that unite your E-mails(Windows Live Hotmail and other email service providers), IMs (WLM, Skype, Yahoo! Messenger and Facebook Chat), Phone Calls and Text Messages altogether? That's really impressive.Though some of the above is still vistas, I have to say that it didn't cost that much. Especially for Microsoft.

I believe this gives MS and integrated platform with VOIP, IM and eventually a facetime-like equivalent.Unlike some news stories I have read, this will actually make carriers happy. Voice is nothing, data is where the money is at and with data caps it will force more users to more expensive data plans

I'm sure like Bing, it'll run better and have more features on the iPhone then on WP7.

"We will continue to support non-Microsoft platforms because it's fundamental to core value proposition," Ballmer said during a conference call on Tuesday. He added Microsoft will continue to build upon Skype's customer base. Roger Cheng, Dow Jones Newswire

Right now the Skype investment partners are pitching themselves, probably every five seconds, just to make sure it isn't a dream. They've taken a company that consistently loses money and sold it for billions. They probably could barely contain themselves howling at the moon as they approved the purchase and headed for the exits. Not so lucky Microsoft shareholders.One problem are those pesky Skype users, who like their Skype served free. Microsoft will find it very difficult to change that expectation, either for the service as it exists now or any future premium features. Skype as a brand will continue to lose money for the foreseeable future.There are those synergies Steve speaks of. Will ignore for the moment that study after study of deals of this size say that the real money is made from savings realized from the elimination of redundancies. Look how Nokia is showing employees the door as fast as it can find a door. Unfortunately, there just aren't that many redundancies in this deal. As for the synergies, absolutely nothing could go wrong with an integration of a popular technology into Microsoft platforms. It worked for IE didn't it? The competition was absolutely destroyed wasn't it? No legal problems right? Microsoft at least is getting a proprietary technology. Too bad the feature set isn't proprietary. It's ironic that Microsoft's competitors might actual want Redmond to spend the capital finding the "killer-app" for their acquisition, which could then be duplicated, not for billions, but more likely millions. Unfortunately, what's kept Skype safe to this point is poor financial performance. Find something that can actually make money, and there will be a 100 imitators before you can reach for the Kleenex.At least Microsoft shareholders can rejoice in one indisputable fact: their company has taken the crown for overpaying the most for a software company. It's ironic they had to redeem the previous holder of the crown to do so.
Windows Central Newsletter
Thank you for signing up to Windows Central. You will receive a verification email shortly.
There was a problem. Please refresh the page and try again.