Skype heading to Windows Phone 7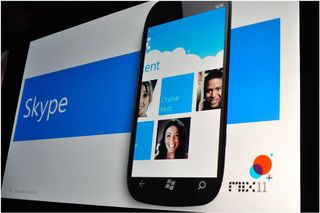 (Image credit: Windows Central)
Skype, the popular internet messaging service, is heading to Windows Phone 7. Joe Belfiore, Microsoft's VP of Windows Phone Program Management, provided an early glimpse at the communications app during today's MIX11 keynote.
Skype will definitely enhance the communications capabilities of our Windows Phones. Now we just need a front facing camera to take advantage of Skype's video features. While no specific date was mentioned, we should see Skype landing in the Marketplace later this Fall.
George is the Reviews Editor at Windows Central, concentrating on Windows 10 PC and Mobile apps. He's been a supporter of the platform since the days of Windows CE and uses his current Windows 10 Mobile phone daily to keep up with life and enjoy a game during down time.
I guess WEbos is now the only mobile os without skype

Don't get too excited ... it hasn't happened yet.

What's the point of skype if you're not doing video calls. There are dozens of internet messaging apps out there.

Half the time I use Skype, I'm just doing audio. So I'm fine with just Skype audio for now.

Just because its Skype duh. On a serious note the next rev of windows phone will probably have front facing cameras

That's nice and all, but how about some news on simple standard features like uhhh... custom ringtones? Any word on that yet?

Custom ringtones are in Mango and were demonstrated in the keynote

can't wait for custom ringtones. I had them on my razor back in the day.

Custom ringtones? Are you 16?WP7 needs folders, Flash support, a way to send videos from the phone, an update infrastructure that works ...

No need for flash anymore, Adobe and Microsoft are both embracing HTML5 full force. Adobe 5.5 has lots of HTML5 and IE9/10 are both focused on HTML5. I doubt flash will ever make it to WP7.

There is a boatload of Flash-enabled stuff ON the web ... when does it autoconvert? :-)

Not sure what age has to do with anything. Use varies. I don't need custom ringtones, but my mother and little brother would like them. Why? BECAUSE ITS A STANDARD FEATURE ON EVEN THE CRAPPIEST OF NON-SMART PHONES THAT THEY LIKE.I don't know, people tend to set imaginary bars based on feature sets which have been available for eons.Remember cut/paste when Apple "announced" it? C/P had been available on flip-phones, for God's sake.Here's to a one-size-fits-all platform.Heh.

I'd like to see that. Also, any word on being able to send more than pics in MMS? like videos and voice recordings

There is a boatload of Flash-enabled stuff ON the web ... when does it autoconvert? :-)

Good to see Skype on WP7, would make sense if you could integrate certain contacts directly into the Peoples Hub.MS need to get moving on a decent SatNav app, then I'm happy

fingerprint attendance, access control systems, biometric, attendance software, attendance machine, time & attendance, Karachi, Pakistan

Pakistan's Leading biometric fingerprint attendance system, Our devices are the most stable and robust devices. Our devices have complete one year warranty, Employee Managemnt Software included and is totally free of cost.For more information please visit http://www.intellitech.coms.pk
Specialized Biometric Attendance System, Fingerprint Attendance System, RFID Attendance System & Access Control System

Intellitech Business Solution

Forex Managed Accounts
TopFundManagers.com Managed Account (MAC) Program accommodates those investors who to allocate a portion of their risk capital to the G-10 Foreign exchange & Gold markets. Established in October 1994, the MAC program focuses exclusively on spot trading in the foreign exchange & Gold markets. Only some of the most liquid currencies are traded - including the USD, JPY, EUR, GBP, CHF, CAD, NZD, AUD and GOLD
Forex Managed Accounts
Windows Central Newsletter
Thank you for signing up to Windows Central. You will receive a verification email shortly.
There was a problem. Please refresh the page and try again.