Mango Preview Event, wrapping it all up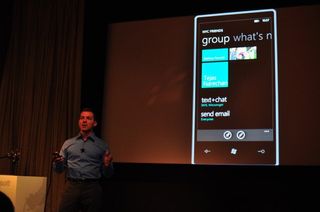 Microsoft took barely an hour (felt more like 45 minutes) to share a preview of the upcoming Windows Phone update, code named Mango. Andy Lees, Windows Phone Division President, didn't waste any time getting into the presentation.
The Mango Update is primarily focused on three areas of the Windows Phone operating system; Communications, Apps, and the Internet. Microsoft builds upon the mission to make smartphones smarter and easier for the consumer. Communications improvements will allow users to better connect and share information between family, friends and colleagues. App improvement will bring richer applications that will let you do more, wherever you go. And finally, Internet improvements will bring IE9 to the mobile platform in order to, as Lees mentioned, bring the internet to the palm of your hand.
Andy Lees, along with Derek Snyder (Windows Phone developer), covered a lot of information in a short period of time. Slide on past the break to see how it all breaks down.
Communications
Communications rests at the heart of the Windows Phone and Mango is slated to bring a handful of improvements to help you better communicate amongst your friends, family and colleagues.
Mango will add Twitter and Linkin support to the Windows Phone.
Contact pages will be added to cover pictures of that particular contact, call history for that particular contact and visual voice mail.
Mango will allow you to create Groups, a collection of associated contacts that will let you communicate and track updates for each. Groups will also have live tile support.
Threads will allow you to weave together all forms of communications that you are already using. It allows you to bring Facebook chat, Messenger chat, and text messaging all under one roof.
Email communications improves by allowing email accounts to be linked together in a unified inbox. Additional improvements include threaded conversation views to show the full email discussion, permissions (do not print, do not forward, etc), and calendar integration that will automatically scan your calendar to see if you have conflicts with any appointments you are emailed.
Apps
Applications extend what you can do with your phone. With Mango, Microsoft hopes to continue to provide rich applications that balance performance, battery life, and network resources. Microsoft focused the Mango update to make smarter apps. While all of the existing hubs will be updated in some shape, form or fashion with Mango, Microsoft focused on these three hubs during the presentation.
Pictures Hub: The short and sweet of it is that automatic facial detection is coming to your photos. When you share a photo, for example uploading it to Facebook, your Windows Phone will automatically scan the photo for faces. You then can tag them accordingly for use in your social networks.
Office Hub: With Mango, the Office Hub will add support for Office 365 and Skydrive to join the existing support for Sharepoint and OneNote. This will give you access to documents stored in the cloud from your Windows Phone. Also look for improved versions of Word and Excel.
Xbox Live: Microsoft is working towards a consistency with the gaming experience as you move from device to device. Improvements will be made on the Xbox Hub to improve the avatar appearance and animations, the ability to connect with Xbox Live friends from the hub and check/compare achievements and scores.
Additionally, Microsoft gave us a preview of the new multi-tasking features on Mango. Application resume speeds will improve and in pressing/holding the back button you will have access to what appears to be a task manager that will allow you to bounce between multiple applications.
The will also be improvements to live tiles with regards to notifications as well as being able to use them to return to a specific point of an application.
Internet
The key improvement Mango will bring to the Windows Phone with regards to internet activity is the addition of IE9. IE9 for the Windows Phone is being billed as being just like the desktop, tailored to bring the internet to the palm of your hand.
Along with IE9, improvements are headed to BING as well. Microsoft doesn't consider BING a stand alone app but rather an integrated experience. This may have been the most extensive part of the Mango Preview and Derek Snyder covered a ton of information in just a few minutes.
In tapping on search results from BING, you can pull up a new feature called Quick Cards. Quick Cards will pull up a summary of that particular search result instead of taking you to that particular website. Quick Cards scrape the internet to bring you as much information as possible on your search.
Another neat feature that is part of the Quick Card feature is App Connect. App Connect will search your Windows Phone's apps to see if you have an application installed that might help you complete your search.
Yet another neat feature that is part of Quick Cards is the Local Scout. Local Scout will pull together information on the locale of your search. If you're looking for a restaurant, Local Scout will pull together information not only about that establishment but the area around the location such as alternative establishments, additional attractions, etc.
And what may be the neatest feature coming to BING is BING Vision. Simply take a photo of your product or bar code and BING will conduct a visual search for that item. It adds visual searches to the existing text and voice search abilities with BING.
Hardware
While we didn't get to see any new Windows Phones during the Preview Event, we did learn that HTC, Samsung, LG, Acer, Fujitsu, ZTE, as well as Nokia will have new Mango handsets. Additionally, these handset will support 4g. We're also hearing that Dell is expected to be part of the mix in bringing new phones to the market.
So when should you expect Mango?
While no specific date was mentioned, Andy Lees did mention what we all have suspected. Mango will be a free upgrade that will be available sometime this Fall. Existing Windows Phones will receive notifications and the upgrade will be administered through Zune (much like we saw with the Nodo update). Hopefully all that were involved with Nodo have learned a few things and the Mango upgrade will go a lot smoother.
Mango developer tools are available today in order to allow Windows Phone developers to get a jump on writing/updating apps that can take advantage of all the new features Mango will deliver.
In closing
Microsoft threw a lot at us in a very short span of time. Mango is slated to bring 500 new features (what we know of is listed here) to your Windows Phone and they barely scratched the surface this morning. We'll be hearing more on the additional features as the weeks pass but one thing is for certain, Mango looks very appealing.
Just in case I missed something from the Preview Event, here's the webcast. Feel free to give us your thoughts on Mango in the comments and feel free to strike up a conversation in our forums.
Get the Windows Central Newsletter
All the latest news, reviews, and guides for Windows and Xbox diehards.
George is the Reviews Editor at Windows Central, concentrating on Windows 10 PC and Mobile apps. He's been a supporter of the platform since the days of Windows CE and uses his current Windows 10 Mobile phone daily to keep up with life and enjoy a game during down time.