Make your Instagram photos stand out with the Masks 2.0 app update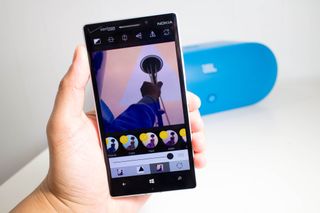 You've probably added filters to your images before sharing online. Masks, an image editor we've covered before, is another tool you should check out to prettify your photos. It has just been updated to version 2.0. Even though many elements still look the same, it has been completely rewritten for speed and more feature functionality. Haven't tried it yet? Don't worry; we've got a hands-on video for you.
What's new for Masks 2.0:
Major UI/UX update.
Now Pinch to Scale and Drag to Move Masks
New Icons
Easier Sharing
The Masks workflow is pretty simple, but you'll need some time to play around with it to fully understand what's going on. When you open the app, you have an option to use its built-in camera or import a photo from your camera roll. I'm pretty happy with Lumia Camera, so I won't be using the built-in camera on this app. I'll be importing my photos.
After tapping the import button, the camera roll shows up. Select a photo to start editing. The next stop is to crop your image. It is set to square aspect by default, without any options for other aspect ratios. I am fine with that since my photos go to Instagram anyway.
The next step is to select a mask. These are different shapes that are placed on top of your photo. The shapes or masks can have filters applied to them. There are currently 30 masks available, with an in-app purchase of 99 cents for 40 additional masks. You can pinch to scale and drag to move the masks.
After selecting a mask, the next step is to apply a filter. There are several to choose from, so play around with them until you see what you like. There's a slider at the bottom to change the strength of each filter. By default, filters are applied outside the mask. Tap the upper left icon to reverse the effect. This applies the filter inside the mask while leaving alone the sections outside. The other buttons on top also help with centering the masks or applying a mirror effect. The icon on the top right corner resets everything.
When you're happy with your image, tap the share button. You can send it to Fhotoroom, which is another app created by the same developers, or save to phone. Universal Share is also available, which gives you the usual Windows Phone options like email, OneDrive, Instagram, Twitter, and much more.
I really like Masks, but there's one annoying thing about it that hopefully gets fixed in an update. Pressing the back button brings you back to the app's main screen instead of the previous screen. For example, if you're in the middle of applying a filter and then tap the back button, it goes back to the main screen instead of the Mask selection screen.
If you haven't tried out Masks yet, you definitely should. It's a free download from the Windows Phone Store. Made some really cool images with this app? Don't hesitate to share them with us in the comments!
Get the Windows Central Newsletter
All the latest news, reviews, and guides for Windows and Xbox diehards.
I hate photo filters. So unnatural.

filters can be great if used properly

I hate premade photo filters, especially IG ones. I never use filters in any photo editor. I always make the changes manually. Changing contrast, blackpoint, saturation, etc. I do like these 'masks' though. They're nifty. Might use em

I use filters to change the look and feel of the photo, not to make myself look flawless.

I love filters. Changes the whole mood of the picture without sacrificing image quality.

For A Moment I Thought Instagram Got Updated.. Posted via the Windows Central App for Android

Speaking of which, just how much longer will instagram be in beta??

I Think Forever Posted via the Windows Central App for Android

Oh... Do we still need IG when I'm so hooked using 6tag?!?!

If you actually know how to save a high quality photo, 6tag won't post it 75% of the time. It has issues with larger .png files

I'm confused. Why are you trying to post high resolution .png's from your phone? Also, Instagram forces resolution sizes, you'd be better off resizing to a resolution Instagram supports, beforehand.

"Instagram" and "2.0"....... Had a brief heart attack....

Hahahaha... Same here... Then again, there's 6tag.

For a second there I thought the title had something to do with Instagram surprising everyone and updating our version to 2.0. I think I even had a tiny heart attack.

I'm Happy With 6tag Posted via the Windows Central App for Android

Yeah.. 'Instagram' and 'Update' in the same line.. :P

Pretty good for starting :D .

Oh, I thought instagram got updated. Where is the VLC beta anyway?

They have problem to send to the store. It has been rejected. They try 3 times

Guess I'll go back to 6tag. I tried to support the native app but for crying out loud.... smdh

I use both bc 6tag will not post large .png files...at least not for me on 3 different phones.

Off Topic But Why I'm Unable To See My Avatar ? Posted via the Windows Central App for Android

Mark I love how you post pictures with the halo halo Jollibee cup lol

Instagram will break the record for longest running beta ever.

for a moment i got excited about instagram update :((

I though instagram went non beta version 2.0...

Mine still says Beta and hasn't been updated in at least never.

Guys, please don't do this: Write Instagram and update as the article title. Is not fair.

No. Not dumbing down title because some of you choose to not read and comprehend.

Sorry, I was supposing to be kidding. I always read the entire article title. ;)

OMG....initially I thought....its an instagram update.....

Quite a neat lil' app this one. Loving it even more after the latest update!

Ứng dụng cũng tạm được nhưng thao tác có cảm giác hơi lag chứ không được mượt mà cho lắm :)