May Security Update Released for WP7 [Updated--up to the carriers]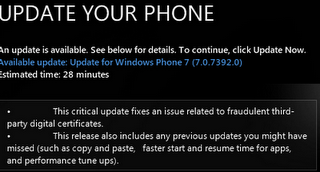 Looks like the planned May update is being rolled out, version 7.0.7392.0. This update addresses the fraudulent third-party digital certificates that could lead to potential phishing attacks or intercept web browser connections (man-in-the-middle). The update simply moves these certificates into the "Untrusted Publishers" certificate storage on your device.
More information on the update is available over on the update history page (opens in new tab). Have you received the update notification yet?
Updated: According to Microsoft, this update is at the discretion of carriers, again, meaning some of us may not see this until it is tied with another, future update: "How you get 7392 depends on your mobile operator and what updates you've installed...If you've already installed the March update, you'll receive 7392 as a standalone download or bundled with a future update."
Source: Microsoft Windows Phone (opens in new tab); via WPSauce
Windows Central Newsletter
Get the best of Windows Central in in your inbox, every day!
Rich Edmonds was formerly a Senior Editor of PC hardware at Windows Central, covering everything related to PC components and NAS. He's been involved in technology for more than a decade and knows a thing or two about the magic inside a PC chassis. You can follow him on Twitter at @RichEdmonds.
For f's sake! I still have not gotten NoDo because I am a Focus with revision 1.4!!!!!!!!!!!! AHHHHHHHHH!!!

This update is reportedly pushing NoDo too, hang tight.

★-Something unexpected surprise ★welcome to: http://www.jordansforking.com The website wholesale for many kinds of fashion shoes. like the nike,jordan,prada, also including the jeans.shirts,bags,hat and the decorations. All the products are free shipping, and the the price is competitive.and also can accept the paypal payment.,after the payment, can ship within short time.3 free shippingcompetitive priceany size availableaccept the paypalexquisite watches 75$90X Extreme Fitness System ONLY ONLY 42$jordan shoes $32nike shox $32Ed Hardy Bikini $23Smful short_t-shirt_woman $15ed hardy short_tank_woman $16Sandal $32christian louboutin $80Sunglass $15COACH_Necklace $27handbag $33AF tank woman $17puma slipper woman $30our website: http://www.jordansforking.com

I have HTC HD7 and "YES" I have the new OS: 7.0.7392.0 from Zune.Sorry but I need to post this here, when I use the Dude, Where Is My Update?, and I look at the Phone part I see OS: 7.10.7605. I am somewhere in the UK - London at the moment.

What do you see for your OS version if you go to settings/about and hit more info?

I use OS: 7.0.7392.0.With the Dude, Where Is My Update I can see Version 7.10.7605

s this going to work with everyone? HTC arrive

I believe so, the update is universal.

**** what I said, it's reported that Arrive wont receive the update. (Not Applicable)

Just acquired this update here in Slovenia, I didn't even know that it's going to be published. But nevermind, it's great to have protection.

Hmmm nowt so far on my Samsung Omnia 7 (3UK) Grrrrrr

I am in the process of installing the update now here in US on my unlocked LG Optimus 7.

I hope you're joking about people seeing this update yet?!I'm a Samsung Omnia 7 owner on T-Mobile (Deutsche Telekom) in the UK, so I'm still waiting for the Feb 7008 Pre-update to come out of 'Scheduling'!...it only made it out of 'Testing' last week, so I guess I'll see this 'May' update around Sept? :-O

I believe this update is bringing NoDo too according to some. Ah T-Mobile. 3 have had the update out for Omnia 7 for a while (over a month)

My unbranded Omnia 7 (on O2 Germany) with Nodo alredy installed also shows no trace of the May Update, while my wife's branded HD7 got it this afternoon.

It's installing now. (HTC Trophy, Vodafone UK.) Says "Creating a Backup" and is still at 22%.Wonder if regular security updates could be a way around there not being a way to back up the phone? Meaning I could restore to this point and still have everything intact?

Nothing yet. On US T-Mobile, listening to endless droning of "We are AT&T. You will be assimilated. Your biological and technological distinctiveness will be added to our own. Resistance is futile." Rotating shield frequencies, but no telling how long before they adapt...

I think the update isn't happening yet for Omnia 7's. They must still have delayed further updates for the Omnia 7. Can't see anyone mentioning any Omnia 7 update. Bummer.

I got the update message this afternoon. Updating as I type this.Toronto - Canada - Rogers -Samsung Focus

Update went well.OS Version: 7.0.7392

If it wasn't for wpcentral (or other tech blogs) I would never know about these updates. My Focus on AT&T never gave me any notification about pre nodo & nodo updates and I didn't receive a notification for this one either. When I plug it into my computer it pops right up >:/

did you get the security update because im on att with a focus and dont see it yet.

Ditto I plugged right into Zune and NOTHING.I didn't even get notice of the Pre-Nodo or Nodo when I bought the phone either (was home and plugged into Zune in about 30 minutes of getting the phone, but still.)

Sorry, let me clarify. I received a notification on my phone for pre nodo and nodo AFTER I plugged my phone in to my computer and launched zune. I haven't received a notification or the update for this one neither on my phone nor through zune.

I am in the same boat as you gearhead05

the phone checks for updates every 3 days! thats y it might not have said that theres an update right when your update was published

this bites, i really want to have an up to date phone

Updating now HTC HD7 Tmobile USA. I just connected my phone to zune and the update screen appeared.

I have the focus on ATT and I havent received a notice yet. With the nodo and pre nodo I got them both at the same time and the notification came up when I plugged into the home computer where the zune software is installed. I have not seen an update notice on the device itself independent of the desktop zune software. I am hoping it arrives tomorrow morniong before I leave to go to work.

Oh boy, don't let it start all over ATT...

I have a Samsung Focus since last Saturday, my OS version is 7.0.70004.0, I have repeatedly checked through the zune software by manually checking for updated while the phone was connected and nothing yet.... I'm on ATT.

My Samsung Focus on ATT in SE USA has not yet received the update but curiously, if I unbrand from 'ATT-US' to '000-88', I receive the notification immediately. I already have NODO via ATT sanctioned release but found this quirk to be strange. I have not followed through with the update unbranded as I want to see how long it will take branded to ATT. Also, @thomasward00, you may have the 1.4 version of the Focus meaning you're still in limbo...

My focus has Hardware Revision number 3.1.0.7 and Firmware Revision number 2103.10.11.3

Update failed. Figure this may have something to do with using ChevronUpdater?

Yep., its 7392 on my HD7 here in India. :)

Got the update on my focus for Rogers here in Canada:)

AT&T Surround for me....got the NoDo last night.But surprise surpise.....no 7392 update (thanks for nothing AT&T !)Btw....NoDo resets your clock back to 1980 w/o telling you, so you'll have to reset it to get Marketplace/Xbox Live working again....at least Nokia would take you to time/date setup right after every flash :(

No problem with calendar or clock on my AT&T Surround that was updated with , February/March(NoDo), yesterday.

still no security update T mobile USA
Windows Central Newsletter
Thank you for signing up to Windows Central. You will receive a verification email shortly.
There was a problem. Please refresh the page and try again.