Meme Generator Suite Pro goes free today only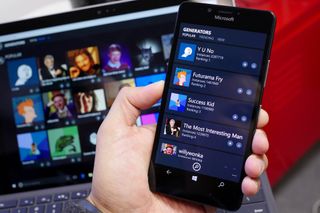 We talked about Meme Generator Suite a couple of months ago. It has an impressive collection of memes for you to choose from and it's also a universal Windows app. It's normally free with in-app purchases, but today, the Pro version can be purchased for free. Curious how it works on your device? We've installed it on the Lumia 950 and Surface Pro 3, and recorded a hands-on video. Take a look!
Features
Online access to 100,000s of memes (powered by memegenerator.net).
Generate memes from your own pictures.
Generate KEEP CALM posters and Jo Baka memes.
Move, resize and change the color of the text.
Includes an Offline Collection with more than 300 memes always ready to go!
Manage your Favorite memes and add or remove images from your Offline Collection.
Upload your images directly to Imgur.
Share your creations online in your social networks (Facebook, Whatsapp, Instagram, Twitter...).
Meme Generator Suite is a fun app to have your phone, tablet, or PC. With the Pro version being offered for free this Tuesday, there's no reason not to download it on your device.
To get the deal just download the app from the Store. Under the menu (...) choose app upgrades and then "purchase" the free Pro version. This action will unlock the app forever including for all versions on Windows 10. Check it out and let us know what you think!
Download Meme Generator Suite from Windows Store (opens in new tab)
Windows Central Newsletter
Get the best of Windows Central in in your inbox, every day!
Were is the QR code, it makes it so much easier to get the correct app!

Why is the download button missing from the app?

Link is broken on the mobile site. Haven't tried the desktop one tho. Edit: Here's the link for the curious: https://www.windowscentral.com/e?link=https2F%2Fclick.linksynergy.co...

Can't find a "pro" version in the store, either.

Unlock via inapp purchase

Found it, was typing as you posted - thanks!

Pro version is an in-app purchase; which is free until Tuesday!

You have to get the free one, then get pro from inside

Okay -- just install or open the regular one, then choose the Upgrade within the app. It removes ads and the imgur limit.

Lol. Already got the pro via apdeals on Saturday. Anyways the app is great. Already created 26 Memes

When I try to upgrade I get error code 805a01f4 in the store.... ?????

OMG! Dev here. I didn't expect this at all! If you have any questions or issues with the app, please contact me. :D

As a holder of sorts of a plethora of memes, what's your favorite meme?

Dude, love this app. Been waiting for a good meme generator app for Win 10 and this fits the bill. Hope the WinCentral bump helps!

I hope so too! Ever since I launched it one year ago I have been strugling to get a good position in the store. Glad you like the app!

When I try to upgrade I get error code 805a01f4 in the store.... ?????

Do you mean when purchasing the Pro version upgrade? I have observed this in some cases, just try closing the app and trying to upgrade again. Let me know if it works.

Thanks for the app, dev! My wife will love this. Getting it for her phone now.

Thanks for the great app!
Having the option to have the app white, instead of just the current black, would be great too!

It is asking me to pay £1.49 for pro. Is it not free in the UK? It's not been 24h yet, has it? :(

installed but when I launch it on my SP3, it just sits there and shows no interface at all?

get the same error code as rferrara90 805a01f4

Great app, will be using it a lot! Thanks for sharing this Daniel

Why is it that links to the apps no longer work? They used to work no matter what computer I'm using, even on my Mac. Now, they are simply dead. Click them and nothing happens.

Why is the download link not there?

Thanks a lot wc team....when are you making windows central app free....

Thanks for the info! This helped me a lot and I appreciate you guys getting us in on all kinds of deals!

On my app it's still paid, how can I get the free one??

I think Windows Central reported it half way through the free day so it was in reality less than 24h of free stuff after the news was relayed. Unfortunately looks like its not free anymore. However, worth £1.49 for developers to create quality apps.

Assuming you got there in time, what was available to download was the free ad-based version. However, when you click the link to get the paid version, the app would show the cost to be 0.00. I'm not so sure this is common enough that WC made the assumption you would figure that out on your own, but you want to keep this in mind.

Stupid timezones.... Missed the deal for a second time.

I cannot download it to my Lumia 1250 running WM 8.1. Please help.
Windows Central Newsletter
Thank you for signing up to Windows Central. You will receive a verification email shortly.
There was a problem. Please refresh the page and try again.