Memorize it! comes in as today's AdDuplex HERO App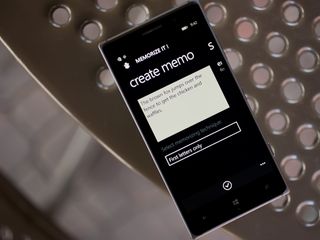 At all stages of life, we are called upon to memorize something. Whether it is a historical passage, a mailing address or your wife's birthday, it is inevitable your memory will be tested. Memorize it! is an app designed to help you learn things by heart. Available from both the Windows 10 and Windows Phone Store, Memorize it! is today's AdDuplex HERO App.
The HERO Apps program is a promotional campaign for Windows Phone and Windows developers on the AdDuplex Network and partners AdDuplex with myAppFree, AppDeals, PluralSight and Windows Central to deliver a host of benefits to the top apps and games each month. Our role in the HERO App campaign is to offer a little exposure to these titles by sharing them with you, our readers, and today we take a look at Memorize it!.
The interface with Memorize it! is rather simple and straightforward. You have a text field you can enter whatever you need to memorize. Once entered, you have a host of options to choose from to help you memorize the information. These options scramble up the passage to help you memorize things.
Options include showing only the first letters, removing all the vowels, removing all the consonants, creating gaps in the words and more. When the scrambled passage appears, you practice aloud and if you need a hint, tap and hold the screen to reveal the full text. You also have an audio playback feature where you can read along as the app reads the text aloud.
You do have the option of entering text audibly or punching it out from the keyboard. The app ran smoothly from Windows 10 and Windows Phone 8.1, but it is a little buggy on Windows 10 Mobile. For some reason, the keyboard on the Lumia 950 kept popping up whenever a text field was present on the screen. This happened regardless of whether or not you highlighted the text field for entry.
In just tinkering with Memorize it! for a short time, it comes across as a Windows app that could help build your memory skills and come in handy whenever you have something that needs to be memorized. The free, ad-supported version is limited in the number of options you have available to scramble your text (First Letters Only, Gap-Fill, No Vowels). To unlock the additional six options and remove the ads, it will cost you an in-app purchase of $1.49.
Download Memorize it! for Windows and Windows Phone (opens in new tab)
AdDuplex HERO Promotion
AdDuplex is a fantastic resource for the cross-promotion of Windows Phone and Windows apps. AdDuplex has launched a new program designed to help developers promote their apps even further with free access to various tools and resources from AdDuplex.
The HERO Apps promotion partners AdDuplex with Windows Central, myAppFree, AppDeals and PluralSight (opens in new tab) to provide additional benefits to the top apps every month that include:
Vouchers to advertise on AdDuplex
One month subscription to Pluralsight Plus
A featured campaign with myAppFree
A featured campaign with AppDeals
A review here on Windows Central
If you are a Windows or Windows Phone developer, you can sign up for the HERO Apps program here at AdDuplex's website. To participate in the program, you will need to apply within thirty days after your app or game has launched on the AdDuplex network.
Windows Central is already partnered with the myAppFree campaign and is proud to be partnering up with AdDuplex with the HERO Apps program. It is another excellent opportunity to help promote both the Windows Phone and Windows platform.
Keep in mind that the HERO Apps are different than what you find with the myAppFree deals. The HERO Apps are free, ad-supported titles that often have the option to remove the ad-support via in-app purchases. The myAppFree deal delivers a paid app or game at a discounted price or for free.
George is the Reviews Editor at Windows Central, concentrating on Windows 10 PC and Mobile apps. He's been a supporter of the platform since the days of Windows CE and uses his current Windows 10 Mobile phone daily to keep up with life and enjoy a game during down time.
Need this kind of app.. Thanks to George Ponder for this article... Downloading it to memorize some essential things that I should

Guys off topic.. HERE maps is gone from the store and when u go to their officail site it only promotes for their android and IOS apps no trace for a windows app.. are they discontinuing their app on windows or what ? I prefer it on using windows maps which when I use to look for a bank in my area shows me a bank in another country unlike HERE maps

Deff off topic. It is in store. On 10586 and it even updated. Check forums.

I am using build 10586 and HERE received an update and after it it stopped working. I removed it so I can install it again and unfortunately it is says " Sorry, HERE Maps is no longer available. "

It's a bug: https://twitter.com/jeresuikkila/status/667527206718017540

Great for spelling comps and the likes...

Anyone else noticed the resemblance to the Fedora app logo?

Thanks for the article! I will look into the bug you mentioned on Windows 10 mobile. Yes, def. similar logo to Fedora, hadn't realised. Do send your feedback / suggestions for improvement, always looking for new ideas, memorizing techniques etc... Thanks everyone! (dev. and language teacher) www.thelanguageapp.uk

@cypripri Do you know where I can get app Hear it first ! for my NOKIA 1520 (W 8.1)? Is not in the store ... when typing Hear it first !, I get only music apps. I'm really interested in thelanguageapp.uk app for W 8.1 phone.

Hi Zoran thanks for asking. It's strange. Try entering keywords: pronunciation, text-to-speech or follow this direct link: http://windowsphone.com/s?appid=f7fe46a1-1ea4-4ef8-a3fc-e14bd102493​ let me know if this doesn't work. Kind regards

@ cypripri Chears, direct link gives me that: ''We are sorry, the page you requested cannot be found.'' I'd tryed also on the APPX4Fun site ... similar result ... content not found. According to APPX4Fun website ... Updated: November 3, 2015. At the moment ... no success in Windows store and Microsoft CDN either.

there is something going on with the Store, I haven't made any changes to the WP 8.1 version, so I would expect it to be there. I will investigate later tonight. thanks for reporting this. worth trying this link which points to the windows 10 version but may perhaps redirect you correctly on WP 8.1 https://www.microsoft.com/store/apps/9wzdncrdrbr7 let me know if successful. maybe use thelanguageapp@outlook.com so I don't miss your message, thanks!

@cypripri Cheers, partially is this issue solved. I'd give a run my 2nd pc (W 10) and from there (store) was well possible to download ''Hear it first!'' and ''Memorize it!'' apps ... both a desktop version, of course. But i can't do anything with them. I've try to open them, but only i can get out, was a big app logo, witch disappeared after 20/30 sec. My thoughts at that moment were: ''Finally, I get wanted apps and I was able to download on desktop, I do have them, but I can't using them. Ok, it's possible, apps were made for W 8/8.1 ... my pc running W 10''. OK, time for another shot ... firebinging with the phone. And YES, I got them both and both working on my NOKIA 1520. Memorize it! i paid for pro version and I would to pay for Hear it first! also ... at this very moment is free. Nice transparent and live tiles ... perfect match for my Black&White NOKIA 1520. Thank you very much @cypripri. P.s. No success with the first link ... the button ''Get the app'' is death. Kindly regards, Zoran

Hi Zoran, please could you try again on your Windows 10 pc and let me know if Hear it first! and Memorize it! work? I've released an update today and hopefully fixed the issue... thanks, Cyprien

@cypripri Cheers, Memorize it! working well, Hear it first! not. Other 4 apps ... French Exam Revision etc ... working flawlessly on my phone. I've got myself pro versions. I olso have tried to get this 4 apps on my W10 pc, but only French Exam Revision I have found. I was not able to install because of notification: ''This app is not working on this pc '' and button for install was ''mute''. Anyway, I'm happy to using this apps on NOKIA and (later) on my ''Surface RT''. Looks like, that nowadays not so much devs care about W 8.1, you well. I owe you a beer.

hi Zoran, thanks for the useful info. I have bug somewhere I need to solve and it looks like it is to do with "location". Are you in Holland? Can you send me your email so I can help you install both apps on your Windows 10 PC? Glad to hear it's working fine on L1520 with WP 8.1. You can email me direct at thelanguageapp@outlook.com thanks!
Windows Central Newsletter
Get the best of Windows Central in in your inbox, every day!
Thank you for signing up to Windows Central. You will receive a verification email shortly.
There was a problem. Please refresh the page and try again.