Messaging + Skype app for Windows 10 updated with animated emojis, new UI elements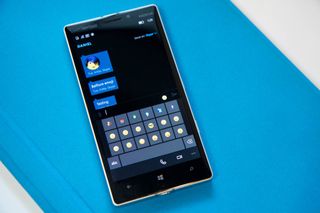 Microsoft has just pushed out a significant version change for the native Messaging + Skype apps for Windows 10 and Windows 10 Mobile.
The version jumps to 2.12.9011.0 up from 1.11.19004.0, which sounds like a new branch of the app to hopefully start adding new features. The update is also likely tied to the Windows 10 build 10586.29 update from last week.
There is no changelog associated with today's update and our cursory look at the builds in comparison to the older version revealed no obvious UI changes or new add-ons.
For now, we'll leave it in your hands to notice any improvements or changes. If you spot some, leave them in comments, and we'll verify and update this article.
Update: As noted in comments by Deaconclgi there are some minor UI changes, including
Update 2: We can also confirm that the update brings animated emojis in Skype! Thanks, Akash S., for the tip!
Download Messaging + Skype for Windows 10 and Mobile (opens in new tab)
Daniel Rubino is the Editor-in-chief of Windows Central, head reviewer, podcast co-host, and analyst. He has been here covering Microsoft since 2007 when this site was called WMExperts (and later Windows Phone Central). His interests include Windows, Microsoft Surface, laptops, next-gen computing, and for some reason, watches. Before all this tech stuff, he worked on a Ph.D. in linguistics and ran the projectors at movie theaters, which has done absolutely nothing for his career.
when will they add facebook integration?

Never. Just to spite you.

Screw facebook and its whole messenger crap. Invasive spyware that needs to die.

Facebook is apparently scrapping it. Scrapping the whole separate app model.

Facebook just came out requiring the use of the Moments app for photo sync (apparently on IOS and Andriod). They are expanding separate apps not shrinking.

Facebook doesn't allow this.

This. Facebook messaging was integrated back in WP8.0 but Facebook pulled out and integration was removed in 8.1.

Sadly never it seems - I loved my old WP8 a few years ago. FB messenger in with SMS was amazing!!!

Well if Facebook wants to, they have Messenger app already so its unfortunate that this might not happen. There is a way though, if Microsoft change the way how the Messaging integrate third-party services. Allowing them to actually integrate features just like a plug-in, this way they can make features party to their dedicated app, but the integration requires you to install the actual app. Meaning the integration is basically just forking the features and even its UI from the app into the Messaging app. There will just a switch if you want to use Messaging app integration of W10 or the dedicated app. This way is a win-win for user and the developer making messaging apps.

This update bought Animated emojis..... Yay.....

Animations Yay!
I would rather they make group chats work! Seriously I've been trying to use a group chat but every time i try to open them the app just crashes even on pc.

Strange. I use Group Chat heavily with no problems. Do you mean in Skype or MMS/SMS? I'm using SMS/MMS group chat here. (Lumia 950XL)

Newer chats seem to work while old chats don't always do. However, the admin in one of my old group chats got a prompt inside the desktop app to "update" the chat, whereupon a new and working instance of the chat containing all messages starting at that point appeared in the messaging app.

I love how the articles start as "Here's a minor update. Probably doesn't bring anything new." And then waits for commenters to point out what's different. Excellent journalism.

So what do you prefer? That the article comes out two days later because the writer has to test everything out for you??? Or an article which comes out swiftly, but obviously without complete changelog? How spoon-feeded people these days are :(

Yay!!! Finally they did this. I think they just need Stickers and instant sharing of photo and videos similar to popular messaging apps. They really need Skype compete against messenger apps like Facebook, Viber, Line, What's App, Hangouts, etc.

Are animated Emojis only on Mobile for now? I see the new larger circles and the selected chat background on both PC and Mobile but only seeing the animations on Mobile at the moment

I cant send text messages, hope this version fix that :(

Did for me. Thank goodness!!!

just called messaging now

I second this request. Posted via the Windows Central App for Android

Don't kill me, but why do we need an article for each core app update without a specific change to write about ? Please don't reply with "don't like it? Stop reading this site!". Maybe a "this week's updates" summery, with a change guide and things to note would be better ? Just a thought.

Gotta get them clicks, yo!

Alternative: You guys spam us with "tips" about the update, so we do it to appease you. Also, there are changes detailed in this article, making your point moot ;) Case in point, if there is no changelog, we can crowd source to find out what is new, which is what was done here. So now we know what is changed.

Boom! Also, People app was updated....

Good point. :) No one alone is able to viably identify all the changes between versions. Crowdsourcing is more effective. Also, thanks to this article I was made aware of these updates and snagged them from the store. :)

Valid points, although when I wrote the comment the changes weren't detailed as they're now :)

I like it, especially since there's no changelog in the dang app store now.

Hey folks, answer your Insider surveys with feedback telling Microsoft change logs are a must.

I like it. For some of us, it's very good to know what was updated, what changed and if it would be a good idea to update or not.

Upvoted to make up for all the downvotes you're bound to get ;) . Personally I like this idea, though it is also nice to look at WC and say, "Oh, I need to update that app."

I choose for my updates not to be updated automatically, so it's great to know what's going on with an update.

For me, this lets me know when to go check out new app updates - with Windows 10 Mobile I have no clue if/when apps are updated (this could be user error, but not sure - I've yet to be notified when background updates occur like as was the case in 8.1). Though you're right in that the article doesn't cover anything beyond the statement of the update, for me it's enough to know to go check it out.

No, I've yet to see a notification for updates on the tile like 8.1 had, on both mobile and PC.

Don't like it? Stop reading this site! :)

Sidebar in messaging conversation view is updated, bigger picture icon of user and highlight bar.

Unread texts have a bolded Font is one of the new features.

Hopefully they add rcs-e support in the app soon, because messaging+ app told me that it is discontinued.

Is there chance of rolling windows 10 for other Lumia phones this December ?

Purportedly. (last time I heard, though I may have old info)

The last updates to phone and people app surprised me cause they actually removed the "resuming" screen for me on L925. The only app with resuming screen now is messaging but now I know that it will too go away hopefully :-) good job MS

I still have that issue, but People app loads instantly, apart from a quick "millisecond" resuming screen, so to speak. (Lumia 1020, latest W10M Insider Preview - upgraded from Windows Phone 8.1, no hard reset). My settings app is finally not seeing resume anymore, at least as of late.

all Apps are getting faster updates, hope it to always be this way.

Now, if they would just support attachments (pictures etc.) for Skype messages...

I think the app and service works just fine except for this. I really want picture/video support.

I second this. As well as sending full texts to PC & phone.

I will be happy if they fixed the bug that reopens deleted Skype conversations in my messaging app. Quite annoying to delete them only to find them there again next time I open the app.

Microsoft People app is updated today too

Ugh, they still didn't change the weird black title bar on the desktop version.

Hopefully the battery drain fix is included?

Ppl hub also received update. What did it include?

For me, it now shows suggestions when linking contacts. Earlier it didn't work.

So, am I correctly interpreting this to mean that the choice to have circles as contact photos is actually necessitating removing information from the screen to be usable?

How would you interpret it? A circle inscribed within a square loses more than a fifth of its surface area compared to that square. You choose to crop a photo into a circle, you have to make that circle larger to compensate.

But that's not the issue at hand here. The circles aren't made larger to compensate the loss of surface compared to a square because even if the contact photos had squares instead of circles the actual content inside the photo would have the same size so we'd see the photo icons resized in this app even if they were square.

I had a single SMS message stuck in my Notification Center for the past week. This update removed it. Praise the lord!

Stuck? What happened when you tried to swipe it away?

It would swipe away correctly. Get out of notifications and go back in, it was right back taunting me.

Integrating Skype into the OS is a good idea, however sperating Video and Messaging is a terrible one. I'd rather just have "skype". would be much better.

But where is my taco emoji?!?

Still waiting for them to add /me functionality. Going into messaging and seeing a flood of "Unsupported content in this message" is really annoying and you'd think they'd try to fix that sooner rather than later.

Haha some dude just wrote about MS not falling behind in emojis :-)

Not sure if this has been talked about yet but does the integration for the SMS through the Messaging app on the PC work for anyone yet? The Only way I can send Text is via reply from a missed call from cortana. I also do not see any contacts/messages in the PC app.

This is correct, reading and writing SMS with the app on PC is not possible yet. You can however tell Cortana to send an SMS even without getting a missed call notification.

you can also search for SMS (not skype messages) on PC. Try searching for a single letter, like "a", and see SMS appear in the list! When clicked, the app will crash though.

Got a people app update too

Can we know if the other person is online or not?

I'd like to know the answer to this as well. How am I supposed to make a video call if I can't tell whether the recipient is online?

Now we just need proper skype integration in the dialer so that I don't need to use the standalone Skype app when calling numbers that aren't in my contacts list.... Unless of course it's already in there and I just haven't figured it out ; Conversely we also need proper integration for people that prefer the standalone app as their default. The mobile app should be able to integrate sms/mms and cellular calling as well as all that Skype already does. This would offer all the available functionalities regardless of your preference for 1 app or all of your phones separate experiences

I see Skype video calls listed in the regular dialer app, alongside other calls. You should see it if you are logged into the Skype integration thingie. I can see those same video calls disappear from the dialer if I sign out temporarly from the Skype integration in the Messaging app. Signing back in again, and they are sync'ed back.

What I mean is that when I go into the dialer part of the phone app I get the dial pad and it shows my network. I don't see an option to change that network to skype so I can just dial a number and call out over Skype. That's what I meant.

Nope,I can't see a way to call people not in your contacts list either without using the standalone app, which I thought we're supposed to be moving away from with this OS integration

I am getting an error when trying to setup the app or make it my default skype app.... Anyone else????

It seems that they fixed that bug that was showing you online on Skype every time you opened the messaging app, even though you had set it in invisible on Skype. That made me completeley logout from Skype on the messaging app. Now that it respects your visibility settings, I can login back again.


Can you not send attachments yet using the skype integration, it's greyed out

Is there a still loading screen while opening the app..on low end devices...? Or removed after this update

Good. But they seriously need to add the ability to send and view attachments.

Is there a still loading screen while opening the app..on low end devices...? Or removed after this update

Some core app are still slow on low end devices... Compare to 8.1. Like dialler shows loading screen.

Maybe it is just me, but it seems like the keyboard and predictive text is working better???

well cant really rely on skype in any form to get notifications or make a successful video call.. funny really how bad app development for 8 500 000 000$ can be

Hopefully it also fixes my problem with not being able to download pictures in sms.

Great. My 950 finally downloaded all my text from "any time" and now this update deleted all of them... Great, just great!

I don't like to be a debbie downer, I usually give MS the benefit of the doubt, but I remain amazed that they can release an app that is not even half baked, and an IM that does not have a litle Green dot that lets us know if our contact is online or not. I can't even use an IM that does not have someones status on it. I don't get this at all. My Mom just needs a simple touch based app that lets her know if I am currenlty available or not to Skype with. She can't use the desktop app on her Surface 3 because it is not touch friendly, and the new Skype app does not show her whether or not I am online and available. At what point did MS find it ok to toss Grandma (who needs to see and talk to people now more than ever), under the bus?

Cool - but now there isn't acess to the "default" emojis (which are more numerous and in sync with what users expect on all messaging platforms?

Such a large update, but group conversations are still as buggy as ever. Ah well.

Does anyone else have the issue with the messaging app not applying APN settings? My mms isn't working, and now my SIM settings won't get my data to work either. I'm using a Verizon Lumia Icon on the Telus Network in canada, had LTE working perfectly for a month then recently just started failing. Can't connect to my data connection anymore... Help please!

And now I can't see any smiles in messages app. Click on smile icon brings empty area, space bar and few buttons, but taps on empty adds smile text into text field :(

**** still cant send texts from my phone using my desktop

Is it possible to switch camera's in Skype video? Or do you need the full skype app?

Is there any way to get large emoji's like in the picture? Messaging images are way to small. Is that user error?

This may be a stupid question but if I have Messaging + Skype does this mean I can do away with the Skype app I have installed seperately on my phone?

Well from what i read the SMS + Skype version isn't as fully featured as the standalone Skype, so best to keep it for now...

No animated emoji's here...still static. Sorry..found them now.

Seems the issue with hitting the toast notification, and it taking you to a resuming screen, has been resolved. Yay

I still think that Messenger should have 2 major features for me.
First one having option to set our availabilit (away, offline, online).
See others too, we never know if the guy that were talking got offline or not in the middle of the chat. And the second feature is to change the ringtone for skype messages, is very annoying receiving some 10 sms tones when it was just 10 skype messages.
People on skype usually sends less text per message than SMS and much more messages in seconds, so it really gets annoying.

People, Maps, and Skype also have updates

Where you go to see changelog in the win10 store?

Finally... we have animated emojis on Windows platform after 4 years of it being available on iOS/Android...

Delivery time stamp still only in 12h format - so disappointing and inconvenient

Still crashes when entering P2P chat group.

skype on mobile still doersnt ring unless its up on the phone, it also doenst have any settings to chage camera from back and front like facetime does and it also lackes any settings to change ringtone, it reall feels like somehting that was made in 1995. Not exactly a good advert for microsoft.

They really need to enable attachments in the Messaging app on PCand mobile. Still unable to send pictures, location, files, anything....
Text only for now. The + sign is still greyed out for me, same as before.
I really like the concept of a single app for SMS adn Skype.
Windows Central Newsletter
Thank you for signing up to Windows Central. You will receive a verification email shortly.
There was a problem. Please refresh the page and try again.