Metrogram for Windows Phone allows you to browse, like, and comment on Instagram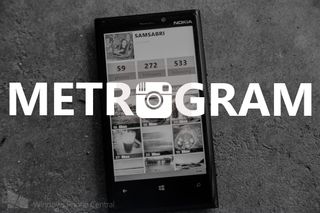 Instagraph landed in the Windows Phone Store last week. The app had a rough start but seems to be going strong at the moment, letting users upload pictures to their Instagram accounts on Windows Phone, sans iOS or Android. The one thing it can't do it, is view apps on the popular social network. Instead you've got some fairly good apps in the Store that let you view, comment and like photos on Instagram. One of those is Metrogram.
Trying to get a seamless Instagram experience on Windows Phone isn't all there yet and most apps are a little rough around the edges. Metrogram is no exception, but it stands out from other Instagram viewers with its unique design. While it might not be for everyone, it does make you do a double take. It also features fairly frequent updates from the developer, something that can't really be said for the majority of apps in this niche category. Metrogram recently got an update a few days ago that addressed some stability issues users had with the app.
So what makes Metrogram so rad? It's unique interface is easily the first thing that jumps out at you. But it also has some features that even the official Instagram app lacks on both iOS and Android. For example, you can save pictures to your phone (revolutionary, I know), but it's something you can't do with an official app. You can also share images of people you follow. You can either do it through email, SMS, or the built-in social networks on Windows Phone. Again, not revolutionary, but small features that actually add to the Instagram experience and help set this app apart from the official one. But like other apps on Windows Phone, uploading pictures to your Instagram account isn't supported.
You know what would be really neat? If somehow we could combine Metrogram and Instagraph. Yup, that'd be swell ;)
Metrogram is free for both Windows Phone 7.x and 8 right here in the Store, use the QR code below, or swipe to the right in our Windows Phone Central app.
Get the Windows Central Newsletter
All the latest news, reviews, and guides for Windows and Xbox diehards.