Metrotube update brings continuous playback, audio mode and more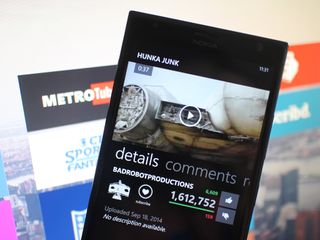 One of our favorite third-party YouTube apps Metrotube picked up an update to version 4.3, which brings new features like continuous playback, audio mode and more. With continuous playback, you can navigate away from Metrotube and still have the video playing in the background. Returning to the app will enable audio automatically.
Here's the changelog for version 4.3:
Continuous playback for multitasking
Continuous playback when locking the device
Switch button in top left allows for switching between video and audio mode manually at any time
Audio mode and continuous playback both work offline with preloaded videos
Full screen button in top right of video allows for enlarged playback with one tap for those who lock their rotation
Performance enhancements
Bug fixes
Audio mode sends the audio to the default music background agent, although you can access pause/play controls from within Metrotube. The new multitasking features are bound to come in handy when you're browsing other content, and makes Metrotube even more robust.
For all those who have already installed the update, let us know how you're liking the new features in the comments. The app costs $0.99, but there's an unlimited trial version available should you wish to check out the features.
Thanks everyone for sending this in!
Why do we need an official app, again?

It's a matter of principle. And I'm sure there is one thing in the official app that third party ones can't do.

Exactly, ads. The rest can be achieved by anyone if that person has the skills for it. MyTube already added 1080p support and might soon add 480p support and the possibility to run video's on 60 fps. These things are really difficult, but even without an official app this is achievable. So no, Google can stick their apps up their a*ses.

How did you get 1080p working on myTube? I have a 1520 and would love to view videos in 1080p but I only see the option for 720p on videos that I know are available in 1080p. Thanks

You need to install the beta version of myTube or you can also type "rykentubebeta" into the search bar of the non beta app to enable 1080p but I don't think it works properly in that version.

That's probably it. Happy with this app. Been on WP since 2010 and this has been my yt app since its first release.

Glad I didn't uninstall metro tube. I was expecting mytube to update, but metro tube got it beforehand

Are those even available in the official app for Android or iOS?

Yes annotations are available in android

TubeCast supports annotations.

I understand what you mean. On my part I'd only want an official version to answer people who ask "is youtube in WP already? That OS suckz without google apps"

Yeah that's true, but don't expect Google to make those apps unless we get ahead of iOS. Google is a stupid company that thinks it can cripple us by keeping their apps out of the store. While that does make things more difficult, Google doesn't seem to understand that it only gives themselves a bad rep

It's not about being popular.. It's about them hating WP

They may hate Windows Phone, but if it'll be the single largest operating system, they have to develop apps for it. If they still don't do that then, a bunch of people will abandon Google (No, not casual users, but High end users probably will)

Not just WP, they're not fans of Microsoft, period.

They'll offer better control over your account and faster streaming .... But I think we are okay with what we have.

AFAIK streaming is pretty fast on these third party apps as well.

It can be faster with Official app. They obviously have more bandwidth allocated than third party apps.

yeah, because of the ads in the app.. xD But yeah, that's probably right

Besides ads, the official app (on android) can play videos in 144p resolution, to avoid data hogging for someone like me who prefers mostly news and interactive programs where there's more talk than visuals.
Also access to comments inbox.

If you care about sound-only, MyTube can play the sound without the video. No one wants to view a video on 144p unless it's for the sound. So yeah, this is not an issue

Yes ads and the inability to download videos for offline viewing. That's what's missing. Posted via the Windows Phone Central App for Android

Google is kicking its own ass, by opting out of making apps for Microsoft.

Can't wait to see how they react when Windows 10 is released. No doubt a good chunk of people with ditch XP, 7, and 8/8.1 for it along with Windows Phone 10 being part of the ecosystem. Google is going to scroogle itself even further!

Yep sure is, i wish their was another service as popular as YouTube to show those Google bums.

The more offical app support, the better for Microsoft. Maybe you don't need it because it is "Google"?

Mytube already had most of these features :P.

MyTube has more features that MetroTube.. All that's still needed is 480p and 60fps which might both happen in the foreseeable future

Waiting for myTube update which was going to bring SDCard saving feature.

yeah me too, really looking forward to that

This feature is already there in the Beta version ;-)

That's why I am so eagerly waiting for it on public app. I am tired of trying beta apps.

I am running the beta version and that feature doesn't seem to be present for me.. (Yes, I run the latest version)

1080p works only in phones with 1080p screens.

If the chipset support 1080 like Lumia 730 with 720p screen but can play 1080

MyTube beta save videos to SD cards.

Metrotube rules because of unlimited trail :)

Same thing applies to myTube as well.

If only we could save to SD card. Will switch to MyTube when its updated with the option.

Move the app to the SD card. By default it will then save all data there.

It should be possible without moving the app and that's not the case just yet

myTube beta save videos to sdcard.

I think most of the people want to save in the SD card in a way that it is not stored inside the mytube app. Which the video can be shared via Bluetooth.

Just what the doctor ordered! 5 *****

How about windows 8 version?

MetroTube isn't universal at this time, but MyTube will be very soon

A big update to the Windows 8 app is in the pipe. Realistically it's sitll a few months away though.

Hello LazywormApps I'm a big fan of your work and been using Metrotube since day one. Let me just say that your doing amazing work and keep up the good job, you're a real crusader for our platform. Can't wait to see what you got up your sleeve for the Windows 8 app and future endeavors on Windows 10!

Once again we have better YouTube app than android.....

As much as I love Windows Phone and its apps, I have to disagree with that. Android has better apps overall with more features than we have. Luckily more and more companies realize that we need full featured apps too, but unfortunately not nearly enough to think that we have better apps than Android

That is the case, but he was referring to YouTube apps alone and the experience there is superior on WP in my opinion.

Not talking about all the apps...just YouTube!

In that case, yes, we do have better apps :)

You are wrong, he is only talking about youtube apps.

Bought MyTube last week to be able to do this, now I'll switch back to my beloved MetroTube!

Yes. MyTube isn't free you know. Lol. You must be using the almost unlimited trial.

Oh now I remember.. MyTube was the free deal a while ago :)

I will give it a go. Been using TubeCast for awhile now. It have the nasty habit of stop working in the middle of clips sometimes.

Try MyTube instead. It has more features and once the beta is going live, it'll have even more

Or you can try Metrotube :)

Tubecast works great with chromecast though. Google's decision to not support Windows Phone with Chromecast is purely political.

Meh grab a roku, avoid giving google as much money as possible. They dont deserve a dime. :)

Chromecast is only good when it works. I have four Chromecasts in my house. They all stop working intermittently. I get connection errors and sometimes, the Chromecast plug-in for Youtube itself will just stop working. The icon will disappear completely and if you were in the middle of casting, videos will keep playing with no way of turning them off (besides unplugging the Chromecast). In the last two weeks, I haven't been able to get them to work consistentaly for more than an hour at a time (at worst they diconnect every few minutes). Worst part is, unless you need help with a Nexus device, getting support from Google is a painful process. The fourms are littered with threads that get no official reply or get the official "we're looking into this, thank you" reply that goes nowhere. I have stopped recommending Chromecasts.

My android friends were searching for these apps ( metro and mytube) in their play store. :P That should sum it up.

My iPhone user friends were doing the same thing haha!

Continuous playback. Good good

nice! I have used metrotube for years. It still remains the most useful and functional YouTube app on my windows phone.

So now MetroTube is as capable as myTube ?

Does MetroTube have 1080p support? If not, then no, MyTube is still better

And still can't access upvoted videos.

Feel free to fire us a feature request 'support AT metrotubeapp DOT com' and we'll see if it's possible to achieve with given YouTube API's

Toib and Tubify can show them just fine.

Still there is no option to save videos in sd card

Got it for free a long time ago and it is one of the best apps for WP. MetroTube rulez!


Is the app Background downloading in 2g network support???

2g?? Where the hell do you live that there is no 3G/4G network support?

I am in India. Some location in India that's available 3g network. Otherwise only 2g network.

Does it support 1080P now?

When did mytube add 1080p support or is that in the new version,in the beta ?

It's only in the beta. It might also get 480p support later on.

Nice update. Metrotube is the best YouTube alternative in the Windows Phone store.

Can you watch live streams?

They both have their pros and cons

I have to resort to metro tube from the official youtube app on my nexus 7 very often. Official YouTube app sucks and videos take forever to load.

What is the difference between the trial version and the paid metrotube version?

I dont know... But I paid for it last week just to support them. Does anyone else have trouble where metrotube will not refresh view counts... Specifically for your personal videos?

I stopped using this app... I took mytube over this...

I haven't tried them yet,but I'll be updating today! It's like they were in my head,because these features are just what I was wanting!!

0.99? Don't even remember paying for it, seemed like a no-brainer, this app rocks, only wish yt links opened directly on it

Both Metro and myTube have a feature to open YouTube links via IE on your phone with a favorite and some JavaScript as the url. Opens it on the app. But nothing entirely direct. Yet anyway

Love metrotube... I can't believe how atrocious most mobile sites are these days...

Wait, so do you have to manually change it to audio before leaving the app? I was under the impression it would do it automatically.

If they would bring it back to WP7, that'd be great :( Still rocking with a Lumia 900

Bản cập nhật lần này cực kỳ tuyệt vời . Very very good :D

I don't know why most of good windowsphone apps d
start with letter M. I have almost 15 apps starting with letter M in my applist

Is it just me or is the audio function not working? I press the arrow down button, then when I go home screen it stops. Even browsing within the app stops. What am I missing here?

Whens the Windows 8 app gonna be updated? Its not nearly good as the WP version.
Windows Central Newsletter
Get the best of Windows Central in in your inbox, every day!
Thank you for signing up to Windows Central. You will receive a verification email shortly.
There was a problem. Please refresh the page and try again.