Micromax in talks with Microsoft regarding Windows Phone, still working on dual-OS tablet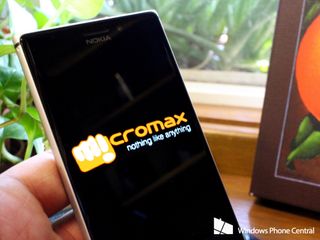 Indian mobile device manufacturer Micromax is looking to launch new hardware for Windows Phone, according to a report on the IB Times. The company failed to make the list of new Microsoft partners announced at Mobile World Congress, pushing the mobile platform forward through 2014 and beyond.
The reasoning behind Micromax being omitted from such a list is down to the manufacturer still in active talks with Microsoft, as co-founder Vikas Jain confirmed with the Indian publication.
Redmond is believed to have waived the Windows Phone licensing fee for certain partners, which is why Micromax could still be negotiating terms for more affordable hardware to be produced for competitive emerging markets. It's reported that both Lava and Karbonn have managed to score a deal with Microsoft.
Interestingly, contrary to what's happening with Asus, Micromax has confirmed that the company is still working to release its LapTab, a dual-OS tablet running both Android and Windows. That is until Microsoft and Google attempt to apply pressure to halt (or better scrap) plans for dual-OS devices.
Micromax showcased the LapTab back at CES 2014, but it'll be interesting to see whether or not this device hits store shelves soon. Well keep our eyes open for more Windows Phone (and Windows tablet) news surrounding Micromax.
Source: IB Times
Get the Windows Central Newsletter
All the latest news, reviews, and guides for Windows and Xbox diehards.
Rich Edmonds was formerly a Senior Editor of PC hardware at Windows Central, covering everything related to PC components and NAS. He's been involved in technology for more than a decade and knows a thing or two about the magic inside a PC chassis. You can follow him on Twitter at @RichEdmonds.
I don't support dual OS ... Only if I could run android apps through the Windows UI

Perhaps something related to the forked version of Android on the Nokia X devices is in the works as a potential dual-boot OS. There must be more to that Nokia Android creation than merely the X phones if Microsoft is involved.

I like dual boot OS, but most so far, like Huawai, have changed their minds.

they change their minds due to microsoft and google's fight, google are afraid of microsoft due to their invension and their success way to gain customer, while microsoft hate google for blocking their youtube app, but all other wp yotube app doesn't get block and more other complicated things that i dont know.

I hope it happens do Android people can see it lags

And people can see the empty Windows Store.

Are you planning to install al freaking 150.000 apps?

No, I'm saying that probably more than 149.000 of the 150.000 apps are just crap.

So you agree that,even Google play store is filled of fart apps and more than 6 lac of the total 7 lac apps are just wallpapers and themes..LOL

HAHAHAHA yey sure the windows store doesn't have any app . . .

Drop a comment against WP on WPCentral? NotRPG but surely NotGENIUS either..

Well since their phones won't come to America I likely won't use them but I hope this is killed off like the others were. Android crap near windows phone is a no no to me.

Why does it matter if you're not using it? If it could drive support for Windows Phone, what's the problem?

yup dude.Same for me.Dont't like these cheap shit phones especially Adnroid.

Any one here ask them self the question....would ios dual boot? There not that stupid or desperate would android dual boot with either WP or ios ?...there definitely not that desperate or stupid! So why on earth would Microsoft think this is a good idea? A...yeah cause its worked in the past?

You can't dualboot iOS, it's for iDevices only.

I would actually love a device that dual boots both windows and Android. There are things I like about both OS and it would be awesome not having to switch out devices all the time. The more options the better!!! I just wish both Google and Microsoft would just play nice....if they did it would be so great for us consumers!! Posted via the WPC App for Android!

What is Microsoft up to with this move?

I don't want "dual boot". What I want is the ability to install either Android or WP8 on a given phone. For example, I'd love to run WP8 on a Galaxy Note 2. I don't think the carriers would ever allow this to happen, unfortunately.

Dual booting is a cool niche thing I use to do it back in the day but found that having a dedicated machine and run vm's works better. If I was MS I would create a hyper-v mobile and let it run OS's to show how smooth and powerful wp is. And go from there I am not a fan of the dual booting and I hope to one day be able to jump on board with wp apps. Honestly if that is the only comparison basis to not using wp it is dead in water imho. I check I went app crazy on my wp and had like 85 and only used like 9 consistently.

I think dual boot will help people get familiar with windows and there next phone will be wp only. The only reason people stay away from wp is according to them there aren't enough apps. I don't know how many apps they actually use. All people are not tech savvy like us and they don't know the complete truth. Just like Samsung's pro tab ad invented Battery dock for surface. People are bound to believe that. I hope windows phone 8.1 changes everything. It'll get enough media coverage to promote itself

Micromax in Nokia ? Nice attempt..

WTF? when and where did MS said they don't want dual boot OS? that's just rumors. I want to see it

Microsoft didn't have to say it, Google already did loud & clear to Huewi

I wish at least wpcentral would be on MS side and tell the truth

Micromax is a cheap hardware manufacturer and gained popularity only because of the comparable screen-size and design to galaxy phones. They have no USP and also have poor after-sale service. Many people end up buying, looking at the screen size and touch and later after a drop or malfunctioning of buttons regret their purchase. Same with lava, karbonn, Xolo. Wish MS stayed away from such manufacturers.

I like dual os.. If it is laptops people would choose windows as they familiar windows in any laptops.. great people discover the greatness of windows tablets.

Google is doing monopoly in simple words