Microsoft boosts Brazilian Windows Phone Marketplace with 300 new titles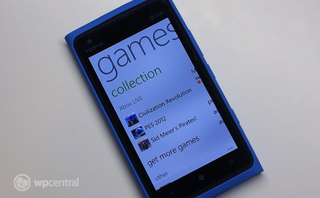 According to a Brazilian Nokia blog, Microsoft has reportedly added over 300 games to the regional Marketplace boosting it from just over 90 games the other day. Most thoughts will now be: "wait, what?" and rightfully so. It would appear as though the Brazil Marketplace is restricted by tighter certification regulations than other markets. This requires a clear guide to be published on each title that is available on the Marketplace detailing censorship (much like PEGI) and approval by the Ministry of Justice.
Google with their Android Play market reportedly gets around this by hosting the content in the US and having it only accessible via web (and paid in US dollars).
We'd like to chime in with a quick search performed by us reveals that some of these newly added titles don't sport visible ratings -- The Impossible Game (opens in new tab) being a good example, though it's good to see more content being added for markets to download and enjoy. There's nothing worse than owning a smartphone, yet not being able to access the catalogue of content.
With the new additions, the Brazilian Windows Phone Marketplace now boasts over 7,000 titles which is a start.
Source: TouchNokia (translation); thanks Little Angry for the tip!
Windows Central Newsletter
Get the best of Windows Central in in your inbox, every day!
Rich Edmonds was formerly a Senior Editor of PC hardware at Windows Central, covering everything related to PC components and NAS. He's been involved in technology for more than a decade and knows a thing or two about the magic inside a PC chassis. You can follow him on Twitter at @RichEdmonds.
Only 7000 titles???
How can I see this??

To be fair I only noticed the new games today, most of the time I check just for new Xbox Live titles. I'm not a heavy gamer but would be great to have at least the popcap games available, I'm not able to buy Bejeweled Live and Plants vs Zombies with a brazilian account :(

If some developers are reading this here, please, we would like to Brazilian consumers, very VERY VERY much, to be able to play your games (or use their apps)!!! If you have not requested the classification, made by the Ministry of Justice, of its games (or simply the publication of their apps in our Marketplace, please do so! Many users would be happy to be able to play them. Rich Edmonds, editor of this article, please, if possible, add this to the story text. Many users here, of Brazil, would like to be able to play the games that most users around the world play, but does not yet have here.



Guilherme, no one of those games are submitted by the developers to approval, Microsoft is doing that job for them. Many of the games are waiting approval and its not Microsoft or developers fault, it's just bureaucracy.

I didn't say that it was Microsoft's fault or the developers.
But, from what I know, and I always spoke here, are the desenvoldores, the publishers of games, they should require the classification of the Ministry of Justice, and not Microsoft.

@httpheaders No, Microsoft cannot submit the games for classification, the developers must do it themselves (this is a requirement). What Microsoft does is help the developers, specially the ones outside Brazil. Maybe Microsoft is the one submiting the Xbox Live games (since it is listed as the publisher in the Marketplace), but for any other game, the developer must do it.

I asked to a friend of mine that is a game developer and he said that the classification process is quite simple and usually takes between 5 and 10 days (up to 30 days, in the worst case scenario, when they get overloaded)

@richedmonds I should note that only games need to be classified. Regular apps are submited the same way as they are in all other markets. This is a very old law in Brazil and applies to ANY games sold here (even board games), not only mobile games. Just so you know, up until a couple of months ago the Apple Store didn't even have the games category in Brazil because they didn't want to add that complexity to their process.

I just wish "Plant's vs Zombies" would release in the Brazilian Marketplace.

The translation is wrong, 7000 titles is the number of games on US Marketplace... Against 400 games in Brazilian Marketplace

Well, I will continue to use my US account until ALL content came to be available in Brazilian MarketPlace. I can tell, when I bought my WP I created an brazilian account and now I'm using an US account. Is a totally different experience. There are a very few brazilian's apps that I can't access from US Marketplace, but is a small price to pay. The Windows Phone's weakest point is this restriction. Be unable to access differents accounts/marketplaces makes Windows Phone the worst choice for anyone outside United States (I believe the most complete Marketplace). Meanwhile iPhone and Android users has the freedom to buy apps wherever they like. I'm not buying any app just because I have no security. If I buy an app at US Marketplace, next day Microsoft can freeze my account and my app will be lost. Or I can choose to move back to brazilian Marketplace and I will loose my apps too. Even now, downloading only free apps, the experience is much better than using brazilian Marketplace. I hope that Windows Phone 8 allow us to use more than one account or Microsoft will find difficulties to sell phones outside US.

I'll admit, I generally skip Brazil when submitting a new game.
Does anyone have a link to a clear guide on submitting games for Brazil? Does the game need to be reclassified for each update?

I translated the official page of the Ministry of Justice where he has the necessary procedures for request classification. This isn't much, but it's a start. http://translate.google.com.br/translate?sl=pt&tl=en&js=n&prev=_t&hl=pt-BR&ie=UTF-8&layout=2&eotf=1&u=http2F2Fdata2FMJ6C4030FEITEMID66914BCA346A4350800CB04EBF2D6BD7PTBRIE.htm&act=url Here is the original link:

http://portal.mj.gov.br/data/Pages/MJ6C4030FEITEMID66914BCA346A4350800CB04EBF2D6BD7PTBRIE.htm I hope I have helped.
And, since already thank you for your attention.
Guilherme S. Manso

I just realized that my game (Cartridge) was one of the 300 brought over. Awesome.

If anyone from Brazil wants to help me publish MonsterUp and MonsterUp Adventures to Brazil send me an email using the contact form at www.kariosgames.com. I have looked into that, but couldn't find the instructions, at least in English :)
Windows Central Newsletter
Thank you for signing up to Windows Central. You will receive a verification email shortly.
There was a problem. Please refresh the page and try again.