Microsoft adds new Academic topic selections to Cortana's notebook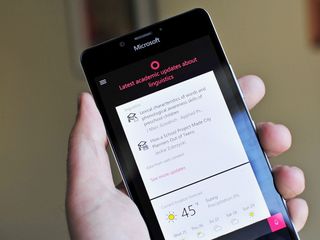 Microsoft's Cortana digital assistant offers alerts on a variety of topics for Windows Phone and Windows 10 users. The company is now adding new academic topics as part of its notebook feature.
As shown in the screenshot, the Academic menu selection should be visable as part of Cortana's Notebook menu. Tapping on it will bring up a page that will allow users to select the field or fields of study that Cortana should look for on the Internet, along with sliders that lets users turn on or off notifications and alerts for news, papers and conferences on those topics.
Via: WMPU
Get the Windows Central Newsletter
All the latest news, reviews, and guides for Windows and Xbox diehards.
Good to see these kind of things which helps Students..

Still not available in most of the world...

Can't see it in Australia

This is a start, but they'e got a long way to go. Bing is better than Google in all areas except one: academic search. Google Books and Google Scholar do a better job at weeding out the trash and only showing academic research results. Bing has to step up their game there. Microsoft Academic Search has been stagnate for years now.

True. I wish Microsoft had something like (I mean better than) Google Scholar.

With ALL Open-access articles!

Seriously Microsoft has many things with their applications like OneNote they can make Cortana useful for manu things. They should go with a partnership with coursera and Lynda.com to get their content available to users thru Cortana.

Once again, US only. Jesus the Cortana notebook screen from canada is pitiful compared to this

Available in India as well.

You sure? It's not showing up on minr

Not showing up for me in India

I wish Cortana's name could be changed, to Jesus for example.

"Hey Jesus, 920Walker said, and then the sky was filled with circular angels..."

Yep saw it this morning and even added a few topics too

Is there any way to make Cortana black again? I hate the Google now card style.

How about a Cortana update to match WP 8.1 MS? Dark theme please!!!!

Still don't understand why the notebooks need to vary so much across regions. I mean if someone wants to follow the NFL in Canada, why not? Much of what Cortana offers need not be region locked. They dropped the ball here.

Agreed. We are a global community now... that being said, still not seeing it in the US here.

Yeah, it really sucks that I can only use Cortana in English if I'm in the US.

Indeed. I find it funny that with all these tech companies that have people from all over the world working there, they can't even think that maybe maybe those people want to use their own local units and news in the foreign country they work and vice-versa instead of having to settle for one or the other.

As a linguistics major, I support these screenshots.

As a linguistic major, this will give you headaches: https://www.youtube.com/watch?v=QYkJ0M1bUIU

Its damn cool guys, works good.

On a slightly different topic about Cortana, what happened to the music match icon?

on what platforms is this new feature available? 8.1? 10? phone only? This would be helful detail to include in the article....