Microsoft and Samsung team up on Windows Phone for enterprise, take on RIM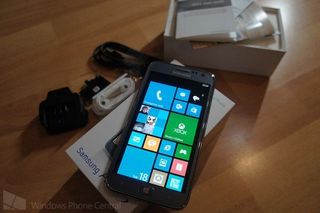 Microsoft is reportedly set to partner up with Samsung to push Windows Phone out to businesses. According to reports, the two companies are looking to form a similar partnership that Microsoft has developed with both Nokia and HTC with Windows Phone 8. This will come as a slight surprise to those who believe Samsung continue to place Windows Phone on the backbench while Android hardware remains top priority.
Head of B2B marketing on the Windows Phone team, Rikke Rasmussen has revealed that Microsoft will be pitching ideas with Samsung as soon as the manufacturing partner is ready. It's claimed that talks will kick off following the launch of the Samsung ATIV S. Rasmussen states a number of high-profile businesses have already switched from BlackBerry to Windows Phone, including a recent deal with HML Skipton - the UK's fourth largest building society.
With the launch of BlackBerry 10, RIM has a long standing relationship with companies who remain loyal to the brand with employees sporting such hardware as company mobile phones. It'll be interesting to see if Microsoft and Samsung can tap into this market to drive up sales to not only consumers, but to the working world as well.
Source: Mobile News
Rich Edmonds is Senior Editor of PC hardware at Windows Central, covering everything related to PC components and NAS. He's been involved in technology for more than a decade and knows a thing or two about the magic inside a PC chassis. You can follow him over on Twitter at @RichEdmonds.
Finally. If WP8 is to succeed, it needs to do this. The exchange support is superior to any other device, imo. It just works.

I agree. I used my phone much of the time for business and it's great. With Blackberry's current situation, it's a good time for them to push into businesses.

Um.... It doesn't support some of the EAS policies that iPhone supports

going to bet they will shove that into the March~April update

Such as? I have both an iPhone 4 and Lumia 920. Both were a breeze to set up with Exchange. But my WP device feels better integrated with the whole exchange experience.

They should add the VPN - connection to WP8 soon...

Navite VPN would be a +++ for the platform. It would make it viable for businesses to consider WP8 as the main (and dare I say preferred) OS for business.

First glance thought that headline said "out of business". Did a double-take.

Lol I did the same damn thing. I was like why would Microsoft and Samsung want to put MS out of business... OYAB!!!

Thank you! I was coming here to see if I was the only one who read it as "MS & Samsung looking to push WP out of business."

I feel like I've seen several stories similar to this over the past few months. Have there been any major instances of MS pushing into businesses?

I remember a story last year about the Sara Lee corporation adopting Windows Phone company wide. Wonder how that worked out.

I can tell you Vodafone have let Nokia all over a company I deal with, with many seats. The appeal of not having BES servers, NOT having "special" BES plans and BIS to deal with for end users is very attractive for end user corps. Couple that with excellent management via Office 365 and they have a good proposition.

It needs a bit of polishbut Windows 8 and Phone 8 before it can be adopted in medium/big businesses. SmB is WIn8 and WP8 work jus fine.

If this push goes through... I'm telling the higher-ups to consider WP8 as the main Mobile System (they are open to BYOD as of now) since Blackberry/Apple/Android just won't interpret certain data correctly causing us to spend time and money formatting to suit those OS's needs. Standardization is what's needed and its basically in the hands of MS. We are a global company and would be nice if we adopted WP8... Most people use the iPhone or Blackberry though...

I'm concerned it might be too little too late for this. My company droppped BB, killed BYOD and went to Iphones only this month. From what I have seen a lot of similar companies have done the same thing over the past 2 quarters.

Yeah, Apple is clearly making its way in with businesses and fast! 90% of big businesses here in Vegas use iPhones & ipads. The rest use BB. Only a few startups allow byod.

I mentioned WP8 to our IT guys a few months before it was released. Their response was basically that because they have spent so much money, time, and effort trying to get Apple products to work over the past few years that they aren't open to anything new. Unfortunately this is the idiocy Microsoft is up against.

Vpn, PDF reader, broader WiFi security protocol support... Wp8 need a lot more to be ready for business.

WiFi security is not as strong as it needs to be. Many businesses use authentication (RADIUS) for their wireless. Unfortunately, WP does not support that.

not true. We have radius servers on our wireless and my phone connects just fine.

Read the title wrong. Lol, I was about to ask why in the hell would MS want to push their own OS out of business. Nice read.

Friend of mine who works for Konica-Minolta told me that their head office is now recommending WP8 for all their sales people because of the security. Techs need Android because of a custom-build servicing app. But under No circumstances will they allow iPhones to connect to their networks because of the numerous security risks.

If MS wants the business world to take WP8, they really need to put out HID Bluetooth support. "Here's a built-in Office application but sorry, no keyboard support"

Good choice of OEM, the simplistic aesthetics of Samsung phones will go down with businesses better than what HTC and Nokia offer. Plus by giving each OEM some love, Microsoft can ensure they deliver quality hardware.

Agreed. Almost looks intentional on Samsung's part. Their WP8 designs are even simpler than their Android ones.

i actually think the Lumia 900, 920, and other variants look great for business with their matte Black offerings.

Nonetheless, Nokia is doing their WP push into business with their own initiative (as reported earlier by WP Central and other sites), so I look forward to seeing how WP fares as a whole in Enterprise.

I hope this is true but business is built on a good calendar and Windows Phone calendar is a joke compared to the BlackBerry calendar. WP can work in enterprise but not with the currently available pathetic calendar. Hope the upgrade it soon.

Yeah, I hope the calendar becomes more robust. The calendar on my N8 wasn't pretty, but I could customize it and get everything on it that I needed to. Not able to do so on my Lumia 900. I've been thinking about getting that app AppointTile to see if that gives me the flexibility I need.

Its something that I have noticed, but for some functionality people just want it built into the phone rather then added via applications.
It makes me wonder how the future of these apps will be, as some of them mature to become more and more complex they either get better programming support backup or they become the preserve of large companies only.

give us a WP8 qwerty device!

Things missing from WP to make it a perfect business device
1. VPN support
2. Ability to attach documents to emails or share local PDF files (right now only pictures can be attached directly from the mail application)
3. Ability to edit a forwarding email

2. and 3. are actually unacceptable for a smartphone OS in 2013.

Good news, they better hurry...BB10 looks kinda neat.

BB10 already failing not good luckily we have Microsoft to pick up the pieces and show how it should be done

How is BB10 "already failing" without being released yet?

MSFT is freaking Awesome...

Don't forget Nokia, Htc, Samsung, Huewai and also Lenovo, Zte, Alcatel, Asus, Lg, and many others who will all be on board with Windows Phone 8

Not sure how Samsung can go down this road given the newly-released ads for the Galaxy Note II as the "next best thing for business". This is just insulting.

I thought that read 'pushing out of business on first pass.

It would be great if one could join GoToMeeting and GoToWebinar conferences, and heck I'll even throw LogMeIn's join.me in the mix.

Intel Atom phones will put Microsoft over the top in business as the 'kernel' converges.

I'm curious to see if Spint's partnership with Samsung and a late summer launch tied with this article means that the Samsung WP8 device will be a new enterprise level device. Sprint does tend to focus their sales on business customers.

Combine a business centric Windows Phone with the possible Dell acquisition and Microsoft is clearly pushing hard to advance its enterprise business.

That korean times article last week did mention Samsung and Windows Phone could work as an etnerprise phone.

It is not going to be a business phone unless they add proper email attachment handling to the OS. Read more here : http://windowsphone.uservoice.com/forums/101801-feature-suggestions/suggestions/2282574-enable-document-attachment-in-emails?tracking_code=c914432cee16aeee7127bc4699df7784

Not understanding this Microsoft/ Samsung thing. What's the first Samsung wp8 pushed in the US since wp8 launch? You guessed it, a week from now the half assed Odyssey. If this is the case, imagine trying to get enterprise out. MS doing the hard work and Samsung sloffing off. Doesn't matter the issue, Nokia is the way to go!

Well so was HTC but see what happens when MS influences you...

Wow, when I read all of the comments, I can't help but think that WP8 still needs A LOT of work. Let's hope MS can work up to the expectations here :>

microsoft is playing the whore, nokia should switch to android asap and use both platforms

No, Microsoft providing a fair relationship with all OEM's, in short they are saying we really care about all our OEM's

Shows you why BlackBerry phone 10 will fail once they announce the launch of there new BlackBerry 10. Microsoft should buy this crappy phone co

Now do some shit stop talk!! Get your stuff up to par!!

Where is Exchange tasks categories synch??!! Wp is useless in business World if one cannot use outlook tasks with categories!!! My windows mobile phone 6.5 used to be able to manage that...

As far as functionalities and flexibility WM is still way ahead of WP, no questions about it.

When if ever is the Samsung ATIV S coming out in the US?

WP will roll to enterprise just like its rolling to the retail consumer market, it's that segment that's driving workplace technology. The only way MS can lose is by failing to make nice with the partner channel. No solutions, no enterprise....

Nice, except without the ATIV S out in the US it's kind of pointless...
Windows Central Newsletter
Thank you for signing up to Windows Central. You will receive a verification email shortly.
There was a problem. Please refresh the page and try again.