Microsoft announces Windows 9 event to take place on September 30th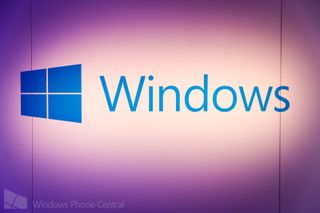 After a few leaks and speculation surrounding a Windows 9 event set for September 30th, Microsoft has now made it official. The next steps for Windows and the Enterprise will be announced in San Francisco on September 30th according to invites now being sent out and it's highly expected a technical preview of the new OS code named Threshold will see release.
Microsoft has already stated that the next version of Windows will bring back a version of the Start menu for the desktop UI that went missing with the launch of Windows 8. It will also have the ability to run Modern apps in windows on the desktop. Rumors about Threshold claim that Microsoft may do away with the Charms bar in Windows 8, along with adding support for virtual desktops and the Cortana digital assistant that's currently being used for Windows Phone 8.1.
Source: The Verge
Windows Central Newsletter
Get the best of Windows Central in in your inbox, every day!
Can't wait!
They'll probably announce the Windows Phone 8.1 Update 2 at the same time. Hope they'll keep the "Windows" branding and that installing the Technical Preview won't mean I'll lose all my data when switching to the final version.

As is always the advice - never install a beta OS on to your primary machine - ever! Use VirtualBox (free) or similar to try it out on a virtual machine if you wanna see it before release.

Either virtual machine or separate partition. Microsoft rarely offers official update paths with OS preview builds, leaving users only with the option to lose their data (unless it was backed up elsewhere). Also, preview builds tend to bug-prone by nature, so install it on your main machine and main partition is an overall bad idea.

Right, installing it on a separate partition is the best solution IMO to get a full Windows experience.

That's what I'm doing. I'm not into VMs.. it's just not the same.

Same, separate partition all the way! Also, I'm not extremely concerned about data loss, due to the fact that I keep anything important safely backed up on my OneDrive.

Try VHD booting. Its like running a VM, but not! Not too difficult to revert if you don't like it.

Will our windows phone 8.1 also gets that if windows 9 update if it is announced??

I firmly believe most, if not all, devices capable of running WP8.1 will be able to run WP9, even if it's with limited features.

Separate partition is the way to go!

I synch my stuff, so even a fresh restore today isn't too much trouble. In the good old days you had to... (blah, blah, blah)

Exactly. And also settings and store apps, part of the benefit of Windows 8 that gets lost in the noise that is the whiny masses.

I know, but it would be nicer and incite more people to test it.

I always do but, I have a virtual backup if I need to get something done, I can always pop on VM Horizon View. I don't mind wiping and redoing my computer - especially with Win 8. It's pretty simple and fast to get back up and running. I have redone my computer at least 5 times since Win8 beta. A lot has changed since then and 8.1.1 especially around Skydrive and Onedrive.

I think that paradigm is due to be updated. Only install local accounts on WIP OSes. Be wary when signing into your cloud account as your files run the risk of corrupting or worse yet, being deleted altogether.

I like to live dangerously. So I always use preview builds on my main machine. Posted via the Windows Phone Central App for Android

I ran the Vista beta ;) beat that! Posted via the Windows Phone Central App for Android

I did the XP beta and the Longhorn beta (before it became vista) via the Official MS connect beta program. For Vista I must have rebuilt my machine 5 or 6 times at least. The only beta I regretted was the first one for Win 8. I actually had to go back to Win 7 to get work done.

Yeah I do that too.... Works out for me... so might as well!

I like to live on the edge!

I do all the time. I even used the beta of vista back in the day. :)

I want to edit keyboard dictionary on WP, delete few words. Hope update 2 brings that option. I accidentally added couple words to it, and everyday even if I type word correctly it switches to the one I added

You can delete all added words. Go to Settings > Keyboard > Advanced > Reset Suggestions. Not as good as deleting specific words but c'mon, adding words is so fast and easy.

Yeah, I do that too, but I still hate those painful few days after I reset where it has to relearn my typing style, so I can go back to customized suggestions and improved corrections.

I know that and I don't want to delete all words I added because of 2-4 misspelled. They now work as -word flow- and I can "make up" long sentences. If I reset suggestions my phone will have to "memorize" them all over again

Windows 8.1 pro comes with Hyper-V, an enterprise-class hypervisor, built in. And since its windows 9 it should work great as a Hyper-V VM.

I hope they keep the charms bar. I'm excited to see what will happen.

One of the "leaked" photos shows that there is an option for it

I like the Charms. Having the option to keep it will be a great alternative.

Definitely, the Charms bar is the shit!

I agree it is shit! Oops, I mean "the shit" :P

Options. I like options. Especially the option to keep the current start menu.

Not to be rude, but the start bar was a tool to help new users get used to a GUI environment. It was never meant to be a staple element. The fact people can't get off a tutorial tool almost 2 decades old really saddens me.

I think it'd be best if they let you do all these customization options upfront.

http://winfuture.de/news,83577.html#sci1410439497,409,470,10813

I agree totally, keep the charms bar, 10000%

yep love the charms bar...very handy on my Asus T100...

I'm more interested in making sure they have automatic settings depending on how you're using the computer. Using it as a surface? Enable start screen and charms etc. plus it into a dock? Start menu and app only charms

Not this. Give us choice and selectable. I am one who prefers starting from the Metro side even with mouse and keyboard only.

Agreed!! I like the new start menu a lot, using it more than desktop mode nowadays, besides I have dual desktop, so I use one for metro apps and the other for the desktop apps...

i will be ready for that annoucement

My Pc and MacBook (win8book) is ready !!

Hope they finally merge WinRT and Windows Phone...so I can finally have watchESPN on my phone.

That's not really how it works

If that isn't how it will work, then there are going to be a whole bunch of mad non-pro surface owners.

Actually Windows Phone + RT are being merged with Windows Phone taking precedence. It doesn't make sense to have 2 ARM o/ses.

I hope Lumia Denim will be announced and released soon together with Update 2 for preview for developer.

I hope they announce that all future Preview for Developer releases will have the option of including firmware.

But then it would not be a preview

Is it even a preview as it stands? Besides, they run the risk of alienating other OEMs if they delay software just for their special snowflakes

That's definitely something I would not want. Beta software is fine, but beta firmware?? No thanks!!! That's just asking for trouble!!!!

Amen! Lumia 928 here running WP8.1 Update.... minus Cyan.

So it's coming to windows phones too?

Eventually it will! But not now!

I always liked the charm bar, but only used it on touch devices like the surface. I wouldn't know what people with a mouse would think of it.

I use it all the time on my non touch laptop. Share is awesome and needs to be used better in desktop ie for one.

Same here. I'm always using the charms bar. I hope they don't get rid of it. It would not be smart.

Yeah, share is awesome! I wish desktop software could also have access to it. Everytime I see something cool on the desktop Internet Explorer I go to share it and then remember I first need to open the page on the Modern Internet Explorer...

I use it with my mouse all the time. I love the convenience of having the control panel there, so easily accessible

I never use it... Single most useless and unintuitive feature. I only use it when I'm hunting for metro app settings and remember they're hidden there. It makes sense on a touch-laptop, otherwise it's basically useless

Can't wait! Also, Maxthon Browser was updated with WebKit core! Wow!

Is this the announcement for final version of Windows 9 or just some RTM?

An RTM is a final version. This is about a preview.

Techincal Preview. This not anywhere near Final or RTM.

is there counter for the event?

Gimme gimme gimme gimme gimme gimme gimme gimme!!!!

Gimme gimme more gimme more gimme gimme (mooaar)

*...a man after midnight *

My friend send me this message via Whatsapp about Windows 9 .. Is it true that all these features in this video will be there for developer preview
Message
" Windows 9 Technical Preview ( Threshold )
Build : 9834
Link: https://www.youtube.com/watch?v=xUYk95TSNVwA
( YouTube search: Windows 9 Technical Preview ) New leaked video of Windows 9 with Startscreen , Notification and Cortana "

1:32 lol "tat screen"
and No, it's fake

I wonder what time it will be at and whether it will be live streamed. Hopefully its not at a stupid time and can be viewed live.

Normally it's during work hours and is streamed live online. Lets hope news people talk about it like they do everytime there is an Apple announcement instead of doing like they haven't heard about it and don't know what Windows 8 is like they normally do...

Well given most don't know the difference between GMS Android & AOSP, I doubt it would get fair coverage.

all i really want is one unified windows store for apps with unified notification centers. i should be able to sign into my windows laptop at home and pick up right where i left off on my phone. i'd also like to be able to see, send, and receive SMS/MMS from my laptop (i guess via bluetooth with my phone). iOS8 promises that functionality, we shall see

Agreed, a more unified experience between devices would be awesome. I wonder how far into the future it will be until our phones have the ability to fold out into a tablet haha. It will happen.

And a proper version of Office for WP. It's useless currently.

I wonder if my Surface RT will be able to run the rumored preview that is coming.

Noit sure, but I think it's a full desktop OS n which case no

Will be there any news for Next major update for WP?

Judging from all the rumors so far, it sounds like this will just be a desktop-focused event. BUT seeing as the next version of Windows is supposed to be unified across desktop, tablet, and mobile, they may touch on the tablet and mobile side of things. I hope so, anyways.

Hopefully they'll let tablet users install modern apps to the SD card

Looking forward to it. It'll be nice to clear some fog about the next version.

Correct me if im wrong, is windows 9 free for upgrade to those people who purchased windows 8 or not?

That has yet to be definitively confirmed/refuted.

Why would you even expect that?

It would be unfair for people who just bought surface 3, pc, and other tables recently or people who going to buy soon with 8.1

Probably not but i purchased from MS windows 8 pro for 39.99 its first year out during a promo.

It was available for $15 if you said it was an upgrade. No proof required.

We expect big things. DONT forget 512 devices

For the Windows world, any PC running 512MB of RAM have been forgetting around the same time as Windows XP. If your PC is still rocking 512MB of RAM, it may be time to upgrade.

I think he means on the phone side... If that's the case then yes they should always support the 512 devices for as long as possible.

On my birthday as well! It's just a shame I'm not going 9.

Build 2014 has already happened. It was when they announced WP 8.1 remember? Joe Belfiore with all the Cortana stuff

What is this fascination with the last day of the month? Something mystical going on? :)

Well at least it is not being held on Halloween :P.

New. Premium handset with sd card would be nice

I like pretty much everything I saw so far that's been leaked, I just hope the Metro UI isn't only in the start screen on the desktop. I like having a separate screen for the metro ui/apps. Having them also run on the desktop is nice, just don't totally kill off the metro screen and leave it for RT only. I bought my Surface Pro because I liked the idea of the tablet screen and the desktop separate. I like my tiles!

There will be options, to cater to every fussy consumer imaginable. In the meantime, be happy with what you have :)

I got most of the leaks too for what its worth. What I want to see is a presentation not just what features have been included but methods of use. Not some stunt like Sammy tried to pull with a sensor that change web pages by blinking or each wipe of the arse. Who in the hell does a web page like that Sammy? I want to be wowed by Cortana chiming in to remind me of something or alert me to something I have programmed on my Windows Phone. Or if I get a message in my pulldown notification and tap it, I get a virtual keyboard I can use to "wordflow" my reply. I don't want to be stunted like they always seem to want to do when they pull Joe Belforie out to demo WP. Yes, it'll have a start button and that's cool but that in itself won't be enough for Windows 7 pimps that already have a START menu. That to me is what I mean by stunted. I want a presentation that makes this OS a must have for business. The windows should have character when they open, close and minimize. And would it kill Microsoft to alphabetize the control panel? They do the same thing on Window phone. Stuff just show-up in the control panel on both Windows desktop and Windows Phone without regard to any kind of organization. AND if they could figure out how to get Word, Excel etc to launch like it wasn't carrying 50 lb bags of potatoes, that would be a plus. But I digress.

Please Microsoft don't fcking mess this up...

My computer is waiting for this update, release it already :)

I don't care about the Start Menu, but the rest sounds great. Especially Cortana!

Tom is making, aaah confused 'Microsoft is planning to unveil its Windows 8 successor next month at a special press event. Sources familiar with Microsoft's plans tell The Verge that the software maker is tentatively planning its press event for September 30th to detail
upcoming changes to Windows
as part of a release codenamed
"Threshold." ' Not sure what to say about the first two sentences?

Excellent! Excited to see the future of Windows for the first time in long years!!!!

Yeah! I'm in this because of Cortana, when will we ever be given ours? And would Microsoft ever release something for free? : ) , that will be the day.

Hopefully they shed some light on the touch version of Office. And hopefully it will launch before Windows 9, too.

They need to bring back the Windows ME branding, it would sell like hotcakes!

You guys, this is Windows not Windows phone. Windows > Windows Phone

Windows for PC, tablets, and phone.

Will I be able to install it in a VM or will the iso be too large (surface 128gb)

Can't wait, hope the new Metro UI is already included in the first tech preview :)

So pumped! My body is ready!

Fuck that I always go balls deep, all in

Well it looks like I'll be pulling out my old Dell Precision laptop from 7 years ago when the beta is ready to download. It runs 7 & 8.1 perfectly fine so 9 should run fine too.

By all means cater for the "I've always done it this way, what's wrong with the old way, change for change's sake if you ask me, grumble grumble, where's the start button?" brigade but don't take away the innovations you came up with. I love the charms bar,I think it makes a lot of sense on a touch device. I spend most of my Windows time in the modern UI and would rather not see it hacked up for the sake of some stick in the muds...

And before you attack, my dad is one of them!

No attack bud, I'm with you on this one. And yes my Dad is one of them too. Lol

Don't worry there will be an option for people who like newness for the sake of it being new instead of being better or more efficient :P *shots fired*

Is any one else planning to try this via HyperV in win 8 pro?

Hope threshold will prove to be best and mind blowing.

Yes! Windows 9 and Forza Horizon 2 on the same day! :D

Just use my seven year old Gateway laptop (originally came with Vista) for these previews. Only 2gb RAM, but if it can ruin on this, my 16 GB I7 SSD desktop should not have any problems (and it ruins 8.1 just fine)

Its the Surface RT already dead? i mean now with WIndows 8 with bing and Win9 what gonna happen with Windows RT?

Charms bar seems useful for touch screens. I hope they keep it in at least on touch-centric devices.

This should have happened on 9/9 anyone?

Will there be live streaming?

Hope the alternative for the charms bar works. I have a Surface and to have it regulated to just a laptop UI will be a pain; the Start screen can only do so much, but having all those common controls in the same place all the time is really unique.

Hopefully, they will say something about WP too, I'm really worried that the wp7-wp8 nightmare will happen again

I heard they are also going to announce Cyan for Developers Preview!!!! So excited!!!

This is Enterprised-focused to get business on-board with Windows 9 big time. Hopefully they will have a Group Policy that can completely disable Metro Start Screen as well as the tiles in the start menu. If they do that one thing, I guarantee enteprise will FLOCK to Windows 9!

Will Windows 8 and 8.1 users get free upgrade to final release of Windows 9? Are we going to know that on September 30th?

Some say yes, some say no, while others say we will never know.

Windows 9, Windows 365, or Windows One?

If they do merge all platforms I could see windows one. My guess is just Windows.

How to get windows 9 ? Preview. I,have a windows 7 pc

I love the charms bar. Why remove it?

Same here. I love it. They should allow the users have a choice to remove it or not,

I just wish the Windows Phone 8.1 Update 2 announcement too takes place on the same day..

*sigh* I'll miss 8. The future was now...

Here is to hoping Windows 9 brings the Wordflow keyboard from Windows Phone 8.1. Would help make this Dell Venue Pro 8 a much better device.

Yeah. I keep forgetting and trying to "swype" when I am using my W8.1 tablet. I'm too used to Wordflow.

Also hoping we get a feature similar to OSX/iOS where you get notifications on OSX for text messsages, phone calls and can do both through OSX

Great Microsoft Posted via Windows Phone Central App

I am excited to see a new work from Microsoft. Daamm exited!!

Heard that Windows Phone 9 Jan 15th... I have a 100gb partitiion waiting for Windows 9..... I hope the preview is available on the 30th....I really want to see all they do with Windows 9, If it's everything I have seen so far in the videos, it will replace my WIndows 7 and WIndows 8 (dual boot but, will be tripple boothing for w9).

No offense but the IOS 8 keyboard is so intelligent, keep it up MS.

I don't miss the start button anymore.. I do search and find out easy..

Can't wait for this. Hope that Windows 9 will be better than Win8, not just only Win8 upgraded version.
Windows Central Newsletter
Thank you for signing up to Windows Central. You will receive a verification email shortly.
There was a problem. Please refresh the page and try again.