Microsoft discontinues current Cortana integration with Dynamics 365 (Updated)
Microsoft has discontinued Cortana integration with Dynamics 365.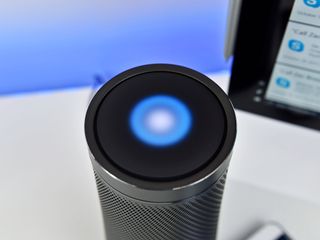 In a short note posted to its developer site (opens in new tab), first spotted by MSDynamicsWorld.com (via ZDNet), Microsoft has announced the discontinuation of the current Cortana preview integration with Dynamics 365. The terse statement is short on details, but it does confirm that Cortana will no longer surface information linked to Dynamics accounts.
From Microsoft:
Prior to its discontinuation, Cortana integration was available with Dynamics 365 Online versions 8.x and 9.x, as well as Dynamics CRM Online 2016 Update. Dynamics CRM first appeared as an option under Cortana's "Connected Accounts" section in early 2016.
As for why Microsoft is scrapping the integration, the company hasn't yet provided an explanation. However, as ZDNet points out, Microsoft was still promoting the integration as a differentiator as late as May 2017.
The move comes as Microsoft is redoubling its efforts to bring more AI smarts to other parts of its portfolio, including Office and Cortana. At a December event, the company detailed new AI features headed to Office apps like Excel and Word, as well as Cortana enhancements and integrations with Outlook. Given Microsoft's moves to spread Cortana smarts to other parts of its portfolio, the removal of Dynamics 365 integration sticks out.
Updated January 8, 2018: Microsoft has now updated its post, renaming it to "Work continues on Dynamics 365 digital assistant experiences" while providing reassurance that it is working on a "new long term intelligent solution experience." You can read the updated statement below:
Windows Central Newsletter
Get the best of Windows Central in your inbox, every day!
Dan Thorp-Lancaster is the former Editor-in-Chief of Windows Central. He began working with Windows Central, Android Central, and iMore as a news writer in 2014 and is obsessed with tech of all sorts. You can follow Dan on Twitter @DthorpL and Instagram @heyitsdtl.
This makes no sense to me

Ditto. I understand a lot of their consumer cuts which lost money and had better rival out there. But Dynamics is a huge business offering, the exact kind of area they have been doing a fantastic job with in the Nadella era. Cortana is going to be useless to a lot of high-paying business customers now. I was going to try to push my workplace to use Dynamics but the Cortana integration was one of my bigger selling points, so that's gone now.

Looks to me like anything that could be classified as largely consumer focussed is either being cut where possible or bundled up for selling on. Moving Cortana away from the enterprise focus into a consumer bundle seems odd as I kinda doubt they could sell it off as a going concern which is an option for Xbox and WMR. I thought Cortana was heading for the chop. Perhaps they think they can sell it to the Harmon people making that US only speaker/spybot? Who knows, the contents of Ol' Nads' mind truly is God's own sweet mystery.

Even though Cortana is in Windows 10 and Xbox, I would wager MOST people who use Windows 10 have no idea she exists, and most would call her Siri or Alexa. Amazon did a master stroke with their Echo device, it was cheap, and NOT a phone. So at least it got into people's minds. Because I would wager the average Joe/Jane on the street just assumes any voice assistant on the phone is just Siri. And if you already have an iPhone, why would you use Cortana on the PC? If you have Android you are using Google Now, and gain, why bother with Cortana on the PC? Amazon was smart in that they developed a product that wasn't a phone or a PC and had a voice assistant. It took MS how long to release the Cortana speaker? I mean it's a speaker with a Mic and WiFi. At this point they need a new breakthrough category to get into people's headspace. The fact they so royally screwed up Phones is going to cost then for a long time to come...

I've never even heard of D365... Makes me wonder just how many projects MS has going on.

MS, just make a deal with the Devil that at least will work with you and combine efforts completely with Alexa. Cortana isn't going to win. Apple or Google would destroy your entire ecosystem. At least Amazon isn't interested in doing that, and could even promote the MS ecosystem since MS would be playing along. I feel like I'm watching the same played out story again of Microsoft limping along with a tech before it decides it's done and pulls out completely. Cortana is the new Band.

"MS, just make a deal with the Devil..." Nooooooooooooooooooooooo don't do it!!!!!! ~ Mugman

Classic Microsoft, the left hand doesn't know what the right hand is doing and it's usually end product of petty office politics (evident as we generally end up getting really subpar replacements of a discontinued service). In the case of Microsoft, that has greater consequences as they usually have a knee jerk reaction to almost everything. Soooo what happens to Cortana Analytics?

Cortana is the next product offering on the chopping block.

Cortana is just a front end for Bing and connects to its AI services; there's not much to "cut". I think some here have a fundamental understanding of what Cortana is and how it works. What is happening is a reshifting of Cortana due to lack of phones and a larger focus on typing, rather than just voice. But there's no real reason to "cut" Cortana as it just piggybacks on the rest of Microsoft's services. (This is the same reason why many countries do not have Cortana. If Bing is bad in your country, Cortana is bad too). As to why MS is not going ahead with Dynamics365 integration, it's not really clear, but either low usage or reprioritizing where they put their energy going forward. As to the future of Cortana, no, they do have a roadmap and plans for RS5 and going forward, some of which will be likely coming out in the near future.

Quick question Daniel, I don't suppose you could find out if this decision was primarily based on telemetry data?

What other metric would they use?

Yet, the consumer side of Cortana is pathetic. For example... the number of skills for it and Invoke is the same number at launch. I was one of the Village Idiots that paid $199 for my Invoke. This time next month it might be on sale for $50 at this pace.

Last I heard was 19.99 in a basket in the middle of best buy.

I would buy it at that price. Alexa integration is "coming soon".

It will be. Sorry, but I don't really feel sorry for people who wasted their money on that garbage. After how many cut-and-runs? Zune? Band? Surface RT? WP8.1? How many times are these gullible idiot fanboys are going to wise up to Microsoft's MO?

Lucky you as Cortana has no skills here in the UK.

Is there a podcast today Dan?

Maybe (wild speculation here I admit) MS is readying Bing and its services for sale? A company like Amazon could make use of Bing to have a search presece ala Google - which could offer some competitve advantages. Or... maybe MS doesn't have a clear plan and they're floundering a little.

Truthfully, your speculation may not be all that wild.

This would make a lot of sense for Amazon. But if Bing is valuable enough for Amazon, Microsoft should not sell it and become the search provider for Alexa. That would be easy money with little additional effort.

That would be horrible. MS would be dependent on Google for search.... Let me repeat that so you get what I'm saying.... MS WOULD BE DEPENDENT ON GOOGLE FOR SEARCH.
........
There goes any freedom with integration.

So you think Cortana could be repositioned as a brand for front-facing AI features in MS products (Windows, Office, ...) instead of being a consumer-oriented personal assistant like Siri, Google Assistant and Alexa?

As to the future of Cortana, no, they do have a roadmap and plans for RS5 and going forward, some of which will be likely coming out in the near future.

"Everybody has a plan until they get punched in the mouth." - semi-apocryphal quote of Mike Tyson http://articles.sun-sentinel.com/2012-11-09/sports/sfl-mike-tyson-explains-one-of-his-most-famous-quotes-20121109_1_mike-tyson-undisputed-truth-famous-quotes

Yet, with the bot framework, the insistence on making every input field a 'conversational canvas' to surface said bots, along with partnerships with other AIs, it makes little sense to continue the Cortana charade. You're not thinking like a Wall Street investor, Mr. Rubio. You need to think like a Wall Street investor. They run the company now.

not true necesseary. Cortana works very good in my country. OS commands are unaffected, but when it comes to search it does good results for me too. Searches for places, Stores, pubs... Why Dont we have an option to use her, with some warning poped out, that it is not fully localised for my coubtry, so we wont have full expirience. This is a good solution i think.

Actually it's more like it's ending.

This is what MS always do, try and give up.

They try now as well as giving up? This is a strategy we've not seen from MS before. They usually just fanny about before plumping straight for the 'giving up' plan.

They might have gotten feedback about privacy concerns?

That could be the reason but if that is true. Cortana is dead. Cortana'a major strength (what MS shows in the demo) is with the office integration and Enterprise tools like D365, PowerBI ...etc. But most of the companies disable Cortana on the office PCs and there are not many skills available for Cortana like Alexa.. Future doesn't look good for Cortana !!

This is likely the problem. I work for a global company and all our PC are on Windows 10, but Cortana is disabled across the board.

What makes you think people are worried about privacy? Privacy concerns certainly didn't stop them from buying Amazon Alexa or Google Home.

Wow! A resonable and factual comment from bleached!!! Half-Life 3 confirmed!!!!! /s

Maybe I should return the invoke while I still can.

If they kill Cortana I swear to god I'm going to eat my Lumia and switch to an iPhone

Wow another one? RIP Cortana.

I dont understand... every time i'm getting the right vibe for these microsoft products, they're starting killing them one by one :S

Where is the guy who said Cortana wasn't canning any abilities other than music match? Either fire Nutella, or just shut down things like the mobile division (for real, not this half ass **** siren strategy) and Cortana. This one foot in, one foot out crap is just am ugly mess. Why incest in anything from this company knowing damn well they are ready to drop it at any minute. Sorry for the gut above that bought the income for $200. Ridiculous that people like him are treated this way.

It's only a matter of time before Nadella kills Cortana completely

Bad times to be a Microsoft fan/supporter. I am, and I'm terribly disappointed. Nadella, step back and let true believers lead the company before it becomes IBM or Oracle.

I'm a small business owner and Microsoft offers nothing affordable, in terms of Customer Contact Relationship Management tools, so this doesn't affect me. Who, may I ask, uses Dynamics 365?

Not so small businesses. It's (and the whole Navision product family) meant for companies with 500 - 25000 employees.

The hits just keep coming...

The smart speaker/virtual assistant market is going to be one of the hottest consumer trends this year but once again, MS are already well behind the competition. Analysts are predicting sales of close to 60 million smart speakers in 2018. Amazon will own 60% of that, 30% google and 10% everybody else including Microsoft who has to be in the single digits. I have an Invoke and an Echo and the thing I hear most from Cortana is "I can't do that yet", even with fairly simple things that Cortana on my 4 year old Lumia Icon can do with no problem. Alexa is getting integrated into new products right and left and I get at least one email a week from Amazon listing the 20+ new capabilities they have added into Alexa in the past week. The latest two updates for Cortana on android- bug fixes...and removing song identification. Alexa is going to be huge at CES this year. Here are the seminars at CES on Alexa usage and integration into products. This is how you promote and grow a product. *Amazon's Quest for Alexa to Be Everywhere *Building a Smarter Home with Alexa *Enabling the Future of Automotive with Alexa *The Art and Science of Alexa Conversation *Integrate Alexa Voice Technology into Your Product *Bringing Voice Play Experiences to Alexa-Connected Products *Advanced Alexa Skill Building: Conversation and Memory *How to Build an Alexa Gadget! * Build a Far-Field Alexa-Enabled Product with Intel

So is it not worth keeping my invoke? Microsoft really crapping all over us.

If you need to ask this, you need to return it....

Honestly... I held the lumia till near the end. I sip the MS koolaide. The hardware itself of the invoke is excellent, especially for $100. I can't see consumer Cortana going away with it's Xbox and PC integration. Would only make sense to grow cortanas smart home intelligence. Holding out hope, so I'll keep it. Combined with smart things it should serve me well. The Johnson controls GLAS Thermostat is also very intriguing.

Also...let the invoke serve as an interface to navigate Xbox by voice in place of the now dead Kinect and it would sell like hot cakes on that fact alone. Not sure why MS hasn't released an Xbox skill for her yet.

Do you use D365 often with it? If yes, then you might want to think about it

YOU didn't read or understand the article huh?

I sense one sensible route for this: Enable Alexa to respond to "Hey Cortana" or just "Cortana", allow Alexa access to everything Cortana can do, Allow Alexa to download Cortnana's voice then send out an update to ALL Cortana devices that replaces Cortana with the upgraded Alexa This will never happen though.

If you read Mary J Foley's article, Microsoft have updated the blog to read: "We are working to deliver a robust and scalable digital assistant experience across all of our Dynamics 365 offerings. This includes natural language integration for customers and partners across multiple channels including Cortana. To that end, we are discontinuing the current Cortana integration preview feature that was made available for Dynamics 365 and we are focusing on building a new long term intelligent solution experience, which will include Cortana digital assistant integration."

Noooo! I believe your dear commentors. Cortana is dead and MS is dying! /s

NOTE: This article needs to be corrected! First, of all, all that is being discontinued is the "Cortana integration PREVIEW feature" (emphasis mine). Their blog has been updated to point out that: "we are discontinuing the current Cortana integration preview feature that was made available for Dynamics 365 and we are focusing on building a new long term intelligent solution experience, which will include Cortana digital assistant integration."

@Dan - please update the article.
"We are working to deliver a robust and scalable digital assistant experience across all of our Dynamics 365 offerings. This includes natural language integration for customers and partners across multiple channels including Cortana. To that end, we are discontinuing the current Cortana integration preview feature that was made available for Dynamics 365 and we are focusing on building a new long term intelligent solution experience, which will include Cortana digital assistant integration."

they are killing Cortana?? serious?

Amazon just announced adding Alexa with the devices from the major OEMS: HP,Lenovo etc. So take that Microshit! You will FAIL with Cortana like you did with many others and this will be an even bigger embarrassment!!

Ahh, the Apple fanboy who has been trolling this site for months, who has pictures of Apple products in his avatar picture, has the balls to complain about delayed and cut products from Apple's primary competition. And then has the gall to call them "Microshit". This Cortana integration was in beta, and is being pulled to rewrite it to be better, and still use Cortana. How many times has your precious Apple cancelled products, leaving the customer with lost data and products that no longer work? iTools-> .Mac -> MobileMe -> iCloud. You still using your iPod Hi-Fi that was better than any home theater system? What about your Apple bluetooth earbuds? How is that HomePod you ordered for Christmas treating you? We know you are here to generate FUD, to troll, to scare people away. And it is a damn shame that the writers of this site actively participate in it. This blog that this was reporting on was updated 3 days ago, and all the other sites updated their articles on that day. Even the first few comments on this article pointed out the up[date from Microsoft. This site let the original article sit for 3 days, encouraging the useless of humanity such as mmgn to write his comments. And this site is happy with comments such as mmgn's, who brag about the number of hits they get from the trolls that have been flooding this site. I think it is funny that you are proclaiming the end of Microsoft because another company is adding their voice assistant to Windows. So you are against openess, allowing other companies to write software for Windows? You want Windows to be locked down to be Microsoft only, like iOS is? You are complaining about developers writing software, we keep hearing about all the devs writing for iOS (and supposedly not writing for Windows) and here we have an app for Windows, developers writing for Windows. Upset that it is proving that tired old line false? You are just a run of the mill, dime a dozen troll who cannot keep track of the talking points that the collective has given to you.

I agree with all you said. But you can't deny that Microsoft has been cancelling and delaying a lot of stuff recently. It is so strange because they were not this hit or miss before. Does this make Apple look good in comparison? The day hell freezes over. Apple is a money grabbing tool and discontinued tons of stuff since the early 90's. But the point remains that I think Microsoft is going down the same path and I don't like what I see in the horizon.

Alexana. The new cyberchild.

Funny reading some of the above comments after the "clarification" or update, now we'll hear of a whole new conspiracy theory how Microsoft are......you know the drill !

Microsoft is really on a roll with their chopping block.

Shame on you for using a picture of the Invoke with Cortana to sell the article about Microsoft's decision to discontinue Cortana for Dynamics 365.

"Ooops satya happened. Please try again later. :(" I get this error

I just hope they get rid of Cortana all together. Alexa on my Xbox and pc would be much more practical. Not only does Alexa work a lot better, and has a lot more to offer, but MS at this point should be ignored by consumers with the exception of their desktop OS.

My guess is it was cut to comply with EU regs. These are a big deal in the enterprise online services space. D365 complies with things like GDPR. Cortana does not.