Microsoft is bringing more AI smarts to Office 365 and Cortana
More AI smarts are coming to Office 365 and Cortana, Microsoft announced at an AI-focused event today.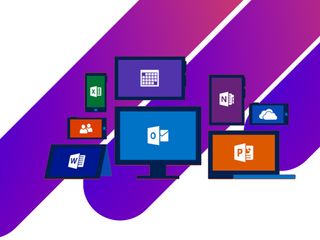 Bing isn't the service that Microsoft announced would receive a healthy dose of AI today. At an event focused on AI today, Microsoft also took the wraps off of a number of AI enhancements (opens in new tab) it is bringing to Office 365 and Cortana.
For Office 365 users, Microsoft is launching a preview of Insights in Excel, which can automatically seek out and highlight patterns that it detects. Insights uses machine learning to help "identify trends, outliers, and other useful visualizations," Microsoft says (opens in new tab).
Another AI feature hitting Office 365 is a new tool called Acronyms in Microsoft Word. Leaning on machine learning, Acronyms will help people understand shorthand used in their workplace by searching for definitions and terms found in emails and documents. Acronyms will start rolling out to Word Online for Office 365 commercial Insiders in 2018. Meanwhile, Tap, another feature in the works for Word, will let Office 365 users quickly search for relevant documents, spreadsheets, and presentations within your organization without leaving what you're working on.
Outlook on mobile is also getting some love, integrating with Cortana to help surface notifications for when it's time to leave for an appointment. Outlook will helpfully surface driving and transit directions, along with an ETA based on your current location.
Speaking of Cortana, Microsoft showed off some enhancements headed to the digital assistant as well. There's no timeline available for the rollout of these features, but Cortana will soon be able to chain skills, helping interactions to feel more natural. In an example given by Microsoft, booking tickets using Cortana could then prompt the assistant to suggest you add the event to your calendar as well. Cortana will also leverage AI to provide summaries of your most important emails. Details on these upcoming features come as Microsoft begins to position Cortana to spread to even more places, including via a new partnership with Cheetah Mobile to include the digital assistant with its CM Launcher on Android.
Microsoft has been going all-in on AI for some time, and these latest additions are a taste of what's to come. Other plans include a partnership for an AI-powered health bot project (opens in new tab), as well as the launch of tools to help developers build better bots (opens in new tab). These announcements also come in the same week in which Microsoft unveiled its Quantum Development Kit, one of the company's initial steps into its next big bet, quantum computing.
Let's talk Microsoft, neural networks and natural language processing for AI
Dan Thorp-Lancaster is the Editor in Chief for Windows Central. He began working with Windows Central as a news writer in 2014 and is obsessed with tech of all sorts. You can follow Dan on Twitter @DthorpL and Instagram @heyitsdtl. Got a hot tip? Send it to daniel.thorp-lancaster@futurenet.com.
First Microsoft has to learn people lives outside of US.
Most of the advanced features of Cortana and Bing only work in US.


Sand but true and always a good business decision. US is their largest market.

In Canada it started working in 2016 and then for some strange reason stopped working and now Cortana has been a useless thing on both my laptops.

They have to start someplace. It could be damaging to launch all markets at one time. Working in a global corp, we launch markets separately, largest (US) first, then the rest.

Cortana Everywhere is pointless when Cortana only works for US people!

This is really annoying and killing a lot of new features that Microsoft are pushing for. On my old Xbox 360 (with Kinect) there was an app I could install to help Microsoft learn my language (swedish) better so they could develop support for other languages faster. Well, that was a waste of my time. Windows Phone would support more languages "eventually". Cortana was supposed to support more languages "eventually". I was at Teched in Berlin in 2011 and had to make the MS reps use the Swedish version of Bing to convince them that the entire site was a beta (clearly marked on the site) and it was more or less useless for all the features they were bragging about because they didn't believe me. I seriously doubt that Microsoft even has any plans to expand the support for more languages and region and if they do, the roadmap is probably "when pigs can fly". Sure, I can enable Cortana but what's the use if I can't interact with it in my natural language or if most features are focused on the US? Do you want to follow your favorite team? It better not be a Swedish team. Want to get tips on food, movies or events? Yeah, book a flight to NY or stay totally informed. Cortana (and many other features) simply adds zero value to me and about a gazillion other users around the world. If it works in the States, continue to develop support for more countries or prepare yourself for being left in the dust by the competition.

Microsoft has ALWAYS supported multiple languages. They have to start someplace and it makes sense to start with the largest market (US). Should their largest market wait until other languages have been implemented? That would be a bad business decision.

As I clearly stated in my post: "If it works in the States, continue to develop support for more countries..." Instead Microsoft have decided to focus only on adding new features to the few supported markets. That way they are excluding a majority of their users while their competitors somehow manage to be a lot better at this. I understand that a small country as Sweden is not in first or even second wave, the problem is that Microsoft does not seem to have any plans what so ever to add more countries. As a result many users choose to use another product.

Do you work in software? Have you ever supported global markets?

No, I do not work in software, is that a requirement to have an opinion? I did develop a few apps for Windows Phone on my sparetime just for fun. On my own I managed to support five different languages, including speech using Cortana. I would have supported more if Cortana would have let me.

Are you a Microsoft employee? Defend it moderately. Competitors Google and Apple support multiple languages and regions. I live in South Korea and I am Korean. Google assistant recently started to support Korean. Even Google assistant knows Korean humor. Functionality is not fully provided, but has been properly localized. Amazon is currently supporting English, German, and Japanese. There is an article that says that we are studying Korean at the beginning of this year. That's why other companies are active in supporting multiple languages. We do not make certain features available only to the U.S. Microsoft needs to learn from other companies. I am a longtime Microsoft fan. I really like Microsoft. I wish I could use Cortana in my language. I want all the same features as the English version. And I hope that the Bing function provided to the US market will be applied. The Korean version of Bing. Bing is very frustrating.

No Cortana here... Next! "Microsoft has been going all-in on AI for some time," LOL, impossible claim, when most of the world is still left out...

I'd like to be able to send a simple text on cortana for Android and have it select the mobile number. Basic stuff

This says you can, even on Android/Cortana.
https://www.youtube.com/watch?v=fyVe9E2hEEs

That woman on the video preview looks like Nina Dobrev, though it passes by so fast, that it is impossible to tell. Not likely she would need any ad money anytime soon though x3
Windows Central Newsletter
Get the best of Windows Central in in your inbox, every day!
Thank you for signing up to Windows Central. You will receive a verification email shortly.
There was a problem. Please refresh the page and try again.