Microsoft ends production of Windows RT-based Nokia Lumia 2520 tablet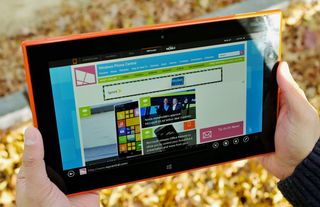 It's not exactly a shock, but a new report says that Microsoft has ended production of the Nokia Lumia 2520 tablet. The device is the last product made that used the ARM-based Windows RT as its operating system.
Nokia launched the 10.1 inch Lumia 2520 in November 2013, several months before Microsoft officially acquired the company's devices and services division. The report on the device's production end was reported by the Dutch-based site PCMWeb.nl, citing an unnamed Microsoft spokesperson.
While the Lumia 2520 may have ended production, Verizon Wireless apparently still has some in stock and is currently selling it for $499 with a two year contract or $599 without a contract on its site. In January, Microsoft confirmed that it had ended production of its last Windows RT-tablet, the Surface 2. Both the original Surface and Surface 2 are supposed to get a software update that will give the tablets some features that Microsoft plans to offer with Windows 10, but neither tablet will get the full version of the OS.
Source: PCMweb.nl; Via: PCWorld
Maybe now its docking station's price might go down a bit.

Having the 1520, red, I always wanted a red 2520... The RT thing just discouraged me. Apparently my soothsayer skills were in good order. Still, I think it's one of the more beautiful tablets, different looking.

I was ready to pounce when they announces it as well, until I read about the ills of RT. However, a cheap used one might do.

Agreed - it's the RT connection that was a put off, but if this goes cheap enough I may be tempted as I like the look of the thing and it would look good with the 1520. RT notwithstanding.

If they'd made it run a horizontal version WP8, I would writing this post from one now... But I'm not...

I've always thought they should've released a tablet with Windows Phone OS! I guess the 1520 is as close as that gets tho. Still an 8 inch would be pretty awesome!

Not sure what you mean by horizontal, but I have been dying, well maybe not dying, but wanting full on landscape, like on an Android tablet for my 1520 so bad.

Nah, think about how your tiles would have be moved quite a lot everytime you tilt your phone. It would be a mess finding the tile you want

I suppose standard size tiles would be the answer... Those fuckers at MS could figure out out. We put mother fuckers on the moon in the 60's with far less computational power than my 1520, which could operate the nuclear arsenal as the launch codes require the use of the large, yes large floppy fuckin disc.

So you don't find the different tile size to be a good feature? I really wouldn't want that to go away...

No, I dint say I don't like different tile sizes, just saying standardized size would solve landscape mode. Surly... they could have the same appearance, maybe just a tad smaller in landscape, or better yet, the 1520 was designed to scale things...like the game Frozen on the 1520. It looks one way in portrait. The annoying mother fuckers trying to encourage you are at the top. While in landscape mode, they are on the side. Lastly, one could just scroll a wee bit. See, we figured it out.

So there's no more iPad competitors and no mini. Wonder what Delta will do since their pilots use them.

Hmmm, good question, I suppose as long as the shit works, they'll leave it be, for now.

That's a different animal, a full blown PC that needs to be locked down with AV, has a fan, and short battery life compared to RT devices and ipads. Plus pro 3 has no LTE.

Yeap, full blown PC that can really be productive and can run full blown airline applications! Lots of Airlines are using them because RT or iPads are nice to consume info, not much more than games and surfing the web.

Not ipad competition announced, but we don't know if there are more windows 10 based tablet (ARam).

It sucks to see the end of RT; I was one of the infamous early adopters showing up on launch day to but an original Surface. After the insurance and keyboard I spend about $800. On the other hand, given that it's a Microsoft product I know I'll have some level of support for a while. Maybe not Windows 10rt but at least continued updates. I still feel RT had quite a bit of potential and was much more powerful than most realized.

I bought the original Surface RT and passed it on to a family member when I replaced it with the Surface 2 LTE. Both brilliant devices (as long as you understand what RT is) and both running perfectly. The build quality is second to none and with free Office 2013, a bargain in my eyes. The Nokia RT model is unique and again is top quality with free Office 2013. Grab one is all I can say, you wont regret it.

When will the sale begin, $250/200 sounds perfect.

Already being sold @ $200 on Ebay w/WIFI if memory serves. Came across that via slickdeals.net.

It's actually the att version sans contract.

On November last year att has it for $99 with a 2 year contract, fast forward to today and I'm a super happy owner of one that uses it almost everyday

I got one on ebay for $150 with the keyboard. Decent tablet but RT was never there in terms of performance. It is great if used as a tablet, but with a device like this I expect more performance than I expect from an iPad, but unfortunately they are at about the same level. You will want to push an RT device harder than an iPad, but performance will be sluggish.

Hi, is there any way to introduce you an app ot game? Email address? -------- This device should have been come with windows 8 professional instead of RT

On the top right corner of the webpage, click the Hamburger Menu and you'll find an option that says "contact us".

Hamburger.... Now I'm hungry..

Windows 8 Pro only works with x86/64 CPUs, not ARM chips.

Still doesn't make sense to me that Microsoft would discontinue Windows 10 for ARM tablets, but would support it for the Raspberry Pi (which is ARM based too)...

Your question makes PERFECT sense... Granted, we have no clue how the IoT (internet of things, HATE that term) version of Windows 10 will be like...

It's a totally different version. This is a IoT version of Windows 10. It's NOT the same version of Phones and Tablets.

this tablet and the surface rt's will hey some of the Windows 10 updates but not the full thing, I was guessing the raspberry pi thingy will get the same time of upgrade, but guess we have to wait and see

They haven't discontinued it for ARM devices. Windows 10 for phone and small tablets is what is replacing Windows RT. The Surface RT/2 and Lumia 2025 are 10 inch ARM devices, which no longer fits within MS's new strategy.

Isn't the phone and small tablets version going to run on 7" x86 tablets? Curious.

IoT windows 10 probably wont even have a GUI.

Or probably it will have an UI.

Microsoft is mot dis continuing Windows 10 for ARM, what do you think that Phones will run? (facepalm).

$500 on contract and $600 off contract is way, way, way too expensive for this device. Yikes.

Verizon likes to charge through the nose for their tablets. When AT&T had it, it was 99 with a two year. Or 299 on Microsoft Stores' website before they ran out of stock. That's how I got mine.

Amazon had a great deal awhile back where it was $99 and it lined up with a promo with AT&T that if you added a line to your family shared plan you got a $100 bill rebate. I got the Tablet essentially for free and am paying $10/month for a data plan on the device. We use it all the time in the car for Plex and Netflix streaming use now. Sturdy and good battery life.

Windows RT was a misguided invention from the very beginning. Nobody understood why it even existed.

It made perfect sense to me. I have kids and bought a couple of Surface 2s so they would be able to use them for school work (Office and web browsing) and the occasional Store app/game and didn't need to worry about them installing a bunch of crap on the desktop side of the house. I use these quite frequently with no major loss since my PC died recently. I think the real problem was in marketing.

Yup. With age settings and the built in Microsoft monitoring/restrictions. That's how I have my son's computer set up. I maintain that the only good thing about RT was the price point.

Oh,I had all of that set up on the PC, but that doesn't necessarily prevent then from running random exe which they can't on RT. RT is good for the simple setup that gives good protection to the average parent who may not know how to fully secure their PC the way is users on this site would be able to. Not to mention I have 4 school aged kids that were fighting over the use of a single PC and the price point was good to get a couple of Surface 2s to solve this problem. I think there is a good market for this type of device. Microsoft just failed to make the distinction.

It's terrific. I love my surface 2

I don't doubt it was good. I think it was an extremely narrow target audience and a confused marketing message. The question "why should I buy this instead of a Windows 8.1 device or an iPad?" could only be answered with "because it costs less".

Its only confusing to you, and your exuding your emotion and feeling about it. But to owners like me, the Surface 2 message was clear, it was Windows without the stress of AV and junk filling up your PC. Like the guy above, I chucked mine at a teenager who did his best to break it, but it still ticks away, fully patched and no malware.
Great devices, and the first and almost "pure" Windows, which for touch devices is awesome.
I love my Surface Pro 3, but I wish it was total touch - which will come in time I'm sure. It has to.

I concede that marketing should've been better. However, it is much more powerful than an iPad. Surface 2 is able to play Flash Videos and it is also a productivity workhorse. It can connect to my wireless external hard drive easily, download from torrents, and much more. My iPad just sits there unused. Granted, my iPad's idle battery life is incredible. It is uncharged for months at a time and I'll still find it with 25% left lol.

Easy to say in retrospect. When Microsoft determined that they needed a tablet OS and device to counter the iPad there was no intel based option that could run a tablet, not even on the horizon. Microsoft needed to develop this recompilation in order to hit market.

So we should avoid any product MS develops to hit the market early. Windows 7.5/7.8, Windows RT are the rime examples.

I streamed the superbowl last night from my surface 2 to my tv.

RT was used to force Intel to start producing Intel chips for smaller devices, so it did serve a purpose.

Basically Windows without the legacy Windows. Like what Google did with Webkit and Blink, like Microsoft with IE and Spartan. Sadly RT just never got it because of apps.

If app development for RT was rich, it wouldn't have met its demise.

Never saw it on sale in my country

Waiting for the fire sale.

299€ in Germany. Bought one my girlfriend as birthday gift. For this money a great device!

Can't wait for this fire sale....

Surprised it took this long to EOL Posted via the Windows Phone Central App for Android

Thought it was already EOL since it wasn't available in the MS Store anymore.

anyone know if the 2520 tablet gets the Lumia camera app.. and other Lumia exclusive apps? always wondered, cause it would be great to have the Lumia/Nokia camera app on tablet... just asking don't mean to sound stupid..

I have a Lumia 2520 tablet and yes, it does have Lumia Camera on it. I'm hoping it can get whatever update the Surface RT tablets are getting.

ooh wow nice, wish I had confirmed that before having gotten my surface 2rt... nonetheless I love it the same, but I love the Lumia camera features and to me it really would've been great to also have it on the surface... but the standard photo editor on the surface needs to be implemented in the phone OS as it's real good

I have only started recently using that app (I always thought it was just for viewing photos), but holy crap is it nice and easy to use. I agree that it needs to be ported to phones.

the 2520 has the lumia camera app, as well as the lumia storyteller app. it also has a lumia video trimmer/editor app that looks to be the basis for the new microsoft video editing app. I bought this tablet hoping it would essentially become the same OS as the phone, but now, i'm not so sure. I would really like it to end up just being a 10" 1520. I mean, its basically the same internals as the 1520, just with a smaller camera and a larger screen and battery.

ooh ok, thanks for the info guys... I'm holding onto my 1020 and waiting for the successor, with better or same camera and better internals... and hopefully a little bigger screen or even just 6" like 1520 but most likely they will do 5"

Oh wow، I thought Nokia killed it long time ago,

Say, doesn't that new Nokia an Android tablet come out this month? Remember, hidden in the box in a graphic, on this site.

Yep, the N1 already on sale, But so far Foxconn made 3 patches, already sold out

Good riddance RT.... You will be missed by nobody.

Not yet anyway, because satisfied owners like me still plan to get a lot of life out of these devices

And here I was thinking about buying one to use with Windows 10. Glad this post came up when it did.

So that means for someone like me who just bought the tablet I get no kinda windows 10 feature on this device?

I hope I get something because I am a loyal customer. Not only that I spent alot of money on my 2520 for Microsoft to just decide to do mess.

You get a watered down versions of features like WP 7.8. Posted via the Windows Phone Central App for Android

Is that true? I read something kinda different awhile ago. They said if your screen size is smaller than the 10 inch you will get a watered down version of the os. But then again there happens to be alot of talks going around, so will have to wait an see.

It's an awesome tablet. What do you think you're missing out on that you feel that your money is now wasted?

I just wanted to know that they will at least give it the universal apps features. Also maybe the ability to store apps on a micro SD card. But if not the full windows 10 update give me something sweet.

Eh it's an awesome tab as is. You'll enjoy it

I'm 99% sure that whatever upgrade comes to the RT Surfaces will come to this as well.

I hope so we will know in due time.

Where can one even purchase a 2520 these days

At least it had 4G/cellular built in, unlike any surface.

Let me guess: you're living under a rock. Surface 2 has a 4G version.

But not NFC and compass, this was the ultimate rt tablet

But the person I replied to talked about 4G, not about NFC and compass. Yes, 2520 was better with the latter. But Surface 2 did have a 4G version unlike what the person I replied to said.

Surface 2 has 4G? Perhaps in your country, but not in Australia it doesn't! I should know, I have 2 of them and we certainly do not have a 4G version available, only the US ever got a 4G version, unlike the 2520, which had it available everywhere it was sold!

Then you should've clarified that it's a country thing. You said "unlike any Surface" which is kinda generic. And untrue, 'cause in some countries there is a Surface 2 4G, so... SP3 indeed doesn't have 4G (I have an SP3).

Why would I know if a 4G version exists in the US, no one would that doesn't live there, I don't live there, you do know the majority of the world doesn't live in the USA right? Don't assume everyone lives in the US, it might come as a shock, but they don't.

It might come as a shock to you but I don't live in the US either. I'm a Dutch guy from The Netherlands.

I hope it at least gets that pseudo-10 update-- I worry for the resale value if that's not the case. Mine has served me well, but I'm looking to trade up to a comparable full-Windows one.

Lumia 2520 was a good idea... But a big fail, unfortunately.

What would you call buying a $500 or $600 mistake? Committing a mistake or committing to a mistake?

Wonder why they can't squeeze the mobile SKU of Win10 on to existing RT devices? You would have to completely wipe the system (no upgrade, backup your crap) but surely it could run that SKU. With the touch version of Office and also OneDrive for the file system it would still be powerful and relevant. I'm sure there are reasons why not, I don't know them...

That's all I want. The 1520 and 2520 are virtually identical in terms of specs. I have no need for the desktop, I never used it on my x86 tablet, which was why I opted for RT, because it had a good battery life. I use my 2520 for web browsing email and playing movies, which I will continue to do, regardless of which OS is on it, but I would like the option of having Win 10 on it.

Rt was a bit pants in the first place tbh not surprised

This tablet actually wasn't sold in many countries, it was a very nichè product

This is like 500€ notes: They exist but nobody has ever seen any of them.

Would be sweet if they'd now port the Nokia apps (Storyteller and stuff) that debuted with this tablet over to the Surface Pro 3 :) Would love to use those apps!

I'm a programmer (although not a OS core/kernel one), but I still don't get it technically: if you have the Win 10 core builds for ARM, is it really that much work to simply put the "less than 8 inch ARM version" of W10 on it (without optimizations for 10 inch format)? More so now that you have Office Gemini? I don't think it's Nvidia vs. QCOM SoC differences, just an pure economical decision, but it would sound better than 7.8 all over again.

If it were an economical decision they would also have to calculate the loss of faith and good name (WP7.8 stigma) that can hold people back cq give haters ammunition.

Microsoft obviously just doesnt care, because it really doesnt make sense that the RT tablets cant get the ARM verison of windows.

So long old friend. I've enjoyed mine.

I use my year old 2520 on a regular basis, its a great tablet. RT was never intended to do anything other than run apps (a bit like the iPad) but was criticized for not running .exe programs (whereas the iPad wasn't criticized for only running apps...)

LOL $599 or $499 which sucka taking that bait, you can get a new Dell venue pro 8 with full Windows 8.1 on Amazon or eBay for a $100...so why the hell would anyone buy this shit?!

I bought mine new for $160. Sucka. Ebay > verizon

Superior build quality by far on the 2520. Def worth the extra $60. Plus, why in the hell do I need full windows on a tablet? I have a desktop and laptop... I don't need full Win 8 on my tablet.

You, probably have a point.. Now, I want one, always did, like I said, to match my 1520. It must be red though.

It was predictible when Microsoft est nokia

Love love love my 2520.... not sure what else you could want in a tablet. People are just whiners imo. Lame that it's being discontinued!

Yea I bought it for the windows 10 compatibility as well never knew anything about rt I was just a fan if lumias. My only concern is if it will get the universal apps you know that you can play from your phone and tablet. And If not its still a good device. Only played 180 one eBay fro mine, so well worth it.

Bout F'in time this thing was confusing as F to differentiate. Well not really but the dumb consumer yeah.

Would love one of these running windows 8.1

Maybe I can buy this tablet and then when I record a video on my phone, upload it to my tablet using the USB and use Nokia video trimmer and what not for editing and then put it back on my phone. Ahhhh yes.

Hi all, I love my 2520. Super build quality, quick and just a very nice thing to own. Having the power keyboard turns it into a very useful tool. Ps...its all on ebay...lol

Yea it needed to get windows 10, BC I got the Lumia 2520

Great tablet. Got it for $400 with the red keyboard attachment from MS Store. Why would I ever want to run x86 software on this? I use it for Internet Explorer, MixRadio app, MetroTube, alarm clock, calendar, occasional Office 2013 on desktop, and printing to my wireless printer. This is an excellent device, even more so with the keyboard. Build quality is excellent, Camera is good, and battery life is amazing. It recognizes and connects to everything except my 2001 Acer scanner (which never worked on Vista or Win7). I guess I don't understand why these devices were not marketed better. I just hope that the Win10 partially makes it on to this as well as the surface rt1 and 2.

I am so glad I didn't get one of these now, even though it is a great tablet. I never really understood the whole RT program but can say that the 2520 was really nice to play with. Hopefully they will have a quality replacement in the $250-$350 range that's built as good. Cry me a river if you want but then build me bridge to get over it... Posted from my HTC M8

Just bought one, really happy with it, even more happy with Windows RT. But I can see why people who need apps for everything or plenty of games complain about it. The Store is lacking stuff I can see people would need, even compared to WP one. For me, I just use it for reading stuff online and doing some work while on the couch - the tablet happens to be really productive when working with multiple PDFs, Word documents, emailing, etc. The only thing I hope for Windows 10 is that the RT will get the universal apps and, even more importantly, the touch-friendly Office.

I suspect they ceased production a while ago. I have the 2520 and it is an awesome tablet. I have to say I was hoping for the intelligent keyboard of the phone O.S. especially the swipe keyboard. Otherwise it's a fantastic piece of kit. It's a very robust O.S. and the tablet hardware is really good. The fast charging battery is a revolution and is incredibly long lasting. The screen is bright, very sharp and works really well in bright sunshine. It's also a perfect media display format being wide screen. Like all the Microsoft machines it screams through everything you ask of it. The only issue I have is the lack of memory, I have added a memory card to store media but because you cant save apps to it it still becomes a problem. The ability to save and load applications from a memory card was one of the things Msoft had said would be coming in Windows 10. I hope it's still one of the things they will enable us to have.

I should add that it doesn't surprise me they are killing off WinRT. It's never been positively reviewed because of the lack of applications and Msoft need to streamline there products. The negative reviews due to the lack of the applications always annoyed me because it does have access to full webpages, although unfortunately it is sans Silverlight, which has always frustraited me. I believe Msoft's new browser will allow extensions so there is hope that could arrive at some point in the future....

Incredible device, but Windows RT support is mediocre. For $199 I think it's a good price for it.

It should have been launched in India....i just don't understand why Microsoft not working on Lumia Tablets....i want a 7 or 8 inch Lumia tab....i have been waiting for a long time....

eBay is selling the ATTW version, 32 GB model, for $199 right now... FYI.

Condemned the minute they opted for RT

To those interested there are rumors of an updated Lumia being tested in the wild. Take it with a grain of salt but you can read more about it here: http://www.gsmarena.com/possible_qhd_lumia_2520_successor_surfaces_in_gf... With Windows Phone now being merged with WindowsRT it makes no sense not to have a tablet or allow OEMs to have that option. Many businesses would supplant their environment with cheaper consumption devices especially in the wild (like sales, support and other professions where full desktop environments are not readily needed but have strong admin control). I think they should just release all ARM based devices under the Lumia line and anything Intel device with a desktop should be under the Surface line.

That might be just a Snapdragon 805 Development System, like the one mentioned in this article: http://www.engadget.com/2013/12/31/qualcomm-snapdragon-805/

Love mine, a great device.

I have this tablet . It was meant to sit on the sofa for a fast hit on the net or a peek at email. That's what its good at touch screen is awful..but hey its RT

I loved mine, til it got stolen. RIP, WinRT.

I just want to know if it will get Windows 10. I love mine because it had a LTE data connection.

A lot of people don't get the whole RT thing. It's a Windows ipad like thingy. Just does apps. Only apps.... So when W10 roles out for Arm it will do apps... Only apps. Not hard to understand. I think they have a place.

The problem is one of marketing confusion. There is still a desktop... But only because there is no Microsoft Office for touch/metro. This confuses and frustrates customers. Even reasonably technically savvy ones get confused.

Yoyoyo Posted via the Windows Central App for Android

Let me get this straight, Verizon is still selling these but they stopped selling the Icon and 928? I just checked their website and it is still available.

Why not installing same OS from cellphones in the tablets ? Is that possible ?

Once more with feeling Microshaft! They do this crap all the time.

Had it turn by turn GPS navigation it would have been amazing. Surface RT had neither cellular nor GPS, and compared to my Nexus 7 2013 LTE, (apps not withstanding) just wasn't cutting it as anything but a Office appliance with internet browsing abilities...

My wife uses this everyday and it works great for what she uses it for: recipes in the kitchen and websites for homeschooling. I got it for $200 at AT&T and got the extra battery/keyboard cover that goes with it for free. The battery life is great and office came with it for free. I don't know what Windows 10 features I will miss out on, but I bet most of the desktop/tablet UI features will be provided just like WP7.8 gave users the new start tile sizes.

Trialled one last year, and ended up getting a Surface 2 about a month before Xmas. Since I did, 3 others I work with all went out and purchased Surface 2s and now 5 others want them - except they aren't for sale anymore. Microsoft should release another RT device either under the Surface or Lumia brand. With proper advertising and people actually getting to see them it's easy to see why they are miles ahead of iPads and Android tablets.

Love my RT. Use it every day without a keyboard. Great touch interface, good battery life, love the 16x9 form. I'm a trial lawyer in a chaotic environment. Last thing I need on a tablet is full Windows or a start menu and taskbar or a keyboard or a small size. Starting to look at Amazon and a Note 4, leaving Windows for my desktop. I check email, read, do research, check One Note, etc. PS I won't give up my awesome Charms either, perfect for touch. I hate Apple but I could live with Lollipop and Office for Android.

PS Nothing beats split screen on an RT. W10 tablet is portrait and Surface Pro 3 reminds me TV set from 1970 (or an iPad).

My wife and I love ours. They're basically bedside Facebook/surfing/OneNote machines and they do those tasks extremely well. Even if they don't update it to 10, they'll probably still be useful for awhile.

How come they wont update these devices to W10? Theoretically, W10 is designed to also run on ARM chips since their SKU has a phone/tablet (ARM based) version. They can be giant phone OS with the same UI sans the phone tile and phone stuff (settings, etc.). I figured they would throw a bone to the early adopters of the Surface/2/Lumia 2520 devices. I, personally, prefer x86/64 chips powered by Intel/AMD CPUs bc of backward compatibility with older software. What I hope is this new update will bring the new, melded, settings/control panel, Cortana, and drop the desktop completely. They should update Office for these devices. Also I hope they get still give RT users security updates. It sad to see any device reach EOL. I hope whatever stock is left isn't in landfills. They should have a firesale to get rid of them like how HP sold the rest of their stock of their Touchpad.

I have this one ,its amazing truly , I have been using it for one year now and I love it so much , why ? Battery life is over the 20 hours , on standby it can last to one month , light , fast , the rt was not a problem for me sice I only used this tablet for tv shows and PowerPoint

i still cant understand how is this confusing, RT is a dumb tablet, by that i mean a big touchscreen with a browser, media players and huge battery life, while a "full" windows tablet its just a touchscreen laptop without keyboard, i personally find no freaking use for x86 apps on my tablet, quite the contrary, i love how bloatware free it is, just like my phone, it just works, i hope they release high end RT tablets with w10

To be fair and precise, the Surface was never going to "get the full version" of Windows 10, if you think about it. I hope it has enough of the good features of Win 10. Cortana maybe? Spartan, for sure.

It was the most classy Windows RT tablet . May Lumia 2520 RIP.

With this tablet you can be more productive than having an iPad or Android tablet

J-Lo must be pissed. Well i hope all the lumia 2520 exclusive apps would become available for everyone to download.

Makes me really regret buying the Surface 2 :((

With its optional keyboard/case this is a very versatile--albeit limited--device. Excellent for digital media consumption, internet browsing and social media tracking. I enjoy my 2520.

The Nokia N1 should outsell this bomb pretty easily.

My buddy and I have a side business and went "all in" on the MS products & services ecosystem. We both have different day jobs and it is interesting how our lifestyles shaped the device decisions. I have a discount with Verizon so we both got Lumia Icons. I got a Surface Pro 2 because I needed my own computer and that solved my computer and tablet needs. My buddy has a desktop at home but travels a lot since he works for a moving company (not an office job so no work computer). He needed a way to be able to work on Word & Excel files, browse internet, access pics and docs on OneDrive, listen to X Box music & watch videos, keep up on news, use OneNote, and always be able to connect 4G. The 2520 was the perfect solution for him and still is. The battery life is amazing, the Nokia apps are still excellent, and the Power Keyboard is actually one of the better ones you will find. The device has never glitched. The user experience is also very well paired with a Windows Phone. Yeah, we get a little annoyed with Verizon clearly being a huge d-bag about the Icon updates, but overall it has been a great experience... and a great example of different Windows options fitting different needs on a budget. I just figured it couldn't hurt to remind folks that the 2520 is a great *companion* device and actually is an elegant solution for people who need the basics of Windows like Office, IE, OneDrive, etc in a 50/50 laptop/tablet sense with freedom of long battery life and 4G but don't have the need (or money) for a full on PC laptop or Surface Pro 2 or 3. I'm sure someone will thing this was lame to go on about, but I just have to stand up for the 2520. It deserves better than this :)
Windows Central Newsletter
Get the best of Windows Central in in your inbox, every day!
Thank you for signing up to Windows Central. You will receive a verification email shortly.
There was a problem. Please refresh the page and try again.