Microsoft expands payout market coverage for developers, adds more billing connections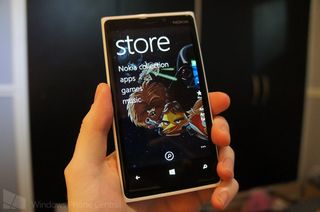 Microsoft has announced on its official Windows Phone Blog that a substantial increase in app downloads and revenue has been experienced by developers. The company has continuously expanded developer support and store coverage since the platform launched back in 2010.
Not only are we looking it added reach, but it's reported that app downloads is up by more than 100 percent, while paid app revenue has rocketed by nearly 140 percent since Windows Phone 8 launched last year. The team also unveiled a few enhancements to expand distribution and opportunity.
We've previously covered sources stating that Windows Phone is steadily climbing in marketshare in a number of regions. We also recently looked at Microsoft and Nokia looking to attack the feature phone market and really take on the US to establish the Windows Phone brand. The blog post touched on these plans with the Lumia 521 on T-Mobile US and the Home Shopping Network (HSN).
Helping developers & consumers out
So how is Microsoft helping developers out? The team details plans to enable developer payout in six new markets via the Dev Center. This will bring the total number of markets supporting developer payout to 122. These new markets include: Afghanistan, Iraq, Montenegro, Serbia, Timor-Leste and Ukraine. Should you reside in these countries, you'll be able to submit free and paid apps to the Windows Phone Store and tap into the pool of 191 markets.
As well as the new markets for app submission, Microsoft has also added 15 new mobile operators to the list of billing partners. These now tally 25 in 19 markets. The mobile billing options provide consumers the choice between normal payment gateways and their mobile plan. App and game purchases are charged to the account with the mobile operator and is automatically paid off each month (depending on how the contract is set up). It's noted that the company plans to expand this further with more connections established.
Simplifying the app submission process
The app submission process has been an element of the Windows Phone Store that has caused much confusion and frustration in the past for developers. To wrap up the blog post, Todd Brix explains how the team is continuing to incorporate provided feedback to streamline the app submission process. He talks about how the Dev Center team recently enabled cancelling submissions, rotating screenshots and automatic resizing, but there's more to come.
The plan is to add the ability to review the app submission, providing developers a chance to ensure everything is 100 percent correct before the submit button is selected. More information on this feature will be released in the near future. It's good to see Microsoft actively improving the service for developers to more conveniently submit and manage apps and games for the platform. We've experienced issues with our own app in the past.
What Microsoft and Nokia has planned next for the summer and beyond will be interesting to see. More coverage and tools are expected at the very least. With the improved support and increase in both downloads and revenue, now is a good time to get on board with Windows Phone development.
Source: Windows Phone Blog
Windows Central Newsletter
Get the best of Windows Central in your inbox, every day!
Rich Edmonds was formerly a Senior Editor of PC hardware at Windows Central, covering everything related to PC components and NAS. He's been involved in technology for more than a decade and knows a thing or two about the magic inside a PC chassis. You can follow him on Twitter at @RichEdmonds.
it will be even better if we can pay with pay pal :/

i dont have option to pay with pp,only cc and since im not from usa,i cant pay with cc so....

you don't need to be from USA to pay with CC... In fact you can even use prepaid Credit Cards for your windows profile...

i need usa adress to be the same as on the cc

Yeap, exactly. Microsoft need to sort this out. Even if we have credit card, if we want to buy an app from the region that is different from the one that we add our credit card to our wallet, we just can't do it.
For example: We set up our credit card on our region, for ex: Indonesa. Then we switch to USA to buy app, but the Store will ask for a new payment method. If we choose credit card, then we have to enter an US address, which we don't have.
Why aren't we allowed to just buy the app using the credit card that we have? Just like how we bought online stuff using our credit card without needing to enter an US address.

weird i pay using a debit card and i am not from USA, I am from thailand

I don't get it... I'm not from USA and I can still use CC to buy app.

PayPal impose "criminal" commissions... It isn't a good way to be paid

true but i dont have better option for buying apps/games since lots of good stuff from usa market isnt available on my market.i moved to usa market year ago because i didnt had xbox live games.now at least i have free ones but i cant buy other ones

Try adding PayPal to your wallet. That should work

There is no PayPal option in Eastern Europe

Depends on whats you call EE, I can pay with PP in Latvia. Then again, I guess we are NE.

In Italy I can pay with everything except phone credit, that will be the best choice...

Scatty, add PayPal to your account if you want to use a foreigner market. In Xbox you can even use MS points to buy games.

i did but it doesnt give me option to buy apps with it,only cc.i was hoping that my market will be better so i would switch again but still no xbl (i can install them but they arent on visible on game folder because it doesnt have xbl part,just other,so i cant play or delete them),crackle and lots of other ones.kinda su*ks but i manage somehow :D

I'm in Canada and I can pay with Paypal

Cancel submission and automatic resize can save your life :D

Developers can submit the app screenshots al max resolution, and they automatically resise them for all screen types. Some time ago we have to do this manually.

Hello all!
I'm a Windows Phone Developer living in Kazakhstan.And i want to know if i have an ability to sell apps through marketplace. I have VISA card. Is Kazakhstan added to the "191 markets" ?


http://www.windowsphone.com/hr-hr/markets
these are all marketplaces

Sorry, no payout for Kazakhstan yet :(

Rich which countries does Microsoft support via mobile billing please answer back I hope mtn gets supported soon :'( [south africa]

Please reply back Edmond :(

I'm in the US and I can charge app to my phone bill.

Thts because u on att or Verizon ofcourse it would work for Yu -_-

Im here, indonesia support operator billing at the moment only xl axiata Next Time will add One more operator thats telkomse

The following is list is only correct as of April. It only has 16 markets with 22 operators. However the latest should be 19 markets with 25 operators but they have not updated this list yet so hopefully the operator you're looking for may be in the new list.

Australia: Telstra Corporation
Austria: A1 Telekom
Belgium: Mobistar
Canada: Telus Mobility
Czech Republic: T-Mobile Czech Republic
Finland: Elisa Corporation
France: Orange France
Germany: Telekom Deutschland, Telefonica Germany
Greece: Vodafone-Panafon
Hungary: Telenor Magyarország Zrt
Indonesia: XL Axiata
Mexico: Telcel
Netherlands: Vodafone Libertel, T-Mobile Netherlands
South Korea: KT Corporation, LG U+, SK Telecom
United Kingdom: Everything Everywhere Limited (Orange), Everything Everywhere Limited (T-Mobile)
United States: AT&T Mobility, T-Mobile USA

Here in Portugal I can pay with CC but not with PP. I've a xBox Live account.

It would be nice if Microsoft applies the same policy of RT Store, where they cut their royalties as downloads increase ;)

Well, if "Blue" is set to merge Windows Phone and Windows 8 / RT, then I'm guessing these same advancements is happening to RT's store as well. :)

Not only looking "at"....

Awesome more carriers but when will Virgin Mobile and MetroPCS have Windows Phones..? =/

More info to come on the reviewing an app before submitting? I submitted a beta the other day and noticed that's already been implemented

I would like the ability to distinguish between trial and paid downloads for an app, and the number of trial to paid conversations.

Nice improvements. Still would like to be able to reply to reviews and contact reviewers, though. I'd also love to be able to make my trial app show in the 'free' area since it's fully functional without paying. I don't want to have to submit two different apps like the other marketplaces force me to do.