Microsoft extends Windows Phone 7.8 mainstream support until October 14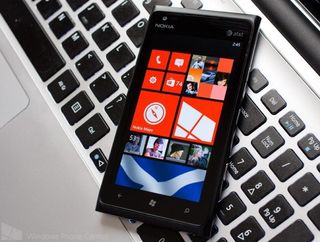 Microsoft has quietly extended mainstream support for its old Windows Phone 7.8 operating system by a few more weeks. It was supposed to end over a week ago on September 9 but now Microsoft has listed a new end date of October 14.
It's currently unknown why Microsoft decided to add a few extra weeks for mainstream support, but there you have it. Assuming the company doesn't make yet another extension, Windows Phone 7.8 will not receive any more new features or major performance improvements after October 14.
Why do you think Microsoft decided to keep mainstream support going for Windows Phone 7.8 for a little while longer? Thanks to Cristian for the tip
Source: Microsoft (opens in new tab)
Windows Central Newsletter
Get the best of Windows Central in your inbox, every day!
Windows Phone 9 coming to 7.8 phones first?

kkkkkkkkkkkkkkkkkkkkkkkkkkkkkkkkk

They should've just made the Windows 8 available to those phones from the day it debuted. Looks like MSFT learned their lesson with WP9 reportedly going to be available on all WP8 devices.

Do we really have to go through this again? There's a reason Windows Phone 7.x devices could not receive the Windows Phone 8 OS.

Yeah, it was too much work and they didn't feel it was worth it. There's no technical reason to my knowledge, the OS should still be able to run on a single core processor.

Windows CE (Which is what Windows 7 was) didn't support kernel upgrades. It is literally impossible.

Windows Phone 7 was based on Windows CE, but not supporting a kernel upgrade is irrelevant because could have been replaced with extra software written for a one-time transition. After all, any transition from WP7 to WP8 would be the same as transitioning from any other major release of an OS.

Really ??? Someone doesn't look over at XDA......to see the Dark Forces Team tossed egg all over Microsoft's face. The Made Windows Phone 7,7.8, 8 and Windows RT run on a very very old HTC HD2. Microsoft did not want to invest the time and money to adapt the software (much like Apple does), so prior gen phones can stick around. It was proven to be a Straight up cash grab.

Yup.... True This Just to be able to lock the phones down even further. Pity dual boot was nice Posted via Windows Phone Central App

People would have complained about the performance OR features that the hardware simply didn't support because it wasn't PHYSICALLY PRESENT as part of a standard or just technological pipeline timings. "Why won't gyroscopic functions work on my apps!?!?!?! Curse you Microsoft, all you want is my money by not demanding hardware and functions made in the future be offered in the past and present!" ... and the like. If you want a classic example, look at their transition of Windows from 32 bit to 64 bit. IT TOOK FOREVER. Apple just ripped off the bandaid more or less just like they did switching to Intel processors. I had a Samsung Focus and though it was a great phone for its time, I can't imagine WP8.1 on it. But that is me and my miserable imagination. Sometimes it isn't about "can you" but "should you". This is why Apply restricts backwards compatibility on sufficiently older phones. Seriously, sometimes you have to just move on.

You have to do a full flash to do it, you can't just "update" it. Doing a full flash would mean you'd lose all your info with no backup, leaves the phone highly vulnerable to "bricking" and it wouldn't be very professional.

Wait..I knew they ported Windows Phone 7 and 8 over, but I no idea that they got WinRT to run on the HD2 (HTC Leo) too.

The supposed reason was that all WP8 phones came with an extra security chip, which was not present in WP7. There is nothing preventing the Windows kernel from running on a single core processor.

The 8S had Dual-Core processor ... Same one as the Lumia 820

A new kernel is like consuming a bag of prunes; you get a fresh start.

Wouldn't that be quite the trick.

yep, WP 9 to hit 7.8 phone's in just one week...:P

Don't you mean Windows 9 going to 7.5 phones before 7.8?

your right, 7.5 already running 9,,,

Seriously!! Are you drunk or what

Hahahaha but tom u just made my evening! Hahaha

Hahaha nothing would surprise me

Is that a saltire I spy? :D

Wut? Did you mean to say satire?

Nope. Saltire. http://en.wikipedia.org/wiki/Saltire

Yep, I thought about doing that before I posted that. lol

Ignorant American... Bonnie Scotland will rise above the cruel imperial masters in Westminster.

All I really want to know is if it was due tosay news on the referendum, or a concious choice to put it there :P.

I really hope Scotland becomes independent ^_^ they deserve it! Been following the referendum since 2013. Also curious what's going to happen with Catalonia...

Man, some people are either broke as hell or really love WP 7.x

Speaking from experience, my wife is still on a Lumia 900 because if I get her a phone on contact with AT&T our data plan will go up by $25/mo and when you have a family of 7, that's nothing small.

some people - such as my own mother - have a philosophy that there's no point in upgrading your phone while your current one still serves your purposes acceptably. She's happy with her Lumia 900 and sees no reason to upgrade. She isn't really missing any of the new features, as WP 7.8 does exactly what she needs it to do and she's happy with it like that. As a conservative person who recycles, and who sees great waste in upgrading to a new phone when you don't need any of its new enhancements, I fully understand her decision.

I agree... We are so wasteful... I see people gearing up for the next iPhone (and every other phone)and I ask, what are you going to do different or what does this phone offer to you that you are not already doing? Most people will not use any new feature or horsepower... They will go back to browsing the web, texting etc that they were doing... Most iphone people do not know how to close apps... that is why the phone is slow, not becuase it is a year old... The 920 has been so good to me... I have dropped it so many times... After following a susgestion on the forums to do a reset after all the updates and finally getting cyan, it is back to its then normal self... With all that said... I have a 1520 coming in tomorrow... lol! My took over my brother and mothers account since he moved overseas and noticed he has insurance... well, his phone is lost so i am getting it replaced... They are replacing his lost 920 with a 1520... Coming right to me since he is using an s5 over in Germany :) But previously.. he owes me has he lost my beloved samsung focus (dang what a great first windows phone for me, then the 900).

People say that the 520 is old, for crying out loud! It's still speedy, runs nearly every app and is as reliable and sturdy as a Nokia brick (it is, essentially a brick). So why on earth would I want to upgrade? I plan to let it last until all updates cease to stop, which doesn't look like will happen anytime soon...

Quite true. I offered my mom the 920 I lent her when her beloved Lumia 900 was drying-out from an accidental swim in some liquid. She preferred to keep the 900. I'm actually writing this comment on my old Samsung Focus that I'm testing today to give to my un-techy dad who's still using an old Nokia flip phone. So many of these new ones are pretty but it's hard for me to justify switching from my 920. Lower monthly bill is extra incentive to stay put. I wonder what if any significance there is to this extended support...

The 920 is great. I love mine. But my battery is slowly reaching its EOL.

My mom is exactly the same, she's still happily using my old L800.

Honestly if there weren't 8 exclusive apps I wanted, I would've stuck with my Titan II.

If there werent 8.1 exclusive apps i wouldnt have uograded :B

I still have 7 months left on my contract. 7.8 works well and, though I like many of the upgrades in 8.1, not everything works as well. The built in Facebook integration and Music app are two examples of decreased functionality - at least the way I use them.

I'm. in the same boat. 6 months on the contract. Once the contract is up I'll keep the 800 until I can get a sub $300 unlocked WP8 or hopefully WP9.

now where's my HTC surround 7..., ahh there your are. Hmm... Shaky touch, but call reception and speakers seem A-Ok.

If you paid 350 euro for a phone... then you will keep it and weeeeeep it ;(

I still have a dvp(factory unlocked att spec) I use when I travel but since a few months ago the icon with a carrier locked ativ s as a backup is what im using

I am still on my Lumia 820, it os working as smooth as hell, and still meet all my purposes, sometimes upgrading to a brand new phone is just so waste and not logical

I hope add some "visual features" of WP9 like they do with WP8... In WP7.X

Or at least support Skype for WP 7.x again.

I wonder who is still stuck on 7.X? If I was Microsoft I would just send those users a Lumia 521 as an apology.

One friend of mine has a Samsung Focus and another has an HTC HD7. So both stuck at 7.8.

Microsoft has nothing to apoligize for, you bought the hardware and software you paid for. I don't anyone who buys a product for its future potential.

then nobody would give a chance to any new os.

It has to be said that some people stick with the same phone for years and are not interested in upgrading every year or two years to the latest tech. The mindset is, if the phone still works as intended then why spend money on a new one?
I could easily pull out my old Nokia N8, stick a SIM in it and use it for calls, texting, Satnav and photography plus a little bit of Angry Birds and what not.

I am "stuck" with Samsung Omnia 7 (Samsung I8700). Why? because I still think that is the best device ever made which runs WP. Yes, it is a bit crap having 7.8 but nonetheless works better than my friends Lumia 925.

Not sure if serious or trolling...

How is it better? Just the extra 512mb of RAM makes my 925 a much better experience than my old 900.

I'm still using a Lumia 800 and love it. I don't understand what the big deal about this is anyways. I haven't gotten an update since 7.8 was launched. as long as my phone still works it's not that big a deal

Well, I'm still on my Nokia Lumia 900 :|

I have a Nokia lumia 800 running wp 7.8, its RUBBISH :(

It doesn't get any new features anyway...

By October, those WP7.8 users will have many more options to upgrade, at many price levels, from many manufacturers. Chances to keep those users onboard will be much higher by then.

I agree. I am using using 8.1 on a 635. I want a better phone but will wait for Windows 9 (WP9) At some point, even with the new phones comong out, I think people will go into waiting mode an stop buying new phones because they are waiting for WP9. If this occurs, MS might extend 7.8 support untill WP9 is released. The delay of new 'flagship' phones may be MS and OEMs holding off for WP9.

Windows 7.8 is terrible compared to 8.1.1. Those people should upgrade now there are alot of cheap windows phones with 8.1.1 that offer just about the same performance of a flagship

The music hub, people hub and games hub are great in WP7...

Social integration as a whole of better on 7.8 than 8.1.1.

Seriously.. MS has enough work to do without actively making its own products worse in certain important respects.

Man! I have a Lumia 520 (8.1.1) , htc8s (8) and still love my Lumia 610 (7.8) All these OS are great (for my use)

Maybe the'll be getting atleast a cyan update ??

It does seem to be a strange move I'll agree but maybe they are quietly aware of some security issues that they can address in the coming weeks.

Well my aunt has a Nokia lumia 900 and she will probably be getting moto g as next phone. At least Microsoft supports old versions of Skype on android but not wp 7.8 Posted via Windows Phone Central App

Really bad move from Microsoft... But WP7 has Tango...

Maybe thay are working for another (and the last one) update for 7.8 users. Who knows

Maybe a wp7.9 is inbound ??? ;)

I still have my old HTC HD7. I use it over WiFi just for music and games when I want to waste some time and don't want to drain my L925's battery.

Maybe because there's one area where WP7.x beats the fudge out of WP8.x ... the Music hub

Trust me, fellow users of the Windows 7.x platform: UPGRADE!! You're sooo missing out on a ton of new features! ;-)

On the contrary, we are missing a good number of features which they are taking for granted - features that actually defined WP.

Totally agree, my wife is using my old 900. It can't do nearly the things my 1020 can..... really there is no compeition. I really liked my 900 but with the exception of a very few things 8 and 8.1 were huge improvments. Though really disapointed with dropping Skype support as the last upgrade made it very nice to use while she's away. I don't agree with all of the update choices but overall it's much better. Glad they are holding out support a bit longer we will be eligible for an upgrade soon.

Hey anyone knows when will will the update 2 be available on developer's preview?

I miss my focus . . . I broke it in two :'(

Why extend when there was never any updates since......way before the deadline...

They probably have a commercial account using them and enterprise hates running unsupported. There are regulations you have to meet. My guess the accounts are still deciding and Microsoft doesn't want to add pressure.

I couldn't imagine being back on my Samsung Omnia or Lumia 800 with 7.8 anymore, windows phone has come a long way.

I second that. WP 7 wasn't bad at all but it is an awkward feeling using a WP7 device once you are used to WP8.1

Incoming trade in promo for wp7 devices?

I think they did it because the 57 people still using bitched and complained really loud. ;)

Do any recent statistics exist showing how many WP7 devices are still active?

The August AdDuplex stats show shat 19.2% of Windows Phone users are on WP7.x compared with WP8.0 with 56.5% and WP8.1 with 24.4%. So, nearly 20% of their WP customers would have lost all hope of support.

I lost all hope of support for my Lumia 900 when Joe got on stage and told us that this brand new device wouldn't support WP8. (I could easily have flashed a brand new ROM over the existing one, lose all existing data, and reinstall - don't care about the other hardware-specific features so that line about the requirements just hurt, especially for a 2 month old phone.) I bought a 520 in the recent Amazon sale and upgraded that to WP8.1 because I have no idea when AT&T will get a decent WP upgrade. Looks like the 830 is coming close - SD support, decent RAM, decent camera, replaceable battery, front camera. I'd love the 930 but no SD support kind of hurts. My wife has a 1020 and we have to make sure we clear out transferred pictures/videos to keep space available on the phone. It takes great pictures/videos, but a removeable storage card would have helped. I don't want the 1520 - too big and it's been out for a while. If I'm going to use up my upgrade, I want a newer device that (hopefully) isn't going to be replaced in a month or two.

The 1520 is still future proof though, 4k recording soon on denim update and hey Cortana built in, its not as big as you think though

What's the laptop in the photo?

They were supporting WP 7.8?

If people are happy with their phones so be it.

I miss my Lumia 900s Zune music player.

It was definitely better... Surely we'll get there someday.

I'm still using my 900 as a music player just because the headphone jack of my 925 is messed up and only plays sound out of one speaker. The snappier Zune player is just a plus.

WP7 should be disabled totally!

Why? I know of several customers still using Omnia7 or OmniaW, because they use them together with Microsoft exchange only. As long as the phone is working there is no need to change

No it shouldn't. For people that own a WP7 device and are not tech enthusiasts, it's not a bad experience at all... I was using one not so long ago, it sure beats low end and even some mid range Android phones.

true that sir. I am still rocking The HTC radar :P Yes I said it :D

That is actually a nice phone. Never got to own one though...

Microsoft is rushing with Windows 9

I know of about 6 people still stuck on WP7... Mostly cause 5 of them are aged 50+, so as long as you can make& receive calls& msgs, they are fine with it & a another is a friend who can't upgrade cause he only recently lost his daily driver - iPhone 5

At least give them slide keyboard, tile background, three row tiles and notification center. If not Cortana.
They deserve it.

It would be interesting if there was a security patch or something like that they need to roll out before they end support. Of course they are not bringing any be features. That's been made clear.

Isn't that wonderful. All this talk about the cortana and we still cannot get the update aka Verizon wireless

From WP 8.1 to WP 7 feels weird but I missed it unfortunately my HTC Surround buttons don't work and screen cracked and my sisters HTC Titan 2 when she was a WP user

Microsoft should have given them a small complementary update, atleast with small tweeks in u.i n something...
I know its hard...
Feel pitty for them... ;D

I couldn't get 7.8 to install on my 900. Kept getting some error code and MSFT just said "talk to your vendor." Nokia and AT&T were amazingly helpful trying to help me get it installed, and when I couldn't AT&T sent me a new 920 despite my 900 being out of warranty. Yes, it took me forever before I finally contacted MSFT etc.

I'm "stuck" with a htc 8s PfD

i will never switch from windows 7.8 unless: 1) they make another phone with a hardware keyboard 2) the music app works with zune, and has the same or more features it's almost been 2 years now, and even when my phone breaks, i'll buy another windows 7.8 phone used on amazon or ebay. i have yet to be convinced its worth downgrading to window 8/8.1 maybe there's hope with 9, we'll see

You sound very negative.....oh

Surely even the lowest end 8.1 devices benchmark above the 900 now?

Iphone 4s is still receiving ios8 updates
But MS always has done same things
In spite being OS company and successfull in it they could not developed good mobile OS, still there far behind of Android and IOS

Wow... Like a couple extra weeks are gonna matter?

must be a joke, support stopped months ago...if not a year

Sooo what does this entail?

Possibly Windows Phone 7.9 since 7.8 was actually 7.x

I still have a Lumia 800. I bought it more than 2 years ago thinking that it's a flagship phone and might get the next big update. I supported M$ when it really needed the money and the user-base.
I still expect to get at least the looks of WP 8.1 but MS doesn't give a F@#k. And I'm still waiting for a true successor of Lumia 800 (in terms of design, better AMOLED and better camera) but all that Nokia is giving in the 8xx series after 800 is useless poorly designed and under-powered shit. :v Lumia 800 was N9's twin brother, the most beautiful phone, and now it's a phone that has been forgotten. The first Nokia Windows Phone, lying in an empty dark pocket, bathing in sweat, begging for one last update(atleast update the UI :v ) but the creators don't care and consumer is cursing the creator - You'll never be successful -_-

Support my ass; I haven't received the 7.8 update on my ATT Samsung Focus, what was it two ears now since Rogers customers got it on their Samsun Focus. So screw Microsoft, Samsung, and most of all ATT.

smh!! i was waiting for bluetooth share but I was disappointed, was waiting for some lock screen notification but was disapointed, was looking forward to screen shot functionality but was disapointed. these are not major things i was looking for but i think they should have been implemented. going to retire my HTC radar soon and going to jump on android for a while. I really love WP though but ill return back when its more complete. Maybe WP 10 :) I am not hating wp here. its just that I want it to be more complete.

its not wp8 is "complete" but wp7 users got a big kick in the nuts after wp8 release, there was nothing for wp7.8 best example, skype not usable app to complete not functional app far before the support stop and updates? yea updates for os x version which are far older than wp7.8....but not for the own plattform. I think they dont care because wp7.8 doesnt have significant market share in the us (as with the scam/fake app removal from the store -> only us store is cleaned up, any store else world wide not)

It's not like your phones will stop working though, nothing is forced. So if you like 7.8 keep using it, just not supported anymore.

This is a joke? is it? Since 7.8 theres nothing for WP7.8.... no nokia apps updates no ie update no skype(!) update...instead stop official support far before this date and the app was already totally crap no update for anything from ms for wp7.8 They lie in a line and dont gettnig red....sahme on them!

I still have samsung omnia W

Final update incoming on patch Tuesday?

What computer is that in the background? Anyone know?

Is no one saying anything about the inclusion of a picture of the Scottish flag on the phone screen?
Anyone? BTW. I'm still using my Lumia 800 which I've had for over 2 years. Got it day-1 when it landed in Australia, back in March 2012.
I'll probably replace it this year with a 735 or 830 depending on what deals Vodafone offer.
Would love to upgrade to the 930, but that'd cost me another $20/mth (total $70/mth).
Am I displeased with how MS have treated their 7.x customers? You bet, but I kinda get it.

Just noticed that too, how stealthy being that there's a vote of independance going there!

I wish Verizon would extend 8.1 support to their phones.

A great way of keeping customers M.S. not

Grateful for the extra time should get us to upgrade eligibilty. Just a shame there isn't a 1020 or 920 replacement out to upgrade too. Some of us don't want a phone so massive that it won't fit in your pocket. Not sure if the hold up is Microsoft or Nokia..... though I would take bets *cough cough* but would really love to see some new high end devices.

Ok. So MS wants all its user of phone laptop or phablet to move to either to W8 or W8.1

Haven't seen any update to my 7.8 phone (Samsung Omnia W) for over a year now, so end of support doesn't make a difference I think...

7.8 customers should have a trade-in deal to upgrade to WP8.x phones...

Fuck wp7, the worst thing that happened to ms

When it comes to music player, WP 7.x is greater than WP 8.x.


Just out of interest, what are the lowest specifications that WP8.1 supports?

Hopefully they will reward actual users of this OS version, like me, with the last upgrade as a big Farewell. And I also hope despite the Country or Carrier, meaning is a Global launch. Just tell me when, and I'll make enough space in my handset to get it.

Maybe that is when they will introduce a new Lumia device. Like a successor to the 1020. Fingers crossed.

I still don't get what support they are talking about when they haven't released any OS updates to 7.8 in over a year. What have they been supporting?

And still no flagship phone to upgrade too. I had to pull the trigger on a 1520 as my 920 became unusable - battery lasted only 4 hours on standby. Still I got the RM-938 Unlocked with Qi Charging version which is good. I'm sure AT&T will NERF the new flagship phone in some way - they always do. Roger

My mom is using my old l800. Im using 1520. Well shes doesnt have much complaints about the phone:) But who really cares about the support thing anyway?

Maybe they are preparing one last major update.

I think they need to make sure it is stable before cutting the line

All I know is I learned from buying the Nokia 900, the phone was dead before arrival and Microsoft knew that and sold it anyway... Now I'm on android watching how windows phone is doing before I jump on the wagon again... Posted via the WPC App for Android!

Change is inevitable!!!!! Life can be FORWARD only!

Lolol I don't think anyone with a 7.8 device was expecting and new update anyways lol I think we all know Microsoft ended support for 7.X when windows phone 8 was released.

From what I remember, the only reason why W7.x wasn't upgradable to W8 was that it did not have a hardware decryption chip for bitlocker, and that the upgrade process would require the phone's built in memory to be zeroed out which could lead to a bricked phone if the data transfer was interupted or corrupted. I remember reading that several developers in MS had Samsung Focus and other W7.x models running early build of W8. What I wouldn't give to see my Samsung Focus get W8.

Confirmed: Windows 9 will be based on the Windows CE kernel!

We just schould ask MS, and than I'll use my Lumia 800 again. Best WP ever.

I wonder why there's L925 in the picture... Probably they didn't have any WP7x devices. And that's a clear message?

Maybe Microsoft is waiting the enthusiasm for the release of WP 8.1 GDR2 DP (rumored for 8 October) to end the support of WP 7.8 (which is needed but it won't make happy someone).

Why? This is why Microsoft would never catch up. Leave them behind, move on! Focus on your WP8 issues.

I'm still on 7.8 using lumia 800. I'm looking forward to update when I get the money to do so. This phone still works well enough, but after almost 3 years, I really need an upgrade. I'll get either 830 or 930 depending which I can afford around Christmas :)