Microsoft looking to make Skype business-friendly with new patent filing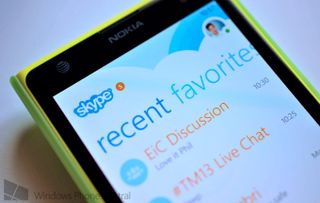 Skype is Microsoft's gem when it comes to communication services for both consumers and enterprise. Video calling enables folk to remain in contact when the only connection is a network and the company could well be looking to add live annotation capabilities to Skype. This would enable users who are conferencing over supported devices to make live annotations that can be exchanged with the recipient.
According to Microsoft and its patent application, whenever users make a digital annotation on the received live video stream, it's displayed on top of the view - much like how you're own webcam mugshot is shown in said video calls. It's then transmitted to the remote device. When the recipient in the call makes a follow-up annotation on the live video, it's beamed back across and displayed in the same fashion (see the below illustration).
This would be interesting to see come to the smartphone, as well as computers, tablets and whatnot. It would certainly aid with live collaboration and communication in certain situations. The patent also details an ability to take a video snapshot, share it in the call and digitally annotate the displayed image for further collaboration. Screen sharing is also touched on, but in the form of app sharing, where users can show what's displayed in a browser, map app and possibly Microsoft Office.
We mention smartphones because Microsoft indicates in the filing that this technology could work with a Windows Phone equipped with a laser point for presentations. This would enable users to make live annotations to a slide in a presentation. "A given mobile device can optionally include a laser pointer. Various implementations of the laser pointer device are possible. By way of example but not limitation, the laser pointer device can be either integrated into the rear video capture device, or separately mounted on the rear of the mobile device."
This patent was filed back in Q3 2012 and was published only last week by the US Patent and Trademark Office. While we don't see this technology coming to Windows and Windows Phone anytime soon, it's still pretty cool to see some hints as to what the company is working on.
All that said, what would you like to see added in Skype?
Source: Patent Bolt
Windows Central Newsletter
Get the best of Windows Central in in your inbox, every day!
Rich Edmonds was formerly a Senior Editor of PC hardware at Windows Central, covering everything related to PC components and NAS. He's been involved in technology for more than a decade and knows a thing or two about the magic inside a PC chassis. You can follow him on Twitter at @RichEdmonds.
This is a good feature, especially for larger screen devices. I like it.

I really hope they improve Skype when WP8.1 hits or earlier.

And still Skype is better on other platforms.. :/

Is it? I think it's awful looking on iOS.

Can't attach files on WP. I think it can on android.

Nobody attaches files on Skype. Video calling on skype is at its best. It needs regular updates for smooth performance and 20 days left.

Speak for yourself. I want to switch from whatsapp to Skype as far as possible, and would really like to be able to attach files. You may not want to attach files but other people may want to.

That's the same reason I use WhatsApp extensively and Skype rarely. I don't do calls on Skype at all. I'd use Skype as an IM client if it offered the features of WhatsApp, particularly file-sharing.

I send files through Skype. Not regularly, but often enough that I notice not being able to. Call/video performace is fine for me, but the interface is very cumbersome and slow in both the WP and Windows Store apps.

Some of us like to use Skype for chat as well voice instead of having to chose another chat app just because I want to attach a pic. So yes we don't use Skype to attach docs on windows phone but that's only because we can't.

I've sent and received a bunch of files (mostly screenshots) using Skype's IM functionality. You might want to be a little more careful with those overreaching generalizations.

Yea, cuz looks determine if it's a proper app... We lack functionality like attachments, I don't care how bad the other apps look, at least they work properly...

Loading time on 1520 is bad...

Since when looking is everything, Mr. Daniel? Let me put this blunt, until recently MS apps were the best designed and had best functionality. Lately, they didn't see any big updates. Oh Please! This is 2014 and I still cannot attach files on Skype.

Daniel, people are SCREAMING on the Skype forums. Haven't you heard? Now you MUST sign in to Skype with your Microsoft account, but if you're using your previous Skype account, it's a crap shoot whether you will EVER link your MS account with it. On my old Android phone I'm still able to login to Skype with my old Skype ID. AND TO THINK I PAID FOR THE PREMIUM SKYPE SERVICE ALONG WITH A SKYPE NUMBER BUT CANNOT LOGIN TO SKYPE ANYMORE WITH MY WINDOWS PHONE! What a JOKE! Daniel Rubino, you're a very sepected blogger, can you please inquire about Skype and it's problems on the Windows Phone platform and if there's any hope it will improve. Maybe an article about it will motivate them? I hear they are still totally separate fromt he rest of Microsoft? I think Microsoft should be embarrassed to have paid the BILLIONS they did for Skype yet Skype thumbs their nose at the Windows Phone platform and develops broken and poor apps for it.


Interesting, looks like the Skype team is finally working on better features, hopefully MS will make sure their platforms have a top level experience...

No they won't. Not enough market share.

I was chatting with my gf on the WP8 Skype app for a lil bit yesterday. I noticed that everytime I went back to the conversation, the loading time was waaaaay too long. Also said "loading" every single time. They need to improve this!

Very interesting. Microsoft should be on the innovation front. This is good stuff.

When is twitter getting updated the official app?

What? When did Skype merge with Twitter in a patent about annotations?

custom emoticons, custom backgrounds-themes, custom word colors/type, nudges, gif avatars, a decent-more consistent UI with windows, multiplayer games like chess or checkers, in short.. everything i lost when switching from wlm to skype

You had NONE of those in WLM on mobile. Not on WP.

well the messages were reliable at least, and there was voice clip support too

Skype is a piece of crap, you can't make changes to your profile if you're using IE11 but you can using chrome or Firefox. If you use the desktop software and log into your account it doesn't sync your picture....what a piece of crap.

1) sync read status of messages across devices, 2) fix the AGC so it doesn't freak out as easily, 3) better noise filtering for audio and video, 4) improve robustness so that it's never necessary to hang up and call back because the call has become unusable, 5) relay file transfers through Azure instead of other Skype users (no more snail icon please)

Seriously, why does it take so long to have a patent approved? Q3 2012 was ages ago!

That's the standard. Its 18 months till publication. Then it can proceed towards the grant procedure, which takes a few months. Standard time frame worldwide

like i've said before, Skype to Windows Phone should be what iMessage/FaceTime is to iOS. It should be that seamless. I understand that it takes time to implement that, but i hope something like that is the final goal with Skype.

I don't even understand this article. What exactly is the patent? What exactly is the benefit??

yeah, but better for all will be better sync when you on PC... I mena, when i logged on PC, skype will be automaticly diabled on phone. Becase thats horrible, when you writing on PC and phone still notifi you about it.

They need to make Skype free (business) so people can go back to it.. In my country Bulgaria, Skype was the most popular msngr 2 years ago. Now when I open it, there is no one.. People use Whats app, Viber or Facebook msngr.. I thing soon and Skype will be DEAD... Like the rest of Mcrsft :-)

Will local scout and other bing services be available to other countries? Please reply anyone

MS' gem? Its a terrible firstparty chat service. The messages app on WP is better for chatting. Skype is too slow to compete on the most used form of communication: chatting.

'You're' > 'your', second paragraph. Sorry, one of my pet peeves.

Microsoft should develop Skype make it more reliable to to send IM too as IMs are increasing on large scale there would be no need for other messaging apps if Skype does that

Isn't Lync already aimed at businesses? I don't really get the point of extending Skype into Lync's territory unless they plan to merge Skype and Lync into one, more so than just sharing a protocol. I just can't imagine how an application with pure ad authentication will work with an application that has nothing to do with it.

I like Skype and use the Premium (paid) version, but Microsoft desperately needs to improve the account\billing menus and improve voicemail UI.

I want Skype to function as my core communication app...
Think iMessage and Facetime in one + whatsapp functionality...
I want to only use Skype for everything.....
It is possible.... Just hope its soon

Skype needs to equal Whatsapp and google voice functionality. That would kill any other messenger app; IMO

Screen sharing on a desktop window
as well as on a Modern UI on a snap screen with chat "window" and camera "window".
Direct file manipulation of any Office document in a conference call while on screen
Ability to "freeze" or "mute" you phone when you use your PC and vice verse
and naturally a local real-time reflection between your PC & phone when you want it.
Just make it very fast.

Wants to improve business functions. Still no file sharing.
Windows Central Newsletter
Thank you for signing up to Windows Central. You will receive a verification email shortly.
There was a problem. Please refresh the page and try again.