Microsoft flipping the switch for Sina Weibo's integration into the People Hub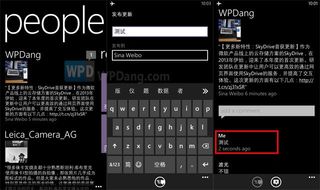 As we've mentioned before, the People Hub has always been a pain for Chinese Windows Phone devices, because what's called "People Hub" in the Chinese version of the OS simply doesn't have any social functions. To put it mildly, the module has been nothing but an unnecessarily complicated phone book. The reason for this is quite simple: Microsoft yanked out all the social services blocked by China's national Great Firewall (Twitter, Facebook), and removed the ones that practically have no user at all in China (LinkedIn), without giving any replacements. Finally this is going to change, today.
Earlier today, Microsoft reportedly opened up Sina Weibo integration into the People Hub for for some random Windows Phone 8 devices. Sina Weibo is a microblogging service, which works just like Twitter on almost every aspect, except for:
It has over 300 million Chinese users, many times bigger than the Chinese-speaking population on Twitter.
And more importantly, it's not blocked by the Great Firewall.
Sina Weibo in People Hub works much like Twitter too. Windows Phone 8 users will supposedly be able to, when Microsoft finally finishes testing, post new tweets, retweet or reply, and share pictures to Sina Weibo directly through People Hub and the Me tile.
Currently the service seems to be still under test, and working quite buggily: retweeting fine, replying fine, but can't post any new tweet yet.
For a side note, Microsoft did lock Chinese Windows Phone devices to Chinese Marketplace as expected. This is rather a weird move for Microsoft. It doesn't have to follow Chinese government's political censorship rules to such extent, since the Chinese version of both Windows 8 and Windows RT are entirely open to Windows Store region switching. This restriction is definitely pushing more geeky smartphone users to the smugglers.
Source: WPDang
Get the Windows Central Newsletter
All the latest news, reviews, and guides for Windows and Xbox diehards.