Microsoft generated $23.20 billion in revenue for its FY15 Q1 time period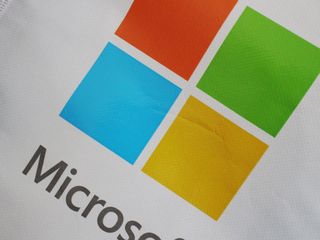 Microsoft's latest quarterly financial report, for the three months that ended on September 30, 2014, has just been released. The Redmond, Washington-based company reports that it recorded $23.20 billion in revenue for its FY15 Q1 time period. That's compared to $18.53 billion in revenue from the same period a year ago.
Net income for the company came in at $4.54 billion for the quarter, compared to $5.24 billion from the same period a year ago. Microsoft added:
Microsoft said that revenues from its Devices and Consumer divisions grew 47 percent to $10.96 billion. Here are the highlights:
Office 365 Home and Personal subscribers totaled more than 7 million, representing more than 25% sequential growth over the previous quarter.
Surface Pro 3 momentum drove Surface revenue of $908 million.
New Windows consumer licensing programs drove positive unit growth while OEM non-Pro revenue declined 1%.
Total Xbox console sales were 2.4 million, growing 102%, and Xbox One launched in 28 new markets.
Phone hardware revenue exceeded $2.6 billion with ongoing focus on execution discipline.
Microsoft's commercial division saw its revenues go up by 10 percent to $12.28 billion. Here are its highlights:
Server products and services revenue increased 13%, with double-digit growth for SQL Server, System Center and Windows Server.
Office Commercial products and services revenue grew 5% as customers transition to Office 365.
Commercial cloud revenue grew 128% driven by Office 365, Azure and Dynamics CRM.
Lync, SharePoint and Exchange, our productivity server offerings, collectively grew double-digits.
Windows volume licensing revenue increased 10%.
Source: Microsoft (opens in new tab)
Windows Central Newsletter
Get the best of Windows Central in your inbox, every day!
No comparison figures? Edit: Oh... "Developing" :)

Down about $180 million from last qtr. But up about $5 billion from same qtr last year. http://quotes.morningstar.com/stock/msft/s?t=MSFT

get it Microsoft... at a boy

Hmmm seem better results than the previous quarter..

Where is the rest of the article? ;P
Edit: Ok, it's there now.

I wish these guys would wait til they complete their articles before actually posting them..

This usually happens with breaking news.

They're still counting their money.

A John Callaham article without a question?

I want 0.1 % of that....Not much....

not bad coz there has been acquisition too and promotion expenses on sp3 too.

Glad to see the Surface Pro 3's success this year

almost half than what apple made.. (8$ billion net/ 42$ billion revenues) aaarrrrrrhhhhhhh! cmon microsoft! at least they beat the street estimate..

Well, everything Apple is Apple owned, cept some accessories maybe, so that's understandable.

Well, an iPhone technically costs $600 and people like to upgrade them every year. Add the $500 iPad and think about the last time you spent $1,000 a year on Microsoft products that Microsoft gets 100% of the revenue on. I did last year when I bought Xbox One, Surface Pro 2, and Lumia 1020. But I cannot say I've spent that much this year. Apple gets their fans to do that EVERY year.

Why bring apple up? Did anyone ask you to? Please spare us next time and post something worthwhile. Or at least compare with a company with the same line of business.

How is crapple not in the same line of business as Microsoft? Bobsentell's analysis is spot on. Unfortunately.

Actually MSFT and AAPL are not very similar at all. Apple generates the vast majority of it's revenue from hardware sales to consumers and the store downloads. Microsoft generates most of its revenue selling software and services to enterprises.

No, Bobsentell hasn't got a clue. Average phone life (before trading up) has slowly been inching up and is now a little over 21 months (almost 2 years). iPad's have an longer average life (as Apple noted in their quarterly financial report chat with analysts). Apple continues to attract lots of new buyers to it's ecosystem while losing very few.

Apple is literally like the most profitable company in the world right now. Fortunately it will be short lived.

Make that "they're doomed" and BTW no they ain't. Nice to see the Devices numbers moving in the right direction.

I'm prety sure that that was sarcasm.

Wonder which internet news outlet will do the doom and gloom scenario?

Spend some of it on the Lumia 1030, and make it available for all carriers. Use the rest to hire 10,000 developers to create a media app for Windows 10 that isn't XBox Music.

How many Lumias were sold...thats what I want to know

Source please? and was that the July - Sept quarter?

When I saw the toast I thought the revenue would have been from Android licenses :P

Profit is profit and I think Microsoft are on the right track building innovative products and services after all Apple in 2000 would have been happy with that kind of profit margin.

They reported sales of 9.3M Lumias, which would be a record. If HTC did well with the One, and all the other OEMs with phones out now, this could certainly be the first 10M quarter for Windows "Phones"!!!!

Windows phones exceeded 2.6$ billion in revenue. Surface pro 3 more than 900$ million
Edit: $2.6billion

Yes. I was referring to the number of phones sold, not $$$.

It says they sold 9.3M Lumia phones and 42.9M non-Lumia phones! Could this possibly be right? That would be over 50M new Windows Phones! Source: Microsoft http://www.microsoft.com/Investor/EarningsAndFinancials/Earnings/Segment...

Unfortunately not, it's probably the number of Asha and Nokia X phones sold.

Sad... People in developing countries buy Nokia X's a lot more than Lumias... I see a lot of Nokia X phones around me. :(

But they killed those off in the first three weeks of this quarter.

It takes time to sell through inventory

The 42 million non-lumia phones include feature phones as well I believe lol I mean I could be wrong but I highly doubt HTC, Samsung, and the other low end OEMs sold 42 million Windows smartphones

You think MS sold 42M of these? http://www.microsoft.com/en/mobile/phone/130/# That's their only feature phone. I know the number sounds crazy and I can't figure out an explanation.

There are plenty of other "Nokia" feature phones for sale, not just the 130. Most are not available in the US.

True that. Forgot about all the ones they made before the acquisition lol

Xbox console sales up 102% from last quarter? 1.3 mil more consoles sold?.. Hmmm... How much did the China launch bring in again?

Gotta sale some of my 200 shares of MSFT tomorrow, nice deal so far.

Does anyone know that apple do charity ?

they don't theyvare assholes who love money

Product Red is a charity that Apple contributes too. Apple also matches the charitable donations it's employees make.

All the doom and gloom haters with their "Microsoft is Dead" mantra should really continue doing their thing because it seems to be doing Microsoft a lot of good! LOL!

One question for me .why Microsoft is providing free version of one note ,office ,and all other app in android store. But in windows store not even we are having a proper version of google translator and google maps.

we have bing translator and thst is popular on twitter

But Bing translator is not good as Google translator in India.... In india Microsoft is providing zero.ii don't know when all futures will be available in India.

John must be bluffing... Because
1) MS is dying
2) This is the decade of Linux... Or Apple.. Or Android... Or whatever-that-is-not-MS
3) MS losing money and thinking of scrapping WP and Surface products which did not sit well with profit from surface
4) WP is bound to fail from the day 1 of their launch and so definitely 9+ millions of Lumia were not sold
5) all the forecasts And reports that said MS is out of the game are true and hence this report must be false. See.. I am over smart and found all the lies from MS. They are a failure even though they are making billions every quarter and I can say that because I cant make that much money even when I try for 2 decades.