Microsoft has a new way to request 'revenge porn' be removed from Bing, OneDrive and Xbox Live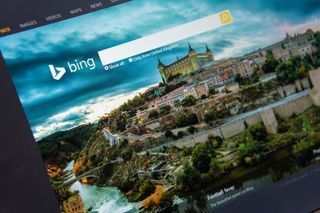 Microsoft wants to make it easier for victims of "revenge porn" on the Internet to see said content removed from its services. That's why the company has set up a new website that allows people to request any nude or sexually explicit photos or videos that have been shared without their permission to be taken down from services like Bing, OneDrive and Xbox Live.
Microsoft points out that "revenge porn" can "damage nearly every aspect of a victim's life: relationships, career, social activities. In the most severe and tragic cases, it has even led to suicide." It adds:
The reporting website itself (opens in new tab) includes a way for people to show proof that their request is valid, such as a police report or a court order, but adds that any report will be considered even without that kind of documentation.
Source: Microsoft (opens in new tab)
Good job Microsoft. As opposed to Scroogle which "your nude information is our asset"

Yes - thank you Microsoft. Thanks for ruining Bing Video Search :P

What's Google's response to revenge porn?
Does anyone in the comments actually know?

Its in their terms of service. '...we respect the rights and privacy of others and do not condone the use of personal videos for the express purposes of shaming or defaming others. If you do not wish your sexually explicit videos to be viewed and or made available on Google servers, don't do porn videos and most of all, don't blame us, we didn't shoot it.'

Google is always responsable, always, for all s wrong in this world

Google's response is that they are smart enough to allow users access to search what they want. Which is why they dominate the market today, all this article tells me is to switch search engines for smut. This is a stupid annoucement by microsoft. Because it begs to question what else they are taking out of their searches. While Bing was my primary search engine this gives me cause to return to google just reading this and no I don't get my porn from either search engine it is just the principal of filtering content on user request in a community of trolls that is the internet...

Are you actually defending revenge porn? 0_o

I hate you can't edit your comments here. Should read. Zackly how I read him. Amazing how people will justify the dissemination of child and revenge porn calling it freedom as if freedom doesn't have limits.

You're kidding right? Google has been heading in exactly the opposite direction. It is impossible to turn "safe search" off unless you get very specific with your terms, all in the name of "protecting the kids" What was wrong with the safe search toggle they had on before? Oh that's right, nothing. They both take their turns sucking but this is far from a plug for Bing.

I didn't know that I don't use either for porn lol. All I am saying filtering searches is a bad idea and user filtered searches is even worse.

I disagree. I have a 14-year old son, and the Internet can be a nasty place. Filtered searches are an absolute necesity in some situations.

Neither Google nor Microsoft are legally obligated to show everything in their indexes. They already filter child porn and such, I don't see how this is any different. If someone has pictures taken of them they didn't consent too, and/or someone betrayed their trust: That person should be able to to quietly request their removal. Images and videos like that can seriously ruin someone's life, they should at least be able to try and stop it. Besides: There's so much smut out there that people are more than happy to share, is it really that big a deal if the stuff that was never meant to be online gets removed from the search index?

"While Bing was my primary search engine this gives me cause to return to google just reading this..." so a company trying to protect both the victim, and potentially the viewer (children), is cause for you to return to google? haha ok.

'Zackly how I read him. Amazing how people will justify the dissemination of child and revenge porn calling it freedom as if freedom should doesn't have limits.

Google actually began rolling out something almost exactly the same as this a few weeks ago. I'm not sure if it's live for everyone yet but Google at the very least announced about a month ago that it will be possible to request nude or otherwise sexually explicit photos of you shared without permission can be removed from their search index.

I did notice something though... the notice that used to exemplify ALL porn on OneDrive has been modified to only include the illegal stuff (child porn, etc.) does that mean they're now allowing legit porn?

You've always been allowed to put porn into Onedrive, you just can't share it.

Yes, I believe this is the policy. You can store sexually explicit content (assuming it doesn't contain an illegal subject nor it's illegal where you reside), but you can't share it. I think the reason is rather obvious: Microsoft would rather not OneDrive become known for hosting porn. Especially since it allows theoretically unlimited storage, that would quickly become problematic. As such, they've taken a stance and forbid sharing sexual material via OneDrive.

With phones it's almost impossible to avoid. Especially with the way everything syncs and backs up. We need a "special photo" attribute, much like favorites, to keeps this stuff from showing on live tiles and such.

That seems fair, I'd like to see such a feature. Perhaps it could auto-scan every photo before finalizing the upload, then flag and notify you if it detects anything?

"thank you microsoft!" I bet you are the same type of person that says there should be a ban on people purchasing guns. All the while criminals get them illegally to victimize you to begin with. So the same can be said for google in this case anyone looking for revenge porn that just read this article just changed their search engines. While it is may look like such a good deed it doesn't help their search market share at all.

And your solution is to hand everyone a gun since "it'll have no effect at all"? (since we are dealing in exaggerations and accusations) It's about setting a policy benchmark. Others will be following suit or have already implemented the necessary protocol without much fanfare. Those who really want it will find other ways of finding it. This change just helps those who have had their privacy violated. I won't get into the morality of it but it's a huge deal for those on the wrong end of the stick. If it helps people out, I don't see the harm in it.

This isn't about the freedom to search. This I'd about data that was put online illegally. Should you have the freedom to search peoples' credit cards information?

But google has the exact same policy in place, so I guess people will be using Yahoo then.

Yahoo uses Bing as its backbone, so...

Very Good.. So nice of you

Very nice, but what's stopping me pretending that I'm Kim kardashian and requesting videos be removed?

Sorry to say but it's the a$$ :D

Hmm they spoil all the fun... ;¬)

It ll help victims in India, if it is brought in front of people....good initiative frm MSFT.

So much. You don't even have the slightest idea.

N u seem to have too much idea :p

There can never be too much....

Really a great thing from Microsoft

A great initiative Microsoft.

Good. My night with the plastic bags, mustard, and circus carnies may finally be deleted once and for all.

... just removed from Bing, OneDrive and Xbox Live.

Dont do porn and then no one will have it.

Google always ahead of MS. I understand Google is planning to make it easier to find revenge porn.

How do you get porn on Xbox live? Lmao

Exactly what I was wondering

Didnt think anyone used msn video

This is very nice! Good Microsoft!

Here's food for thought people: STOP making freakin nude pics and videos of yourself and spare yourself the embarrassment. There. Another world problem solved. Next!

Yeah, like YOU haven't done anything like this in the spur of the moment. Everyone makes mistakes. These mistakes should not haunt that person the rest of their life.
Windows Central Newsletter
Thank you for signing up to Windows Central. You will receive a verification email shortly.
There was a problem. Please refresh the page and try again.