Microsoft launches Lumia 950 and 950 XL in Vietnam with free accessory offer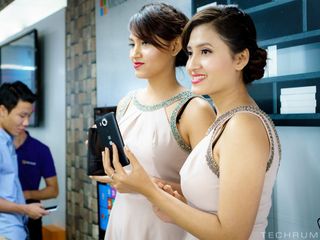 Microsoft continues to expand the reach of its new Lumia 950 and Lumia 950 XL smartphones. Today, the company held an event in Ho Chi Minh City in Vietnam to announce the launch of the new flagship Windows 10 Mobile smartphones in that country.
Techrum reports that the price for the Lumia 950 in Vietnam is 13,990,000 VND (about $616) while the Lumia 950 XL will cost 15,990,000 VND ($704). The first 500 people who pre-order the Lumia 950 XL between now and December 20 in Vietnam will be able to get a free Display Dock, along with a Mozo case and a Microsoft Universal Wireless Keyboard. The phones will officially go on sale on December 21.
Thanks to Steven for the tip!
Source: Techrum.vn
Dam, that's actually an alright deal.

If you read in VND, is above one crore❕❗

My Lumia 950 says made in Vietnam.

My thoughts, exactly.
"****, that's a nice offer!"

I'd like to do that please.

Are you talking about the phones? ;)

That conversion rate for currency though!

Sexy Mobiles With Sexy Girls..

Creepy people over here -_-

13 million and 15 million. My goodness. What are their currency notes..5,10,20,50,100,1000,10000..like that?

Not gonna lie, if I saw 15,990,000 sitting in my account I would be speechless. Then immediately afterwards I would feel extremely sad.

Indonesian has the same but lil fewer

And yet no 950XL for Indonesia

It's 5000 note, 10000 note, 100000 note... The largest till now is the 500000 note... Yeah, being a millionaire or billionaire in Vietnam is kinda ordinary :))

actually we have 200 , 500 , 1000 , 2000 , 5000 , 10000 , 20000 , 50000 , 100000 , 200000 , 500000 ..... $ is equal about 20000 VNĐ .... that sad cuz before 1975 our nation is devided by 2 like north and south korean .... the south like korean and the north like north korean .... 1 south dollar equal 1 US dollar back then and for the north idk maybe same thing as u see above , after 30th april 1975 nation is liberated by the north ..... and now we have 950 and 950XL for 13 and 15 million

Ever heard about Zimbabwean money?

Those chicks they are sexy

Ahhhh everyone else seems to be getting some really good extras apart from the UK and USA!!!! Xbox's, Cases and I'm sure there was a really good deal in France Too!!!! Hopefully it aides in the selling of the phone!!!!

In India its just display dock free.

Your in the same boat as us then!!!!

Same in Canada... But only for the XL... Which is still saying online "e-mail when available".

We got nothing at all in Australia. One of the carriers gave out limited Xbox ones but general public was nothing

Marketing strategic..haha.. Microsoft Lumia 950/950XL with sexy lady xD

How do you know that they are actually ladies (females)? You know what I mean....

Lmao Posted via the Windows Central App for Android

it's Vietnam, not Thailand.

Those do not look like Vietnamese girls anyway.

I know what do you mean...hahaha

If this is the deal then I'm gonna buy them tonight ;)

Wow i would do both girls

Are these two a part of the 'Accessories'?

Can these be connected with the gadgets app

Wow those numbers gave me a chill!! Currency balance sucks there!

Time to migrate to Vietnam

Hey after promo how about a threesome! :p

gross dude, you want to do that with the phones?

Apparently a few people do and then they keep complaining about the Loading and Resuming screens.

It just keeps cuming back

Yeah, it won't launch until my birthday. Maybe we will need to wait until next year. :(

Is it just me or are the people here getting creepier by the minute?

It's not just you. A bit much is going on in the comments here. And here I thought a lot of these comments would be about having the Mozo case included (which is awesome and also the first time I have heard of this kind of combo), but nope.

Looks like all the creep searches are redirecting to this site

Well most of these (nerds) never seen a girl in reallife...so yeah

Well that's a bit harsh. I walked outside to get the mail once and saw an actual for-real lady woman with the lady woman parts n' everything!
In all seriousness this comments section is pretty weird.

Well, given the wide spectrum of the users on windows central. It's a given that some of the users are actually kids, teenagers or just immature adults.

Who can spot the manboy model of those two?

The one on the left in the blue shirt is my guess.

Sweet deal. Strange, considering Microsoft only cares about the US. /s

Shh, don't mess with their stereotypes. ;-)

Waiting for Brazil launch

Nice..today my pre order from amazon arrived home just in time as i just came back from new york...wonder when will free display dock arrive...
Got the awesome surface pro 4 from new york..totally loving it soo far... Posted via the Windows Central App for Android

When we can buy in Turkey?

If the girls come with it then I would be a nice deal.

Welcome to Windows Central, the home of creepy 14 year olds

Comment section may seem creepy, but I have to confess, that first thing I saw were girls. Somehow the phone for me looked way less attractive than girls... Well, mother nature, you know.

Do you come with the car? Oh you! Hehehe

When in Thailand? Seems every other south east Asian country has it. Except here.

they are two twin girls. they have been invited to try feature windows hello.

By the way what is price of a litre milk in there??

I hope these new devices will have a good traction on the VN market where WP has never gained more than 5% market share, but the price is quite high... I hope the 550 will arrive quickly with an aggressive price. Also, I can't call this city HO CHI MING as her name will ever be SAÏGON in my heart and memory, city that I leave the 30th April 1975 at ten years old. Sorry for my bad English as French is my natural language.

What r u talking about. Wp market share here definitely higher than 20%, lots of wp everywhere. Most of lumia phones including 950s are being manufactured in vietnam. Also, Ho chi minh is the communist leader, and he not her, man. Saigon is the original name of the city on the southern from 16th centery.

Thx to correct me regarding the WP marketshare in your country. I'm very glad to learn that WP is at 20% since my last info on that are two years old. I also know who was uncle HO, but for me, the name of the city (reason why I wrote "her") where I spend the ten first years of my life will remain Saïgon.

Those girls are actually twin and they were there as a part of the Hello test.

0.0 the currency rate.... Had to rub my eyes twice.

Are those phones coming with the new OS Windows 10 Mobile 10586.29 preinstalled?

Good news, beacause I am in Vietnam.

I was in the event. Actually those girls are twins and they were here for testing Windows Hello feature. The event is nice & these new flagships from Microsoft really impressed me a lot. - Twin demo Windows Hello: http://i567.photobucket.com/albums/ss118/style2ouf91/IMG_2079%20copy.jpg - Cortana Welcome Booth (the booth with Windows Hello icon & Cortana voice will detect guest by kinect and show the welcome sentence) http://i567.photobucket.com/albums/ss118/style2ouf91/WP_20151212_11_05_4... http://i567.photobucket.com/albums/ss118/style2ouf91/IMG_1932%20copy.jpg - Photo Corner: http://i567.photobucket.com/albums/ss118/style2ouf91/WP_20151212_11_05_3... - Experience Corners (which allows guest to experience Continuum feature in real-life situation - in airport, office and home): http://i567.photobucket.com/albums/ss118/style2ouf91/IMG_1952%20copy.jpg - Lovely & delicious cupcake: http://i567.photobucket.com/albums/ss118/style2ouf91/IMG_1946%20copy.jpg
Windows Central Newsletter
Thank you for signing up to Windows Central. You will receive a verification email shortly.
There was a problem. Please refresh the page and try again.