Microsoft Messaging app for Windows 10 Mobile gets an update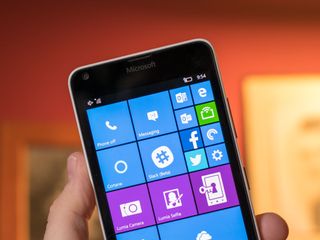 The Microsoft Messaging app for Windows 10 Mobile has a new version that's available to download for people who have the preview version of the operating system installed on their phones. However, there's no word on what's new, improved or fixed in this update.
In fact, since the app doesn't have a separate listing on the Windows Store, there's no changelog or even a version number we can use to reference what might be included. If you happen to notice any changes or improvements in Microsoft Messaging for Windows 10 Mobile, let us know about it in the comments.
Thanks to everyone for the tips!
Windows Central Newsletter
Get the best of Windows Central in your inbox, every day!
Quick! Someone check if GIFs work!

Someone check if the stupid thing even works... HTC M8 constantly fails to notify of new texts, when notifications show up it's way late and then they don't disappear like they should... Occasionally even opening the app AND opening a conversation with new replies is not enough to see them... You can read texts and send them just fine but you don't see the newest ones... Only force closing and reopening the app fixes it and even then who knows if any messages are sometimes lost?! It's very annoying.

Unfortunately, the only way to permanently resolve these issues is a hard reset.

Tried that already... Did upgrade from 8.1 then tried a fresh install with a hard reset and no restoration from back up... Still got issues (different and fewer issues but still issues).

That is an odd one. So you are sure the text is there but you don't get notification? Go to privacy and under messaging make sure microsoft messaging is enabled. Then do the same for background apps. Otherwise it could just be htc m8 hasn't been optimized for the latest build.

It's happened to multiple people. I've had plenty of people tell me they sent me a text and I never received it. On latest build. And sometimes even if I get a text and the notification comes through, I go to the messages and it isn't there.

Well it is a preview...i mean, you kinda clicked on a button saying you understood that shit is broken. Lol

This is why I haven't installed the preview on my Lumia 925.

I have a Lumia 925 on W8.1. Did not know I could put W10 on it. The phone's BT just crapped out completely, and an insurance replacement (Nokia 830) is on the way. Maybe I'll put W10 on the old phone just to take a quick look. What does one have to do to get the preview?

Head to store , download an app called Windows Insider. Sign in with app for Windows Insider program Head to settings , check for new update. You should see an update which allows you to upgrade to Windows 10 .

It's really simple. Download the Windows Insider application and follow the prompts.

I am using Lumia 925 with W10mobile on it and am enjoying it! I have no complaints and dont plan going back to wp8.1

Is there now a setting to send SMS with return, or a way to send your SMS with a bluetooth keyboard?

New message notifications is broken since Build 10512 of WM10 TP. This was in the logs when they released the build. There is a work around: You can enable Cortana to read out messages. This option by defalt is set to read messages when using a headset. You can change this to "Always".

same problem here, on my lumia 735 with last update and also the new one, 10536.1004 I'm not receiving any king of notification for a new sms (all other apps display notifications). And also, if opening a conversation, sometimes it doesn't display a new received message. I'll have to force close the app and open it again.

Gifs are so old and dead!

actually they are alive and well and being used by million of young people across social platforms.

it's slowly being replaced by .webm, thus I understand Garry's comment, gif's are old tech that has been succeeded by new formats(like webm, for example)

I bet very few people have heard of webm or any other format that competes or replaces GIF. They may use it because apps take care of assembly and sharing, or because they are forwarded, but not consciously. That is what I'd wager. GIFs, however tired, reign supreme.

Every animation on the web is called now a GIF. The reality is that most of what you're seeing are not GIFs format but webm/mp4 videos. 9Gag, Twitter... all websites converts GIFs to mp4 when user uploads a GIF. So "GIF" is now more like a definition of a short, mute video on the web.

Did somebody notice that the store app has been updated?

Seems faster, and options are organized like check for update option is in the bottom now.

Yeah, seriously. That was last week. LOL!

are you talking about a store app update a few days ago?

Ya, I was very busy to notice...

I have and I posted a question in the forums area about this. Was told there was an update a week ago. I noticed that the "Check for updates" moved to a button on the bottom of the screen. http://forums.windowscentral.com/windows-10-mobile/380803-did-windows-store-w10m-get-update-did-i-miss-post.html#post3215382 I searched for an article regarding this but couldn't find any recent ones posted by the WC team...

A week!!?? That guy is nuts. I am also set to automatic update but I usually press the check for update button twice a day. Never had it a week before...

It changed a few days ago. I watched it update.

It was yesterday, ui change a bit

Still don't remember seeing any post by the WC team regarding the store getting an update. Can you share the link please??

Gifs already work, just not the way you want them to. You have to click on the image and you'll see the gif move in the next screen. I really wish it worked like it does on iOS ot Android where you just see the animation inline.

Just the comment, i was looking for.

Gifs have been working since the build previous.

You can still receive gif mms from iOS and Android users, and forwarded ones from WM10 users. . .but the updated messaging app STILL strips out the gif aspect when sending from other apps (Edge, Photos).

I can't receive gifs from anyone. Hopefully this fixed that

You have to click on them and then they'll animate in the photos app in WM10

Can someone with W10M on his phone check if the new update fixed the design of the small/medium tile for the app?
Last time I saw it, the logo was way too big for a small tile, and it was definitely bigger than the one in the phone tile, and the overall result was pretty bad looking. I hope they received some feedbacks about it :)

I noticed that yesterday, but resizing the tile fixed the icon for me. Can't say its a permanent fix, but worked.

Thanks for the info, I'll try that out as soon as I get my hands on a W10M phone :D

Just join the Insider program on your current Windows Phone and get your hands on it now. Available for ANYBODY! :)

Currently available only for insane

I know, I've been using it on my spare 925 but I had to return it back to the friend who lent it to me, and I don't want to put the preview on my daily 930 as it's definitely not stable enough yet, and many apps I currently rely on run really bad right now.

This is an ongoing issue w/ many of the tile icons. We just need to be patient.

GIF..!!?? Someone check it out. I'm unable to update at the moment

How do you even know when something has been updated anymore? This new system where you can't see what has been updated or the date of the latest update for an app is seriously pissing me off.

You turn off automatic updates. Which I had to do when I had to turn off a limit on mobile data. With the limit on the phone was generating false notifications that I reached the limit...

does it notify you that an update is available?

This has been suggested again and again and again in the feedback app and nothing's come of it. How hard can it really be to add 2 lines to the app description for "version number" and "last updated"?

Searching thru messages isn't still available ?!

Still no search function.

Dang. I wonder if they will remove that function. I used it extensively

ANy link to the app since my windows Store cant find app updates by itself?

Not possible, as the app doesn't have a Store listing.

Well there are store links for Windows Phone 8.1 Apps that SYSpusher is working with so there should be some for windows 10 mobile as well You just cant search for them

How do I update it then..?

I noticed the other day that in my Skype app (on W10M), under Contacts ---> Skype, it now lists every contact with a phone number, not just contacts who used to ' just ' have a Skype login name. So MS has beenctoying with the backend. Now a new app. My guess, theyll flip the switch for Skype integration soon

Yes, I noticed the same, but I wasn't able to send message from the skype app.

Me too noticed that in my windows phone 8.1 also..

Guess you changed the filter than :) Could do this for ever

Not the same. See for yourself. It's showing all contacts who use Skype even though you did not friend them on Skype.

Well mine show either Skype contacts or people in the contact book with a telephone number attached because Skype could always call telephone numbers.

Actually, it's a little confusing. I'm not sure what's going on, but under "Skype" I'm seeing names that I can call but not message, meaning they are not on Skype. But under "all" I'm seeing more people with just phone numbers, as expected.

Exactly. So we could send them an sms, but not a Skype message. Isn't this exactly what the new Messaging app is all about?

Indeed, noticed this even on the desktop version of Skype.

Would love if they can make Skype so that you can search and request contact by phone number in address book, rather than skype id which is highly undiscoverable. Similar to Whatsapp. That would be super cool.

I guess this will be the case as Skype names seem to be on their way out. Anyone have a Windows Mobile will automatically have a microsoft account and there by you could text or Skype message someone

Never looked, but thanks for the heads up. I see this on my desktop version now as well

I finally have notifications on my messages!

Does anyone get delivery reports on your messages?? I never get them!

You do if you put an exclamation mark before the message I believe, might wanna double check

Wait an exclamation mark? How does that work?

Tried settings inside messaging app?

I lost my live tile with this update, and no way to pin it back, as the existing tile cannot be found and unpinned. No GIF support. :/

It will appear in a few shakes.

Hard reset fixed tile issue, thanks!

Appears to have fixed an issue where I had to attach images twice to a text. (clip - photo-select-repeat)

It has the capability to "Access your Internet connection and act a a server" now. I don't know if it was present in the previous version. Is it related with Skype or messages backup simply?

SMS Deliver Reports fixed or it still comes from 1999 as separate SMS Message from the Mobile Operator?

When get windows 10 update officially for all phone

Sometime in October.....maybe

The Skype app has been renamed to "Get Skype" just like on PC. I'm thinking this is going to be rolling down soon! :)

That's only if you don't already have skype installed. If you have it installed it says skype.

did we lose the ability to touch a users contact name in the top of the message and go to their info screen? that'd be really annoying.

Microsoft .net updated too..

When will search capacities return?

When do we have finished win 10 on mobile

Never.. It is Software as a service modell now .. good right?

You know that isn't what he meant.

You mean released to the public and not in preview...probably October....maybe

Since these people have stopped publishing changelogs, it is only sensible to stop updating their stupid updates until they provide a changelog which obviously will be published only with updates that makes sense and is not just a placebo. :P Less stress on their servers & more data saving for us.

That works....NOT....all that does is keep you from getting new features......plus apps with no store listing will never have changelogs.

Really? Yeah, try not updating to get fixes and new features, see how that works for you. Read the article, this app CAN'T have a changelog in the store... because it's not listed in the store.

If you prefer MS to make change logs you can have that today, buy an iPhone and through a miracle, Microsoft will make full change logs (I'm not kidding)... ​

I notice just few amelioration/stability: - scrolling in the app is faster - better support for inertia when scrolling - the scroll bar on the right didn't lag anymore

With the update the apps now uses my main language, Dutch. Before the update the whole app used the English language.

Confirmed for Danish language as well

I can no longer download anything from the store or update anything so sadly this is pointless to me :(. Waiting for the next build. Definitely not hard resetting AGAIN just to fix the store.

Why not? It's just something that must be done with a technical preview such as this to get the best out of it. Not a big deal to alot of people who understand this.

Maybe he hopes that the next build that should hopefully hit this week would sort it out.. well thought the same about the last build but the store still was not working and finding updates:/

ms-windows-store:pdp?pfn=Microsoft.Messaging_8wekyb3d8bbwe It does have a listing, any app that updates via Store MUST have a listing or it can't update, and that includes inbox apps

Can you find the store listing for store itself. It actuallly starts the download and takes me to the page. no progress yet but it is in the queue. edit: Someone should write a quick web app adding all those store items that are not listed like the syspusher app.. for people.. messaging..store.. .net framework and so on

Just replace Messaging in the protocol link above, with WindowsStore

I actually love you for this! just downloading 350mb store .. had messaging downloading and I will create a appstudio app to quickly trigger those links through the app. now I just need a complete list of apps that are not listed. could you provide something like that? people messaging phone .net store

You could probably use the familypackagename from the windows10 appx package list somehow like this: Get-AppxPackage | get-member -name packagefamilyname I am just not good yet with powershell

For Windows Desktop you can use the PFN listing, but for Mobile you can't quite do that, because TShell is locked onboot for retail devices and so you cannot connect to the phone via PSSession. Use WinAppDeploy.exe list -ip <ip> from the win10 SDK \bin\x86 directory after you connect to the device in developer mode to list its apps

This is how I updated my store a couple months ago! It was a life saver or I would have still been stuck on the June update.

Paste it to Edge, problem? Its a windows store protocol link.

Ok yea, I'm not getting this update. Actually, I have a new bug where every time I check for updates the Amazon app updates.

LOL
Uber updates every time for me.

Same happened to me for WMPU.

Can you get the messages on surface?

So many people complain about features that are actually there...they are just lazy and don't bother to look for them or how the new app works and the new layout. So many people are resistant to change and a updated/different layout....ugh....

Unable to receive and activation code from o2 UK priority app. Only affects windows 10 mobile

Still no SMS message search

Text notifications seem to actually be coming in today. Seems...faster?

Captain here! The live tile got a translation. It now says "Nachrichten" in German - before it was in English on my Austrian CV phone

A bit off topic but do u guys face display flickering problem while scrolling in build 10512?
And also the batery drain while idle is normal but while in use it drains quickly and the phone (L925) heats up like anything .

A bit off off topic? That's totally off topic!

If this is not an app from Windows Store I assume is part of the OS updatable through system update. And in this case I assume an update would change the OS build number, right? No update available either through system update nor through Windows Store :-(

but it is an app from Windows Store ;)

Well, the article says: "...In fact, since the app doesn't have a separate listing on the Windows Store..." Let us know where you find/found your update then.

it doesn't have a separate listing on the Windows Store, but that doesn't mean it does not get updated through the store. E.g. the store update itself is also not listed on the Windows store Mine updated fine after I clicked "search for updates" in the store

Ok, good argument. Seems correct.
Still didn't get the update tho. Unless it comes with no icon nor description (I've seen those before), and as we don't have a build number, I'd never now... :-/

App updated. Tile disappeared from Start. Pin to Start on Apps Menu is grayed out. So, perhaps I won't be getting Messaging notifications? We will see. Lumia 1520 w/ Windows 10 Mobile.

Ok. Hard Reset of my phone brought the Tile back to the Start Screen. I've looked at the app. Still no Search, Sort or Filter capabilities. Maybe it's a precursor to the planned Skype/Messaging App integration...

Ms should allow their own apps for search in store...when I search messaging..nothing but one thing that doesn't belong to messaging..thats Why everybody calls MS perfect in innovation but lazy in development....only 4 months left for MS should rectify some basics in mobile platform...because 4g revolution in india will ignore MS from mobile platform...

They fixed a bug on the dual sim phones, where both tiles were showing and linking to only main sim messaging. Now both tiles shows separate sims correctly.

Live tile name is now properly translated, used to be "Messaging" for me even though I've had Polish language set.

With all updates on windows 10 phone cases missing live tile

Is the 160 character quick reply limit fixed? You know... Pull down to reply....

can't sign in to the messenger to retrieve sms backup restore. any solution

Just put the build out already! This is week 3! And this is supposed to launch in October?! And obviously they are having issues; 10530, 10532, 10534 and now testing build 10537. I really hope it's worth it.

Well, how do I update it..?

I have an 830 and have rolled back to 8.1 the past 3 builds because text notifications are so unreliable. When the phone is locked you simply dont get them half the time. Text notifications are critical for me as it is a way my work gets intouch with me for critical issues 7x24. Would also love to see a way to add custom sounds to text adresses especially with regex support.

Scrolling is definately much faster.

Anyone know if ability to start a message but have it saved as a draft like it was in Win8?

What about touching the side of a message to bring up delete option like Win8?

Does anyone see the middle finger emoji/emoticon? Have they just not released it yet or is there something special that needs to be done to use it?