Microsoft might drop licensing fees for Windows Phone and Windows RT to combat Android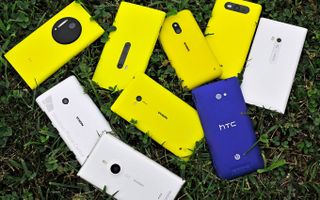 There's no denying the massive market share that Android currently has in the mobile landscape. Android is basically crushing the competition globally. For example, 81.0% of all handsets shipped were running Android in Q3 2013. Compare that to iOS at 12.9% and Windows Phone at 3.6% for the same period.
Why is Android so dominant? Is it the number of apps in the Google Play store? Maybe it's the "openness" of the platform and the ability to customize every aspect of the phone? Or could it be the licensing costs that OEMs pay Google to use Android (aka nil)? It could very well be those licensing costs since Microsoft is considering doing the same with both Windows Phone and Windows RT in the future.
Sources with The Verge have revealed that Microsoft is considering free versions of both Windows RT and Windows Phone. These plans are under heavy consideration by Terry Myerson. As part of the reorg at Microsoft this summer, Terry Myerson became executive vice president of Microsoft's new operating systems division. Which makes him responsible for the software on Windows, Windows Phone, and Xbox.
So when is free Windows RT and Windows Phone coming to OEMs? According to those sources, they may be part of the "Threshold" update to Microsoft's various products in 2015. The plans to remove licensing costs for Windows RT and Windows Phone aren't close to being finalized within Microsoft, but they are being considered heavily
Traditionally Microsoft has made a lot of money off of their software licensing fees to OEMs, but Android has more or less pulled the rug out from under Microsoft. To combat the threat of Android, Microsoft is willing to drop these licensing fees from their partners. To make up for the loss of revenue from licensing Windows Phone, Microsoft would push for consumers to subscribe to software subscription services like Office and SkyDrive. Revenue could also be generated from the ads inside Microsoft apps.
This isn't the first time we've heard rumors of Microsoft potentially cutting out the licensing fees for Windows Phone, although it is the first time we've heard of it for Windows RT. In early October, Bloomberg reported that HTC and Microsoft were in preliminary talks to drop the Windows Phone licensing fees for HTC handsets.
It's a pretty risky thing for Microsoft to offer Windows Phone and Windows RT for free to OEMs. Pull up your finest armchair for analysis and let us know what you think.
Source: The Verge
Get the Windows Central Newsletter
All the latest news, reviews, and guides for Windows and Xbox diehards.