Microsoft and HTC in talks for more devices. We could see hardware with both Android and Windows Phone installed [Updated]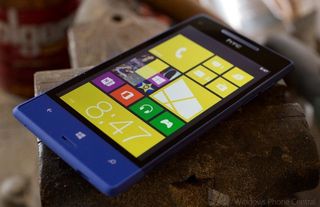 When it comes to Windows Phone, Nokia controls nearly 90% of the OEM marketshare. Samsung, HTC, and Huawei make up the remaining manufacturers producing Windows Phone devices. Microsoft just agreed to purchase Nokia for 7.2 billion dollars, so what incentive do other OEMs have to continue producing devices? It looks like HTC might get a pretty sweet one to continue producing high-quality handsets. Some might even run both Android and Windows Phone. Details below.
According to Bloomberg, Microsoft and HTC are in preliminary talks that could see the licensing fee for Windows Phone dropped. The talks are obviously private, but sources claim that last month Terry Myerson asked HTC to load Windows Phone as a second option on handsets running Android. You'll remember that Terry Myerson was recently given the role of EVP of Operating Systems, the group manages the software of Windows Phone, Windows, and Xbox.
It's not clear if the loading Windows Phone as a second option means giving users the choice to boot between Android and Windows Phone. Or if instead, HTC will consider putting Windows Phone on all their current and future Android devices, like the HTC One. We need to stress that talks between the two are preliminary and no deal has been made. The talks involve either cutting or removing the licensing cost that OEMs like HTC have to factor into every Windows Phone device they make. While devices running Android don't see licensing fees going to Google.
It's also not clear if Microsoft is looking to make deals like this with other OEMs. Both HTC and Microsoft are in tough situations when it comes to the mobile landscape. When the deal between Microsoft and Nokia finalizes, it could create further alienate any potential Windows Phone OEMs. HTC just announced a $101 million operating loss for Q3 2013 and continues to face stiff competition in the Android market against Samsung.
Renegotiating the licensing fees between Microsoft and HTC could benefit both companies. You'll see strong, compelling hardware from an OEM that isn't from Microsoft/Nokia and it could help improve the financial bottom line for struggling HTC.
Should Microsoft reconsider the licensing fees for Windows Phone in order to attract more OEMs like HTC? Would you like Windows Phone 8 on a device like the HTC One? Sound off below.
Update: Over at Android Central, they are hearing from sources that HTC has indeed been looking into the engineering cost of making a device dual-boot Windows Phone and Android. How far along that project progressed isn't known at the moment. Thoughts?
Source: Bloomberg
Get the Windows Central Newsletter
All the latest news, reviews, and guides for Windows and Xbox diehards.