Microsoft opens new development center in Vancouver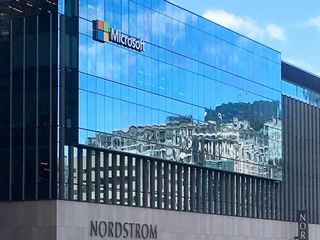 Microsoft will officially open the doors on its new development center in Vancouver, British Columbia today. The new office is designed to hold 750 employees. Canadian Prime Minister Justin Trudeau is scheduled to take part in the opening ceremonies.
Microsoft has had offices in Vancouver for several years. Indeed, the city is the home of The Coalition, the in-house gaming development team that's currently working on Gears of War 4 for the Xbox One. However, Microsoft has other team members that work on Skype, OneNote HoloLens and other products in the area as well.
With the opening of the new development center, all of Microsoft's employees in Vancouver will be in one location for the first time. In a chat with GeekWire about the opening, Microsoft President Brad Smith said he hops the Vancouver office will spark a trend:
Nice place to live and work!

Yeah. I live there keep looking at the office from across the street. Posted via the Windows Central App for Android

I thought it was already opened! Nice place Hello from Vancouver! :) Now give release stuff for canada faster, like USA please :)

The best Greek restaurants are in Vancouver.

I was half expecting to see an announcement that MS bought out BlackBerry and was moving in, lol.

Microsoft needs more hardware development too, especialy in phones. Something unique and visionary, like Nokia had...

I feel that MS should merge or have better communication between their hardware teams. I can think of mobile, Surface, and the Xbox. I bet there is also a research team for concept hardware.

though wish it would be in Kitchener to directly compete with Google here. But I hope whis would change the W10 ecosystem in Canada however.

Tell me guys...putting aside our fanboy bias, who all seriously wish they could work for Microsoft some day...? :)

I Also Wish to Work For Microsoft One Day ! It is My Dream Job Company.

I hope Microsoft can find enough tech workers for this office. Condo and house prices are so insane in Vancouver that many companies find it difficult to attract talent. When you factor in average income, Vancouver is the 3rd most expensive city in the world: http://bc.ctvnews.ca/vancouver-ranked-world-s-3rd-most-unaffordable-hous...

Heroin & Microsoft. What more does a Vancouverite need?

So they decided to move into a dept. store. Great r&d security

I face that exact building, viewing the Microsoft logo and sign DAILY! I would LOVE to work there. I'm looking at it now typing this. It hurts.
Windows Central Newsletter
Get the best of Windows Central in in your inbox, every day!
Thank you for signing up to Windows Central. You will receive a verification email shortly.
There was a problem. Please refresh the page and try again.