Microsoft opens their new retail Store in New York to a cheering crowd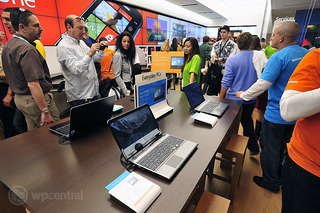 This morning in the Walt Whitman Mall located in Huntington Station, New York (that's Long Island), Microsoft finally threw open their doors to a few hundred willing and able customers to their new retail Store.
We were there to cover it all and the mood was very exciting as Microsoft's pre-show gave away a Samsung Series 9 laptop, Xbox 360 with Kinect and some other goodies to some lucky folks. The line to get in the store lasted well into 30 minutes post opening and the staff on hand did an excellent job.
Video of White Plains, NY opening (via White Plains DV)
This was Microsoft's 26th Store to open and White Plains, New York, Delaware and New Hampshire are set to get their stores today and tomorrow too. The location for the Huntington Store is quite ideal as the Walt Whitman mall is one of the more well-known and populated on Long Island, in addition to coincidently having an Apple Store too.
In addition, Microsoft donated $1.5 million in software to local charities (more on that soon).
In the meantime, peep our video above and photos below of the event.
Windows Central Newsletter
Get the best of Windows Central in in your inbox, every day!
Daniel Rubino is the Editor-in-chief of Windows Central, head reviewer, podcast co-host, and analyst. He has been covering Microsoft since 2007 when this site was called WMExperts (and later Windows Phone Central). His interests include Windows, laptops, next-gen computing, and for some reason, watches. Before all this tech stuff, he worked on a Ph.D. in linguistics, watched people sleep (for medical purposes!), and ran the projectors at movie theaters because it was fun.
This is great! I wish there is one here in Sacramento. :)

I wish we had a MS store here in DFW, but all the excitement at the opening seemed fake and all coming from the employees cheering and clapping and not so much from the people attending the event.

I think if Microsoft would name "Bing" to "BingIt" it might catch on. :)

Its not called googleit...

Who cares what Google calls it. Bingit is catchy for the Microsoft product. Stop walking in the shadows.

There's also an apple store in the smith haven mall!

After cutting the ribbon, the staff looks like a bunch of livetiles jumping around =P

woah the opening was way to over the top.

Can't wait to get one here in Dallas!

Going to the Delaware opening tomorrow. Excited!

Same here, not sure if I'll make the grand opening @10:30, but I'll be seeing in person what's in store (pun intended)!

Is it just me.. or is there some really FUNKY image stabilization going on? come on wpcentral, what were you filming with...?

YouTube did that with the upload. Shooting on a Sony CX580. C'mon, are you really that much of a video snob?

It's not like they had a 920 to shoot with.

To be honest, I was actually kinda hoping the answer would be a 920 - that would be so awesome.
One can always dream!
(no I definitely don't think the 920 would have such wonky stabilization!)
(and oh yeah, no offense intended! now that I read my original comment, my apologies!)

Ah, gotcha. Sorry for the misunderstanding. The Sony cam does have hardware OIS too but YouTube I think 'corrected" some of it as well, resulting in some artifacts. Live and learn.

Is it just me, our do the employees serum to be the ones cheering? And this appears to bea cone of Apple stores. Hmmm

Let me guess, you typed this on an iPhone...

No, he spoke it to Siri :-)

I wish I could upvote you.

+1 for reddit reference fullcircle_bflo

Are you talking about me? I typed it on a Samsung Epic Touch. And i dont want an iPhone, i find the OS to be boring. I am going to be purchasing the Nokia Lumia 920 and I believe you can search for my name on the forums and see many positive posts aboyt WP. With that said, I am nit a mindless fanbiy. I cab easily see that in the crowd it appeared to me only the employees were cheering and even if that is wrong, That store looks exactly like an Apple store in Knoxville, TN where i live. Thats not a bad thing, but I am merely stating a fact.

Excellent store opening... I personally attended the Boston store and also the Lenny Kravitz concert.. Fun times.. Congrats to Microsoft for taking this milestone. This will be a big game changer for Microsoft and the ecosystem. I have family in NY and I will make sure to add the store to my trips.

i also personally attended the boston opening and i went a second time with my boy it was deffinately awesome and for the naysayers there was alot of enthusiasm from the customers.

"...The location for the Huntington Store is quite ideal as the Walt Whitman mall is one of the more well-known and populated on Long Island, in addition to coincidently having the only Apple Store on Long Island too."

There are 4 Apple stores on Long Island. Garden City, Manhasset, Lake Grove and Huntington Station. It would be nice to see a Microsoft store open up in Roosevelt Field Mall, Garden City. It is one of the largest and most visited malls in America.

If they opens one in Roosevelt field I would deff apply

They are opening up a temporary holiday store in Roosevelt Field Mall. It is one of the 32 temporary stores they're opening this holiday season.

hmmm I wish they would open a store in London, UK... but im in San Francisco at the moment and they don't have one here do they? Does anyone know where the nearest store is from SF?

Cool!! Good to see people excited about MS! =)

Great! Now can we get one in downtown Chicago?


I laughed my ass off when the curtain fell and everyone inside was going bat shit! I just want a Surface.

I was at the one in Orlando. Really cool!

They need to open more of these so that they can promote and sell Windows Phones directly to properly display and show off the OS instead of the useless salesmen of the carriers pushing only Apple and android products and laughing when you walk in and mention a Windows phone. Open one here in Chicago, please!!!

There is one in Oak Brook.

Well said. You have to hand it to Apple thogh. When they went against the trend and started openning stores people thought they were mad. I think it is a fantastic idea and even though MS are copying them even down to making the stores look exactly alike I think it is a great move.
Why shouldn't they have showcases of their best products and show how proud they are rather than let some uneducated unmotivated spotty faced kid try and mislead you you his favourite technology.
MS must open more stores than Apple has and get into places where Apple isn't. This is a great way to sell their product, especially when they need as much help as possible with their Windows Phones (which is key to their future).


Bring one to Wood Field Mall in Schaumburg, IL !!

From the sounds of it, I really should take the day off for the opening of our store here in Toronto in November...especially where they'll have Win 8 out by then.

I have said it before, and I'll say it again, it is baffling how NYC does not have one yet.

+1000 I don't understand it either. We really need one here there isheep everywhere... I'm scared...

My guess: Location and what's available. You can't just plop one down anywhere in Manhattan...remember "location, location, location". Apple has their gorgeous 5th Ave spot and my bet is MS wants to go big but do it right. So they may have to scout, wait and plan a little bit more versus your regular mall.

That is very true, but prime spots take a long time, if ever, to become available. Thus, they need to look at other alternatives to get things going in the city. Take for instance Best Buy. They had several locations before their self proclaimed flagship store opened up in Union Square. Microsoft can afford to have low key stores before getting their flagship store opened. I do believe Apple took that approach as well. They had the Soho store and then the Chelsea store up before the 5th Avenue location.

You may be right but everyday they don't have one in 5th Avenue is a another day of lost customers going to Apple. Unlike when Apple started their store oppening MS is behind and can't follow the same trend. They need to get into 5th Avenue and QUICK. It might even be too late already. The number of people buying and encouraging their rich friends to buy will hurt MS.

I'm glad they are opening more and more stores... but I felt embarrassed watching that until they settled down a bit.

No kidding. Those raving lunatics would've scared me off for sure. =P

Really excited for the Toronto location so that I can pick up a Surface.

I wish there was one near me...

I'm going to westchester mall tomorrow for the free Lenny Kravitz concert. Where is my Surface MS!

This is why I shop on the internet.

I was there when this opened. My job is not too far from the mall. I looked for you but ... no luck. Just so many people there. Anyway, had fun. Very friendly staff. Going back later after work to check it out some more. Gonna check out the Lumia 900 as I want the 920 on VZW - if they get it. RIght now I'm stuck with the Trophy. Cheers everyone. Have a great weekend.

This gets me more excited for the store opening in TO... November 6 and counting

I have had the opportunity to visit several Microsoft Stores through my work travels. And I have to admit, they are much, much, much prettier then the Apple stores. the graphics on the walls, the larger than life kinect stations, etc make the store more inviting. Plus the table layouts are more open. To me, it seems like once you get in an apple store, the natural flow is to the back of the store. the MS stores allow people to walk around the store, and look at whatever they are interested in...not the stop 1> iphone, stop 2>ipad, etc layout in EVERY apple store.

Having a store is not good enough .. Put some surface screens (aka hawaii 5.0 csi screens) in there for people to play with. Need something to pull me in there...

Agree, big surface screens for the kids to play games and parents to navigate movies.

MS should even have a CSI Miami theme where they dress up in Hawaiin shirts etc.
I also think they should open a few larger stores with other attractions in them to get customers in there e.g. a Borders book shop and Starbucks coffee shop. Put examples of MS technology in the book store like Windows Phone Kindle, the Reader apps and Barnes and the upcoming Noble W8 tablet.

Wow. I'm a MS fan, but I'm a little embarrased for them. All the jumping around....really?

Here's a video of the other grand opening in New York today (at Westchester) - http://www.youtube.com/watch?feature=player_embedded&v=VqkM9Bi8QNI

I love how 95% of the cheering was the crazy employees. I would have loved to be in the breakroom when they're being told what to do when the curtain drops. Kinda reminds me of Steve Ballmer going nuts on stage. Guess that's Microsoft's style - nerdthusiasm :)

OK finally watched the video and all I can say is what's wrong with the employees showing some enthusiasm?

It's not like they are working at Walmart and moments from putting a gun in their own mouths (worked at Walmart during college, it SUCKED). As far as retail jobs go they lucked out.

I guess it would have been better if they acted like they couldn't wait for their shift to be over??? Come on people stop being so cynical, because you aren't "too cool for school". Your reading a phone enthusiast site for Christ sake!

There's nothing wrong with that. Loosen up and have some fun and they will sell some things. I'd love to do that, it would be so easy to sell a Lumia 920 or surface.

How do they sell Windows Phones there as they are not a carrier?? Do they sell without a telco (off plan?) I would dount there are many customers who would be buying without the caerrier subsidies.

Having a MS only smartphone sales channel is a great vehicle to promote the platform but only if it is flexible and cost efficient for the customer.

I guess you aren't aware that Apple sells there own phones and carriers allow them to use the discounts? MS more than likely is doing the samething.

They are authorized for AT&T, Verizon & T-Mobile. (not sure about other carriers) it may be a while before i walk into an AT&T store again.

Used to work at WalMart, I loved (sarcasm) doing the cheer in the morning.. Gimme a W.. etc.. Glad I don't work there anymore.

Nothing is wrong with it. But the title says the MS Store opened up to crowd applauding and most of it was the employees ... Nothing wrong with that, JUST saying what we see. I guess we can't do that here.

When a store opens in Vancouver I will gladly take pictures for wpcentral

I was at the opening in Orlando, and it was great!!!! I can't wait to see how the stores will be once Windows 8 and Windows Phone 8 rolls out!! Then people will TRULY be able to appreciate Microsoft's innovation!!

Never seen so much excitement over a store.

Just happen to be in Delaware so im heading to the Microsoft store now

As much as I think Microsoft needed to make a bunch of stores a long time ago, and have products to sell in them, this video of employees jumping around like idiots makes this store look like a store for idiots.
Maybe the person in charge of that video is the same one that made the "Developers, developers, developers" video of Balmer.
I think it does this store reputation no good.


I can confirm that they are not idiots I just met a bunch of them they know what they are selling and the store looks amazing
Windows Central Newsletter
Thank you for signing up to Windows Central. You will receive a verification email shortly.
There was a problem. Please refresh the page and try again.