Microsoft: Over 12 million activations for Lumia 520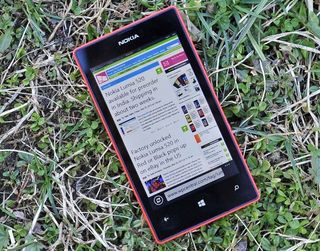 Microsoft finally offered up some concrete numbers on at least one Windows Phone device as the company revealed that the budget-themed Nokia Lumia 520 has so far registered over 12 million activations.
While third party data had already strongly suggested that the Lumia 520, and its T-Mobile variant the 521, have been the most successful Windows Phone device in terms of shipped units, the specific activation numbers revealed today by Microsoft chief operating officer Kevin Turner finally give a real idea of how successful the budget priced phone has been since its launch over a year ago.
Turner, who revealed the activation numbers as part of his Worldwide Partner Conference keynote speech, said today that the Lumia 520 is the best selling phone in its price range worldwide. Microsoft is now selling the phone as a first party hardware device thanks to the company acquiring Nokia's devices and services division in late April.
Recent rumors claim that the successor to the Lumia 520, which may or may not be called the Lumia 530, could be announced and launched in the very near future. A Microsoft device that on the surface could be the 530 recently got approval from the FCC.
What do you think about the sales success of the Lumia 520 and do you think Microsoft can repeat it with a successor?
Source: Microsoft
Windows Central Newsletter
Get the best of Windows Central in your inbox, every day!
Really tired of this waiting waiting and waiting. Never will suggest other people to buy windows phone :'(

Other people listen to you?

+1520 Posted from my Samsung galaxy S5

Lawl xD +1520 from a galaxy s5? XD

No, whch is why he is trolling here.

Waiting for official applications, updates, games

Official apps/games are raining, where have you been? Cyan update you say, that makes some sense.

Anyone who complains about apps and games and doesn't mention specifics is not helpful in any regard. Nobody knows what you're looking for. Hard to gauge the level of interest in an app/game if nobody says it's name.

You're new round here, huh?

What exactly is it that your hearts non content on❔

Apparently he's never been kissed.

Or for his pee pee to finally pop out...
..........
He's really tired of waiting, waiting, and waiting.... Lol!!!!❕❕❕❗❗❗

I like how he doesn't reply now

Looking at the spec sheet, here I was thinking the Lumia 635 was the true successor to the Lumia 520. The prices [at time of launch] certainly lines up. http://www.gsmarena.com/compare.php3?idPhone1=5322&idPhone2=6254 I've been had. Let me go cancel my pre-order. Just kidding. I'm going to love and cherish my L635, just as much as I cherished my L521. Intereting thing is, looking at the specs, since the L520 was released last year, a number of Lumias (the L630, the L525, the L625, and the L720, all easily come to mind) have been released the could technically qualify as successors, or variants of the Lumia 520. I think a lot of these phones, if they had been pushed into the market hard enough, could have sold just as well as the L520. Nokia may have fallen short at this task, but hopefully Microsoft will carry it home, going forward. I don't think there is any reason why any of theo phones listed could not have been sold directly by Microsoft, or could not have been pushed into low end, pre-paid channels on the same level the L520 was. Giving those devices the same chance at being just as successful as the L520. Hopefully in a years time, we will be talking about many low end Lumias selling double digit millions of units each, and not just the official successor to the L520.

The device that is being labeled as 'FILTHY' and 'POOR MAN'S PHONE ' in comments below is the same device that saved windows phone from grips of irrelevancy and set it on course to become fastest growing os. None of your 41megapixels or stunning six inch HD screened device can boost of such accolade. Had a chance to hear one of nokia's top official speak…and he said "l520 is only lumia which can even get close to The Nokia 1100,3310,nseries and other iconic nokia's in his mind' while the earlier one's established NOKIA'S DOMINANCE the 520 has REIGNITED the CAUSE! +12 MILLION 520's

+925 (and in a few days, +1520) :D Thank you 520 for giving relevance to my 925 (and forthcoming 1520) in the smartphone world! Without you, WP would be irrelevant and app-less!

530 should have 1GB ram. 512 is old tech.

We don't need 1gb ram we need optimised apps! It is very much possible to run almost everything on 512 Mb device...

Agreed. The OS is already pretty well optimized, the same can not be said for the apps.

Yeah we do. Look at reviews. Its fine in the OS, but task switching with 512mb can be really painful.

Big time painful! Fine for single apps, I guess, but that's not how I use my phone.

And I can travel Coast to Coast on a Greyhound bus or... on a BMW.
I still get from point A to point B but....

Problem is there are a lot of apps stuck in mango Posted from my Samsung galaxy S5

problem is, that flies in the face of it supposed to be the cheapest model.

I have a 520 and i approve this message. I think it would help with multitasking.

It is very popular, I hope the next phone is less bulky, and has 1 GB ram. And, can do with no front facing camera.

It probably will @ the expense of the start back search camera buttons as it should & yeah the front facing camera but only way it will have 1gb of ram is if it has @ least a 720p display(wouldnt make sense to pair 1gb with a 480p or between display)

No. 1gb ram doesn't need a 720p display. 720p display requires 1gb ram. Look at 820. 480p 1gb ram.

I think L520,should get some respect from developers

It does for apps but not games

Loved my 520 ,untill two assholes snatched it on gun point 1 month ago.

Gun point..? Where do u live..?

Pakistan,mobile snatching is very common here.

Smartphone snatching is a big issue here in the US too, at least in New Orleans where I live.

Somewhere with high gun crime & a cheap taste in phones...

I used 520 whenever i went out,just in fear of getting robbed.

God really? That terrible mate... I've only got a 720, but most robbers round my way only want iPhones...

IPhone are pricey unlocked sooo Posted from my Samsung galaxy S5

Yep, & on top of being pricey unlocked they are the most popular to be stolen out of any smartphones. In London kids on mopeds snatch them out of peoples hands, then speed off...

Samething happened to my brother-in-law in hackney.. right on his door step, kid rode up right by his front gate on a bmx and grabbed the flipcase then sped off (almost nearly hitting a pole during the escape). The insane thing is, the kid was a local so my brother-in-law didn't think to much about it. When I asked him if he called the police, he said He didn't, as he didn't want his wife and kids being harrassed when he was at work. This is what prompted him to move out the area, teenagers these days..

... Stereotype much? Posted via Windows Phone Central App

No, he or she said she was robbed at gunpoint... I don't know anyone who's been to robbed at gunpoint, like ever. Robbed, yes, mugged yes, but not waving a shooter around. So I'm guessing, not unreasonably they live in a high gun crime area. The crack about the 520 was a joke...

You don't have to be in an area with high gun crime to be robbed at gunpoint. That's ignorant thinking. Posted via Windows Phone Central App

How is it ignorant? You take the facts as stated & form an opinion based on those facts... It's just normal... Obviously not in your country, maybe you aren't allowed to form your own opinions?

Seriously 520 is pretty much poor mans phone. Why would they even do that?

Umm.. Thieves were poorer?

They probably thought it was an iPhone. I have had people think that...

1. That sucks. 2. They stole a WP??!

Come on dude, you had a "bullet proof " phone. You had to go all ganster on them.. :p

It's not good that most Windows Phones purchased are the cheapo models. It tells developers that Windows Phone users don't have any money. Posted via Windows Phone Central App

And iPhone is for the rich?

Not to say that its true, but that tends to be the perception. I've read a few times in the past that iPhone users tend to spend more on apps/in-app-purchases than Android users; haven't seen similar data on Windows Phone users yet.

From what ive read since operator billing has been widely deployed in this past year more paid apps/games have been purchased

Oh, sweet. That's good news.

I think the spending is between ios and android. Can't find the link to the article

Last survey data I saw said, surprisingly, that Android Users actually spend the most per User on Apps. Not what most of us expected to see

Link? I've never seen that.

Things of this nature. I don't recall what exactly I was reading at the time; but this came up first in Bing. This is a fanboy site, so hard to say how reliable it is, of course: http://appleinsider.com/articles/13/11/27/apples-ios-brings-developers-5...

Hmm, I like the sound of that. Granted it's not Windows Phone, but frankly, I generally just like it when Apple fans have to take a feather out of their inflated hats.

No, iPhones are for the poor. Obviously.

You seem to get things wrong, Windows Phone users are mostly new smartphone owners hence the huge figures in low priced device like Lumia 520. The OS needs some popularity before people can commit huge sums of money on purchasing the high end devices. The few of us with high end models actually did probably because of the renowned quality of Nokia devices. That's why you find many Lumias and fewer devices from other manufacturers. But I think the game is changing, with more OEMs coming on board and popularity coupled with the availability of more official apps, the ecosystem will soon explode if Microsoft keeps doing the right thing

Was your visa really declined? As to your comment, about lower end smartphones, can I make two points? 12 Million WP owners of any device is, in my opinion good for the rest of the ecosystem. I know two 520 owners & they adore their devices. Secondly, it's tells us more about lower end Android devices, which were crap, but are getting better. That's who people gravitated to 520. The last thought would be, 'emerging markets' where 520 is seen as aspirational.

You said a bunch of words that are unrelated to my comment. Of course 520 users adore their devices, that doesn't make my comment any less true though. Posted via Windows Phone Central App

I wasn't being critical of your comment, I partly agree, it was more of a way of expanding your original comment. Out of those 12 million how many are emerging market? Secondly, how many bought them due to fiscal constraints, but had enough tech savvy to know that the 520 is, or at least was, better than Android devices of the same value? Of course iPhones don't count. So the battle of the bargain devices is always going to be between WP & Android, at least for now. I do think, & this is where we disagree, that 12 million devices sold of any WP is good for all of us because of app development. I hope that expresses my points clearly.

In the case of the US, the L520 was only available as a GoPhone on AT&T. So I'm thinking the main driver of sales was pricing...the only smartphone for under $100 with a brand name. I bought one as a backup and I enjoyed its form factor. I lent it to a friend who's iPhone 4 broke...he decided he wanted to keep it. LOL.

Trivia: the market leader (android) has how many low end vs high end phone?
I guess android has a developer issue too /s

I guess it depends on what country you look at providers in some countries sell phones on contract(or prepaid) locked to them whereas in other parts of the world you pay full price for a phone as its up to the manufacture to distribute to retailers

I think where there is carrier contract the higher end Lumias or in fact overall high end smartphone sell is very higher. And countries like India where no contract exists, the lower end smartphone sell is higher. You are right bro :)

You have to buy the 3 series BMW to realize that maybe down the line you want a 7 series BMW as your replacement.

They actually spend more on apps than Android users... if I recall correctly.

Actually, developers are less concerned about what phones are selling than the perfornance of the store itself. Even if cheap phones are in people's hands but if they buy apps, developers will still develope for the whole system.

Yay 520.. Just saying a few weeks ago there was an article about the WP update in India in the second week of July..... So does anyone have any idea on when is coming out here

Bigger battery in next version.

Get the 635 out for att already

In 2014, using "it's a budget phone" as a reason for not having at least 1GB RAM doesn't cut it anymore.

Couldn't agree more with you. :)

Exactly most devs don't have time to fix performance issues so having extra resources is a great fallback

True dat. 512mb shouldn't exist nowhere, excluding perhaps toasters and microwave ovens.

Maybe not for the next variant of the 520. But, it still works for the 520 itself even today. Show me a competing phone that you can get for $40-50 that can still run 98% of the apps on the store. The problem will be in producing another low priced phone that beats the 520 and keeps the price below $100 that gets worldwide support. The problem the 525 had was it wasn't enough of an improvement, cost too much compared to the deals going on for the 520 and wasn't available everywhere. If it comes out too high priced, why not get a higher tiered phone? If it isn't enough of an improvement or not available in your country, why not get a 520? This will be the obstacle.

Loved the 521 for it's price but the 925 can be had for less than 199

Then what the 525 is? It has the exact specification added with 1GB RAM.

512mb without lagging, it's only on windows phone.. no problem at all. Good job Microsoft.

Microsoft needs to understand what their trusted customers want from them.

yap, I feels like they're always listening every costumers feedback. coz there're alot of variant that you could chose depending on your budget.

Maybe that's why they came out with the entry level 630/635 for the first ever WP8.1 device rather than the 930 because they understand it quite well?!

If Lumia 520 is 32% of all Lumia Devices. , that means that the total of Lumia devices is 40-45 million , not too much really comparing to other platforms while the iPhones has reached 500 M devices activation 6 months ago , and android devices reached 1B activation long ago , if we combine all WP devices there should be nearly 100M devices because there are other companies selling WP , that not a good number really I thought at least there is 150M Lumia devices active :( its very very hard to reach at least half of apple number , that would take at least 3-4 years to reach 150M devices , that's if Microsoft sold 5M devices per month , that kinda very hard nearly impossible. Because in every quarter the company sells 8 million and it should be doubled ( not impossible. But. Hard) so they could reach 150M devices in the next two years , or triple it ( I wish ) so we cam reach over 300M devices in next two or three years , I hope they could. Have some big number cuz I love Microsoft

The 500 million iPhones is total sold ever. There are not 500 million current iPhone owners, the 500 million is every model from the 2007 brick on. Since people have had multiple units the actual install base is around 100m. In that regard 40 million install base is decent, not insane but pretty ok.

Now I get it , thanks , but at least 200M nw

@yahia_malkawi...Don't know how you figured 100M WPs. Nokia makes up 94% of Windows Phones sales. Heck they were at 80 -85% when this phone launched. I love WP but this number is very disappointing considering the phone has been $60 or less for almost 4 months.

94!! I thought 49 :( I saw it on internet @benhanchett

Nope as of May, Nokia makes up 94% of all Windows Phones in use. They have had over 80% make Windows Phone market for well over a so these number are disappointing to say the last for the best selling Windows Phone...smh.

I am tired of whiners about 512mb! It's 520! Go get yourself a 925 if you want 1GB RAM.

Yeah the 520 isn't icon !

Why a 925 if the 820 is way more cheaper it has 8 GB of memory and its expandable it also has the same specs as the 925 without counting screen and camera. Camera ain't that bad either.

True, but same soc and expandable storage making it automatically better.

The Lumia 520/521 is by far the best smartphone at that pricepoint. 12+ million is a good number! But to add a little perspective, the iPhone 5s/5c sold 9+ million units within 3 days of release.

Yet the iPhone has much more time on the market. ;) that's usually the case with a well-known brand name

Microsoft and the Windows brand name have been around for quite a while. ;)

People don't care about WP they even don't know its existed , even if they know , our store is weak that's why they don't buy it

But if you look at Amazon, Craigslist and Ebay you'll see 8 million of those 5s/5c being resold, lol.

Apple sold 51 million iPhones in the 4th quarter of 2013. http://www.nytimes.com/2014/01/28/technology/apple-reports-record-iphone...

Windows phones are the best. Forget android and ios

Yeah man but people don't know that !

They just want to cling on to the same old bullshit excuse of no apps. Yeah that excuse doesn't work anymore.

Give them the reason(s) to leave their crapdroids and crapPhones and switch to WP

next successor should be 1g ram 4.3inch with front facing camera

will not be. 530 will cost A LOT less at launch than 520 and will barely have the same specs as 520 did, likely lower. even the 630 was/is a lot cheaper at launch than 520 was.

Curious as to whether he is including the 521 variant in those numbers. I understand that there are more 521s in the US than 520s.

Nah...1GB should be standard nowadays. Programs just run slower on old hardware; it's a common thing on not just phones but PCs and other hardware. MSFT would be smart to launch it with similar specs but double the RAM. Then the 512MB argument can finally be put to rest ;)

The 520 is a gateway phone to the smartphone world.

The Lumia 530 is not going to have 1GB of RAM, get ovet it guys. Anyone expecting specs beyond the Lumia 630 is kind of crazy.

+12 million. especially since 530 will be a lot cheaper than 530 was and 630 already is cheaper than 520 (at launch recommended sale prices). the product line has shifted.

For the 530, I'm not sure where they could undercut the 630 and still be an upgrade to the 520. The 630 is already a questionable upgrade value to a 520 owner.

Only thing I can think of would be smaller screen and SoC downgrade to Snapdragon 200. Doesn't seem like it'd knock down the price that much though...

It will not try to be an upgrade to the 520, really. What it will try to be is to be the by far cheapest Nokia WP phone to date.

I think Microsoft should continue selling the 520/525 , this is still a great device. And with price cuts can easily be a great option for emerging markets.
I run the wp8.1 on my Lumia 520 and it works like a charm.

they will continue to sell it for months to come as 530 and 630 roll out takes time and as stocks remain.

When I worked at Best Buy I would sell those as a better alternative mp3 player against the iPod. People loved that it was cheaper, had expandable storage, and didn't have to be activated until whoever they were buying it for turned whatever age. Parents went crazy for it and we always sold out.

I bought one a while back but didn't activate it just use it for kid games for my kids

Should have given these 12 million customers a chance to stick with windows platform for good by coming out with the follow up model with couple of additional features. Front facing camera, flash or 1g ram. These are lot of kids owning I as their first smart phone so need to give them a complete experience

the follow up model will have none of those (and in fact in many/some ways the 630 is more the follow up model than 530 will be).

Just a shame its a bottom end handset that's hit that sort of sales

Its a good little phone Posted via Windows Phone Central App

Ever wondered what percentage of people buy the same operating system time and time again without really looking into alternatives ?
So many people I know stick with the same without any knowledge of any other systems. 3 years on from switching to the Windows platform (me) my friends still have Android based phones and still experience the same crashes these handsets were having (I had HTC desire HD) 3/4 years ago but seem to still put up with it.

I'm hoping the Lumia 630 does well in the US. Right now Cricket is offering it free after $50 mail in rebate. I talked my retired parents into the 630 for their first smartphone since they are living on a fixed income. They will be getting it this week.

BRC1711... Yeh, I know, got one for my son but limited in the marketplace to which type of apps it could download, he dropped it once, smashed screen, end of.....

Got one for my wife and have it running 8.1. Cortana is making me want a Windows Phone as my next.

I'm desperate for a 531 with 1GB of memory.

They need a successor and ideally with 1 GB ram so we don't have all these threads pop up about the device not supporting the latest games lol.

Without a doubt, MSFT can repeat the success of the L520. I think they would be even more successful if they were to do two things. One, get it into as many carriers and countries as possible. They need to stop all the madness of these multiple release dates, and do a better job of releasing this and all their products to a worldwide audience, on or near the same date(s). Secondly, they have to refresh their products on a faster cycle. Overall though, I think MSFT(formerly Nokia) is doing great things with their low-end devices, and kudos to them for being numero uno in this segment.

Yeah, I know what your say... I read an article (about central London) one women wouldn't let go of her iPhone, so she got dragged along by the two little shits on the moped... Another women (it's usually women, but of course not completely) had it snatched, but a plain cop car just happened to be there, they gave chase, the moped crashed, so she, after it was printed etc, got her treasured iPhone back..!

520... Best selling phone in it's price range. You mean, more than Android equivalent in that same price range?

Being a first user of the MS OS , I can't see myself switching OS , I love the 8.1 and Cortana , so based on my experience I believe they can repeat this feat !!!

I got one for my mother, her first touch phone ever and she loved the simplicity of WP

12 Million is quite disappointing, they have to invest more on marketing, heard some people are unaware of how good windows phones are, they even said sony is using windows phone os so they don't want it, sorry sony..lots of techie wannabe's need some goggling

It is just small percentage

Please give 1GB ram for 530! They should give a maximum features in that range in low range phone that they should not change for a long time! I have seen other companies with same OS have more features for same price! I hate changing of phone from 1 low end to the other new low end!

Yes they can. If we closely look at the series patterns, series of 5,6,8,9,10 and above have thier successors but series like 7 for 720, there's no successer released yet.

Now if it was only a modular phone that I could drop another 512 RAM in... Sigh...

If by any means, every WP that is released can sell that volume, WP platform would have increased faster. MS try to get users on ur base with great 1st party experiences, I want good features of windows 8.1 to be available on windows phone 8.1 and vice versa, I really like Xbox music on windows 8.1 but its shitty on WP8.1 and I love the battery saver feature on WP 8.1, I would love to have that available on my surface pro 2 by enabling it when I reach 20% of battery I can stop all the unwanted background processes. Don't you guys think the same way?

My first WP was the Nokia 520 and I just bought one for my dad. He had a moto Razor still lol. (he's retired and doesn't even need a cell phone) He loves it. I got mine and his for $50 each. Great deal. An upgrade with 1GB ram would be great. Maybe make it $119 and add a 5MP cam and flash. ( 520 was $99 for a long time) either way, i love the Nokia 520. Can't be beat for $49

Really tired of this waiting waiting and waiting for wp 8.1

So where are the L520 haters now? :P

I remember when I got my 520 on launch day. I never knew that it would be the phone at would save Windows Phone. IOt's an amazing device. ANd the 512MB RAM limit doesn't bother me at all, since I don't play games on my phone. I've got a custom-built PC for that. I'm proud to call myself a 520 owner. It's a brilliant device despite it's limitations. I plan on upgrading to a Lumia 930 (or the 1020's successor) next year but I'll always cherish my 520.

People like you are the only hope of WP...

I've been rocking a Windows Phone ever since my LG Quantum with Windows Phone 7. It was a nice phone too. That was before Nokia was making WP dvices though.

12m sounds like a lot of phones, and it is...until you realize how many iPhones and Galaxies have been sold during that time. 12m over a year = what marketshare? 1-2% max. Hooray?

I'm responsible for at least 4 of them. Kids and grandparents are rockin the 520.

Proud to be an owner of lumia 520!Awesome phone undoubtedly in its price range!No major problems till now whatsover!If lumia 520 recieves the major firmware updates then it will be the best phone!But 530 should have flash and 1 gb ram to be more successful!

Does this mean, if 33% of Windows Phones in use are 520's, and there are 12 million out there, that the whole WP in use Installed Base is 72 Million? About how many iPhones Apple sells in 9 months

Whatever it is famous lumia 520 does not receiving update till now.