Microsoft reaches patent agreement with smartwatch maker Olio Devices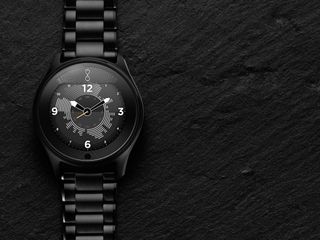 Microsoft has made yet another patent license agreement, this time with the high-end smartwatch company Olio Devices. Other than the fact that the agreement does indeed cover "wearable devices", the specifics of the deal, including any possible financial terms, were not disclosed by either Microsoft or Olio.
ONick Psyhogeos, the president of Microsoft Technology Licensing, did state:
Olio Devices revealed its first smartwatch, the Model One, back in March 2015 and started shipping it in limited quantities last summer. The devices have a number of digital watchface options, along with support for notifications for things like email, texts and more. It uses its own Linux-based operating system and supports Android and iOS platforms.
Source: Microsoft (opens in new tab)
Windows Central Newsletter
Get the best of Windows Central in in your inbox, every day!
Good to see Microsoft partnering up with smartwatch partners. I love my band 2 but the more, the merrier right? ☺

Not literally but you know where I'm going right ☺

How can you use emoji's in windows central?

Some core emojis are allowed now. Basically the original set of smileys, but not much else.

Like this: Oh.. it doesn't work, at least on Edge :/

Bit late to the game though

Better late than never right?
About those emoji : No clue, posted via the app.

Not a case/legal battle. Microsoft obtained the rights, for an undisclosed price, to use patents owned by the other company, in wearables like future smartwatches. It's a good thing for Microsoft.

What if it was the other way around?

Very sophisticated for the business.

So will there be a W10(M) support coming as well?

W10 Mobile support almost certainly wouldn't require a patent deal. If anything, Microsoft would either pay them to make an app or make the app themselves and ask for permision to release (both of which they've done/attempted to do with other companies). The notion of a patent deal implies that Microsoft is either looking at building a smart watch to compliment the Band line. Or, possibly looking to create some sort of embedded universal smeart wear platform which any smart watch/band/shirt/etc. maker could tie into (really going out on a limb with this one, as it would be awesome to see them do this, but seems quite unlikely).

Yes, that device is completely about time, with a few extra features. /s

I wish Microsoft would come to an agreement with themselves first and start supporting their own customers. Enough of this "business" crap. You want business? You sold us hardware as a customer and backer. Start worrying about your customers, not everyone else's. There that's business.

If this patent helps them develop better products by allowing them to include more features in future wearables then this probably is good for their customers.

Well, creating a patent deal opens the door for Microsoft to create more products which users may like. In this case, potentially creating an actual smart watch, which many users have stated they would like to see, rather than only havign the fitness oriented Band line as an option. This "business crap" is a requirement if Microsoft want's to create more hardware, without the concern of potential lawsuits. Every company ends up needing to create patent partnerships/deals to prevent potential legal recourse, even Apple does this. It's a crucial part of business.

They are worrying about their customers. ALL of them...not just you...and not just those using Microsoft hardware. They did this agreement so they can share tech and patents...which means better hardware/wearables for MS in the future.

Where did I ask them to worry "just about me"? I said the customers that are investing I. Them DIRECTLY. Not someone that invested in Apple and they want to throw some free doughnuts. The office thing has some valid arguments. But this keyboard thing doesnt help Microsoft at all and just helps support the dont-buy-Microsoft people. But sure, its all about me.... At least from the view on your soapbox.

H'olio crap those watches are expensive.

But these watches not only shows you time they also show your time;-)

That watch looks awesome.

But only with android or iOS smartphone's

The Garmin vivoactive is a full working smartwatch with my Lumia 950xl

+1 Garmin Vivoactive - Win 10 Lumia 830

Yeah, because Garmin has backed theory products just as well as Microsoft. Yeah right.

That's just some gay ass fitness thing though. Who needs that shít on a watch. Health freaks.

That's basically the only good reason to get a smart watch, if you are getting it to tell the time you're an idiot because who the hell wants to charge their watch every week, buy a real watch instead.

@Sin Ogaris. Essentially every day or every other day with pretty much all smart "watches". Fitness gear I'll make an exception for but not for something that purports to be a watch first. Especially at the price most premium brands ask for; Vector has come close to what I want in a smart watch. But the longevity of the battery bothers me, i.e. what would it be like 4 years down the road?

Does it support notifications like the band does?

The garmin vivoactive support all Notifications from sms, email, weather, calls etc etc and track all youre activity and sleep monitoring

Sweet! I'll have to check that out? What is the price range on those?

What's the price? Its called Bing ;)

It looks like a higher end Vector Watch with wireless charging

It uses it's own Linux-based operating system and supports android and iOS platforms. Source: Microsoft I think that says it all.

read better, that's the smartwatch from march 2015 who only supports ios and android! also if you read the source of the blogpost microsoft wrote, they did not mention ios or android.. that's what windows central wrote! Source means not that it's copy pasted from microsoft.

Can anyone suggest me a smartwatch 100-180$ I want to be like a real men's watch not a tracker.

Isn't this more so about MSFT haven't the right to use something the "same way" this olio company, has? So maybe an watch this year?

Yea I don't get how everybody seems to think MS got patents from them and not the other way around. Nothing in the article suggests that. They might've even exchanged patents. Out rights to use them to be more specific

I'm still waiting for a nice looking smart watch alternative that's fully Windows Phone compatible.

Awesome!! Maybe "Microlio Wristers" ;-)

Sounds like a masturbation tag team.

Maybe, just maybe MS will take GATT server from them for those notifications not working on wearables connected to Windows Mobile - shame MS! Coming soon™? :P

God I would love a proper Windows smartwatch

Hopefully windows Platform support in the future
Windows Central Newsletter
Thank you for signing up to Windows Central. You will receive a verification email shortly.
There was a problem. Please refresh the page and try again.