Microsoft reports FY15 Q2 results, generated $26.5 billion in revenue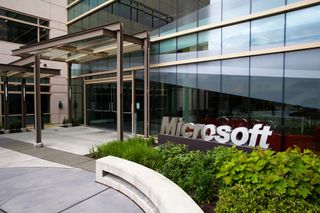 Microsoft has reported its earnings for its second fiscal quarter of 2015 ending on December 31. Overall, the company brought in a total of $26.5 billion in revenue. That's compared to $24.5 billion in revenue from the same period a year ago.
Net income for the tech giant clocked in at $5.86 billion, compared to $6.55 billion for the same quarter a year ago. Earning per share came in at 71 cents, with Microsoft adding:
Microsoft says that devices and consumer (the groups that contain Surface and Bing) revenue shot up by 8 percent to $12.9 billion. Here are some of the highlights:
Surface revenue of $1.1 billion, up 24%, driven by Surface Pro 3 and accessories
Office 365 Home and Personal subscribers increased to over 9.2 million, up 30% sequentially over prior quarter
Search advertising revenue grew 23%, with Bing U.S. market share at 19.7%, up 150 basis points over prior year
Xbox console sales totaled 6.6 million units, with strong holiday season performance
Phone Hardware revenue of $2.3 billion, with 10.5 million Lumia units sold driven by growth in affordable smartphones
Windows OEM Pro revenue declined 13%; revenue was impacted by the business PC market and Pro mix returning to pre-Windows XP end of support levels and by new lower-priced licenses for devices sold to academic customers
Windows OEM non-Pro revenue declined 13%, with license growth from opening price point devices
Additionally, the company reports that "commercial revenue grew 5 percent to $13.3 billion," driven by the following highlights:
Commercial cloud revenue grew 114% driven by Office 365, Azure and Dynamic CRM Online, and is now on an annualized revenue run rate of $5.5 billion
Office Commercial products and services revenue declined 1%; transactional revenue was impacted by the continued transition to Office 365 and declines in commercial PCs following the XP refresh cycle
Server products and services revenue grew 9%, with double-digit growth of SQL Server and System Center
Windows volume licensing revenue increased by 3%, with annuity revenue growth partially offset by declining transactional revenue
Perhaps some of the biggest news to come out of the report is that we finally have exact numbers that show Xbox One sales garnered a significant boost thanks to Microsoft's holiday promotion. 6.6 million units is certainly nothing to scoff at, however, the holiday price cut did take its toll, with Xbox platform revenue dropping by 20 percent.
On the Windows Phone side of things, Lumia devices saw quite the surge, with 10.5 million units sold in the second quarter alone, with most sales coming from the budget side of things. Overall, Windows Phone sales were up by volume, though revenue declined 61 percent on paper mostly due to a $650 million charge related to the Nokia acquisition.
Finally, on the services side of things, Microsoft reported strong growth from gaming and consumer services. For example, Microsoft saw a surge in revenue of 42 percent from Xbox Live and and 79 percent from first-party game sales. As far as consumer services are concerned, the company saw its Office 365 user base increase 30 percent over the previous quarter, while its search advertising revenue shot up by 23 percent.
Source: Microsoft (opens in new tab)
Windows Central Newsletter
Get the best of Windows Central in in your inbox, every day!
Dan Thorp-Lancaster is the former Editor-in-Chief of Windows Central. He began working with Windows Central, Android Central, and iMore as a news writer in 2014 and is obsessed with tech of all sorts. You can follow Dan on Twitter @DthorpL and Instagram @heyitsdtl.
Article is wrong. On Microsoft websiteitsays that the operation income is 7.969 billion and not 5.86 billion.

That number reported by MS is probably before charges and the number in the article is after.

Yes, All other companies bleeding money us indeed doomed. When Microsoft earns in freakin Billions.

I bet we'll see huge growth for Windows after version 10 comes out.

Yeah there will be huge growth for both the adoption of Windows 10 as well as the sales of Lumia phones but the revenue will decrease as they are offering the OS for free to 75% of the devices in the world. Wonder how they'll offset that.

App revenue could start to surge

iirc there was some talk about it (new license or free upgrade) being "for the life of the device" so every new device using win 10 will still pay for the OS. Wasn't there something about 8.1 being free for OEMs if the device is smaller than 7/8"? Will that carry on to w10? And I wonder what's the tolerance for the definition of "the device" for PCs? I mean I'm gradually updating my rig. At which point it won't play nice anymore?

Free Windows 10 license only applies to consumer versions of Windows who are upgrading from Windows 7-8.1. It doesn't affect OEM license sales, nor Enterprise sales. Translation: They're only giving it out for free to the area where they make relatively little money anyways. The big money makers still gotta cough up.

NO, 75% get windows from new PCs. they still charge license fees to oems for devices greater than 8". the free updates will be done by more advanced users. most users never update their PC unless they have a friend who does it for them. since there isn't a huge amount of people updating to windows 8, current earnings don't have that much revenue from updates. the revenue decrease will come from not charging for small screen devices and the overall decline in pc sales.

What does "up 150 basis points over prior year" mean for Bing U.S. market share?

AFAIK It means increase by 1.5 percent.

Oh, thanks, then why not just say it's 1.5 points up? I guess 150 is more impressive than 1.5, LOL.

Thats how numbers are reported for all financials - in basis points, starting from the prime rate.

OK, thanks, I didn't know.

prime rate relates to interest rates. basis points van apply to any percentage number.

It means it was up 1.50 percentage points. Say from 18.5% to 20.0%. People often get "percent" increase and "percentage point" increase confused. Percent increase is the relative change (numerator / denominator) -1. Percentage point change is simply the new number minus the old number. ​

I should have added that a basis point is 1/100th of a percent, or 0.01%. So 1.00% is 100 basis points. 1.50% is 150 basis points, etc. ​

Good job Microsoft, same fast

Even more beeellion dollars for Microsoft!

Im glad windows phone is doing well.

That's if most low end Lumia devices upgrade, so far all candidates for Windows 10 we hear of have 1gig of Ram in common

If I ask nicely will they give me just a tiny fraction of a percent of their profits? I have been supporting them for so long...

Wonder what the split of that 6.6M Xbox consoles were between One and 360?

$26.5B is a lot of money.

Can someone tell me is this numbers are good or bad ?

They're pretty good - the charges aren't unexpected. The real rubber will hit the road when Win10 is actually released.

Just about in line with the Wall street expectations. Which, of course, caused the shares to drop 6% today because that's not "good enough". Numbers are solid - add a 6% drop to that and this looks like a buying opportunity.

About $400 of that is from me. More from me to come this year including a flagship phone, One games, Band 2, Music subscription, Live Subscription, and a tablet.

These numbers may actually get MS a market share of nearly 3% in smartphones. It should be pretty close to Sony, if not above it, in Q4 2014. that in itself is a commendable performance. 2014 can not be termed a great year for MS. Still if it ranks 7th or 8 th by the end of the year, and 2015 looks more promising, then it should aim to get into the top 5 bracket globally in 2015
Windows Central Newsletter
Thank you for signing up to Windows Central. You will receive a verification email shortly.
There was a problem. Please refresh the page and try again.