Microsoft's Scroogled campaign is a hit – according to 3rd party research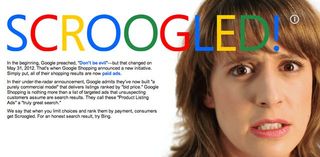 Have you not seen the thousands of people running for Bing and Outlook.com, screaming that they have to get away from the evil organization that is Google? No? Well, neither have I. According to research collected by two 3rd party firms, the Scroogled campaign has been more than a success, "For Microsoft it's a win".
Microsoft's all negative and full attack advertisements have been a controversy for Microsoft fans and non-fans alike; they may sit on the ad shelf as one of the most ruthless technology campaigns around. We usually only see the direct-attack tactics used by Microsoft in political campaign ads.
Answers Research, has reported that after users visit the Scroogled campaign's website, the favorability gap in favor of Google services drops from 45% to just 5%. In addition, the company has stated that over the previous summer, the chances of someone recommending Google to a friend has dropped by 10% and has increased by 7% for Bing.
According to Jonathan Symonds, Ace Metrix's Executive Vice-President of Marketing, the idea that people would even consider switching to Bing over Google is enough of a victory and "Microsoft will happily accept these outcomes".
A Microsoft spokesman commented on the current campaign:
As one might imagine, Google's reaction to the Scroogled campaign's supposed results was no less than sarcastic - "Don't think we have a comment on this one."
Whether you agree with the tactics Microsoft is taking in its Scroogled campaign or not – it is supposedly having a positive impact for the company and driving people away from Google at the same time.
Have any of your friends or family switched away from Google due to the Scroogled campaign?
Get the Windows Central Newsletter
All the latest news, reviews, and guides for Windows and Xbox diehards.