Microsoft sells 8.4 million Lumias growing more than 10% from 2014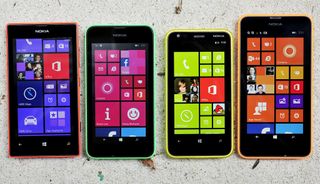 The future of Microsoft's Windows Phone division has been under attack recently due to cutbacks and continued reorganization. However, all is not terrible as sales of Lumias are still inching up in sales.
In Microsoft's FY15 report for Quarter 4, they are saying 8.4 million Lumias as being sold "growing more than 10% over prior year full quarter sales". Although that doesn't sound terrible, it also noted that overall revenue is down due to only low-end Lumias being sold. This decline should not come as a surprise though as Microsoft has not released a full-fledged flagship Windows Phone yet, leaving only small margins for profit in current Lumia sales.
Other highlights from the report include:
Phone Hardware revenue decreased $748 million or 38%. Gross margin decreased $158 million, due to lower revenue, offset in part by a $590 million or 31% decrease in cost of revenue. Phone Hardware has been included in our consolidated financial results starting on April 25, 2014, the date we acquired NDS.
Lumia phones revenue declined, driven by a mix shift to lower price point devices. We sold 8.4 million Lumia phones in the fourth quarter compared to 5.8 million in the prior year.
Non-Lumia phones revenue declined, driven primarily by lower volumes. We sold 19.4 million non-Lumia feature phones in the fourth quarter compared to 30.3 million in the prior year.
Phone Hardware revenue included an unfavorable foreign currency impact of approximately 4%.
As usual, this is a mixed bag of news. On the one hand, Microsoft is selling more Lumias than ever, which is still amazing considering what they are up against and in managing the acquisition and integration of the Nokia mobile devices division into the company. However, it is also clear that Microsoft needs some high-end flagship phones to spark more interesting in their mobile OS and get that revenue back.
Of course, it could have been disastrous if Microsoft had announced sales and revenues were down. In that sense, the company's struggles in mobile will continue but with some definite momentum.
Microsoft is expected to announce two new Lumia flagship phones with Windows 10 in September during the IFA conference in Berlin. General availability will likely begin in October, kicking off what many hope is a Windows 10 Mobile resurgence.
Source: Microsoft (opens in new tab)
Windows Central Newsletter
Get the best of Windows Central in in your inbox, every day!
Daniel Rubino is the Editor-in-chief of Windows Central, head reviewer, podcast co-host, and analyst. He has been covering Microsoft since 2007 when this site was called WMExperts (and later Windows Phone Central). His interests include Windows, laptops, next-gen computing, and for some reason, watches. Before all this tech stuff, he worked on a Ph.D. in linguistics, watched people sleep (for medical purposes!), and ran the projectors at movie theaters because it was fun.
The severe drops in revenue is why they're focusing on flagships and cutting back on models. Microsoft doesn't really need to justify its sales or market share if they're earning a profit.

It's amazing that sells increased at all with (1) no flagships, (2) no commercials, and (3) app gap. Imagine if Microsoft actually brought their "A-game" to mobile... before they gave up.

Well the sales increased die to the proliferation of cheap devices across as many markets as they could get into - Europe and third world markets are a hot spot for these cheap devices, though, as said, the margins are low. The flagships can't come soon enough!

I'm patiently waiting forthe new flagship. Consider my windows phone journey.. 1) Lumia 720, (2) Lumia 1020, (3)Lumia 1520. I believe a good number of those that purchased the low end phones may decide to upgrade, especially as windows 10 proves to be effective.

I too am looking to buy my first high end smartphone. I own the HTC 8x but I bought it last december for 100. I'm ready to save up some cash to spend on the Cityman or Talkman, whichever is the bigger one :)

Selling sub $100 off contract phones leads to no mystery about high volume success. Posted via the Windows Central App for Android

True... I guess the idea of having just two budget devices is pretty good.. Actually only having two of the best devices, in each segment, MS has to offer is a great idea... Might help boost adoption because the best will be available to everyone everywhere, on every carrier.. The consistency might lead to awareness, then hopefully some amount of popularity.

Agreed. I definitely believe paring down the device portfolio will lead to better recognition and acceptance of what one is buying - and the flagships will hopefully woo the high end crowd somewhat, though I don't know if the 1520 our 1020 sold well or not. Here's hoping wp gains traction and apps with w10.

The 1020, and 1520 make up about 3.0%, and 3.2%, respectively, of Lumia market share.. Not sure if that includes other OEM's... But, they aren't rock bottom.. They'd probably have to be around 10% market share to fit into MS new plan... So, no.. They didn't "relatively sell well in the WP market, or the total smartphone market.. That's only 3% of 4% of the market.. Lol!... Of course I think it could've been higher, and I blame it on marketing,,, as usual... But, if MS give ALL of it's Lumia devices from here on out the Surface marketing treatment then market share will definitely go up higher than ever... There is absolutely no reason why MS can't claim at least 10% of the Mobile market in the next three years with W10.... But, they are going to have to invest more on advertising than they ever dreamed possible in the history of the company....
.........
If you ask me the Android, Apple, hype is dying down... Or has died down.. It's way too common placed now.. People are ready to jump on the next biggest thing, and MS knows it. That's why they will not give up on Lumia right now.... There's a whole new generation of teenagers about to start school. That's where the marketing geniuses need to be called upon to exploit the general publics need to fit in, and be with the times... It's too late for iDroid. It's old news... If MS doesn't take advantage of this huge, rare opportunity in time, then they have to be the biggest bunch if baboons running a great company to the ground... Right now MS has the ball in it's court if you ask me. There's no other company right now that's poised to do what MS has the chance to do in the next few years....... Let's just see if they F%%% it up.... Or not.

I agree they have lot chance to capture market.. Given nothing ground breaking is there in shelves (android and iOS) looking at I/O 2015 and WWDC 2015.. Its all on MS how does it takes it n its not opportunity to miss..

The 1020 & 1520 were only released on ATT. From this point forward these types of phones should be released on ALL carriers. I'm sure the percentage would be higher. As a T-Mobile customer I know for a fact I would have purchased 2 Lumia 1020s.

There's little marketing geniuses can do if basic functionality like sending attachments of any kind is missing. If Google had not pissed me off by forcing me to change my old user name and email address on YouTube when they were consolidating their acquisition, and the drama of the YouTube app for Windows Phone, I'd probably be doing Android by now. It's not about marketing alone. Windows phone OS design language just did not resonate with the majority of people, and apart from that, the damned OS was too closed up, and basic functions that we took for granted even in WinCE 1.0 were lacking and are still missing. What magician could sell such a handicapped product?

Rodney makes some great points. I agree, this is an opportune time for MS.

i think they'll F%$!@# the competition up

Congratulations, Microsoft. :) The Lumia series is very strong, the future is looking bright. :)

Can not say... If windows 10 gets success, it may be bright.

W10 will be a hit! It's too awesome to be ignored! Ever since the first developer preview, I haven't even started up my win 8.1. There's simply too many positives with win 10. And the apps will come for sure!

Windows Phone 7.5 was awesome.
Windows Phone 8 and 8.1 were awesome, and Windows 10 is looking awesome too, but we are not the average customer. They should do better marketing to bring awarenes to the masses. The only Windows Phone add that i had seen here in Belgium was for the Lumia 800. A shame. And after so many years they should have had enough time to expand their marketing to the smaller country's. That is a huge issue. Posted via the Windows Central App.

I feel that 8.1 was probably one of the worst. It really killed some awesome things like the old music + video app, the old games hub app, integrated Facebook messaging(don't know if this is Microsoft's fault), and an overall sense of unity throughout the OS(like what 7.5 had). That might just be me. But yeah it added some great features but also took a little away.

I was so happy to install 8.1 but only to discover afterwarts that my Lumia 920 was pretty useless to me, i had to charge it 4 times a day, and it got so hot when doing basic things. Posted via the Windows Central App.

Never run into those issues on my 920, worked flawlessly for me

There are so many Android OEMs that Microsoft has to go against. They all market Android worldwide. We will see how Microsoft responds.

Bleib bitte auf dem Boden der Tatsache. Immerhin reden wir über Microsoft nicht wahr? That's how Winphone 8.1 was also hyped, and I bought the Lumia 920 after previously using HTC HD7 and LG Optimus7, and the hypes were, well, just hypes. Some things got good, while some other nice things were abandoned. I have used the Insider preview, and I am still very skeptical about Windows 10 Mobile.

For me 920 was definitely not overhyped. It provided on all fronts. Especially the camera was (and still is) impressive

Windows Phone revenue went down 68%, though...

Right, due to the low-cost devices. A worse case scenario would have been sales and revenue is down. Luckily, that is not the case here. At this point, it is hard to imagine or expecting them to make money on mobile. Not without some high-end devices to anchor those sales.

I can't imagine. The lumia devices are being sold on half cost in India too on many stores..

Still though, 68% is a pretty big drop. I wonder if Microsoft has a second big trick for Windows 10 Mobile up its sleeve, like what they did with making Windows 10 free?

I haven't read the detailed report. However, it looks like Bing and Xbox did have increased revenue. Windows phone is a the "in" for other MS services. If it brings increased revenue to the app store, Bing and Xbox, then MS should be fine. This report is just for the hardware side.

The point is 68% isn't large compared to the fact that they are all low end devices. We are on the up and up having had more sales then ever and now with the release of windows 10 phones coming around the corner.

Ah, you meant both. I too read the sentence and thought "but revenues DID go down". :) By the way, do you recall what was the Q to Q sales volume change?

They will make some of the money back with more sales in the app store.

Low-end phones don't amount to a lot of app sales. There's a reason why developers prefer the Apple App Store to Google Play Store, even though Android has more users.

Is there any real data that show's that is the case? I think there are many reasons why some app developers may prefer iOS. And I thought the difference in numbers of apps in the two is not hugely different anyway.

Saw old studies that developers earn significantly more from iOS than Android (and obviously WP). iOS users are more likely to get paid apps.

Oh yes. And Samsung is increasing profits in mobile? I would not make too much out of all that. MS is building a market, number of devices is gowing. Profits in mobile are declining almost everywhere except Apple. It's a long run.

Yet, the title is all sunshine and flowers....

Showing growth with no flagships is somewhat improve. Might have been better with flagships though. If that's what they had with flagships then that would be worrying

Flagship phones in the past have not driven much net new adoption. That's Microsoft's foal right now -like it or now. They need big numbers of users to create a demand for apps that developers can't deny. Its the only true way to growth.

I completely agree. I work in a phone store in the UK and the biggest sellers of lumias are the low end. They need these numbers so that when people are due to upgrade they will stick with wp. No one takes a 930 on a contract plan. But a few 535's, 435's and 640's fly out the doors on pay as you go tariffs. I started with a 610 many years ago and now have a 930. I needed to test the water with a cheaper model to give me some confidence about wp. Hopefully that's what will happen with other people.

Thanks for sharing your experience Peter. But I'd say that windows phone already has plenty and has had plenty of low end phones out in the past year. The upcoming flagships should entice many satisfied EU and US users, although I doubt any Indian WP users would buy an expensive flagship.

Hahah do not underestimate the Indians. The investment on phones is huge here.

This comment makes great sense, I arrive here from Android flagships wanting to test the windows phone waters without getting tied to a 2 year contract or spending £500+
I got a 640 sim free and it is a great value entry in to windows phone and I am loving it, so i now plan to get the (smaller) flagship later this year.
Without the cheaper WP products to tempt and hook people into the ecosystem it would be more difficult for Microsoft to grow in this market. Posted via the Windows Central App for Android

I think Windows 10 may make a difference. It would be more popular and would gain the market as well...

Do we really have that much faith that new flagships will change things? ... my 1520 wasn't slackin' back then and it ain't slackin' now...

Yes and no. New devices will be highly competitive in terms of specs. Iris scanner and Continuum will make awesome eye candy for commercials. Windows 10 momentum for PC will carry Mobile. Universal radios will let MS sell direct and off-contract. Marketing will be unified. I still don't think it will be a huge change, but yeah, it could give them quite a boost.

Universal radios? I missed that one.

You should watch my AskDanWindows video series, I tend to reveal a lot on those.

I too had missed that bit of info. Its great news and makes sense at this point of the game/given likely higher focus on trying to sell direct to consumers _in addition to_ carrier channels.

Direct (hopefully also unlocked) and off contract would be great, but the key is to get the phones into the physical stores (other than corporate AT&T stores) where people can look at phones. Malls, Costco, Best Buy etc. And not just hanging on the shelf in a box with all the other prepaid phones from the likes of Kyocera. IMO that is Microsoft's biggest challenge when it comes to selling WP.

@Daniel, I have a big hunch that windows 10 will do MS mobile a huge good. Seriously, I feel the poor performance of windows phone was because of all the catching up the OS needed to do. I hope Windows 10 has no more catching up to do.

But sadly users care more about being comparative to other devices, with other devices having more ram(4gigs not 3), processors that have a higher model number like the 810 even though it isn't really better, higher megapixel cameras etc.nit really will be hard to push again since consumers will say compared to other high end devices (not including the iPhone) it still isn't as high end. Even though it is, and they just don't know what they are talking about. It would just be great to see 4gigs.

Universal radios is going to be great! Hopefully they are on sale directly in Microsoft stores and BestBuy stores, and plenty in amazon. The current models take months to get to a third party in amazon, and a lot of different versions it is a real mess.

I think it will. MS hasn't had a crack at a flagship phone yet. That was Nokia. When MS does any kind of hardware they do reference flagship hardware.

Nobody is buying a 1520 now. Presumably there will be new buyers who might get interested in WP and would choose to buy a high end device rather than a cheap 635, thus letting Microsoft actually make money.

If the 1520 was on Verizon I'd totally buy one now, but that is just me haha. I have an icon with a terribly broken screen. It's still useable but I don't want to buy another icon to replace it during the time waiting for a new flagship, if I had the 1520 available then I totally would invest in it but now I have to just wait.

1520 at your service - http://www.expansys-usa.com/nokia-lumia-1520-rm-940-att-locked-black-b-stock-generic-box-278688/

I bought a 1520 last week. Trouble is you can't find any new ones anymore. All used 3rd party. Doesn't bother me ($125) but some people insist on brand new. Also picked up a $79 640 on Sat. It's really nice. Posted via the Windows Central App for Android

Yes 640 is amazing value for your money. Would also buy 1520 in a heartbeat (had and lost one last year) but so far haven't found one for decent price. Not paying ~400€ for a used device

1520 from expansys - http://www.expansys-usa.com/nokia-lumia-1520-rm-940-att-locked-black-b-stock-generic-box-278688/

We are counting on W10/W10 mobile and universal apps. If the desktop strategy takes off which I think it will, W10 mobile's success will be a natural side effect..

I think new flagships could help bring in some exitement for the platform that low end phones can't. Flagships help sell low and medium phones as well.

Exactly flagships build momentum and excitement. There's also a bigger marketing push then. There's also a lot of people with 920s and 1020s that don't feel there's been anything good enough to update to. The 930 wasn't a big update, there's been no Pureview to match the 1520. I guess even some 1520 users would like to upgrade to something thinner and faster. Shop yeah hopefully not everyone has run out of patience and gone to ios or Android and when W10 and flagships come out sales will take a healthy jump. I still think they did well with over 10 million sales this quarter.

I'm hoping they announce some Win10 flagship phones real soon since my upgrade just opened! Crazy to see the 928 on VZW is still a top phone and was released two years ago

Seriously. I'm tired of my icon, and it's screen is broken in a part so it is annoying even though it still works. Can't wait for the new flagships!

Has you camera become a pile of dung too? My icon camera used to be awesome and now its horrible

My back camera is still incredible, I didn't break that. But my selfie camera is done for. The corner of my screen hit the cement so it cracked down the camera glass, then screen is still useable though.

Awesome. I wonder what the numbers would be if a proper flagship had been released on some U.S. carriers since last fall. Too bad these good for nothing U.S. carriers can't be bothered with windows phones!

If they had 2 or 3 unified flagships like Samsung and Apple On all the U.S. Carriers and they actually promoted them, then they would make some good money and have a higher U.S. Impact.

Agreed. What I believed to be the main issue with the 1520 was the fact that it was only on ATT in the U.S. If it had been on Verizon and Tmobile, I think it would have done much better. The thing is, people always complained about how big it was, but people loved the Note. With stylus and Continuum support rumered for the next flagship, it should sell well, as long as MS can get it to sell on more than one carrier.

Seriously! I would love a 1520, I'm in Verizon. I'm tired of my icon with it's semi broken screen. Can't wait for the new flagships and the fact that they will be on the major carriers instead of carrier specific.

I am sure one day world is only of Windows phone .... If minded peoples are living in earth ....he he otherwise only android phone with Android minded peoples

Just bring the rest of the world to Europe marketshare and world will be a better place :) http://www.kantarworldpanel.com/global/smartphone-os-market-share/

October is way too late. As usual.

I mean, let's be honest: you want this now, so anytime after today is "too late". October is ideal for numerous reasons, including the OS being finished (derp), other hardware coming out and you know, those huge holidays for the US like Thanksgiving and Christmas. No, late in this case would be in January.

Agreed. If MS can actually deliver on the timing, then October would be perfect. I have no doubt that with proper carrier and sales support, that they can do compelling flagships: my 1520, even running a preview build of WP10, is remarkable and the battery life (certainly compared to my 1020 and 920) is something they got very right. Don't know why, but it's not even close.

October is not late, but in my honest opinion they shouldn't have left a span of 20 months between flagships considering that the last flagship wasn't that much of a hit. They should have come out with a new flagship last January just as a refresh to Lumia Icon, then one in October.

Ok so it's mainly low end devices two points on this good news, 1 the Lumia budget devices are excellent not just excellent value but really good devices which introduces users to WP with a good experience. 2 The low end smartphone certainly worked for android so it is a proven market strategy.

Dan.... You are killing me with the drip feed! In bits waiting for a flagship. Actually found the figures in the article quite positive. Funnily enough, I caught Sky News mentioning MS losses earlier. Nice to hear the other side of the story.

So the consensus on Windows Central still seems to be that a flagship phone will increase Windows Phone sales. Interesting.

Yes, they need to be on all carriers and heavily advertise. Just like what Apple and Samsung are doing.

Unfortunately according to the sales figures it is not going to increase sales by any huge margin. Both the 1020 and the 1520 had around 3% market share from the Lumia sales while they were available. In other words: From 100 phones sold we havd an average of 3-3 1020 and 1520.
With this in mind I would like to make a point: People visiting the Windows Central portal think, that a new lagship phone will increase sales. They, themselves however would not necessarily jump onto a new phone, but it will surely increase the sales if we had one. I myself do not think this is the case, I found that my Lumia 720 is comparable to my iPhone 5s when it comes to the speed you feel when using the phones. I think a strong and well thought out middle segment or an extremely cheap but still usable $100 phone would do more good for the OS.


But losing money on each Lumia sold, with no longer any profits. More Lumia sold at a loss is stupid business model.
That is why Satya has sounded the beginning of the end for Windows Phones.

Satya nadela never said like that, so don't make your own story idiot

Very poor,how did Microsoft end up in this no flagship situation? clearly someone(s) has cocked it up !

The thing is, they looked at the sales figures. And the figures clearly say volumes about what people think.
When a Smartphone is around or less than 3% of the total sales for the period it is sold, then we can say that people do not want flagship phones. On the other hand even if they did bring out a new flagship phone now, I would never ever buy it.
Reason being: It is Microsoft, and not Nokia. I bought Lumias because they were made by Nokia, and I knew that I will have a great support. As for Microsoft products: Just take a look about how many promises they kept about their OS? Windows Phone 7 came out, and it was crap. It was even worse when it came out than the latest Win CE. Then, during it's lifetime they went up to WP 7.5 and added all the stuff that we were missing from it. So by the time the OS was discontinued it was awesome. Oh, and Microsoft promised us, that the latst generation of phones running 7.5 (like the Flagship Nokia Lumia 900) will be able to be upgraded to WP8. Then it turned out, that they will NOT be compatible with WP8. So I just bought an old and deprecated OS phone 2-3 months before the new version came out. Great. Then I took a look at WP8. Everyone thought, that the new OS is going to be super-cool, and will have all the previous features from WP7 pulled over. Apparantley not, it took Microsoft around three years to make the new WP8 good. The first version that should have been the initial release version was the Denim one. It is a problem, if in the first 3 years of a 4 year product cycle you are stuck with a semi-working device. And most of us bought the phones with 2 year contracts. Meaning: That's it, this is the phone you will use for the next 2 years come what may. Now they tell us about this brand new, cool looking OS, called WP10 that will definitely run on your WP8 phone, and you will be able to upgrade. Is it only me, or is that suspicious to somebody else too? To be clear: I never had any good experience with any hardware marketed with the Microsoft Brand, therefore I do not care what Microsoft tries to sell me. Every single physical product that came with a Microsoft brand was crap for me, so I stopped considering Microsoft products when it comes to physical devices.

Seems their plan to convert Nokia X customers into Lumia customers really went well. /s

Good for them. But even if they bring a flagship back I don't know if it'll be a success. That app gap though is terrible. Thank god my Lumia 640 is a backup. Nice phone and device but the apps kill it for a full-time Windows users. Posted via the Windows Central App on my Lumia 640 or using the Android Version which is free*

Or in other words Microsoft did sell less Lumia Phones as Nokia did in Q4 2013. Now why is that?

Cutting back on models was a great decision & should help alot. The overwelming majority of current sales are the 535 & 640. Historically, the 5xx, 6xx & 9xx are the only models that have sold really well. I think the reduced lineup will be... 5xx, 6xx, 6xx xl, 9xx, 9xx xl with mobile enterprise versions of the 640 xl, 940 & 940 xl.

For windows mobile to be successful they need to make it available to everyone.No more exclusives to one carrier.Anyone who is willing to sell a Lumia phone get them selling them.If a guy with a cart on a street corner is willing to sell them them get him on board.And any commercials about windows 10 for PC should sneak the phones in there as well.The average person doesn't even know there is such a thing as windows for phones.

Fantastic, Windows 1O M0bile here we come , we're coming for that number 0NE $P0T

5.8M to 8.4M units year on year is very good and much more than 10%. Historically this is always one of the weaker quarters. Now they need some higher value devices to gain revenue again. The key thing is when they announce flagships in September they need to get around the AT&T 6 month later release schedule... we need an Apple release where you can buy it anywhere while the buzz still exists.

In today's competitive mobile space, if a flagship is made of plastic, it's not premium no matter how high the cost.

Samsung flagships were always plastic... They did ok, I'd love a metal Lumia or surface phone though, that would be a mix of cold vapourMG and warm fuzzy feelings :)

WindowsCentral - what is going on with you guys? I've been following the site for years, but come on. This article has so many ads peppered on it they are literally overlapping each other (IE11), to go along with the typos in the article, it just gives the site a very amateurish feel. Come on man, get your act together! I get you guys have to generate revenue, and I'm happy to give the accidental click-through on your huge ads on the left/right margins to do my part, but it really seems like this is getting out of control.

Actually I don't notice any of the problems you're having. By the way, I use Mozilla Firefox and Microsoft Edge

Increase in sales always helps considering we still need to get to 10% market share for phones

Very good news. Can't wait to add to these numbers once a flagship device is released.

You know what would be cool?? If Microsoft surprised us all with a new flagship on July 29th. A complete product hitting stores. That would be freakin amazing

I noticed a healthy presence of Windows Phones last time I was in a Best Buy. Saw a guy looking at one and another holding one a if he just bought it. I really think they are great phones. Right now, great for people that don't give a flip about apps and just want a good phone. I hope with a lean, mean lineup we can really see some growth this year.

If these prospective customers don't care about apps on smartphones, then they'd probably be better served with less expensive feature/flip phones, no? I've seen LG messaging feature phones in drug stores for around $30.

Amazing how many NON-Windows phones they are still selling.

Fans knew best. We craved for a flagship,the flagship wasnt given to us. The result is there.

Do they mention sles for non Lumia phones?

There's not much need, it's safe to assume that they were terrible compared to Samsung or apple phones (even though apple make terrible phones with boring yet fluid OS)

it's right there in article and on link "Non-Lumia phones revenue declined, driven primarily by lower volumes. We sold 19.4 million non-Lumia feature phones in the fourth quarter compared to 30.3 million in the prior year."

Did anyone check the store recently? They're still selling Nokia X's...... That's an Android powered phone!!?? The business world is absolutely mental I tell you...

So hopefully that means new flagships my 928 is starting to go

I don't want to put the wrong spin on this but it looks like the major issue with the phone business is the feature phones are down alomost 50%, and the cost is nothing per phone so. the lumia line is not all that much doom and gloom.

Hey Dan,
IFA Berlin flagship release..?
Is it really happening? I hope 'you' will be there

Gosh, you mean not offering phones people actually want to buy impacts revenue? Who'd have thunk it? Seriously, Microsoft. Going on two YEARS without a flagship device is 100% bullshit.

The good news is that Microsoft sells more Lumia . The bad news might be that they lose money on each sales . It might explain why they do minimum marketing on phones . Hopefully a flagship will change that

I am currently an Android user and I would really like to switch to Windows but I'm waiting for a W10 device and for the developers to port thier android/ios apps to w10 in my country. The local apps are practicly non existent.

Hopefully, these numbers will double once the new flagships are released later this year.
Windows Central Newsletter
Thank you for signing up to Windows Central. You will receive a verification email shortly.
There was a problem. Please refresh the page and try again.