Microsoft is hosting a Windows Insiders event on November 30 in New Delhi and Mumbai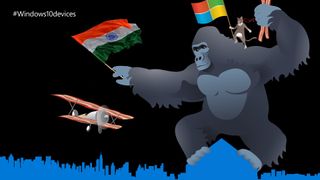 Microsoft has sent out an email to Windows Insiders in India inviting them for a first-hand experience of the new Microsoft Lumia 950 and 950 XL with Windows 10. The company wants to thank the Insiders for their support in shaping the Windows experience for millions of people.
The two events will be held in New Delhi and Mumbai on the evening of November 30. At the event, Microsoft will be showcasing both the Lumia 950 and Lumia 950 XL, along with live demos of Continuum for Phones and more. You will also be able to buy a Lumia 950 or 950 XL at the event and the sales package will include a Microsoft Display Dock.
This is a pretty good gift for Windows Insiders – an exclusive party and the early access to buy the phones. Remember, as we revealed yesterday, the Lumia 950 and the 950 XL will launch in India earlier on the same day.
If you got an email, make sure you register for your place quickly since the space for the event is limited.
Windows Central Newsletter
Get the best of Windows Central in your inbox, every day!
Can anybody share the link to register for the event in new delhi ?

Lucky you. Unfortunately I'm out of the country..

Mail Received 03;00 AM, Registered 03:01 AM. Hope I get an entry. Mumbai

Sir did u received any confirmation mail from Microsoft regarding ur confirmed entry ? Please reply as soon as possible sir

Already registered : New Delhi !!!

I hope there'll be one in Berlin. ^^

Received a mail for a similar event in the Netherlands!

Got the mail but not going.All India Post Graduation medical exam on 3rd in Lucknow. When I got the mail I quickly looked at the date and I was like shit.

I would love to go in Mumbai...i donno y i dint get the mail...can anyone give me the chance...i want to buy the phone aswell

And I have semester exam starting right before 4 hours to the 6PM event and to worse I'm in Kolkata

I have my semesters from 7th, but I registered at 10 am this morning for the New Delhi event. Maybe I'm out.
*sigh*

Same here center at Bangalore... Have a invite. Wanna give away

Sir did u got confirmation mail from Microsoft and id to get entry

Keep playing with windows phone., you will not even get biochemisty

All the best bhai..
Similar story here too, I have my ibps clerk exam on 4th December in Lucknow so I won't be able to attend the Delhi event :/

I got the mail. But sadly I won't be able to turn up at of these two venues.

Could you send me please?

Oh no ... I m in USA now missing this event... any plans in Texas?

Oh no ... I m in MOON now missing this event... any plans in space?

Oh yes ... I m in Mumbai now not missing this event... Any plans in advance?

In the Netherlands MS is hosting the same event for insiders in Rotterdam,on dec 2nd. Buy a 950(XL), get a dock for free.

Dit you get more specifics on whereabouts in Rotterdam? Or any confirmation yet?

Wen in Brazil? Great part of Windows Phone market share comes from here, and we get no love from Microsoft :(

Received but im In blore :(

i'm going to travel from kerala to mumbai just for the event :P

just make sure after registration ,they will email about your entry then start travelling

Wish they keep exchange offer for 1520users ;)

And the 930 users :)
And all the other users

There's one in Rotterdam, The Netherlands too for Windows 10 Insiders 2nd of december. I registered. At that event one can buy a Lumia 950 of 950 XL and you'll get a Microsoft Display Dock for free. I won't be buying one, as I just got a Lumia 735.

Why M$ focusing only cities like mumbai and delhi not in chennai,bangaluru & hyderabad.These are the main hub for programmers,engineers,etc.

Delhi being the national capital. Mumbai being the most famous city of India.

Not to forget mumbai is the commercial/trade/ business capital of India.

Oh...and another reason...those cities suck! Well Delhi is horrible too but it happens to be the capital. Bombay is Bombay!!!.....all in light hearted jest...ok? Don't flip out! ;>)

Guys I would love to go in Mumbai as i Want to buy the phone awell...can anyone regt and I can go on their name...thanx

Go on their name? You'll need a valid ID proof along with the invitation

Don't u guys think that 950xl/950 are being overpriced

I don't think. Looking at iPhone and other handsets. Its flagship.. Although looks r awful.. Yet flagship.. So the price.

that's meaningless ,they are very high end devices with snapdragon 808/810 ,new iris scanner,2K display,Gorilla glass 4,USB type c ,and Continuum they should be priced high ,but they are making affordable price ,in other sense its quite lower price for that hardware

You are correct. I affirm

Ian reg for insiders donno y i dint get the mail

Got the mail and registered for Mumbai, now only if the prices are reasonable, I intend picking up 950 XL.

The invitation link given in the email appears to be broken. Is there an issue or the invitations have closed and as a result the link is not opening up? Does somebody have answer to that?

Well, the link says that event is fully booked. I have registered though.

Same event happening in The Netherlands as well, on december the 2nd

Wish it was happening on the 2nd of December as I will be in Delhi then, this is unfortunate.

Registered. I hope i will get the entry. Mumbai.

Can you share the link to register?

Registered. Mostly going.
Have a family event.. If I decide not to go later, ill let you all know so that someone can go in me place

Send me if not going :) invincibleprincevegeta@gmail.com

After I click on register I got a blank page with terms and conditions with below. Am I registered?

Can anyone tell me "Where in Mumbai ?"

I have registered but I have an exam on the next day itself.

Can you share the link to register for ND event?

Got invitation. But I am not going. I am in Chennai.

Send me if not going :) invincibleprincevegeta@gmail.com

Got the invitation email. but being a student in Bangalore I can't go to these places sadly.. Why not come to Bangalore....

Registered for Mumbai! Planning to take a sick leave and travel from Pune to get some love of Microsoft!

I got an invite but I'm in Chennai. Anybody wants it?

Yes plz give it to me..iam in Mumbai no9821524469

M xams r there at that time.. Bad luck.. But will look forward for more such events.

I'm from Kolkata and I wished that Microsoft would have also arranged an event in East and South India as Kolkata and Chennai events would have made the event more successful. Anyway unsatisfied as a student. I wanted to go to the event but couldn't.

Great. Exam's on 30th too -_-;;

Registered for it, hoping to be there..

I got an invite too. But I am from Bangalore! :P

I am not from Bangalore but stay in Bangalore..hope they will consider Bangalore next time

Is it confirmed by Microsoft did u receive any confirmation mail

Regiestered...waiting for the confirmation now..!!

Did u received any confirmation mail ?

Crap, have the invite and not going...why cant they have it in Bangalore?

Bro give it to me...i would love to go iam in Mumbai....thanx give me yr no I will call u...or mail jeetu4444@live.com

I got an email and registered but I am still 14 T-T

i already registerd for mumbai event. hope i get invited...

Can anyone forward me the link...i want to go for the event...my mail id is jeetu4444@live.com
And where in Mumbai is it taking place...thanx guys...

I got it but won't be able to join.... Alas!

I am in Delhi however I have got invitation for London event.

And I'm receiving only russian mails from the Windows Insider program and Gabe, invitations too. I'm afraid I won't receive invitations for events here in Brazil...

Registered for that event just waiting for the confirmation mail anybody got that ??

Same for me... Got a mail, registered... Didn't receive final details.... So registered again just in case 1st went wrong......
Guess they'll verify to check if you're you or something...
Just have to wait and see.

i did it twice..lolzz...till now recieved nothing...i also got registered...hope confirmation comes...!!

The Gorilla is holding the Indian flag in one hand and bacon strips in the other. I hope the right-wing fuxktards don't make a fuss out of this.

Lol... I was thinking the same .... So much for waving bacon in a country where beef is banned in certain places!

Hey Can anybody help with where can i find or buy the wallpaper in this post

One in Bangalore plzzz..its India's IT capital..

I registered but darn them for keeping it on a Monday! :( I have my office and I am in Pune... Only if I could skip my office to go there :/

I have registered...but no reply from them....i guess will get mail tom or Monday...hoping to buy Lumia 950 white and get dock free and my mozo red leather with gold rim just arrived from Finland... :)

I Think Ms Will Keep The Price High & Giving Back With Display Dock As Free Gifts. 950 & 950 XL Both Are Good Devices. Must Problem Free Which We Herd Earlier With Logo Looses & Overheating And Any Display Wooes May Not Arises Sometime Sooner Or Later Of Products Purchases. And Most Importantly They Should Respect Customers Loyalty With Some Extra Or Paid Extended Warranty For The Same.

Also Waiting For Reply From MS 4 Entrance Confirmation Of Mumbai Event. Definitely Worth Buying The Product With Gifting Purchase Too....

Got email but not going because its too far........3 days journey.... so sad....

I got the mail but I have already moved on to Android.. Not interested in WM 10 or in 950s anymore... Posted via the Windows Central App for Android

If Lumia 950 is around 36 to 38k it's def worth the buy....then I will buy it at the insiders party on 30 nov

Recived an invitation from insider felt really proud and really excited regestered same day twice just to be double sure and since im from banglore but my dads business is in mumbai and i was done with my exams too so travelled banglore to mumbia presently @ mumbia awaiting for the confirmation havent recived any confirmation yet by the microsoft ...Did anyone recive any confirmation yet as the location or anything ?????? and since im not well knwn to this city any one going to this event from malad or kandivali side contact (9845167882)watsapp more preferable ...got my own bike t travel just looking fr some good company after the confirmation......

I have registered, awaiting for the invite. Has anyone got the final confirmation invite.

Waiting form the minute i had received the mail

I am in Mumbai. Anybody got an invite you can't use? Appreciate if you send suniljadhav643@gmail.com

Any feedback guys...have registered but no word back..from msft..has anyone got confirmation...i havent yet..but an update if you try to register know it says thanks for your interest we are sorry to announce that all our windows 10 events are fully booked...lets c

Anyone got the confirmation mail??

In this entire insider forum no one got confirmation mail then who's attending the

I just got a mail saying that event is all booked :( i really wanted to go..does anyone have got the entry and not able to go?

May please know to which place u have opted for Mumbai or delhi

Hurray, got the confirmation...Oberoi im coming on monday

oops...i go mail that its full...really disppointted...umar khan which place dehli or mumbai...have some other invite...send me lollz

Sir may I know when did u registered for the event and place opted to attend the event Mumbai or Delhi

Bro can u plz buy the phone for me Lumia 950 white can u tell me which Oberoi and wat time...can u call me on 9821524469...thanx

Bro can u tell me wic Oberoi and wat time

I got mail saying the event is all booked :(

Sir may I know to which place u have opted for Mumbai or Delhi

If anyone having an Invite for Mumbai event & is not going to attend then can you please give it to me as I want to upgrade from Lumia 920 to 950XL. Help appreciated thank you.

Same here. Booking full. Disappointed!

How did u come to know that it's full sir please can u tell in detail

Got an email from Microsoft.

I haven't received any mail till now sir I'm very much worried whether my registration was successful or not ! Very much tensed ;(

Sir may I know which place have u opted to attend event Mumbai or Delhi

Same here its booked full but i have received a mail saying alternate address for special screening in both the city

That mail is regarding a special demonstration which you can get at Nokia priority showroom

Sir u have received something but I dint receive anything till now :'( I did my best in developing windows 10 :( felt happy for organising insiders event but not happy for this waiting :(

Anybody out there still dint received any mail regarding the confirmed invitation ? Please let me know

Hey guys I reg 3 times for insiders party on 30 Nov for Mumbai but dint get the pass. I want to buy the Lumia 950 white color anyhow by 30 coz travelling to new York on 1st and wanted my new phone by then and my mozo cover has also arrived.
Any one who is going to insider party can buy the phone for me i will meet them outside the venue collect the phone and pay cash at the spot....
Any of u lucky ppl who got in can contact me on 9821524469 thanx guys

Did anyone got confirmation mail who opted Delhi ? Please do reply I request u people