Microsoft set to invade Canada on October 26th with a new retail store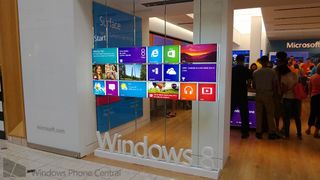 If you happen to be in Edmonton, Canada on Saturday, October 26, 2013 and are looking for something to do, Microsoft is slated to hold a Grand Opening celebration at the West Edmonton Mall.
Tagging along for the excitement is Dierks Bentley (opens in new tab) of Country Music fame and fortune. Bentley will hold a concert that evening at the Ice Palace in the West Edmonton Mall.
The line for the event starts forming at 10:00p.m. on Friday, October 25, 2013 with the actual Grand Opening not taking place until 10:30 a.m. on Saturday, October 26, 2013.
Why line up so soon?
Well...the first 200 people in line will receive two free premiere viewing tickets for the Dierks Bentley concert. One ticket, more than likely for a friend, will get you into the concert. The other ticket, which you'll likely keep for yourself, will get you admission to an after-concert meet and greet with Dierks Bentley.
If you're not in the first 200 in line, have no fear. The next 1,100 people in line will get two premiere viewing tickets to the concert as well (doesn't include the backstage meet/greet access).
It sounds like an interesting event and nice to see Microsoft continuing to expand it's retail presence. Now if they could only open up a store in my home town....
If you need to find all the details on the Grand Opening at the West Edmonton Mall, head on over to the Grand Opening Celebration at West Edmonton Mall with Dierks Bentley Facebook page. (opens in new tab)
George is the Reviews Editor at Windows Central, concentrating on Windows 10 PC and Mobile apps. He's been a supporter of the platform since the days of Windows CE and uses his current Windows 10 Mobile phone daily to keep up with life and enjoy a game during down time.
Do I get royalties for that picture I sent in? Haha.

Damn you Microsoft. We need a store in Square One, Mississauga. There's a reason why our city is the only city in the whole of Canada to have at least 5 Forbes 500 companies headquarters. Were the fastest booming city in Canada.

HA, yeah and you can even sign up to pre-register to camp out in the mall the night before, WTF?

I'll send you pics of the people waiting. Spolier alert....most will be people walking by.

Ok, come on... where is the Calgary store? More people and more money here.

Yeah but Calgary is filled with cowboys who don't need no stinking fancy compooter.

We don't want computers to "freeze" /s

Agreed. Calgary makes way more sense than Edmonton. Chinook Center especially.

Not since West Edmonton Mall is one of the biggest malls in the world.

If you understand retailing and sales per square foot numbers you'll understand that Edmonton is the smart choice over Calgary. Edmonton has more retail space per capita than any other Canadian city for a good reason.

I have no idea who Dierks Bentley is, but I'm looking forward to checking out the new MS store in my city! I'm actually pretty pumped. The store will be located right beside the Ice Palace, so the concert will be right close to the store. Smart planning. I just wish that MS carried unlocked unbranded windows phones in their store, like Apple does. That way I could get my hands on something like the 925 which no carrier in Canada offers. But I do really want to check out the Surface Pro 2!

Good news is that they're opening a pop up store in Southgate too :)

I'll be attending the opening, not becasue of Dierks Bentley though.

Dierks will be so hurt.....:)

I thought they were gonna have a store at Eaton Centre... What happened to that idea?

There's a small kiosk that has a few phones and the Surface.

I was told that they were waiting for a free spot to open up.

Need one here in Boise, we have at least three Apple Stores. One downtown, one at the mall and another in West Bench. Save me, Microsoft!

Need few of these in the uk

How about one for New York

IDE love to go I live in athabasca.. I work Saturday :'(

Concert is a county artist.. If it was rock or pop IDE be in line..

Montréal s'il-vous-plaît.

I was kind of hoping Microsoft found the allspark.

When are we gonna get one in Australia?

They are very nice stores. I was impressed when I went to one recently.

Way to pander to the locals by bringing in Dierks. But on a serious note where is the Metrotown store?


This is perfect since I'm moving back to Edmonton in January!!! :)

Macklemore and Ryan Lewis will be putting on a free show and the first 1500 people at the Jacksonville Florida store grand opening on November 20th get 2 free tickets. Not a huge fan of Thrift Shop, but love just about every other song from them! Can't wait, and will definitely be waiting in line for our opening! Way to go Jax!

Glad to see so many Albertans representing on this article. I look forward to checking it out next summer when I come home for a visit..
I read through to the end to see where the Oilers vs. Lames post was. Let me be the first - Go Oilers (and they use SharePoint too - MS love)...

Us Oilers fans are hiding until they start doing better. Those of us who had high hopes going into the season are anyways.

About time Microsoft brings there big store to the world's biggest mall! WEM

errr, you mean North America's biggest mall. Either way I'll be there!

South china mall, and Dubai mall...

I bought my Surface Pro at the pop up kiosk last year there, and will hopefully be picking up a Surface Pro 2 512GB on Saturday at this new store. I can't wait!!

I can't wait for their Bunarby store to open up here in Metro Vancouver!!! I just pray that it's on a weekend (preferrably saturday) so i can go!

That Windows 8 window display looks awesome.

I wonder when they will open one up in The Netherlands. They promised Dutch media last year they would but so far nada...
Windows Central Newsletter
Thank you for signing up to Windows Central. You will receive a verification email shortly.
There was a problem. Please refresh the page and try again.