Microsoft slashes Windows Phone developer registration fee to just $8 for 8 days [Update]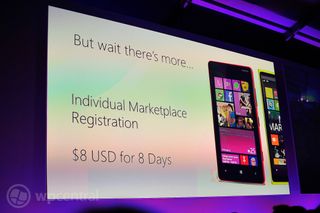 Microsoft has announced today plans to slash its Windows Phone developer registration fee to just $8 for 8 days in an effort to get more developers on-board with the company's mobile platform.
The fee, which is usually $99, will be applied to all new registrations in the allotted time frame - the next 8 days as for as we're aware. Be sure to head on over to the Windows Phone Developer Centre (opens in new tab) for more information when it's available.
Update: According to the Windows Blog:
Windows Central Newsletter
Get the best of Windows Central in in your inbox, every day!
Rich Edmonds was formerly a Senior Editor of PC hardware at Windows Central, covering everything related to PC components and NAS. He's been involved in technology for more than a decade and knows a thing or two about the magic inside a PC chassis. You can follow him on Twitter at @RichEdmonds.
I saw Joe's tweet and my jaw dropped, I'm so signing up!

Never mind, I don't have $91 to lend Microsoft.

They charge you $99 and refund you $91 in 30-45 days. Um, ok.

They withdraw the full $99 from your account, and then refund you $91 a month or so later.

Just paid with PayPal and on the Accept and Pay page there is no amount shown. Clicked Accept and Pay button and was charged the full 99. They really should tell you it's going to be refunded later and I wouldn't of immediately entered in a dispute with PayPal.

Will my student dev account expire when I graduate? If so I should jump on this.

No, it shouldn't. It should stay active as a student account for one year from the time you signed up.

As far as I know, dev accounts expire a year after you sign up for it. I graduated in June and my dev registration is going to expire in a few weeks (since my dev account started Nov of last year) so I'm taking advantage of this.

mine is still active 2 years later

Are you sure you weren't charged another $99 for that 2nd year?

Mine expired, but I didn't realise until all my custom apps stopped working. Go to XDA and get your phone full unlocked and ensure it wont re-lock ;)

Tried to register as a dev. It's still EUR 75! Am I doing wrong? Just for the US?

From what Joe B tweeted, the difference will be refunded back in 30-45 days.


I hopefully don't think so. Perhaps the website hasn't been updated to reflect the price offer.

I will keep checking on it because I was going to register an account in the coming weeks but with his offer, I may do so now and take advantage of the promotion as long as it is worldwide, not just US-based.

It still says 99$ on the website?

It still says 99 bucks, but I'd give it some time. Maybe they are waiting until after today's event before they change the pricing.


I have a student account right now.. Which expires in about 3-4 months ... Can i upgrade or renew my subscription now?

"Windows Phone 8 is out, the tools are available, and devices are about to be released—it's time to get coding. As an added incentive, for the next 8 days individual developers can register for a Dev Center account for just $8 (a 92 percent savings). Please note because this is a very limited time offer. You'll be charged $99 USD or equivalent in your local currency, and we'll refund the difference in the next 30 to 45 days. Watch for more details on Dev Center soon."
So who is ready to take the rsik ?

What risk? It's official from Microsoft. I recently did it. CHeck that tweet from Joe Belfiore: https://twitter.com/joebelfiore/statuses/263345219033001987

WTF, I JUST paid the $99 last week.

That's what I get for trying to be pro-active and get a head start for when the WP8 SDK came out.

I was a click away of doing just that last week but I thought why not wait until Build this week to see if there were any deals or promotions.

The wait paid indeed. Sad for you, though.

Does anyone know if this is only for new subs or it also apply to renewing dev licenses?

I think mine expires this month, bet it won't stand for existing devs though

I'm in the same boat with my account getting renewed this month. It would be great if they would extend the offer to existing devs as well.

I want to hop in but I dont have a $91 to give away for 30days... :| college life

If you're in college chances are you can get a Dev license (and a lot of other MS goodies) for free or at least cheap. Check if your school has Dreamspark, if it does you can get sign up for a Dev license for free.

College = free with the student sign up....

So is the Dev Center account simply the new App Hub membership, or will I not get my ~$90 back if I sign up for an App Hub Annual Membership? Thanks for your help.

Yay! Now my dad will buy me a subscription :)

"We're no longer offering this promotion for a Dev Center subscription. If you think there's been a mistake, contact our support team."

http://i.imgur.com/v07tr.png screenshot

Wow, I would have jumped on this, but like most others, I'm not here to lend MS $91.

Anyone knows if this is applicable outside US, like here in India?

Killer feature here is that you might get a pre-release of 7.8 at some point. Dev accounts got 7.1 LONG before release.

Ah f**k it! I registered on Sunday to get an app out and on the Marketplace quick.
Could of saved £60

Okay they've updated the developer registration page with information about $8 deal.... it is supported in all countries listed here: http://msdn.microsoft.com/library/windowsphone/help/jj215599(v=vs.105).aspx
More info: https://dev.windowsphone.com/en-us/join

It's a shame I signed up for this a month and a half ago. :(
Windows Central Newsletter
Thank you for signing up to Windows Central. You will receive a verification email shortly.
There was a problem. Please refresh the page and try again.