Video tour of the new Microsoft flagship store in New York City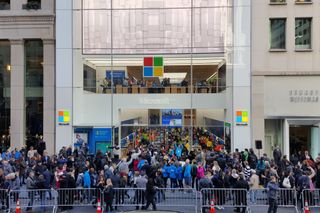 Earlier this morning Microsoft cut the ribbon on their giant new store in Manhattan. Although it is technically five floors, really only three are for the public with two reserved for Microsoft and one exclusively for Dell and their range of hardware.
We toured the place and shot plenty of video to capture the once in a lifetime event. The crowd was massive and more importantly lasted. After 90 minutes, there was still a line around the block, and we were shoulder to shoulder with people inside, many of whom were buying new Surfaces or waiting in line for a Surface Book.
Image 1 of 17
Overall, it was a gorgeous fall day, and Microsoft seems to have done it all right by this store. Later tonight, the store will be transforming over into Halo 5: Guardians more to celebrate that launch at 12:01 AM. We'll also stop by that party to grab some photos and see the turnout as well. For now, check out our photo gallery and three-minute video tour. Let us know what you think!
Windows Central Newsletter
Get the best of Windows Central in in your inbox, every day!
Daniel Rubino is the Editor-in-chief of Windows Central, head reviewer, podcast co-host, and analyst. He has been covering Microsoft since 2007 when this site was called WMExperts (and later Windows Phone Central). His interests include Windows, laptops, next-gen computing, and for some reason, watches. Before all this tech stuff, he worked on a Ph.D. in linguistics, watched people sleep (for medical purposes!), and ran the projectors at movie theaters because it was fun.
So nice to see soo any people in the store!!

I wonder how many were thieves.

http://24.media.tumblr.com/tumblr_m7h3k1cQF41r4wyx0o5_r2_250.gif

I think Microsoft secretly would love it if they got robbed at their first day... but lets face it, there's no big black market for Lumia's yet, and hiding a surface might be tricky. I think most thieves prefer iPhones, they've got 'insane' 2nd hand value, and are way more common.

well you are some what correct. Stupid brainless/brainwashed people buy iJUNK phns, and who robs them????? Those with no brain and are stupid as well, just to get something that 4 years BEHIND technologies of others, including 950/950XL. So if they want to rob iJUNK with 4 years old specs, let them, no big loss here. that's what i call iSHEEP and those thieves, Dumb and Dumber:-D

I wonder how many were Apple fanboys basking in their secret love for Microsoft (that they will never admit in public)! O.O

I KNOW RIGHT? Looks gorgeous! Way better than the ugly grey spaceship Apple store. I really love the way they laid out the Microsoft devices and how they even have special sections in the back for the OEMs.

OEMs. They are very important for the ecosystem, and it is very wise that they promote them. This is one of the advantage Android has over iOS and Windows over OSX.

What an annoying music! Thanks for the quick video though.

The bass drum reminded me of my cat coughing up a hair ball Posted via the Windows Central App for Android

The snare you mean. It was awful, out of time and like a dustbin lid being hit with a chicken.

So....did you guys encode your video on your new Surface Book???

Quite an extravaganza! Thanks for the video and slideshow. I'm thousands of miles away but just got to "feel" the atmosphere. New York is still New York. I must bow for these kinds of events. They are THE stage.

Why New York any better than any other major cities like London for example?
MS must open a flagship store in Europe.

+1520 on Microsoft opening a store in London....

Not saying there shouldn't be a store everywhere, including London. But the Flagship Store is where it should be. Even if I never go to New York myself.

10546 on the 950....interesting that it's behind us now.

You could put 10166 on that beast and it would work better than 10546 on many devices XD

Great coverage Dan. Did they have the Lumia 950 as well in store or just the 950XL? I think I'll take a Saturday to go here and tour a little through New York since I've never been as an adult. Posted via the Windows Central App for Android

This is absolutely amazing! Love the turnout, and the store looks gorgeous! Looks like the 950 XL is back on display :D

So the Lumia duo are back! Wonder if you guys transferred over the snaps you guys clicked with them for us to see :) If you did, PLEASE upload them as well :D

It's hard to believe there are zero security wires. They undoubtedly have another system to ensure nothing gets stolen, but it's still surprising.

Yeah, the first thing I thought of when I saw that crowd was how much stuff is getting pilfered.

Might be just for the opening day. Or, like you said, some other system.

Any idea how much the rent is for that store? You would flat out drop dead when you hear the price. You think Microsoft cares if a few devices are stolen a year? The impression they make on people by showing so much trust gains them much more in the long run.

Eww. That dude with the KC hat needs to be edited out. Where's your New York pride??

Maybe he is a American league fan or a Yankees fan, i live here in the city but im not rooting for the Mets

Probably left in the regular season with the Yankees? Or maybe he's not originally from New York.

Outstanding store keep it up Microsoft!!! Just need a few windows mobile to close the gap

Looking Kinda Excellent.
So Microsoft When in Europe: Berlin, Paris, London and Rome ?

I'm sure I heard a rumour about plans in the UK a while ago but haven't heard anything since. Not sure what the big deal is to open a few stores here, would be really cool to see a store I'm Reading since they have their UK HQ here.

Regent street, right opposite the Apple store would be perfect

The camera is absolutley amazing! Look at those details!

Amazing video. Amazing store, juat hope MCSoft will make few stores in Europe.

Daniel / Mark, So that explains the bus :) And thanks for taking extra time to show more photos of the 950XL :) Any chance you saw what the FCC id for the 950XL was? PYARM-???? The view through the "lens" of the crowd looks very similar in color to the DSLR you are using also - nice!

Hope Microsoft will also open a flagship store in Dubai. Apple has just opened their first flagship store few days ago here in Dubai, UAE.

Good to see the 950XL on display! Any sightings of the 950?

Dang nice store. I did see this store in a previous video, i think was the verge. After the oct 26th conference with some Indian guy interviewing with Satya.

Yup, The Verge interviewed with Satya in this store. His name is Nilay Patel, Editor Chief of The Verge.

Cool stuff. Lucky New Yorkers. Also, loving this premium hardware side of Microsoft. Finally someone on the same Surface as apple. Great to see partnership with Dell too. Since, Dell is the only Microsoft OEM partner that stepped up its game in this cutthroat technology era. And came out with some fine consumer oriented XPS models.

What's up with the guy @ 1:22?? Looks like he's not happy with the lanyard and throws it away?

In pics, I can see more details from the 950xl camera than from the actual one. :p Posted via the Windows Central App for Android

What game was that playing in the background with the city?

If I ever come to New York as a tourist this would be the first place in my list.

Stil no story about device nights, read a few colums in neowin, so far the response has been great and the turn out encouraging. Pls wc, we need some updates about device nights. Thanks

Does this mean 950XL has been returned to Microsoft Stores now?

Only the NYC 5th Ave store got to keep the Lumia 950 XL's.

I swear Microsoft at times have their bad days and good days and today is definitely a good day. Grand opening and a big release day for Halo.

Microsoft are Innovators of Next Generation, never CopyCat, hell you talking

Nice store... Now Just start to open small ones around the world, Microsoft is to closed to USA and Europe, and there are millions of customers around the world who sometimes have to pay even higher prices for their devices and they seem to don't care about. Please give some love to your loyal customers around the world.

It's a work in progress. The Apple store has a five year head start on Microsoft. I'm sure there will be Microsoft stores all around the world five years from now.

Damned! Looks like an Apple event if you will! Nice to see the Mojo on Microsoft's side. They definitely lit a fire with so many great W10 producsts coming out. Waiting for my Band 2 to ship!!!

Can Microsoft do something like that here in the West Coast? The Store here in Century City is due for a makeover like this!

THAT CAMERA THOUGH!!! Pureview magic!

Thanks Daniel I made it into your video, all but a split second. For those others, I was on that line @ 6:45am. We had fun and got some cool discounts for waiting. They gave away 2 Surface Pro 4s, 2 1T XBoxes, 1 Band and 1 Surface Book and of course we all get to see Pitbulls concert tonight in Rockefeller Center (50 lucky people in line will get to meet him tonight in person). I ended up buying a Surface Pro 4.

Did you see the 950/XL? Thoughts?

I did. And I don't want to be to brutly honest cause I know a lot of people want it. But let's just say for me (I own an 830 now), I won't be getting one. Only the 950XL was on display. For $650 US dollars, it's not as premium as I would like. Specs are great, all the hardware is great, but to me if felt very plastic for that price point. For a phone to cost more then the Surface 3, and close to a Surface Pro 3 price tag, it's not money I would spend. If price is not an issue, then it's the best Windows Mobile 10 phone.

So replace the back with a Mozo backcover to make it premium looking.

So add another $50 for that, so your phone is $700 (Fyi, a Galaxy Note 4 in the US is $685, an iPhone 6s is $649, yes its smaller but the iPhone 6s Plus is $749, so only $50 from your new total). This phone might be able to power a keyboard, a monitor and mouse for Office, but again, for me, at this price point, dropping that kind of money, it better run every bank app I have accounts in, work with the Metro systems in every state or country I visit cause I travel often, have a working electronic wallet, have every airline app to track my flights and points, have broker apps to track and manage my stocks, every credit card company and be able to get Starbucks, Oh and I'd like to try Snapchatting some day. Yes there are third party apps for some of this, but again my point is, at this Premium price point I would need a Premium experience. That's how I evaluated it. I'm not jumping ship off Windows Mobile, I'm just not upgrading at this price point.

Thanks! For me, in the pics and videos it looks better every time I see it - sure, I am positively inclined from the get go. Will have to see how it feels, but am not terribly worried, I am sure/sure hope it is nonetheless very solid feeling.

great! now please everywhere around the world :) when in europe?

Store looks awesome and it was jam packed. I'll probably walk in and buy my 950 whenever it becomes available. Too bad I couldn't get a surface book.

The video gives a great impression. Also the 950XL is displayed in high res so we get a better real life picture. Thanks!

That's what she said.... Sorry, couldn't help myself...

I went there to check if lumia 950 is available. But after seeing the crowd and line returned. Will visit tomorrow

No 950 on display, they only have the XL, and they have no clue when it will be available.

Looks empty... Posted via the Windows Central App for Android

Is it just me or does anyone else think the opening of the store was perfectly timed. After the October 6th event the tech world is talking about Microsoft and it's products with enthusiasm again and bamm the flagship store gets opened. It's just really good PR. I'm loving it!

Curse them for the OS not being ready on mobile, so many potential converts to be made on that day in that store. All those people in the photos, videos have iPhones in their pockets.....maybe one day.

Very good to see the depth in the store, really demonstrates how far Microsoft have come over the last few years.

So were there transactions happening? My experience with their stores so far has been that I was typically the only person actually buying stuffs, when I did of course.

When I was online, there were few people interesting in buying anything. Everyone primarly wanted free Pitbull tickets. But once the store opened people shopped. The biggest bargin was $199 XBOX w/Kenect Refurb. They were selling.

I went to the westchester Mall this morning and they did not have any of the new Lumias...oh well I guess I will have to check those out in the city

Just went there, packed......a lot of people buying surfaces.......no Lumia 950 for some reason, and the staff have no clue when the 950xl is even going on sale. 950xl is pretty basa$$ though. I so wish I waited a year....i paid close to 2g's for my i7 256gb SP3 bundle last year.... Everything about the 4 is better, specifically the cover, pen, and the most important issue of all..... heat management / throttling of the i7

What will be interesting to see if how busy this store will be once this grand opening appeal wears off. There are Apple and Microsoft stores in the same mall in the Cleveland area. The Apple store is always packed. The Microsoft store is usually dead. Posted via the Windows Central App for Android

Are you from Cleveland? Me too. Glad to see others from here. Also if you're talking about Beachwood store.. Here's the issue. Every time I walk in there and ask questions... More than half of them give me wrong answers. They don't know their products in that store. I asked the guy to see a phone and he handed me the wrong one and said it was the one. I'm like uh sir... You gave me the 640 xl... He's like huh? No that's the right phone. I'm like trust me... Now I go in there just to make them look stupid sometimes.. Oh well

Yes, I am from Cleveland and that's the store. The Apple store always has a good crowd. That's unfortunate they gave you wrong information. Posted via the Windows Central App for Android

These stores need the equivalent of the genius bar. People need a local place for free advice. This is a big part of Apple's advantage. No one wants to wait on a phone and Microsoft's help pages are infuriating, "So let me see if I have this right, your blue tooth mouse won't connect . . .". Non tech people should like Windows, but they'll need help and will just go to Apple if help is an ordeal. That and staff who know their products. You can count on Best Buy only so far to have your back.

All full line Microsoft Stores have Answer Desk support available to anyone, even if they haven't purchased a computer from Microsoft. Plus, I'm pretty sure nothing at Apple is free. Also good luck getting a genius bar appointment less than three days in advance.

Actually, they do. MS even does free workshops to sharpen skills with productivity software and what not.

I just got a job in Cleveland, and I start on the 2nd. Glad to hear there is a Microsoft Store regradless of the quality of people working.

Pulled out my 1520 the other day in that store and the guy helping me preorder my Surface Book and Band 2 didn't know what it was. Granted, they don't carry the 1520, and I have never seen him, so he was probably new to Microsoft.

See how people actually not become happy by technology. Look at their faces. Everyone looks stressed and depressed. It is an illusion and even I fall for it. I long for a 950l but I already know that 1 week after I own it I am completely used to it. It's all short term happiness and always longing for the next. Only few people are able to truly enjoy it.

What are those white plates under the surfaces?

They're sort of like ceramic place mats for the product so it doesn't scratch the table. The ones in the NYC store look like they have an acrylic surround but most stores have plain ones.

Anyone else notice that they had a Hololens prototype prominently on display? I know that none of the stores in the Washington DC vacinity have one. As for the size of the NYC store... well... WOW!

While in line for the opening they gave away 20 Hololens demos of Project XRay, and yes, I won and got to try it for 15 mins. It's very cool.

I think they had two or three of them on display. Would be nice if they took one of them and brought it down to their store in Arlington. Hopefully they'll also bring back 950/950 XLs to demo.

Micorosoft has now so many products. Why aren't there any stores like apple stores everywhere around the world. That would change a lot. People would have feeling that have some kind of support and direct contact with Micorosft staff. That is important in sales and in the whole concepet of relationship between the customer and the company.

there still new to the expanding thing so its going to take awhile compared to apple. lets not forget Google has no physical stores

It's a work in progress. The Apple store has a five year head start on Microsoft. I'm sure there will be Microsoft stores all around the world five years from now.

We are the Microsoft community, we all love the store, products and services from Microsoft. That been said i believe the real question is if we liked the videos and photos you post? I love it, the music for the video was very good.

Wish one on my country too. Cool.

I wish there was something like this in the UK. Atleast it would grab some attention away from the Apple stores everywhere around.

The clarity of the Lumia cameras. OMG.

Wow awesome store looks great...hope they open in India bombay...Heard Lumia duo delayed in India..would love to buy it go diwali...my mozo cover will ship on 16 nov

Will be visiting the store for sure when I come to NY in March next year from Oz. Yeehoo!

Didn't make it for the grand opening ceremonies, but did stop by after work. Everything is displayed very nicely and I love the "Dell Room" which should really be called the "Alienware gaming lounge." I love how extravagant and high-quality everything is that is on display. Finally got to test out the 950xl and ... well I'm probably going to hang out to my m8 a while longer, but will eventually upgrade. And wow... sooo many people.

Agree with your assesment of the 950XL, I'm holding on to my 830 until it dies. Then we'll see what new phones are out. This one didn't wow me.

Mind blown!!! I hope this becomes a trend across the whole world, they sure have the products and know how to make it work. I want one in my country!!!

Nice video, according to what I saw, it seems only Dell and their Alienware division got a noticeable mention in the store, didn't see too much of any other OEM?

I went into the Microsoft Store in the Mall of America a few months ago and it reminded me of a Hollister. There was super loud teeny bopper music blaring overhead and I had a hard time listening to the sales associates. I'm going to go to Best Buy to buy my Surfacebook (when I get my Christmas bonus) in a couple months. It's so much quieter.

I'm sure if you'd asked them they would have turned it down. Microsoft Stores like to promote energy and excitement. Most people enjoy the experience of high energy but have fun at Best Buy!

I'm an introvert and I find the high energy environment to be irritating. I would assume you and others would recognize that not everyone is like you.

Our Microsoft store in West Edmonton Mall never has loud music playing. In fact, I don't remember hearing any music at all. Those types of things are probably decided by the local store manager and are not chain wide policies.

I don't live in a big city, so I guess I just need to accept that I'm one of the unlucky people that will never get to see this kind of thing, so I'm just going to hope that this helps people realize and get to see that Microsoft really does have better stuff than the others. Good luck and enjoy!

I made it in the above picture - dead center - green beanie hat (in profile) walking to the right. Thanks Windows Central!

I wonder if they have RFID tags on the hardware to protect against theft.

dan thanks for the video, i didnt have the time to check the store out but it looks nice i had to take a quick look while i was nearby

Good idea to show us a video because I don't think I would have made the opening, however my brother said he would check out the store when he's in the country, I really like the design of the store and how everything is labeled and sectioned and how the floors have different departments and I like the fact that the staff look happy that they are working there!!!!!! I think they made the right choice to open this store, especially how they are a hot commodity right now, minus the phones, but I think the 950/950XL should at least open the door a little bit for them to experience some growth or at least some excitement around a Windows phone!!!! I also like how they have a gaming and showcase area, not to mention a space for the OEMS, I'm sure its a fun store to be in and not another place where they are just looking for their commission and try to sell you something when you don't need it!!! Oh and nice XBox Jacket!!!!

I like how Daniel is in the store playing with devices like "cool, whats this here.." haha.

I like your Xbox jacket :) where did you get those?

Where is the Lumia 950XL? Second floor? I can't find it anywhere...

First floor, on the left wall

Five stories! I was interested before but now I want to go for the sheer spectacle of it all.

I never found a better context for this meme: Pls come 2 Brazil!!
Windows Central Newsletter
Thank you for signing up to Windows Central. You will receive a verification email shortly.
There was a problem. Please refresh the page and try again.