Microsoft teams up with Corethree to build mobile ticket transport apps in the UK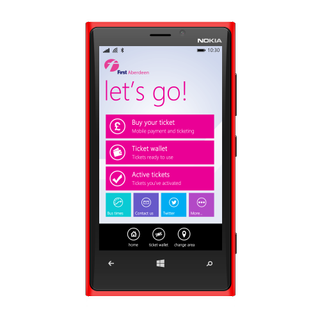 It has been announced that Microsoft and Corethree have entered into a new partnership for the latter to build and launch a variety of m-ticket apps for Windows Phone. The company's work can already be found on both iOS and Android, but Windows Phone owners will soon be able to purchase tickets for UK transport on their handsets with ease.
Microsoft's latest move to attract more official content to its mobile platform comes as Corethree applications achieved £2.1 million in m-ticket sales per month from a user base of over 500,000. Supporting multiple gateways, including credit cards, Barclays Pingit, direct to carrier billing via Boku and PayPal, Corethree will also be featured on all major platforms.
Expect to see companies like First Group, Go Ahead and Translink make their apps available on the Windows Phone Store. See the press release for more details.
Corethree to Build First Windows Phone M-Ticket Application
Watford, December 2014: Corethree, the leader in m-ticketing solutions and innovators in mobile technology has signed an agreement with Microsoft. This means that all the Corethree m-ticket applications will soon be available on Windows Phone, as well as iOS and Android devices.
The application experience will be similar to the versions currently available but with some exclusive Windows features to be announced shortly. The UX is built around the very distinctive visual design language of the Windows platform and will, in time, feature some exclusive customisation to make the end user experience as smooth and efficient as possible.
The agreement comes as Corethree applications hit £2.1m in m-ticket sales per month from a user base of half a million. Thanks to a raft of high profile m-payment partnerships all applications now include multiple payment options; credit card, Barclays Pingit, direct to carrier billing via Boku and most recently PayPal. With the addition of Windows Corethree apps are now available on all smartphones.
Ashley Murdoch, CEO Corethree says:
"Working with Microsoft is an extremely significant step for our business. Our apps are being used every single day by people choosing a quicker, secure and more efficient way to book and pay for travel and now this will extend to Windows Phone users. Our operator clients are excited about being able to extend their m-ticket offers to a wider audience. It's a tremendously exciting time to be working on these kinds of solutions - we're delighted to have the support of Microsoft to explore Windows' full potential."
Corethree is committed to helping its clients use mobile technology to increase sales, improve customer service and become more efficient. From now on companies that use its solutions, including First Group, Go Ahead and Translink will be able to make their apps available in the Windows Store.
In the past 6 months Corethree solutions have processed over 2,000,000 bus tickets, equivalent to around £12,000,000 of revenue for its clients, and these numbers continue to show excellent growth. The company is extending its offer rapidly through milestone partnerships with Boku and PayPal. Making its applications available on the Windows platform is another move to give more people access to its award winning m-ticket solutions.
Windows Central Newsletter
Get the best of Windows Central in in your inbox, every day!
Rich Edmonds was formerly a Senior Editor of PC hardware at Windows Central, covering everything related to PC components and NAS. He's been involved in technology for more than a decade and knows a thing or two about the magic inside a PC chassis. You can follow him on Twitter at @RichEdmonds.
Oh good hoepfully the new Virgin East Coast franchise will have an app!

Mainly stagecoach. Virgins apps haven't been too bad but Stagecoach definitely needs one!

Virgin West Coast is mostly Stagecoach anyway. Just East Coast is more so.

They'll just use the existing Virgin Trains app currently available...

Rarely use public transport but I see great potential for this app in the UK.

Excellent to see Microsoft proactively helping to fill the remaining gaps in local apps :)

I like how this article's thumbnail appears on my home screen with the accent color. That's new.

This is good news, First runs a majority of the UK's Buses

It's pretty much a Stagecoach monopoly where I am.

Not true at all. It's First, Stagecoach and Arriva.

Rarely catch the bus, but this means I won't need to search for the exact change in the future if I need to :D

Regardless of the fact that this is a great app for the ecosystem, the fact that MS enters these partnerships are more important for the platform than anything else. Well done MS!

MS is doing some cool stuff recently.

Hey, I bet you used Device Shot for the article pic :-)

Good to see the 920 still being the poster boy..err..phone :)

I hope they make an app for Thameslink as when the franchise changes from first capital connect to Govia Thameslink they didn't rebrand the fcc app for windows phone, just discontinued it

There are 3 Govia Thameslink app in the store, Great Nortern, Thameslink and an Explore Cambridge one.

those are not apps, they are web wrappers. It doesn't even come anywhere close to the real app first capital connect had in the store. Govia Thameslink are a joke.

Ahhhh so they are. We seem to get this all to often on Windows Phone from companies saying they've released official apps when all they are are bloody web wrappers! It's a joke and it shows they can't be bothered and don't take WP or it's users seriously.

Cool deal , more Official apps, now the butterfly effect.

I prefer Stagecoach, but plenty of First buses near me - 'bus wars' commence.

Erm... I think Masabi might have something to say about this being a 'first' - you can already get m-tickets in the UK on Windows Phone! Various rail operator and ticket partner apps can deliver m-tickets. Examples include the RedSpottedHanky app, and the Virgin Trains app.

this is nice, going to be useful when i travel to Europe next

All good news... I only travel Virgin trains where I just use the Virgin Trains app for purchasing, only thing I want next for transport is the ability to use my phone to go through London tube gates instead of using my amex (or oyster)...

What percentage of tickets you can buy on the app available as M tickets?

Near enough most of my recent trips (last 12 months) have been via M-tickets on Virgin Trains, only odd occasion has it required for me to visit a machine to collect tickets.

Good to hear. I've always found it pointless having an app where you can buy tickets but you still have tk go to a TVM to collect them. Same with e-tickets or print @ home ones, surely showing the pdf should be enough?

"It has been announced that" is the most awful case of passive voice I've seen today.

YES! Having recently got a Note 4 as my contract upgrade one of the things I've started using is the First m-ticket as pictured in the article. This is one if the main things I needed on the way, just want a HSBC app sorting now...
Windows Central Newsletter
Thank you for signing up to Windows Central. You will receive a verification email shortly.
There was a problem. Please refresh the page and try again.