Microsoft teams with SITA to build Windows 10 app for airport staff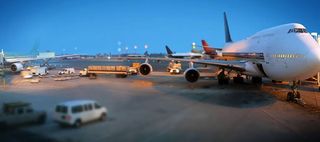 SITA, the corporation that provides information technology and services to the air transport industry, has partnered with Microsoft to create a Windows 10 universal app for ground operations at airports. The app, SITA AirsideApp, works with phones, tablets, and even the Microsoft Band.
From SITA (via SuperSite for Windows):
The app is already in use at airports throughout the Middle East and Asia. In addition to ground operations, the app can also be used as a point-of-sale terminal, allowing gate agents to sell services to passengers, such as lounge access, seat upgrades, and more.
Windows Central Newsletter
Get the best of Windows Central in in your inbox, every day!
Awesome to see many going paperless with the Surface. To make it truly effective, I added a portable scanner to my Surface Pro + OneNote toolset (the Avision MiWand), for ALL those situations where someone is still living in the past giving physical handouts instead of PDFs... Posted from my Surface Pro 2

Every time I see the abbreviation SITA, my brain instantly expands it to "Stay In The Air", even though I know it stands for Société Internationale de Télécommunications Aéronautiques Posted from Windows Central for Windows 10

Amazing to see how one app (UWP so literally one app) can make a huge difference directly and for us passengers indirectly.

We are in the private aviation industry (jet terminals and chartering) and have developed(ing) our own corporate W10 universal app(s) for things like aircraft fleet status and flight tracking, managing aircraft ground services, and customer reservations. Windows 10 has far more going on in the enterprise world than the individual consumer of a Lumia 640 might know. WC articles and comment sections often reveal a much narrower vision than what we see from our desks. Windows 10 is revolutionary in many aspects. A real game changer in the back office and IT world. I'd even say it has returned a big dose of fun and excitment in our part of the workplace.

unfortunaly most of things are mesured by commercial (public) success... Let's hope win10 comes there in time to boost the sales of new phones in 2017. My money is ready

Now that is some excellent news to hear about. Technology at it's finest, leading the way to better work environments. P.S I hope that they get their notifications on time. JK :D


1st thing comes to mind is "PC doesn't do what" ad inspired by top gun
Windows Central Newsletter
Thank you for signing up to Windows Central. You will receive a verification email shortly.
There was a problem. Please refresh the page and try again.