Microsoft kicks off universal Windows games with Halo: Spartan Assault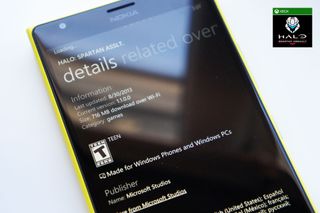 Halo: Spartan Assault has gone universal: you can buy it once on one Windows-powered device and download it on your others. As we noted yesterday, Microsoft started accepting submissions for universal apps, and combined with the new unified pricing tiers and [universal app development] and automated certification we're starting to see the first universal apps appear. A notable entrant: Halo: Spartan Assault.
Nothing about the game itself has really changed — it's still the same great touch-driven strategy game that we know and love, but now that $4.99 price tag is good across your own personal Windows ecosystem. Buy it on your Windows Phone, download it for free on your Windows PC. Or do the opposite. The Windows Store and Windows Phone Store don't care.
Apps and games that are certified universal are annotated with a new "Made for Windows Phones and PCs" icon and text. Let us know in the comments what other apps you see that have been updated as such.
Halo: Spartan Assault – Windows Phone 8 – 691 MB – Store Link
Halo: Spartan Assault – Windows 8 and RT – 843 MB – Store Link

(opens in new tab)
Thanks to Anchel and Luís for the tips!
Windows Central Newsletter
Get the best of Windows Central in your inbox, every day!
Derek Kessler is Special Projects Manager for Mobile Nations. He's been writing about tech since 2009, has far more phones than is considered humane, still carries a torch for Palm, and got a Tesla because it was the biggest gadget he could find. You can follow him on Twitter at @derekakessler.
Good news all around. Feels like Xmas but better since I'm getting something I really like

I don't usually do this (comment off the comment topic to get to the top), but I figured this is a pretty-important matter: If you mistakenly purchase the game a second time on the Windows Store, go to the Microsoft support, open a chat, and they will refund you the difference. I didn't realize it was charging me a second time, and they refunded it to me right after.

Does it count for purchases made before the changes went live? (eg. During the qualifying period for the xbox 360/1 discount)

i remember getting an email that after i bought this one surface that i could redeem an xbox version. i guess i waited too long because theres nothing in my inbox. anyone else have the same issue?

If we already bought the game on WP, it means we can download the Windows version ? Awesome !

Yup, mine actually worked the other way too. I had bought the game on my Surface and when I was playing with the WP8.1 store yesterday afternoon, I saw that I also owned Spartan Assault on my phone... Score! There were a few other universal apps I noticed, the obvious ones being Xbox Music and Xbox Video A small part of me wishes that the universal apps applied to Xbox One apps as well (would love to play Spartan Assualt on the One without having to pay again), but beggars can't be choosers. I'm just excited to see the platform unification coming along well

Didn't work for me it charged me $5 for the Windows 8.1 version when I bought the Windows Phone version before

Same. I think. It says 4.99 here, then I click on it and it says confirm purchase. I don't wanna click again to try just in case it charges me :/

Well same here man....tried it on my laptop after downloading it on my phone....asking for payment again blah

Maybe it will just take some time to roll out

It worked fine for me. I own it in Windows 8.1 and I am now installing it to WP8.1 without paying a second time. You just have to click through the purchase, it will stop before the final confirmation and tell you that you already own it. From there you can install it to your phone.

Same, I bought it (last week?) when it was on sale on the PC, and now it is a free DL on WP.... maybe it does not work both ways?
Would not be a MS release without a few bugs to iron out... surprised how smoothly the WP8.1 launch went, I have not heard any real complaints yet.

I think you have to have the updated store to see that you own it already so WP 8.1 preview and windows 8.1 update 1

I do have everything up to date. I had update 1 since it was leaked. I'm a computer tech so all my stuff is always 100%

See, the people who said its working had bought it on their PCs first and got it as "owned" on their phones. However you bought it on phone first, maybe it doesnt work that way YET. I could be wrong, I just noticed it.

Bt I proceed after that....and I got the game on my pc too.

It's really FREE. After you click buy you will see a message saying you already have purchased this app. Great news and great game. I almost bought it again when it was on sale for $1.99.

Had the same problem. But I decided to risk being charged another $5. I confirmed the purchase and it realized I have already purchased it before.

Same here, not working on WP even though I own it on Win8. Still wants to charge me. Also shame this does not extend to the Steam version of the game; would love to be able to play it on my Win7 PC as well.

Universal Apps DO apply to Xbox One too, Spartan Assault just isn't one. It's a full game on Xbox One, not app.

Universal apps does NOT currently apply to Xbox One, they only said that they would bring universal apps to Xbox "Many were expecting to see universal Windows apps in the Build 2014 keynote, and they have. However, Microsoft had a surprise in store -- you'll eventually see those universal apps running on the Xbox One, too. Developers will get to write apps for Windows and Windows Phone that translate to a TV screen with relatively little effort. The company hasn't said exactly when you'll see these multi-platform apps pop up on your game console, but we're hoping they appear sooner rather than later." http://www.engadget.com/2014/04/02/universal-windows-apps-on-xbox/

I also bought halo for Nokia 2520 when it was on sale, I thought it was mistake when I saw that I owned 2 halo sparten assault.

I think that is coming in a future update for the Xbox one

i believe W8.1 store need the update shown by Microsoft on stage at BUILD, WPCentral should note this in the news.

Same here, I bought it when it was a promotion on Windows and now I can download on WP at no additional charge :)

I thought it would include Xbox too?

I'm sure in time, this will spread to Xbox One as well.

I could see them getting backlash over that for those who bought the game when it came out then bought it on the other platforms. Unless they credit peoples accounts

I bought it on Surface. Now it shows the price in the WP store. But when I click Buy, it just switches to Install. So working as expected.

With SD card support , now let the apps downloads begin!

the best feature in win phone 8.1 just loving it

Ooohjj...wish the third was Xbox console.

same! just bought it on 360 last week.

It would be nice if they gave some extras to people who have already paid for both versions :I

They simply should give the money back

Exactly what i was thinking. Especially for those who did this months ago

I've heard that if you open a quick chat with somebody on support about it they will refund your latest purchase of the app. Best of luck!

Bought it on my phone a couple days ago...guess I should have just waited. Oh well.

Yeah, i did that, too when it was on sale.

Your ending links shows the price of 6.99

Updated. Cheers for pointing that out!

And it's available on 512mb ram phones as well.

Too bad i've purchased both already :(

I have purchased it on WP, Tablet AND Xbox.

Already paid for it twice. Dag yo. Do you think they will refund one of the purchases?

Probably only on a per user basis if you contact them. Even then, probably only if you bought it on at least one of the platforms in the past few weeks.

I feel bad for you... you must be poor now for paying twice for the game.
how much was your phone and your computer and probably the coffee you drank today? oh wait... never mind

skulls of the shogun is also now universal, looking forwards to getting that on my surface (paid for it on the phone)

How do you know that? I have looked at both Halo Spartan Assault and Skulls of Shogun in the store and I cant se anything that indicates this as a Universal app.

You must wait, not yet released the new layout of store

If you look in the store, there is a little icon with a phone and computer logo next to where it has the price. There is also a section in the store called, "Better Together."

Only on the WP Store. There's no indicators on the Windows Store yet.

I was just about to ask about that one, already have it on my phone and Xbox and want to grab it for my Surface

Still not letting me get it for free in the Windows Store. I even switched my region on my Surface yo US to match the phone since I have it set to US for Cortana.

Already bought both, but I'm excited for this to hit more apps!

I bought this when it first came out on Windows Phone, then a few months later on Windows. Should if waited!

I bought it when Verizon had it exclusive. I'm pretty sure I'm okay with supporting 343/ms with Windows RT + Phone Releases.
Remember, the last time we saw anything on PC was HALO 2.

WTF? Isnt this on Xbox too? Why is it not all 3? Cop out MS, Cop out...

Microsoft has said they are working on brining universal apps to Xbox One as well.

My kids love this on my tablets. Just added it to my phone. Sweet!

And that fixes one of my top gripes with Windows Phone/Windows Store! I just downloaded a couple Windows Phone versions of Windows apps I purchased a few months back. Nice to not get gouged everytime I want to use something on a different screen.

App studio is offering that now. I'd better finish my Xbox one news app and try it out!

Let us know when your app is finished. I'd love to help support an app studio dev.

Wait, so if you bought the game BEFORE it became universal it doesn't count?

I bought the Windows 8 version when it was on sale, I now have the WP version without any extra costs.

Ok, thanks mate! Probably means the change hasn't gone live in LT market yet :)

Now only if it was on sale like the other day.

It just charged me again. GREAT.

Try contacting support... :/

And what about Achievements and saves? They are synchronized or not?

There was shared cloud save support before this change... Not sure whether the separate Achievements lists are affected.

Saves are, achievements not.

So in my profile will be two Halo with the same achievement's? It is bad.

What? Its double the achievement score for playing a single game once. That's a win for achievement hounds and hoarders!

Does it work with WP8.1 store only? I have bought it on my Windows PC, but it is still not free on my WP8 store.

Maybe, a part of the latest W8.1 and WP updates was to bring universal app support. I bought it for W8 and I now have it on my WP8.1 device.

Most likely this is the case. Universal apps are .appx files. That's the type of file that's always been on Windows 8. Windows Phone 7-8 use .xap files. With WP8.1, they added support for .appx files. So I'm guessing this plays a role in it all.

Will it be free on Xbox ? Shame if not ...
Bout the refund if You paid it twice, it would be nice to refund it on Microsoft account

Still wants me to buy it again. (I bought it on my phone, but not on my PC.) I did notice that there are plenty of WP apps with that new badge next to them in the store though, with Halo being one of them. Anyway, this is still something I'm glad is happening. Woohoo!

When will Fruit Ninja become a universal app?

Ask the developer to link togheter both versions.

Well, that is awesome and sucks at the same time - I've already bought it on WP, W8 and X1.

Wordament also seems to be universal. Not that it costs anything...

"Halo: Spartan Assault – Windows Phone 8 with 1 GB of RAM", I have installed the game on my Lumia 620, 512 MB RAM.

It was updated to support 512MB devices after release. Reported on this website. Just a typo probably. :-) Like saying these are the first universal apps, despite Galactic Reign and (I believe) at least one other preceding it.

Universal apps did not excist until Windows Phone 8.1, games have been on both platforms (like the now discontinued Galactic Reign) but not as the same game. Universal app means that it's the same app (more or less). Either by linking togheter currenct apps form both platforms or making one app that with minor differences will work on both PC and WP. Halo: Spartan Assult was one of the first games marked with the new "Made for Windows Phones and PCs"

Galactic Reign was nearly pixel-for-pixel identical on both Windows Phone and Windows 8. And you paid once and played on both platforms. The only limitation was you could only get Achievements on the platform you bought it on.

I bought both w8.1 and wp8.1

Xbox games that are universal: Hexic MS Solitaire Collection MS Mahjong MS Minesweeper Wordament Halo: Spartan Assult Skulls of the Shogun

How do you know that they are universal? I cant se anything in the store to show them as Universal.

Both on windowsphone.com and hte store for Windows Phone 8.1 shows a little icon (large screen and a phone screen) and the text "Made for Windows Phones and PCs", which means that they are universal, aka buy once install on all devices.

There is a small icon in the store for universal apps. It looks like a tiny phone and pc monitor.

What method did you use to find those games, Brian? Is there an easier way than just searching for games that are available on both platforms?

Damn it! At least thanks to red stripe I bought it for tablet in addition to phone not for the full price. Quarter of my daily income here in Russia in worst days. Ah, whatever, great game.

None of the Windows stores offers refunds

I just purchased it on my phone last week when on sale. Checked my windows store and it wants me to buy again. Pff. No. I asked this last week when the article was posted about the store and used angry birds as example. Didn't know it wasn't a universal app... But my suspicion is confirmed. Pre existing phone purchases won't unlock win store apps.

You must wait. The new store layout not released yet

Do i need WP 8.1 for this to work? As when i click buy it says confirm payment of £3.49

Hopefully this will get to Xbox soon. Already double dipped on Halo, not going to do it on Xbox as well.

Meh, I spent $1.99 for the phone version when it was a Red Stripe deal. No big deal. But I do wonder, why don't they include Xbox for universal app games? I know they've constantly said "phone, tablet and desktop". Bit redundant since Windows 8/RT operates on both tablet and destop but I do see why they state it like so.

Also hexic, solitaire, minesweeper, mahjong, and other Microsoft studios.

Nice maybe I'll buy it now

Microsoft is killing it!!!

What happens if i get Halo: Spartan Assault on steam as a gift? Will i be able to install it on my phone?

i don't think so as I do not think the Steam version links into the Windows Store. I could be wrong though.

If you get Halo: Spartan Assault as a gift on Steam, send it back and tell whoever gifted it to you to give you the superior Windows 8 version instead. Xbox > Steam. To answer your question: no. Microsoft doesn't own Steam, so nothing you do there matters in the arenas they do own: Windows 8/RT and Windows Phone.

Bought this game when it was a red stripe deal on a Win 8.1 desktop. Then I opened the store in my L520 and found that I also owned the WP version. This is really nice. Thanks MSFT!

This is awesome. MS seems to be getting better and better day by day with WP and its other products.

Still wants me to purchase on Windows Store. I guess an update is coming or something..

yeah, it sounds like the Windows 8 Store (not phone) is due for an update as well soon....

I bought on the phone months ago... but cant get it on windows 8.1 store. You think its comming latter?1

Still separate achievement list?

I wonder that too. I like my achievements and double/triple dipping. :p However I wouldn't be surprised in the future it goes to a single list.

I feel so screwed now. I bought both versions a long time ago. Damn

The Windows Store and Windows Phone Store don't care. Nice!

Waiting for GTA:SA to be universal too The whole business is growing big, one paid app using in both pc and phone is just so attractive

For the people saying "wants me to purchase"... do you have Windows Phone 8.1??? because I have it and I just redownload the game, not re-purchase.

Tell me this also holds across the Xbox One and THEN we'll have universal apps ;)

Xbox One need a system update (later). But you ar3e wrong, even without Xbox One we have universal apps, Phone, tablets and PC (Widows Phone, Windows RT and Windows 8.1).

I bought it on XBOne, where's my wphone download?

Xbox One is not a supported platform yet, you need to wait until the system update for Xbox One.


iam using lumia 820 . Not having any wifi spot open all are secure . How i update my phone to 8.1 . Should i go near nokia care centre...????

What about Xbox universality?

Shazam is also gone universal (as showed on Build)

Universal in Windows? So my Windows Phone 7.8 is some kind of UNIX and i didnt knew it?

Just downloaded the phone version! Great to have this as one of the first Universal Apps.

Mark this date. This is a revolution that will begin to change everything, and that Google and apple are way behind on.
Now, when you also get the Xbox andRT version too, it will truly be a one screen world.

Why are the games sitting on the app list..

Nice to have a free phone version, I bought the Windows 8 version and now I can play on my phone for no extra charge! Thanks Microsoft!

Damnit, I recently bought the Windows version so I'd have it on both devices. GRRRR.

This is getting better All the Time!

I bought the RT version but dont have on my WP8(im in PT) Do i have to wait for this to propagate in the stores?

So... If I bought it on the PC, then on Windows Phone, and then again on Xbox One.. Do I get anything but regret?

Shazam is another updated app... :)

I don't get it. I bought the game on my WP8 like 6 months ago. But I can't download it on my Updated Windows 8.1 update 1 machine unless I pay 5 dollars again! Come on Microsoft!

Same issue here. Don't want to hit that Buy button until I know it's not going to charge me.

I have the same problem here, I got the WP version already and it still ask me to pay when using the windows 8.1 store. I take the risk to being charged again and press the purchase button, sadly, another 5 dollars are paid in order to install the same program in my windows 8.1 system. I don't understand the situation here.....

I thought Hexic was also universal.

This was $4.99 in the Australian store too, might be a good time to buy apps if they haven't set regional pricing in the 8.1 store yet. I just bought this, stoked I can play it on my phone, pc's and Surface, awesome!

I feel like an idoit for buying it on Windows Phone 8 & Windows 8 already. They should give those of us who doubled up in the past some love ❤

It's still asking me to buy on my PC..

Too late, already purchased it for my phone and separately for my surface and x360... #ShouldaWaited #FeelMugged

I've paid for it on my phone and on my surface, will I still have to pay on xbox? (Sounds like I will?! I was ok with that before, but now that I have already paid for it twice when I wouldn't need to I don't want to pay for it a 3rd time!)

Yo folks! i got an issue, i bought just when released on WP but when i'm going to download it on my pc shows the price so wtf?.... Btw i buy it on steam too can i recive a refund? HUEHUEHUEHUEHUE

Is this article misleading or what? Many people are prompted to pay twice here

I called MS Support. Spent 40 minutes on there with an agent that didn't know anything, finally requested to speak with a supervisor. She had me install Spartan Assult on Windows 8. It charged me and she reversed the charge. I already had it on WP8.

I baught it on WP8. Then on my PC I went to rightclick "Your Apps" and there ist was. It's called Halo Spartan Assault Lite though.

Halo Spartan Assault Lite is not the same game and it is free. It is more like a demo.