Microsoft wants to add a first-party game to Xbox Game Pass every 3 months
That's an ambitious goal.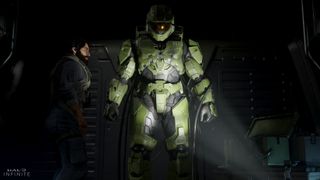 (Image credit: Microsoft)
What you need to know
Microsoft has greatly expanded its first-party studios in recent years.
Xbox Game Pass is the company's game subscription service like Netflix.
The company said it wants to add a new first-party game to Xbox Game Pass regularly.
You can purchase Xbox Game Pass Ultimate through the Microsoft Store

(opens in new tab)

for $1 at the moment.
At E3 2019, Microsoft announced that it had acquired Psychonauts developer Double Fine Productions. Over the past year, the company has dramatically expanded its first-party studios and it doesn't seem like it plans on stopping anytime soon. However, what does this mean for game releases? Head of Xbox Game Studios Matt Booty revealed what he hopes to accomplish with these aggressive acquisitions.
Speaking with Ryan McCaffrey at IGN, Booty said the following about the schedule of game releases.
Hopefully Microsoft will be able to deliver a first-party game ever three month into Xbox Game Pass. However, they need to be quality experiences so that they draw users in. Even Netflix needs shows like Stranger Things to attract customers.
Do you think the company will be able to deliver on this promise? Let us know. Game development is difficult, but given the sheer number of Xbox Game Studios at the moment, it's definitely possible. It'll be interesting to see how the service expands in the future.
Best of the best
(opens in new tab)
Xbox Game Pass and Xbox Live Gold in one

Xbox Game Pass gives you access to over a hundred games for one monthly fee. Xbox Game Pass Ultimate also adds Xbox Live Gold to the package so you can play online with your friends.
Xbox accessories you'll love
Every one of these quality accessories is guaranteed to enhance your Xbox experience.
PowerA Enhanced Wired Controller for Xbox One (opens in new tab) ($20 at Amazon)
PowerA's take on the Xbox One controller is an attractive pickup for budget-conscious gamers that nails all the basics.
Talon PDP Xbox media remote (opens in new tab) ($20 at Amazon)
The Talon PDP Xbox media remote is great for watching shows on your console.
Xbox One S vertical stand (opens in new tab) ($10 at Amazon)
Stand your console upright with this accessory.
Asher Madan handles gaming news for Windows Central. Before joining Windows Central in 2017, Asher worked for a number of different gaming outlets. He has a background in medical science and is passionate about all forms of entertainment, cooking, and antiquing.
So do we, at least at that rate. That's only 4 games a year from how many studios now? 15?

If they can pull that off, it would be extremely impressive. 4 high quality games a year (AA and better) would be really really good. Doing the math, if these games were to cost at least $40 each, then that would be $160 a year if you chose to buy these games. But with Gamepass Ultimate at $180 a year that's a steal. 20 studios sounds like a good number for this plan - 4 studios for AAA titles taking 5-6 years, and the other 16 studios for AA titles taking 3-4 years per title.

How is it impressive?
I think that's quite low considering that one of those will probably the yearly Forza.
Even with so few studios and the amazing drought they have managed 3-4 games. "if these games were to cost at least $40 each, then that would be $160 a year if you chose to buy these games. But with Gamepass Ultimate at $180 a year that's a steal."
How is it a steal? 1) it's renting and not buying. 2) That's consider that the person buys every game.

> it's renting and not buying.
But 1st party game will not go away.
* cloud save is free + cross-platform.
As long as you have the sub, those games will be there for you.

> it's renting and not buying
tbh... does it really matter? Say, you were interested in Rage 2, but you were playing other games at the time so you decide to buy it later. (During sales, maybe?) Months later, Rage2 for GamePass's got out. You DLed it and beat it.
When will be the next time you want to play it again? Months or years later?

It takes 2-3 years to make a great game, and even the most complex can be done in under 5. Where it gets bad is when games get rebooted several times in development or projects get people 'borrowed' for other projects. This, on top of funding or other publisher demands, is why games sometimes get stuck in a development hell and can take over 8. With 12 studios taking 3 years at a time that's the target goal and is completely doable.

And don't forget, projects might fail. Not every project gets to see the light of day. Platinum Games was cooking TMNT, Scalebound, Nier, Korra, Transformers and who-knows-what-else around the same period.
Only Nier came out alright, TMNT even died within 8 months... btw... Double Fine and Ninja Theory... I bet they are good at making something story driven. Make the game shorter, release a chapter 1 or something short instead of the whole thing, and if people like the plot, character, etc, they can (base on the feedback and reactions) continue making chapter 2. That way they can release games faster and people will want to keep their sub. If chapter 1 goes sour, they can wrap it up, finish the story within 2~3 chapters then start a new IP.
Other heavy weight studios can take their time making something huge.

Is it possible? Yes. However, they will need to own more studios than they currently have in their stable.

Not really you have to have a one studio ready every 3 month that's 4 studio a year 12 over 3 full years... If it's not only AAA which I don't expect in the game pass.. It's perfectly doable... Especially if you take into account that more than one studio has more than one team

Not really... some of their studios are currently AAA only... which takes around 4 years to develop. AAA only... 343, Turn 10, Playground games, Rare, Coalition and the newly built The Initiative... really knocks down the every 3 months first party possibility without more 1p studios.

Does anyone know if the Gamepass Ultimate will allow PC game sharing like gamepass for the console does? I haven't seen anything where Microsoft addresses that.

@Sal98. Yes, you can either get a pc only or console game pass sub for $9.99 or the ultimate sub at $14.99 which includes the PC sub along the console sub and xbox live gold (all associated perks of Xbox live gold such as the free games).

I know all the perks will work but does it have Game sharing (i.e.: My Home Xbox) like the console game sharing does? When you have a family of 3, 4, 5, etc. buying individual games all the time can get expensive for families for either PC or console. Not sure how sharing will work for the PC since there isn't an option for My Home PC like the console has.

@Sal98. Ah, now I see what you mean. Good question, personally I don't see why not given that xbox app effectively shares the same library as the console. I can see my killer instinct DLC for example in both the store and the xbox app for Windows Mobile 10. Also there is a new xbox console companion app and you can buy games in the xbox app on a pc / phone and have it downloaded on the console later. I'm sure there will be some sort family sharing feature as you can use the xbox one as a personal streaming server as per the E3 2019 announcement. If it was any other division of Microsoft I would have said don't hold your breath but given how transformative the Xbox team has been at Microsoft, you never know.

Very ambitious indeed, wish em all the luck. Personally feel 6 months would still be pushing it. As the saying goes you should always under promise and over deliver lol.

I don't get it.
How is 4 games a year "very ambitious"?
If anything, with the studios they bought it should be more than that. 2016
1) Gears 4
2) QB
3) recore
4) FH 3 2017
1) Halo Wars 2
2) Forza 7
3) Voodoo Vince Remastered
4) Phantom Dust 2018
1) SoT
2) SoD 2
3) FH 4 2019
1) Crackdown 3
2) Battletoads
3) Gears 5
4) Aoe 2 de

But, are all of those releases 3 months apart? It's not the same as launching 4 games a year.

Huh??? How many months are in a year? 😜

Actually the guy has a point. We are talking about spreading the games throughout the year because at the end the subscription is the priority.
Meaning releasing one game in January give the time for the player to play that one and have another one coming up in April so that he keeps his membership going...
It wouldn't be good business if they release 3 games in 2 months and nothing in the next 8 months. Someone would just rent game pass for 2-3 months and that's it. This could be a problem as games may be designed to fit the game pass calendar...
Ori's sequel was suppose to be released this year. But this year we have Gears and other games. Could it be a reason why it was pushed to 2020? Maybe, maybe not... It remains a possibility.

I misunderstood the point of the comment. In that case it makes perfect sense, but that means restricting /rushing releases. Hopefully if anything it's the former and not the latter. I really hope that I am correct in thinking that the subscription model means less of a need to hit target quarters because of sales, but I guess even if that is the case they may need to make target quarters just to keep games fresh. Then again, unless all they make is FPS games there really isn't as importanf to spread it out evenly as people like different things.