Microsoft wants your input on how to make Bing better with new UserVoice forum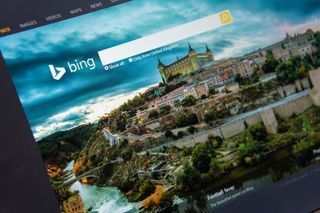 Microsoft is once again asking for feedback from the public on how to improve one of its products or services. This week, it launched the Bing Listens UserVoice forum to get input on how the company might improve its search service.
This is just the latest addition to the Microsoft UserVoice list. The company has been taking advantage of the forum community to get input from users on products like Windows 10, Xbox Music and much more. It would appear that the company is pleased with the response from those communities and decided to extend that feedback to Bing.
It should be interesting to see what suggestions the public gives Microsoft to help improve Bing as well as which ones the company decides to use in future updates.
Source: Bing Listens UserVoice; Thanks to Kiba85 for the tip!
Windows Central Newsletter
Get the best of Windows Central in in your inbox, every day!
Pretty simple more Features for outside the US.

+ More and better searching results outside of the US

It sucks sometimes even in the US, misspell one word from phrase and you won't find anything. Copy-paste same thing in Google you'll find lots of pages

*** SEARCH BY DATE FILTER **** I think you might have this in the US, but its the only reason I go back to Google. I want to search for relevant results in the last week, month, year most often. Super irritating that this basic feature isn't available.

Bing doesn't appear to have recent news priority in US either. One of the main reasons I use Google instead. Search for "windows phone" on Google and the most recent typically come first. Bing will bring up WP 7 and 7.5 articles and news from years ago among the first results. This is true for most any tech related items.

Yeah sometimes I get pretty "old" search results.

This! It only shows up sometimes, when Microsoft "decides its relevant". Microsoft don't decide when its relevant, I do. And this is why I go back to google so often.

Glad that your comment was first as I agree with it entirely. Just bring the darn features outside of the US. For example Bing Rewards. Could really do with that in Britain and Japan, etc.

Totally agree with you bud. Specially in India.

I was gonna say, be like google...just as a joke..google does work well, idc, as long as I get to what I need.

hate those ugly pictures behind ... also news bar at the bottom ... Love google the way it is ... simple and clean

Umm.. I think most people will disagree with you ASPDEV. That's something I love about Bing.

I love the Bing most for this pictures... And how it could be ugly???

I love the Bing most for this pictures... And how it could be ugly???

well MSFT doesnt have to disappoint Bing Fan boys .... give us a setting to have plain background and people who enjoy picture let them view it. I hate todays bing picture super ugly yuckkkkkkkkk

That exists already. Just search for "disable Bing background image" I enjoy the background image but disable it on machines I remote into...

Http://bing.com/?rb=0 ... Bookmark that if you want no image, no news.

Seems it still in 90's...

That is actually WHY I love Bing. The pictures are always gorgeous, so much better than the plain boring Google page. And the Bing news bar let's me keep up all my news interests. And if you don't like the news bar, you can always minimize it. I agree the Google page looks clean, but perhaps too much so, as it doesn't offer you anything without you making the first move. (A little bit ironic since Google helped pioneer passive data fetching with Google Now)

I agree! Like both the images and the news. Being exactly like Google it's not the answer.

I suppose they could add "Hide Daily Images, Hide News Bar, Hide Top Quick-Access Bar, etc." options under a new "Accessibility" section in the Bing settings to appease those who aren't fond of it, as well as those with visual impairments where such things could be distracting and confusing. So people who like it can continue using those features, but options are nice for those who need/want them.

Yeah I think you are in a minority. I love bings home page.

+920 Posted via the WPC App for Android!

Mictosofts strategy is great!

Should able to add QR code add on extension for Windows phone store

Care to explain? I don't understand what you mean.

Set Option to remove the top ribbon and button bar by default

Consider the world outside of US maybe ? :P

Think of us 'mericans as your alpha testers :p

that would only be true if they eventually rolled out the features globally, which I don't see happening most the time.

Great, now we can suggest a lot of new smart search features. I've thought of some, though I can't think of any at the moment.

Maybe all these feedback should be on the user voice

Two things I want from Bing: 1. if I am on the "News" search section of Bing, searching for "Xbox" and then want to switch to searching videos for "Kinect", if I type "Kinect" into the box and then click the "Videos" section, it searches videos for my previous search, "Xbox", rather than my new one. 2. better filtering options by date. I want to filter by 60 days, 90 days, 1 year, 2 years, 3 years, custom dates.

Yes, make a UserVoice suggestion for those, you surely will get a following and Bing's team will work on it. It might have already been suggested, either together or separately.

Advertise Bing rewards! I got my friend hooked on it and now he only uses Bing!

I know right. I've gotten so many Amazon gift cards, Xbox live, Xbox music, and Hulu plus subscriptions. I don't even pay for Xbox music anymore

Goddam date filter ffs! They actually had it years ago, and removed it!

Little off topic ... Hell WhatsApp got calling feature for Android now.. When we will be getting that.

Bing it....you might find a thing or two :-)

Maybe after 6months or never

Call me there and i, will solve MS your problem in one minute

I'm actually impressed with Bing. It gets the job done, no need to go surfing around to find what I am looking for. (Referring to using other search engines)

I use Bing as default and get gift cards for doing it. If I need to I will go to Google but honestly I haven't been there in ages.

I would like to say that for Germany, too. But that would be a lie :/

I'll have to admit that not everything is for everyone. If Google search helps you, then go for it. The idea is to improve Bing to make Google feel like it is falling behind. Microsoft is trying and that's good enough for me, but then again, they have done dramatic improvements that keep me coming back.

That's the reason for sticking with Bing, the rewards. Or I would end up with DuckDuckGo.

Frankly I use bing only for search...dont even remember google exists. After the improved IE google just went out of my life like....like aaahh....can't think of a metaphor right now that fits.

Google disappeared like a distant memory that is too far away to even reach/recognize.

Out of sight, out of mind :P.

Ruins to my memory. A play on one of Amon Amarth's greatest tunes.

Can't think of a metaphor? Try googling it. Seriously though, search results of google are, sadly, 10 times better than Bing IMHO, as much as I hate to admit it.

I am not saying Bing is better than Google, because even if it is, I don't know that...i couldn't because I use Bing only. If I Bing and couldn't find what I was looking for the idea of trying Google never came to my mind...if it's not on Bing I naturally assumed it wasn't there and that never ruined my life...i hope you understand why I am trying to say here.

Make it usable in the rest of the world... and bring Cortana along as you do it :P

The top requested feature was to bring more features to versions outside the US. I upvoted that yesterday and today received an email saying that we should remove our votes from that as they are aware of this and are working on it.

What nonsense, they've been 'working on it' for years and need to know it's a high priority for everyone instead of focusing on new features when we don't even have the basic ones available in the US.

Just release Bing features worldwide, that'd be it

Bring Bing Rewards to outside of US :)

I'm soooooo tempted to reply "Have you tried Googling it?"

I like the forum idea but like others here I've used bing for a while and haven't found the need for Firefox or google, it works for me and the only suggestion I could think of is make its functions universal.

Firefox isn't a search engine, its a browser.

You are aware Bing and IE are different right?

Easy: Bring the features available in the US to all the rest of the world!!

give more things which can be productive. like better images in terms of quality to download and integrate that with third party and 1st party apps.

Recipe is really simple: either do services globally or don't do at all. I'm sick of 'not available in your location'. It's so 90's.

Give us more results? Somehow Google gives more results.

Vote People: https://binglistens.uservoice.com/forums/283355-ideas/suggestions/7178573-bring-bing-rewards-to-india

Make it like google,so simple.

Image match could really be improved upon

I would love to have the search box fade away then reappear once you move the mouse or touch the screen or keyboard. The background images are stunning. They could leave the logo on the corner but the images they use sometimes are gorgeous.

Funny,I was thinking a search engine should do be great simple and easy in searching and finding stuff... But I guess they can give up, let google do search and make Bing into a "picture of the day" site... That's actually a great idea!

Should do be great simple and easy in searching and finding stuff? Bing is especially good assisting with sentence structure and grammar. You should try it.

What about mobile payment for WP Microsoft???

What about staying on topic?

Satya Nadella is doing a great job!! This can result in a new start for bing as large number of feedback will come and I hope that changes will be added soon.

Just look how many suggestions the Xbox Music and FB User's Voice pages have and how many of them MS completed.

How about english Bing in non-english speaking countries?

Already made a suggestion regarding Bing map. Everyone please vote.
http://binglistens.uservoice.com/forums/283355-ideas/suggestions/7173355...

I love Bing, I find it to be more useful than google sometimes but I still think google is better at finding weird stuff.

Funny that they ask everyone to use UserVoice, ywt ignore the large majority of the most popular requests on there.

Make it redirect to Google.

Lol.. The funniest comment before I go to sleep..! :P

Letter accept it.. No one uses Bing..

Correction: "Letter accept it.. I don't use Bing.."

"letter accept it"?? What does that even mean?

I guess he meant 'Better accept it' ... However the letter L and B are so far off from each other it has left me lonfused :| Posted via the Windows Phone Central App for QWBASIC :|

Unfortunately Bing in Chile, doesn't, do a good, work I use both Google and Bing, Bing sometimes search things that aren't even related with, what I, was searching ie search by a name of a enterprise here, and in Google it's the first result and on Bing doesn't even appear the, enterprise, if Bing will be the engine of Cortana should improve a lot to par to Google , even if search near supermarkets here doesn't work so good and appear results of the downtown but not of my nearest one at 1km distance

Yeah, bing is terrible with context. I'll load it with keywords and Google gets the correct results. Bing requires a lot more effort either quoting words, or forcing it to remove certain keywords. Bing is very frustrating beyond simple usage

Stop putting news about the Kardashians and Kanye in the bottom news bar. Thank you.

Un ban people who were forced to use VPN to use Bing rewards

They already know what is wrong with Bing, ie yet they pretend. Luckily the search button is less sensitivity, w10 for phones; another tongue twister. USB data tethering, otg still missing and yet they divert people attention!

Cortana, who's better? Bing or Google
Bing Bing Bing, we got a winner
:)

Better search results should be the top priority.

Here is one: Show the same results as google for searches. As I like almost anything by Microsoft and definitely prefer it to google, their search can't find anything in looking for, while google usually gets me at first result almost every time. Funny, but its true even with results from MSDN or TechNet :)
Windows Central Newsletter
Thank you for signing up to Windows Central. You will receive a verification email shortly.
There was a problem. Please refresh the page and try again.