Microsoft will rebrand Lync as Skype for Business in the first half of 2015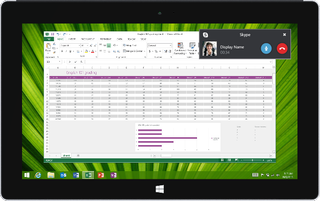 Microsoft will rebrand Lync, its enterprise and business-themed messenging and online meeting service, as Skype for Business sometime in the first half of 2015. The name change will also include a "new client experience, new server release, and updates to the service in Office 365."
Microsoft said that the familiar icons found in the Skype messenger app for calling, adding video and ending a call will be part of the new Skype for Business. It added:
Do you believe Microsoft should ditch the Lync name in favor of Skype?
Source: Microsoft (opens in new tab)
Skype for Business surely sounds more attractive to small businesses than Lync, even though it was an original name.

No they just need to make sure they cannot link those to networks together. this would be a nice feature in 4 years.

Great move. Less redundant

This is so true. Been waiting for this move since they bought Skype. FINALLY!

What hasn't Microsoft rebranded would be a much shorter list.

Windows, Xbox, Office. Honestly I think that's it.

This is a dumb move. Everything about Lync is better than Skype: the UI, UX, features, etc. Conflating the two makes zero sense, and the "[product name] for Business" naming system induces eye-rolling, like a 7-year-old came up with it.

I agree. Everyone I know who works in an office already knows what Lync is and can perfectly identify the differences between Skype and Lync. The simpler the better and I think this is an issue now. It's easy for people to understand Skype = Personal and Lync = work/professional. I don't like this move. They will get criticized.

Won't matter to people in the offices. Most know Skype and would welcome video chat if the company offers it. We have Lync in the office and its used mostly for chat only. Skype would expand this functionality which is a good thing. IMHO.


I'm not following...you can video chat in Lync. I do it daily.

Not following what? That our office only uses it for chat? But this should be a no brainer for you under its new name.

I have to agree, this is NOT an advantageous move for Microsoft. Everyone knows Lync in the professional world and they were doing so well pulling ahead in the Gartner Quad for Unified Communications. Now, we will have to jog back and forth Skype or Skype for Business, just like OneDrive and OneDrive for Business. I believe whoever at Microsoft was the brainchild on this one will expereince the French Revolution guillotine first hand. Hopefully Microsoft will wake up in time and FIRE the manager who made this decision just as Apple fired Richard Williamson for the 2012 mobile mapping mishap and stay the course to further develop & BRAND Lync for what is truly is, a UCC solution. Maybe they'll go for the last step and just dive into the TelCom space head first for voice. Not Happy about this announcement. Greg

Understandable. When you are old and set in your ways, simple changes require longer naps. jk, I don't think its as big a deal as you craft it. Business people want a business model. Home users kinda don't want that on their laptops and prefer a more relaxed, home experience.

Not only does "Skype for Business" seem unnecessarily long, it's just another rebranding that will confuse consumers. Lync works fine.

Most of the users where I work still call Lync, Communicator.

I have no insider information (partner program doesn't provide details you won't learn in press reports). What the press says is that Skype Business (2.0) will inherit all the features of Lync. Skype Business already has PBX integration, but you can easily assign phone numbers and calling plans to users through the Skype Administrator. What Lync lacks is a simple outbound calling story for those who do not already have a PBX. Most small businesses do not want the additional overhead of a PBX and prefer to go fully in the cloud. Even the integration with Skype is lacking. At the end of the day I think this is a very smart move by Microsoft. You will not lose anything, but you will gain simplicity when it comes to setting up voice and outbound calls. Currently you need the E4 plan for this anyways; the most common Office 365 plan is the E3 plan.

I agree to an extent, but it makes sense to consolidate these products under a single product line. The optimistic side of me would posit that this could mean that some of the things that make Lync a solid enterprise product could make its way to the current Skype offering which would be awesome IMO. Why maintain two development teams for products that accomplish very similar tasks? Of course if nothing organizationally happens to support the brand consolidation, this becomes a much stranger step to take...

Might as well name it OneChat. Businesses will be scared of Skype

Hah we use Skype as our corporate IM standard so I wouldn't think all businesses would be fearful of the name.

I agree, the name really is eye-roll inducing. I also agree that the design and most other things are much better on Lync. Lets hope they keep most features and design choices of Lync and just add in a little better call functionality from Skype.

At our work we have o365 but still use Skype so we can make calls to phones while traveling. I hope Skype for Business can do that then we can finally switch.

Couldn't agree more... Big mistake...

I disagree. The Lync team does a really bad job when it comes to mobile. The app is totally useless compared to Skype. Conversations don't sync and when you click a notification it may or may not take you to the message. Or maybe the conversation as a whole doesn't exist.

I much prefer Lync over Skype in terms of the name and the product itself. Lync's video call quality is a lot better than that of Skype's. Another added confusion from Microsoft just like how it is at work with OneDrive and OneDrive for business. Stupid move, Microsoft. The name Outlook is now confusing too thanks to Outlook desktop client, Outlook web access and Outlook.com. :(

My Skype experience has been super. I still don't see why we get a few that talk like its a paper cut. Skype works.

The naming system I agree to an extent but its all about familiarity and unity. So long as all of the features of Lync are in Skype for Business I don't care what its called.

I use both. I like the Exchange/Outlook integration with Lync, but other than that I prefer Skype. The Windows Phone Lync client has never worked properly at our company (which may not be Lync's fault, could be our setup), but in spite of the criticisms of the WP Skype app, it's been really good over the past several months. I know it's a matter of opinion, but personally, I much prefer that when someone sends a Skype it alerts all of my screens, not just the last one I happened to have typed on -- I have two desktops, two laptops, and a Windows Phone. I could be looking at any one of them. If someone sends me a Skype text or tries to call me, I love that Skype rings all of those devices. On Lync, I'll probably not know about the message until it's converted to an e-mail (great feature in Lync, by the way), and sent to me that way. So for me, combine the wonderful Outlook integration of Lync with the immediacy and simple use of Skype and we've got a real winner. Hopefully, this could also mean that Skype messages (text, voice, and even video), even when not integrated with Outlook and Exchange, could also be delivered by mail to any e-mail address on file with Skype if there is no response or activity on Skype within some time window. That would be a great advance for Skype. (I've always thought it was ridiculous that voice messages left on Skype are not also delivered by e-mail).

You are 100 percent on point about Skype. I have never had a problem with it but it could be we might be smarter than most that use it.

This sums up my feelings succintly. Thanks for typing out my thoughts! I will add that the one thing I worry about is being able to have "Skype" and "Skype for Business" running on the same machine. I like to keep business and personal separate. Right now its easy to turn off Skype when I dont want friends and family bothering me during business hours. But I have Lync running all day. Perhaps they'll introduce some form of contact "profiles" to manage personal vs. work. I doubt it, but it would be a great idea in my mind!

I had an exact opposite experience. Lync 2013 app work rather well than Skype. I don't notifications on Skype but on Lync. Having said that, Lync 2013 for Windows phone down not work just as good as the desktop client

I agree. Lync is a much better product right now than Skype, has a much more professional feel to it and has more respect.

And in the second half of 2015 they'll rebrand it again to "MSN for Business" =P

ONEMSN Skype for Business Professional Enterprise Edition

I truly liked the Lync branding, but attempting to go the other way (rebrand Skype as Lync Personal for instance) would have been a much worse proposition. They have a precedence already with OneDrive, so this makes sense.

I agree with you. I have some clients that may dump Lync if it becomes associated with Skype as they see Skype as unproductive and something end users shouldn't be using at work.

Then I assume you clients see all other social networks and messengers unproductive as well? Otherwise they are just dumb.

Then rebrand it "Blah Blah Blah" two months later. What the hell is this company doing? Changing names over and over, giving away all their services to the competition, and leaving their own ecosystem in a shit storm (Xbox media services, Outlook, etc)

Microsoft is a company that has a lot of brand names and since 2012, they finaly decided that it was to much. What followed was the smart move to merge brands into one: Entourage was killed off in favor of Outlook. Hotmail was also killed off in favor of Outlook. Information services (News, Weather, Money) where replaced from a search engine to an information service (Bing to MSN). And now Lync, a communication platform, is merged with Skype, another communication platform. In the future, Windows Embedded and Windows Phone will also be merged into Windows. They are simplyfing their branding, and that's for the better.

Hotmail isn't entirely killed off: new accounts can be created @hotmail.com and in this announcement MS is saying the Lync backend will persist.

They are pushing you back to android. Hurry up and get a clue.

Seems like an interesting choice. I personally do not like the design of Skype (desktop or the Modern App) even though I use it at least weekly on my desktop and Surface. I enjoy Lync 2013 quite a bit at work. A great improvement over 2010. I hope they keep it more like Lync, adding in some of the better features of Skype, which is what the quote eludes to. The name doesn't matter, but man is that unnecessarily long. Skype for Business? Will they just add everything "for Business"? haha

Personally, I'm waiting for Xbox for Business...

Lol "If i beat you in Halo you will have to sign our contract.."

If this were Apple, they could just use bSkype instead of iSkype.

As long as the features are improving, its good. Why have multiple tools for similar purpose? But why did they spend on Lync 2013 so much?

Lync is cute, buy renaming it makes perfect sense. Especially as Skype is much more known and could mean an impulse to the consumer version of Skype as well.

Yeah, because Skype "personal" is such a stellar product and well integrated into Microsoft's other offerings. IMO, Skype is a tarnished brand that has thrown away whatever promise it may have had. They'd be much better off renaming it to Lync for Home, if they wanted to go with the stronger brand name.

I am sure business will know what Skype for Business is, instead of Lync, I am sure you show the name Lync, and as nice as it sounds... it doesn't say anything about it. at least "for business" explains it, and SKype is pretty much known everywhere. that's why you always see it being used.

Sounds like a good move, business consolidation hopefully making a better products for business and private users.

I'm tired of branding changes, when will this stop?? People is f#ked up.

Just wondering where MS could be had they put more efforts into product development rather than rebranding.

Rebranding is the first step of new features + new market

I agree. They should have their developers developing instead of making marketing decisions. Wait, their marketing department does the branding? Okay, maybe we should get them to make code as well! :|

Yeah because all 100,000 Microsoft employees are directly involved in deciding names for products. You know I actually heard the engineers chose this name while the marketing people worked on Windows 10. /s

Personally I like the Lync name, as long as they keep the design and features of Lync I don't mind though, much prefer the UI over Skype.

I found this really good, more attractive.
Personally I would like to learn more Lync + Skype for business sounds better

I already see plenty of confusion between Skype and Lync in the office and fully expect such inovations such as instant translation and tigheter integration or should I say more seamless integration between what was Skype and what was Lync. A cautious welcome from me.

Smart move, Skype & Skype for Business like OneDrive & OneDrive for Business.

Personally always used Skype since MSN/Live Messenger went and always kept away from Lync as didn't want to add another to the list of IM's seeing finally all was streamlined, would have been great if Microsoft just kept one for everything to avoid having so many different names/packages and just invest in that one package.

Microsoft is the only company I know of that seems to have a branding issue. Office Communicator, Lync and now Skype for Business... Come on! Stop changing the name of your messaging service's.

I use both Skype and Lync, I find the Skype interface very outdated. It does make sense to merge the two. Hopefully a long overdue Skype UI refresh comes with it. As for the name, I do like "one chat" better. Then again I liked "live" over outlook too.

Its just a name, I dont think it matters much. I can see the appeal of having 1 messaging platform name though.

i think Lync sounds more sophisticated and professional. Skype for Business is a little too wordy and too mouthful.

I personally prefer Lync, it's name, and ui.

Lync sounds nice...skype is totally different...skype for business might be strange...keeping it Lync is fine...
Having facebook for friends...facebook for classmates...facebook for business...personal facebook...as altogether different apps might be strange...
Giving new updates and giving a complete Skype look will be nice...but Lync as it was...totally business...would do great maybe

Wow. Maybe it will be better than OneDrive for business.?

in my experience "skype" means little more than a videocall app for grandma's, ms must think it has something big and relevant here, but it does not, i hope they can improve it, but scrapping msn in favor of skype was a serious mistake

Hopefully they eliminate the cute bubbly blue appearance and trademark Skype fart connect noise during this service merge, otherwise I'll continue to avoid using it.

Knew this was coming a while back after the Skype acquisition. Didn't know which brand would win out, but Skype was always the leader in the clubhouse as everyone knows what Skype is and only business users know what Lync is. This move IS at least a move toward consistency where before we had "SkyDrive", then "OneDrive", then "OneDrive for Business". In this case, the "brand" won out (which is one of the reasons they bought it). In a world where people say "Skype me, then hand me a Kleenex and a coke", maybe they know more than we do... One wonders though, is another Microsoft acquisition and then "DropBox for Business" on the Horizon as a replacement for OneDrive?. ;)

Well at least we will be getting a better Skype and perhaps more updates to Skype now.

I didn't read the article or anything more than 2 words in the headline but I will completely disagree with everything written and wonder why Microsoft is doing everything they can to ruin my life. That's how this works right?

Lync is easy to confuse with LINQ. If you're a developer, you'll use both.

Skype brand has more universal appeal. The only person in the office that needs to worry about the "for Business" is the IT admin. That said, Skype UI on all their apps (phone, PC-modern, PC-desktop, Xbox) looks as though it was vomitted out of 2001. Skype team, it is 2014... please grow up. Your design isn't "fun" or "engaging" it is just bad. Please follow the Lync team's guidance in this regard

Bad move, Lync has finally gotten the traction in the enterprise it deserves, and now all of that good buzz about "this Lync thing" will be confused with Skype, which IMHO offers inferior call and video quality. They should have just tightened the integration, taken the best features of both UI's and offered a common client.

I love that they are finally bringing the two together. I do think Skype Pro would have been a better name.

I have no opinion on the renaming bit, but "Skype for Business"... Could a name get any clunkier?!?

Lots of renaming and rebranding. Hope it pays off in the end.

"Skype Pro" would have sufficed.

I was just getting used to Lync...it used to be called Communicator a few short years ago! I'd wish they'd stop renaming it.

Pls pls allow guest entry for Lync meetings via Skype w full sharing & whiteboard! Too many of our guest invitees can't manage the in-browser interface. (I know, its not complicated... but they still have trouble with it.)

What the heck is "messenging"? Seriously do you guys have an copy editor or not?

We desperately need a Microsoft Books service from Microsoft. Please make it happen sooner!(With global availability)

Makes sense, its practically the same thing.

we use both Skype and Lync at work, no problem, but better to have one. People will obviously not say "I call you on Skype for business" just skype. I thnk it's good for MS to clean up it's portfolio. As long as they don't clutter the UI with tons of feature no one really use. They should clean up the Lumia brand as well. Too many numbers all over the place.

There have long been rumors of MS rolling out a Hosted PBX service as part of O365 (enabling plug/play handsets for business). This name change may be one piece of a bigger picture.

I don't like it on the surface. However, telling colleagues to Skype me is nice and smooth. Lync me doesn't work and requires a longer sentence. Nobody but the IT folks rolling it out will call it Skype for Business. The OneDrive vs OneDrive for Business is a kludge. The enterprise angle on this is now we need controls to stop people from installing Skype consumer. And from using it for business conversations.