Microsoft won't have to pay to use Live Tiles after patent suit dismissed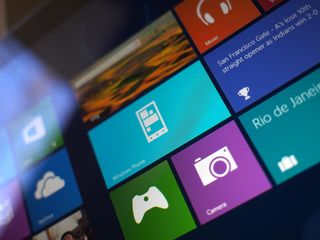 The Patent Trial and Appeal Board this week has ruled in favor of Microsoft in a patent lawsuit that was filed against it in 2012 by SurfCast. The board has thrown out all SurfCast's 52 claims of infringement that it said Microsoft had made when it released its Live Tiles feature in the Modern user interface, which debuted in Windows Phone 7 and is currently used with Windows Phone 8.1, Windows 8.1 and the upcoming Windows 10.
Two years ago, SurfCast claimed that Microsoft's use of Live Tiles infringed on a UI patent they said they had created. The interface showed content on a computer screen via a grid of tiles which can be updated with new info. However, this week's decision by the Patent Trial and Appeal Board said that SurfCast's patents in this case were invalid, due to the fact that their idea was "obvious or anticipated in view of a host of references."
While we didn't expect Microsoft to lose this case, this victory has to be a bit of a relief as they continue to refine their Live Tiles UI with Windows 10.
Source: Law360 (free registration required)
Windows Central Newsletter
Get the best of Windows Central in your inbox, every day!
Everyone wants to sue the gravy train

They played smart, imagine money Microsoft hypothetically would pay, as live tiles will be in PC's with windows 10 too!

Thankfully this didn't go the way of the "metro" suit.

Absolutely, just check their website. Most of the content is that they have filed a patent about Tiles, and if you check their news section, only one entry has been added: "SurfCast, Inc. headquartered in Portland Maine, today filed a lawsuit in Federal District Court of Maine against Microsoft..." They should update their about section: patent trolls since 2001! ;)

Seems faster to be hated on here when randomly commenting "Seems faster" love it.

This is usually a very stupid thing to say, but even more so on this particular topic.

Congratulations... You are the stupidest guy of the day! :-)

Seems American courts are not that faster

Yes at suing eachother these days.. XD

Are you kidding me?! I don't think this commenter has even a modicum of sensibility.

Seems I am being liked by the community.

They would stay, this was money on patent

First one to comment.. Hope they bring actionable notifications and actionable tiles

You may have been first if you didn't try to advertise it

Will you get Lumia 930 if you comment first?

Yaaas! I couldn't agree more to this.

Interactive live tiles all across the board would be nice!!!

I'm surprised it wasn't Apple that sued Microsoft over common touch UI controls.

I think MS cross licenses stuff with Apple including pinch to zoom. But touch controls on a screen predated the iPhone by many years. MS had Smart Phones for 5 to 6 years before Apple and iOS has alot of resemblances to the sidekick imo.... I don't think Apple would ever sue for those reasons alone...

If they did they would start with Samsung. Yes, MS and Apple have a cross licensing deal. It was part of the lifeline that Gates threw them. In respect, maybe not his best move, but without it Apple wouldn't be alive today.
Gambit claims to the contrary, Apple didn't invent the touch screen interface, it the "finger friendly" smartphone. As usual they were late too the party, but had better PR.

Apple should sue the locksmith that came up with slide to unlock ;)

Actually I believe the swipe gesture is a Nokia patent which everyone including Apple pays to use.

I saw an article which talks about Yosemite new feature - calling and texting through Mac, synced with iOS 8.1. Was this feature available on Nokia phones that was running Symbian. I remember calling and texting through PC when connected via Bluetooth or cable.

Yeah... I remember having that feature on my Nokia 2700 classic.

Yeah totally. Did this all the time using Nokia Phone Suite. Typed out text messages on my desktop computer. As far back as my 6310i.

Yep, still do this with my N97 mini which has a sim card for a different network to my Lumia 1020. Great little phone, the N97 mini, that can do things my Lumia still can't. Heck, I have an N81 I use as a house phone connected via wifi to SIP provided by my router. No app needed -- all the settings built in to the OS.

Don't they have a deal that ms and apple can use the same patents for free between them? Or is it only on the phones?

I think there's a 20 year old video poker machine in Vegas that has touch controls.

Available for your home in 1995, only on Nintendo Ultra 64.

That somehow made my day. c:

Now only on XBOX, since rare was purchased by Microsoft... KILLER INSTINCT! :) Those were the final days of arcade room glory... Miss those days.

Or as iPhone owners know it..PWND!

For once an intelligent decision. Now if they would just stop using these ridiculous broad patents that are obviously invalid.

I think you should clarify that you mean the Rockstar Consortium, as opposed to the company that makes GTA, Red Dead, etc... who don't infringe on patents.... Well, as long as you don't ask Lindsay Lohan

Lawyers are the root of most of society's problems.

So the clients that pay them to actually initiate that kind of behavior are saints? Lol

From experience, Lawyers make things worse. Much worse.

I've been saying it for years: Redmond innovates, everyone else steals the technology and attempts to call it their own. This also applies to Nintendo of America, hardware-wise.

I'd love to live in Redmond and work for any of those two, I'm a die-hard Nintendo and Microsoft fan

Too bad Microsoft gave up on keeping the Skydrive and Metro names since they were being sued.

SkyDrive I could live without. But Metro was perfect for their new design language. And the company sueing them for infringement wasn't even a related business. Not to mention Metro is used everywhere for all kinds of things. Where as SkyDrive is a lot more specific.

Wow, what would've happened if they lost...

They would have to pay for using live tiles, but that would mean a huge part of profits would fall away so they would either decide to get rid of those tiles and come up with sth new or decide to keep them and pay. In the latter case the payment would probably fall on the consumers.. As phones would become a tad more expensive so that they could cover the amount they needed to pay the other company.. This is all hypothetical now, of course :P

Let's just sue patent trolling lol :D I mean what's next being sued..

We could do class action. Or even school action.

Why do people care about being the first to comment? Also why do people post stupid comments that don't have anything to do with the article, like "Seems Faster"?

Cause people get bored and can't think of anything else to comment. That comes to mind

Now, the title is easily understandable.

I had assumed Microsoft had a patent on Live Tiles. They don't? So, who does? No one? So, Google and Apple can completely filch the Live Tiles idea without penalty?

It's a little more complicated than what you're suggesting but TL;DR yes they have it and no Google can't do that. Microsoft has a patent on the Metro design language and live tiles, but they have their own implementation of it. Surfcast claimed that Microsoft's patent was too close to theirs and therefore infringing upon it, which would've made Microsoft's patent invalid. The court determined that Microsoft's implementation was different than Surfcast's and that both companies can keep on using their respective legal patents. Again, VAST oversimplification, but that's the gist of it.

Visit the surfcast .com website. A description is all there is on the sorry home page. It seems as if they do not implement anything.

what happened to Microsoft smart watch. what happened to mix radio subscription renewal?

Apple were the first company to make "something that exists and is visible" can't believe people still have devices that infringe Apple's hard earned patents :|

Ask Jay Z, if you know he is. He tried to patent his daughter's name (Blue Ivy) but failed.

Well you can't Patent a name. Perhaps you ment Trademark?

Wow I can't believe they made a sensible ruling.

And how is it that most of Apple's patents don't fall under the "absurd" category that this case fell under??

One wonders where this Court was when Apple's patents were in contention?

No problem... Return to Android!!!

Why would they pay for something they created I know because there is a lot of greedy people

Microsoft should be happy they're an American company, had they been for instance Korean the outcome of this suit might have been very different. Look at the ridiculous claims Apple won over Samsung...

Another patent troll bites the dust!

It's easy to dismiss now, but I would still have been worried, especially after how Facebook manage to kill Google's live search and Twitter's live feed.